Zoom meetings and conferences have become an everyday thing due to recent events. Although you're stuck at home and social distancing away from people, you can still look good on camera. One way to do this is eye makeup for Zoom.
In fact, because of the nature of some video calls, more attention is drawn to your face. In that case, there's no reason you shouldn't get dolled up!
Your peers won't see you in high-definition during your online video calls, unlike in face-to-face meetings. With that in mind, you should have eye makeup for Zoom that's more defined. Now, that doesn't mean your eye makeup should be any more complicated than your usual makeup.
Whether you're in a rush or just want to look great during your next online conference, we've put together some looks you can quickly achieve at home.
"No Makeup" Eye Makeup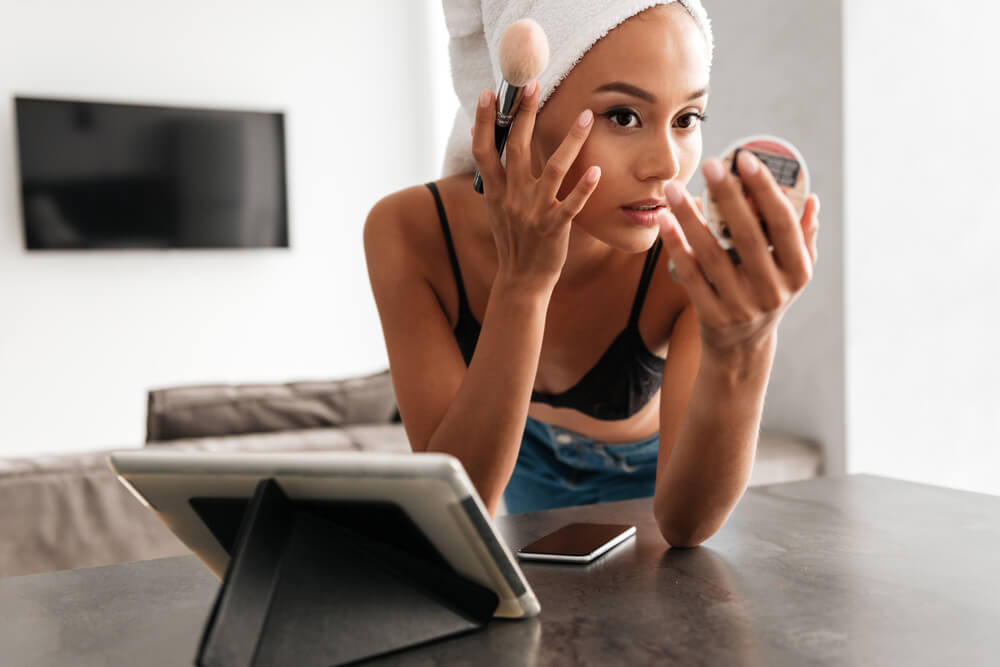 Sometimes, you may not want to draw too much attention to your face, yet highlight your features. Other times, the meeting might be quick and casual. Perhaps you just want to keep it simple. In any case, a "No Makeup" eye makeup look is the way to go. 
Now, for some, putting on makeup just to look like you aren't wearing makeup might sound absurd. However, we're not here to judge. As the saying goes: sometimes, less is more. Here's how to do this eye makeup for Zoom:
To prevent your eyeshadow from creasing, use a primer before applying eyeshadow.

You can apply neutral-toned or blush-colored eyeshadow that matches your natural skin tone. 

Next, apply a darker shade on the outer corner of your lid and blend it out. This way, your eyes will pop as subtly as possible.

For this eye makeup for Zoom, line your eyes with an eyeliner pencil. You don't want to extend the tip too far from your lid to keep it from looking unnatural.

Lastly, lightly apple some mascara to complete the look.
Don't have an eyeliner pencil? 
You can also opt for gel liner and soften the harsh edges with some black eyeshadow. If you want to look close to being barefaced as much as possible, go for a dark brown liner instead of black.
Although this look shouldn't be too complicated, you can go the extra mile with a few skincare steps. One makeup mistake to avoid is applying makeup on dry skin. With this look, you should consider the following:
Soft and Rosy Eye Makeup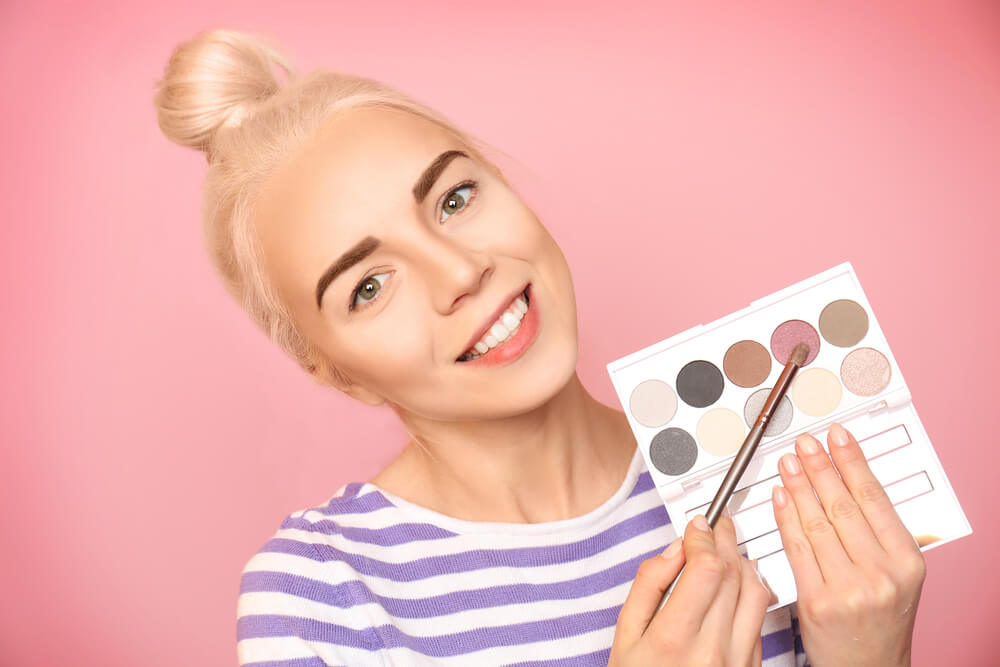 If you're looking to achieve a more feminine look, rosy eyeshadow is the way to go. This eye makeup for Zoom is perfect for any virtual meeting. This look is so versatile that you can use blush in place of eyeshadow.
Of course, if you have eyeshadow on-hand, you won't need to reach for your blush in the first place. Either way, this look isn't at all complex. 
So how do you put on this sort of eye makeup for Zoom?
You can start by using a quality

eyeshadow primer

on your lid. Doing this will ensure your eyeshadow goes on smoothly and looks even. Putting on a primer before applying eyeshadow will also make it easier to blend.

For the eyeshadow, apply a medium rosy or blush color across your lid. 

Blend it out with a clean blending brush to reduce any harsh lines. 

If you'd like to add a bit more depth, apply a small amount of dark rose or medium brown to the outer corners and crease of your lid.
Want to add contrast? You can soften your brows too, but add some sharp details to create some balance. Here's how:
With an eyebrow pencil, draw on individual strands at the head of your brow up until the arch.

Fill in the rest of your eyebrows until the tip.

Blend it in using an

angle brush

.

You can highlight your brow bone with some shimmer.
Don't forget to blend, but don't overdo it! After all, you still want to add depth to your makeup and not look flat on camera.
Shimmery Highlights for Your Zoom Eye Makeup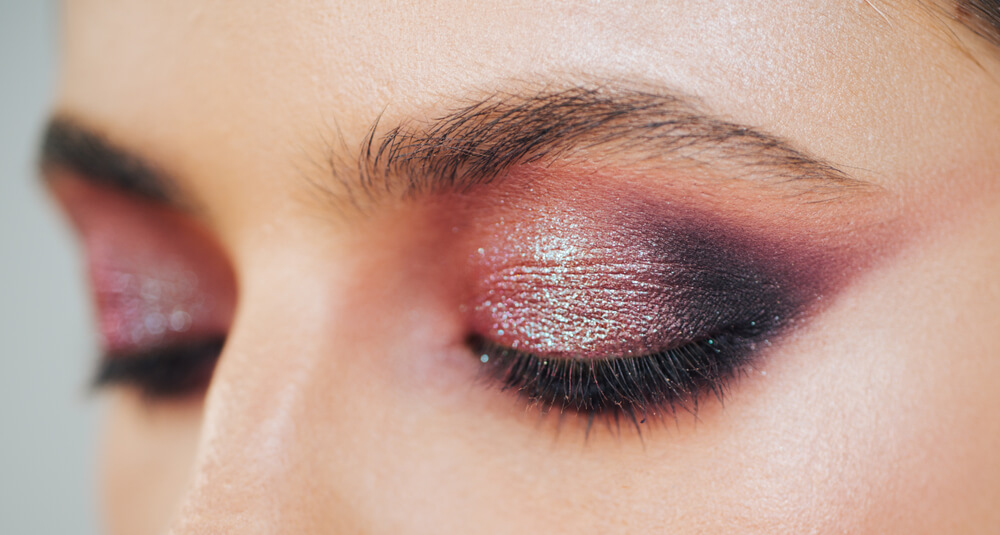 Who says you can't add a little shimmer to your eye makeup for Zoom? Not us! This little trick will bring out your eyes. 
Remember, a little goes a long way. Start with a base that will bring out your shimmer:
When it comes to getting that glow on camera, you should opt for a glitter primer. It does the same thing as any other primer, except it adds a subtle shimmer underneath your eyeshadow.

Usually, you'll want to start with a lighter shade and work your way outwards with a darker shade. In this case, you should start with a medium to dark base. 

Choose any color that you feel is suitable for your online occasion.

Go for a darker shade for the outer corner and crease of your eyelid. 

Next, be sure to blend any sharp edges.
Now that you've got your eyeshadow base down, this is where the fun begins. Eye makeup for Zoom should stand out more than eye makeup for face-to-face events. With that, a shimmery highlight will add depth to your eye makeup look.
Here's how to highlight your eyeshadow base:
Take a shimmery eyeshadow shade that matches your base and apply some to the middle of your eyelid, right below the crease. 

Blend it out just a little outwards, so it all comes together.

Do you want your eyes to pop out even more? Grab the same shimmery eyeshadow and apply a thin streak to the inner corners of your eyes.
If you want to take it up a notch, you should try wearing glitter makeup instead of shimmer. Glitter makeup has sequins of considerable size, unlike the compact specks in shimmery eyeshadow.
Glossy Eye Makeup for Zoom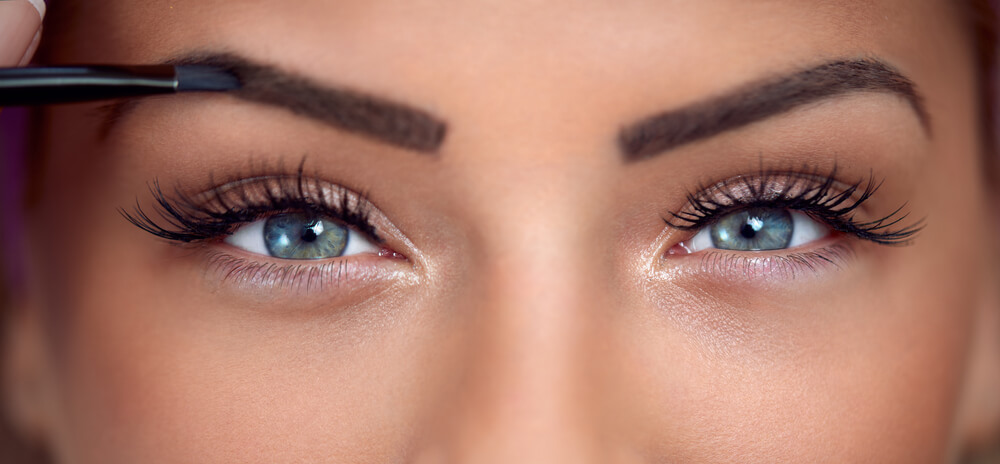 If you want eye makeup for Zoom that glows without glitter or shimmer, here's an excellent trick for you: gloss.
You read that right. Use eye gloss on your eyelids for a sheen that looks great on-camera. There is a variety of shades when it comes to eye gloss. You can even get a completely transparent one.
Now, you might be wondering, can you use lip gloss in place of eye gloss? You most certainly can! If you're in a rush and only have some lip gloss on hand, this look is the way to go.
In any case, you can apply eye makeup for Zoom as you usually would before applying the gloss. Here's how to do it:
Start with a primer for an even and smooth base.

Next, apply your eyeshadow. Pick a matte eyeshadow that complements or matches your eye gloss.

Before applying your gloss, line your eyes with your choice of eyeliner.

Apply your eye gloss across your eyelid and right below your crease.

For a neater look, don't go beyond your crease or close to your brow bone.

Complete this look with your favorite mascara.
This look is simple yet elegant. The best thing about it is that it's versatile enough so you can use this eye makeup for Zoom or any other occasion.
Metallic Eye Makeup for Zoom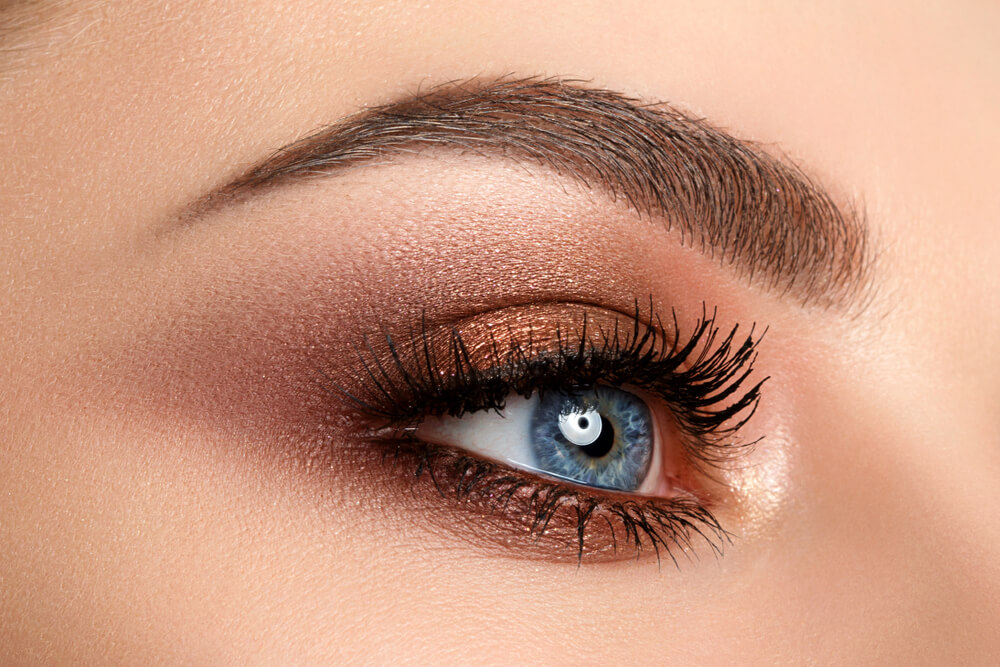 Upgrade your smokey eye makeup look with a metallic eyeshadow. Because this pandemic has required us to wear masks most of the time, it's no surprise how makeup has become all about the eyes.
Though you don't need to wear a mask at home, you can still go bold with your eye makeup for Zoom. Metallic eyeshadow is another way to stand out. What's fantastic about this is it doesn't have to be too complicated.
This easy eye makeup look is perfect if you're pressed for time as well.
Here's how to achieve this look:
Because you don't want any harsh edges, apply a primer to help make blending easier.

Start with a medium shade as your base. We recommend a neutral color like brown.

Next, at the outer corner and creases of your eyelid, apply a dark shade of eyeshadow.

Don't forget to blend out any harsh edges with a clean brush.

Now for the best part: take one of your favorite metallic eyeshadow and apply it to the center of your eyelid.

To achieve an even more metallic look, you can also apply another shade of metallic eyeshadow to the inner corner of your eyelid.

Complete this look with your favorite eyeliner and mascara.
Since this shimmery look is quite striking as it is, you can tone it down with the rest of your eye makeup for Zoom. You can highlight your browbone with a matte highlighter to create balance and contrast.
Winged Eyeliner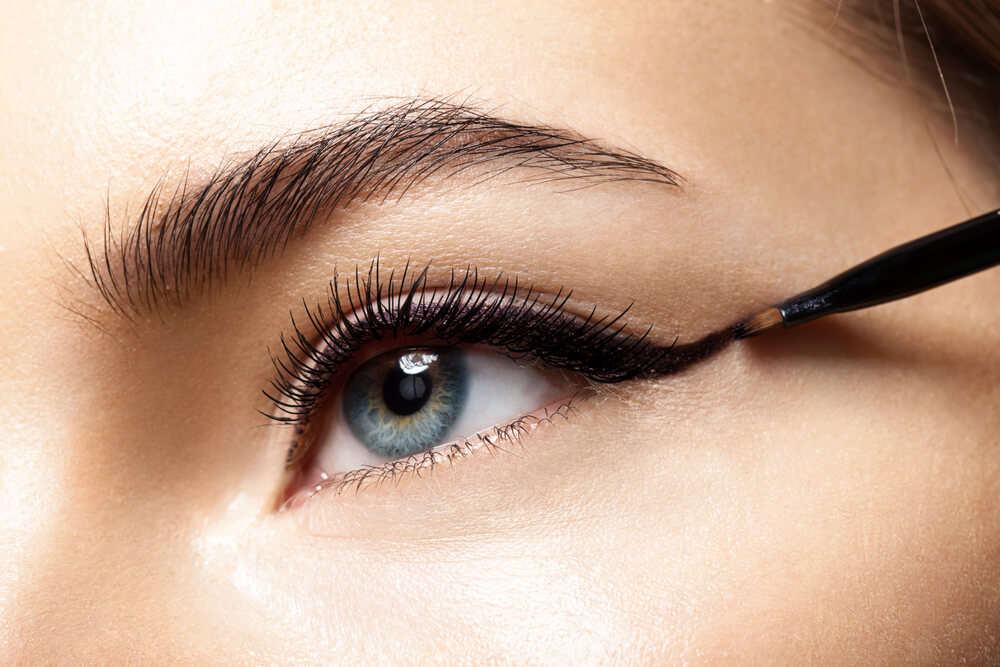 As you know by now, the most uncomplicated eye makeup for Zoom can have the most substantial impact. Eyeliner is a great way to accentuate your eyes. 
One of the most timely trends that have never worn out is winged eyeliner. This sort of eyeliner starts at the inner corner of your eye and extends beyond the outer corner to form a sharp tip. This eye makeup look is relatively easy once you've mastered it.
Here's how to get this look:
As with any eye makeup for Zoom, you want to start with a primer, which comes out smoother and lasts long.

Apply your eyeshadow as you normally would. If you want to bring attention to your eyeliner, opt for more subtle colors.

With your favorite gel eyeliner, start with a thin line at the inner corner of your eyelid.

At an angle, move outwards, leaving a gap between the line and your lash line. You can fill this in later on.

Once you extend beyond your eyelid's outer corner to your preferred length, connect your eyeliner's tip back to the outer corner of your eye.

Fill in the gap with your eyeliner.
If you want to go the extra mile, consider the following:
Use

adhesive tape

for a sharper, cleaner look.

If you'd like, you can soften the top edge with an eyeliner pencil or black eyeshadow.

Eyeliner stencils can help with precision.
Vibrant One-Color Eyeshadow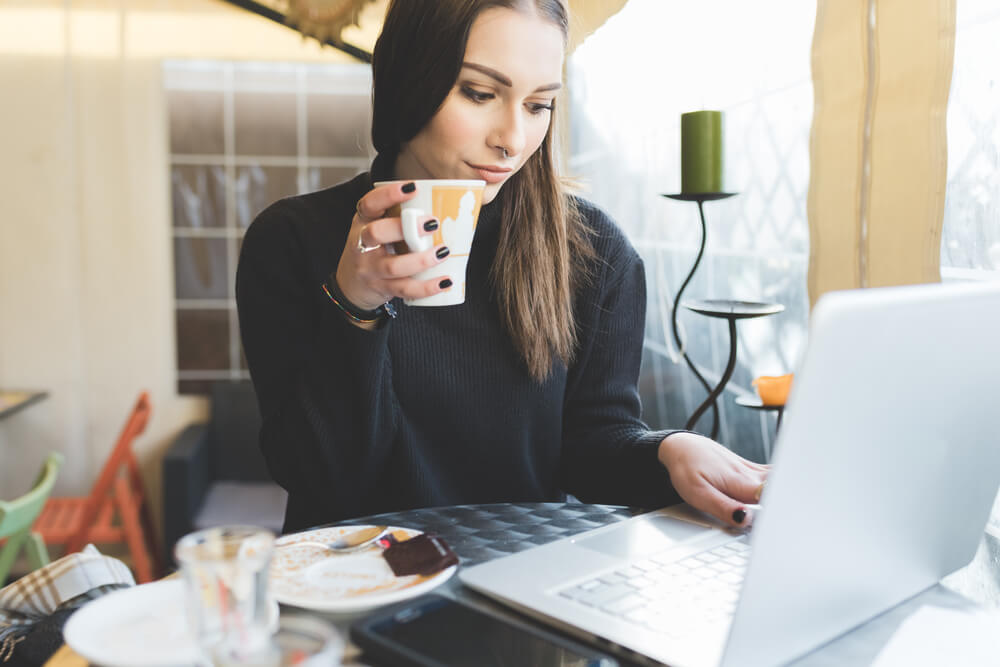 When choosing eye makeup for Zoom, you should consider the fact that your face on-camera might look a little less clear. If you want your eye makeup to be more striking, don't be afraid to go for bolder color choices.
Instead of the usual neutral or toned-down shade, try a pigmented eyeshadow shade that's bright and vivid. Don't worry, colors like neon green or creamy blue eyeshadow can be an everyday thing. 
Now, here's the great thing about this eye makeup look: You don't have to blend.
Of course, you shouldn't just slap it on and call it a day. This look may appear quite simple because you're working with only one color. However, since the color is quite vibrant, you can opt for this makeup hack to create cleaner and sharper edges.
You might be wondering, what is this makeup hack?
Adhesive tape is perfect if you want crisp edges with eyeshadow. Start by applying the adhesive tape to your lid's outer corner going outwards, at an angle.
Don't have any adhesive tape? Hold a square of tissue in place as you apply your eyeshadow.
Here's how to apply one-color eyeshadow that pops:
Start with an eyeshadow primer that's translucent and has a neutral tone. Like a blank canvas, you want to prime the area to intensify the color. 

At the outer corner of your lid, apply your adhesive tape, grab a piece of tissue and hold it at an angle.

Apply your eyeshadow of choice to your lid from your eyelid's inner corner towards the outer corner.

Be careful not to go too close to your brow bone. For this look, you want to keep it neat and tidy.

Blend out your eyeshadow from above your crease.
Once you've applied your eyeshadow, use some gel eyeliner to accentuate your eyes. Complement and complete this look with your favorite mascara. Lastly, don't forget to remove that adhesive.
Get ready to stand out with this vibrant eye makeup for Zoom!