You want to do it. You think you know how to do it. But time and time again, you just can't.
That is probably how a lot of makeup users will describe their experience of putting eyeliner on. Whether you've already mastered the craft or you've barely learned the basics, applying eyeliner is usually tricky, time-consuming, and messy. 
There are different hacks and tips, as well as tutorials online to help you start flawlessly applying and creating your eyeliner look. But even with these resources, you somehow still manage to fail. Sometimes, it's just necessary to get all the help available.
So, say no more to the fear of committing a horrible mistake with your eyeliner. This article will introduce you to your possibly new makeup best friend—eyeliner stencils! If you're ready to nail that eyeliner look, then here's everything you need to know about this nifty tool.
Eyeliner Stencils: What Are They, and Where Can We Trace Their Origin? 
The first documented account for stencils started from caves, then to paper, cloths, and fabrics, down to almost anything and any surface. Stenciling is a process used to create similar patterns repeatedly in almost an effortless manner. 
Recently, the art and process of stenciling also gained popularity in the beauty and makeup industry. Eyeliner stencils work pretty much the same as how we know stencils to be. They appear like templates, usually made from transparent plastic, and formed in various ways and shapes. Eyeliner stencils look like a cut-out pattern or shape.
Have you ever experienced doing a perfect eyeliner on one eye and just losing it on the other?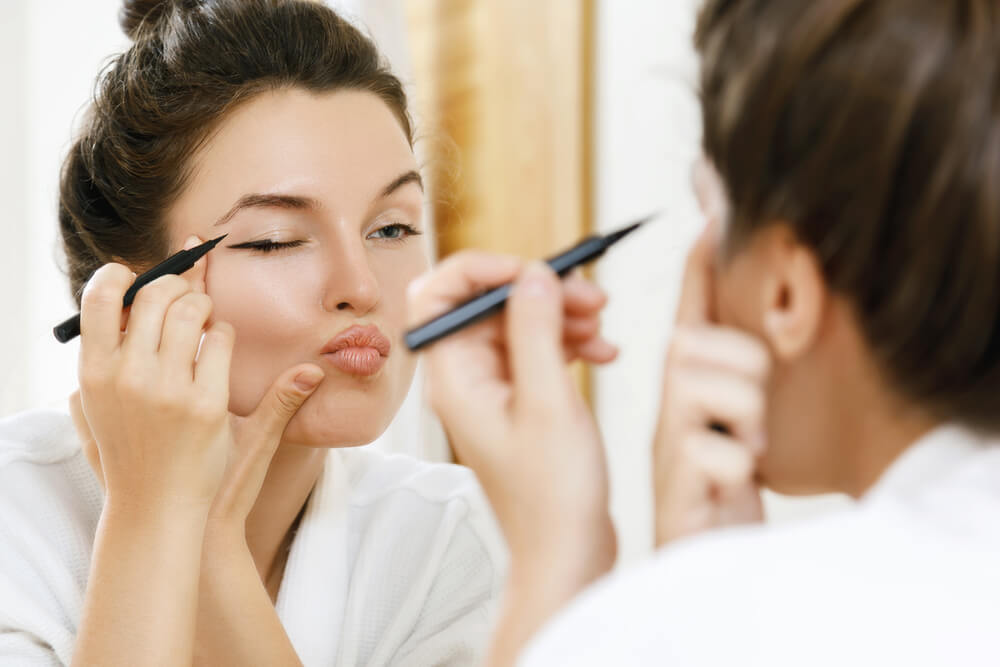 Well, you're certainly not alone. Let's face it—not everyone has the skill and stable hand to make a perfectly straight line or a cat-eye. Aside from you having troubles with your shaky hands, repeating the same thing on the other can also be a problem.
This is why, as a makeup enthusiast who always uses eyeliners as part of their daily routine, eyeliner stencils could potentially be a game-changer. 
It is known in the industry that celebrity makeup artist, Beth Bender, created and popularized the use of eyeliner stencils. Although before that, we may have tried several techniques in an attempt to make our lives easier.
Regardless, the existing eyeliner stencils we have today may be rooted in the works of Beth Bender. After being a makeup artist and observing the struggle of putting eyeliners, Beth Bender came up with the idea of eyeliner stencils. 
The first production can be dated back to as early as 2006, but the worldwide craze for these tools only happened in recent years. The craze for eyeliner stencils was further popularized when celebrities, especially starting in early 2011, displayed a somewhat sharp and powerful eyeliner look. 
We want to follow the trend we see on the runway or on red carpets, right? But since not everyone could do perfect work, we turn to useful tools such as stencils. 
Are There a Variety of Eyeliner Stencils?
Yes, there are various eyeliner stencils available in the market. You can choose from different shapes and designs that could offer you the opportunity to experiment on a mix of styles. Most stencils with eyeliner pens, but you can still stick with the one you love using. Listed below are some examples of the eyeliner stencil variety. 
There are sticker type eyeliner stencils that come in various shapes. Most products are sticky enough to remain in place and avoid your eyeliner pen from sliding in different directions. This will allow you to draw a perfect shape. 
There are also eyeliner stencils that allow you to have different looks and styles depending on your mood and the occasion—with just a single stencil! Others even have more than 30 stencil shapes in their package.
Some eyeliner stencils work like a ruler. You place the stencil and use it to guide your eyeliner pen, brush, or pencil before filling the remaining spaces. 
Other stencils have a gap that you just need to fill in between. Most eyeliner stencils are in the form of a transparent sheet of plastic.
Regardless of the type you use, you can surely find designs that can suit your eye shape and best represent your mood. 
Eyeliner Stencils: Are They Worth Trying?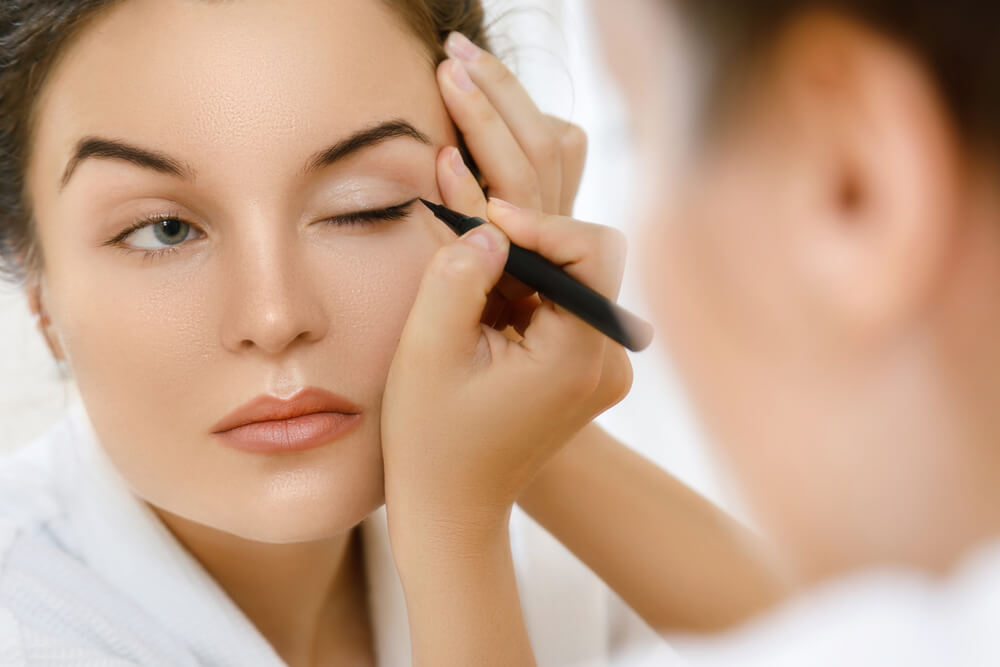 Time-Saving Perfection
Achieving the "perfect" look can take a lot of time. Some experienced makeup users may still find putting on eyeliner as laborious. Usually, you apply, erase, and re-apply your eyeliner. 
But using eyeliner stencils could help you save time while still achieving a flawless look. Imagine how much time you can save when your usual 15 to 20 minutes dedicated to applying eyeliner freehand is possible in just a matter of seconds.
The process is simple. You just have to place the stencil, trace and fill the shape or pattern, remove the stencil, and you're all set. 
However, remember to use the eyeliner pen or gel you're most comfortable with. This way, you can avoid making mistakes and drawing under the stencil.
Works Best With Novice Makeup Users
We often hear the saying that practice makes perfect. But it does take a lot of time, and time may not always be on your side.  
Luckily, even with a beginner's skill, you can start nailing your winged eyeliner look. The difference between the eyeliner drawn by a beginner and a makeup pro can't be that far now! It's even possible that you can't tell the two apart.
With the availability of eyeliner stencils now, you can easily achieve flawless makeup regardless of your experience or skill set. This is one of the most effective ways of making your most perfect eyeliner look on your best angle even as a beginner.
Unleash Your Creativity and Artistic Side
Given the variety of eyeliner stencil shapes and designs to choose from, there are several ways for you to unleash your inner creativity. Applying makeup, particularly eyeliner, is an art form that may be reflective of your individuality and personality.
Yet, the fear of committing a mistake or the desire for efficiency may stop you from enjoying your artistic side. That's why eyeliner stencils can guide as you experiment on different looks and angles that may suit you!
A Few Different Looks to Try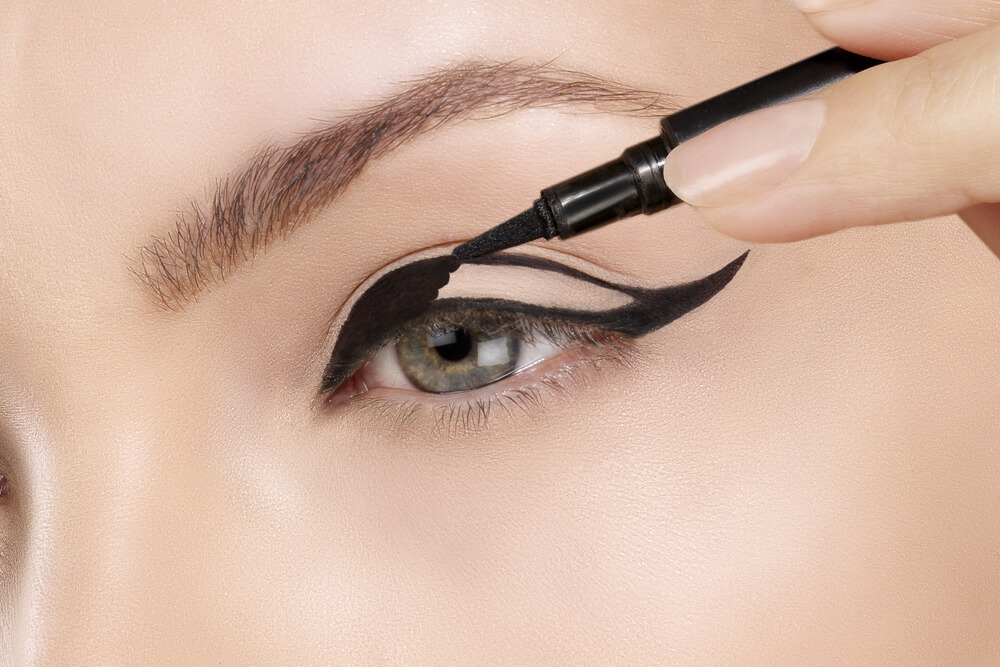 With the use of eyeliner stencils, you're no longer confined to just a single eyeliner look. You can experiment with different styles based on the occasion, your outfit, or simply just your mood. 
You can also experiment depending on your eye shape. Eyeliner stencils are also flexible, so you can adjust them accordingly and use them based on your eye shape. 
Also, although liquid eyeliner pens are usually used with the stencils, you can experiment on using other makeup products, too! For variation, you can try using powder eye shadows, eyeliner gel pens, or glitters to emphasize your looks.
Here are some of the examples you can try:
The Classic Cat Eye
The classic cat-eye is one of the most common eyeliner looks that is best with black liquid eyeliner. You typically start at the inner corner of your upper eyelid then slowly move outward and up. It may seem easy, but still, a lot find it challenging. 
Fortunately, there are cat eyeliner stencils that you can buy. You don't need to fear that your lines aren't in place, or your hands are too shaky. The eyeliner stencil could surely do the work for you.
Double-Flick Eyeliner
Maybe you have been following different blogs and YouTube tutorials, looking at eyeliner techniques. Then it may keep you wondering if, provided all that you've learned, it would be possible for you to try it out. 
Let's say you've come across this double-flick eyeliner look, which started to be a makeup trend back in 2014. Again, there are several tips and tricks you can find online that can give you pointers to achieve the look. Nevertheless, it's just so hard to make your look clean and symmetrical even with simple and easy guidelines. 
That's what eyeliner stencils are for! Since it comes with different forms and shapes that you can try, it's up to you on how you would use it to your advantage. 
A Graphic and Dramatic Look
Some eyeliner makeup looks can appear too complicated like this graphic and dramatic look. If you use the freehand method, it might take a while before you create a symmetrical and smooth creation on both eyes. 
But of course, why would you need to trouble yourself so much if you can make use of some help?
Eyeliner stencils can definitely help you pull this off! Not everything that looks complex is necessarily done in a complicated manner.
Do All Eyeliner Stencils Work?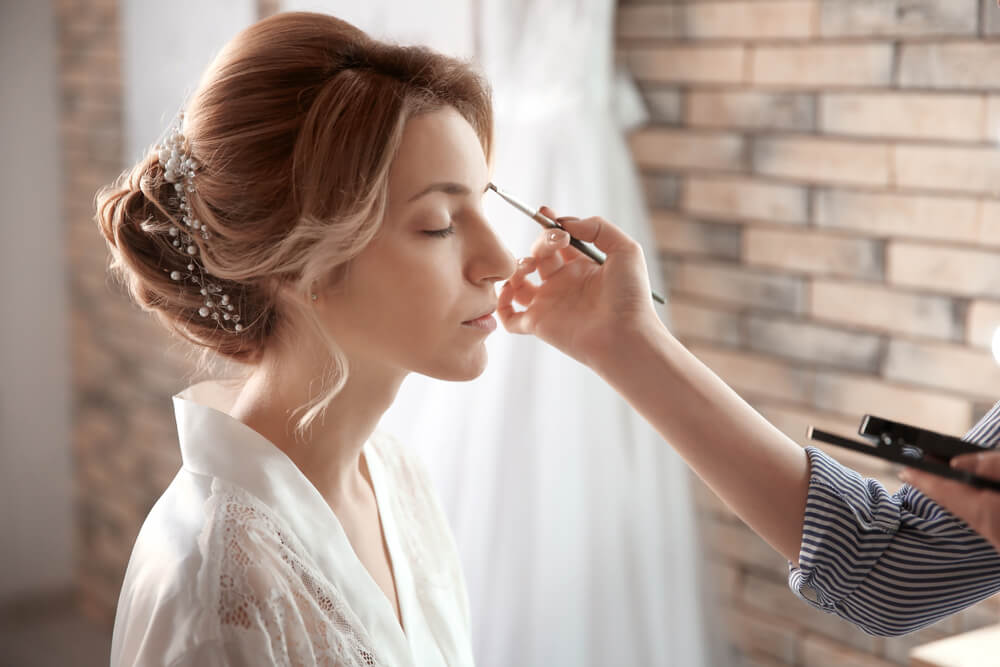 The rise of these new makeup tools can mainly be attributable to the dilemma of making that "perfect" look.
But does the perfect look exist? And if it does, will the use of an eyeliner stencil really help achieve it?
Well, for the most part, yes. It helps you save a lot of time, especially if you're just a beginner. However, even if eyeliner stencils work, regardless of the type of product, there are some downsides.
If you're already nailing applying eyeliner freehand and, there's really no use the purpose of using a stencil. You may even feel more comfortable doing it yourself. Meanwhile, some makeup lovers may still find that using an eyeliner stencil is just as time-consuming as the other methods they've tried.
Generally, eyeliner stencils are beginner-friendly and easy to use. Nonetheless, some gimmicks and styles can prove to be a bit more challenging. Depending on your skills, stencils like the one shaped like cats are a little difficult to use. 
The challenge in making eyeliner stencils to work is in ensuring that the tip of the eyeliner won't slide beneath the stencil. Also, there are instances where eyeliner stencils may remove a relatively good amount of your eye makeup. 
Whether you consider yourself an expert or a beginner, the key is to find what's best for you. 
Where Can I Find Eyeliner Stencils?
You can buy eyeliner stencils readily available in the market. There are several online shops, like Beth Bender Beauty and Amazon, that sell various eyeliner stencils. They have cat eyeliner stencils, smokey eye shadow stencils, and wing eyeliner stencils. Some known companies like L'Oreal also have physical stores that you can visit.
But if you're fond of doing things on your own and you want to experiment yourself, there are also tutorials for Do-It-Yourself eyeliner stencils. In fact, there are even printable DIY eyeliner stencils.
Since eyeliner stencils became trendy and are also popularized by celebrities and artists, you can find the product almost anywhere—online or offline. All you need to do now is to find the product that suits you the most. 
We live in such a fast-paced environment, and the challenge is how you can do things well but in an efficient manner. Because of this, we try to come up with tools that will help us with our goals, sometimes almost effortlessly. 
We are creative when it comes to finding solutions. Imagine the transition from using stencils on papers, cloths, and fabrics for repeating patterns conveniently to applying the principle in makeup and fashion. Who would have thought that eyeliner stencils would be the next trend?
Although some eyeliner stencils have downsides, the product appears to be very much useful, especially for beginners. It will also go a long way, guiding those who are still struggling with their makeup routine.
At the end of the day, wouldn't it be nice if you can imagine the makeup look you want and really make it happen? So, why don't you go ahead and choose a look you want to do, take inspiration online if you wish, and try to recreate it with the help of eyeliner stencils.