Do you believe in family curses? If not, come take a look at my face. This weary -eye area of bags, discoloration, and wrinkles I'm wearing is a curse people. I promise I'm not depressed, sleepy, or over the age of 65. My eye area is just doomed.
I've tried to break this generational curse on multiple occasions. I've done home remedies and tried all the trendy skin care products. None, not one of them has worked so far. So, I've been coasting through my social days (when I have to leave my house) with foundations and concealers to hide these aging eyes. But, here's my current dilemma. I'm finally in a serious relationship and we're planning on moving in together soon. That temporary fix of makeup will no longer suffice. I'll have to eventually wash it off at night and expose my baggage (eye baggage that is.) I need help in the skincare department a.s.a.p. Rejuvenation in my eye area must happen quickly. 
Introstem
Apparently with a combination of science and plants, Introstem can fix my skin situation easily with their products. According to Introstem:
"Look beyond conventional skin care routines to find Introstem, an exciting range of products that embraces the wonders of stem cell technology. This line combines the advanced science of stem cells with highly beneficial ingredients that can really make a difference in caring for your skin. Plant stem cells are said to prevent collagen breakdown and have anti-inflammatory and cytoprotective (cell protecting) properties. More specifically, the Vitis Vinifera Fruit Cell Extract is high in powerful anti-oxidants and vitamins to give your skin the best possible all-round benefits. Introstem enables you to rejuvenate your appearance by easing away the look of wrinkles, dark spots, and fine lines."
Did you catch all of those enticing words? Like, technology, advanced, stem cells, etc. Yup, I'm expecting these Introstem products to bring my eyes back to their rightful, youthful state. And, maybe my new natural and rejuvenated eye area will swoon my boyfriend into that engagement ring I've been waiting on. No pressure Introstem. I'm just counting on you to save my relationship (just kidding.) But first, before I put anything on my face I need to know what exactly stem cell technology entails.
What is Stem Cell Technology?
Well, stem cell technology has been integrated into skin products and become another skin care trend. This trend is fairly new to headlines too. However, after researching, this innovation is genius and I expect it to prosper with longevity in the skin care market. Warning: I've never fully understood science and all its jargon. Therefore, bear with me as I explain this scientific process.
Stem cell technology is primarily used to repair and renew damaged cells. Stem cells have the ability to divide and then multiply rapidly. When stem cells multiply they mimic the other cells. This ultimately boosts the cell production and turnover rate and rejuvenates that area. This remarkable process is used to cure chronic illnesses, like Alzheimer and Parkinson's disease. In skin care, stem cell technology is used to repair and cease aging conditions.
Plant stem cells are primarily used in skin care products. But, animal stem cells are known to be used too so I suggest always, thoroughly checking the ingredients. These stem cells contain antioxidants and amino acids, which are the key ingredients to rejuvenating skin. So, not only does this stem cell technology replenish the existing cells with antioxidants and amino acids to help them keep thriving. The stem cells boost the growth rate. The production of collagen (which is needed to maintain youthful looking skin) will increase as the cell growth rate increases. Win, win … right? Basically, I look at stem cell technology in skin care as the best friend that you have everything in common with. That best friend always in your corner. Every time that you're feeling down that best friend is there with ice cream to fix your feelings and laughs to keep you going. Everyone needs a best friend like this, right? I'm ready to give Introstem a try.
The Review
I received the Introstem products Stem Cell Eye Serum, Stem Cell Day Moisturizer, and Thermostem Mask. The Stem Cell Eye Serum, and Stem Cell Day Moisturizer are labeled as, "The Intro Collection." The Thermostem Mask is labeled as, "The Thermostem Collection."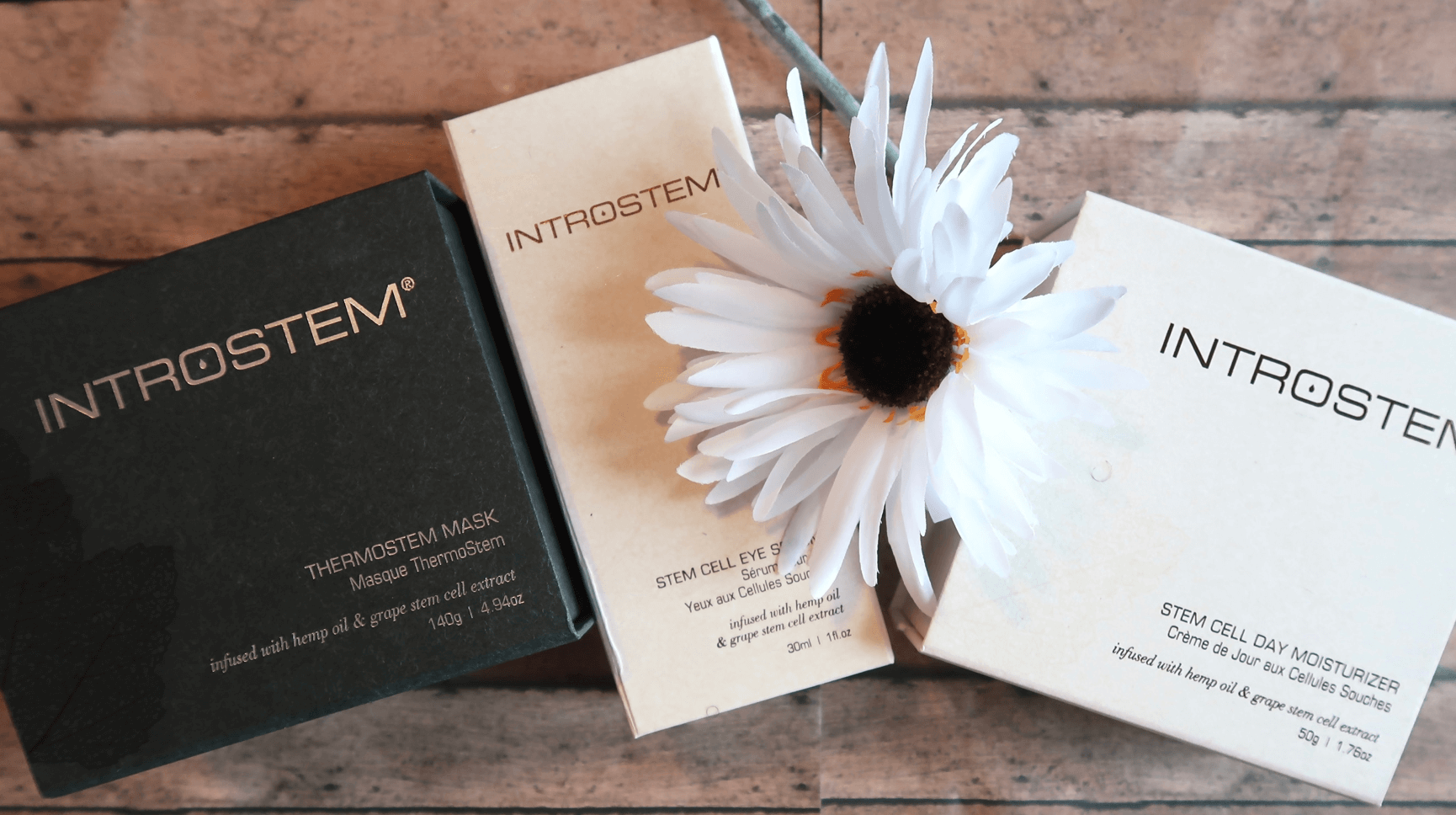 All of the products came in hefty boxes with neutral colors. Very minimal packaging with minimal writing on the front, but the back will give you all the information you need before applying. Even though I'm describing the packaging as minimal it still has an interesting confidential vibe. As if the products are fresh from the laboratory and secretly shipped to only my house.
I noticed hemp oil written on the front of every package as an ingredient. And, as soon as you open the box there's a cannabis symbol embedded in the top lid.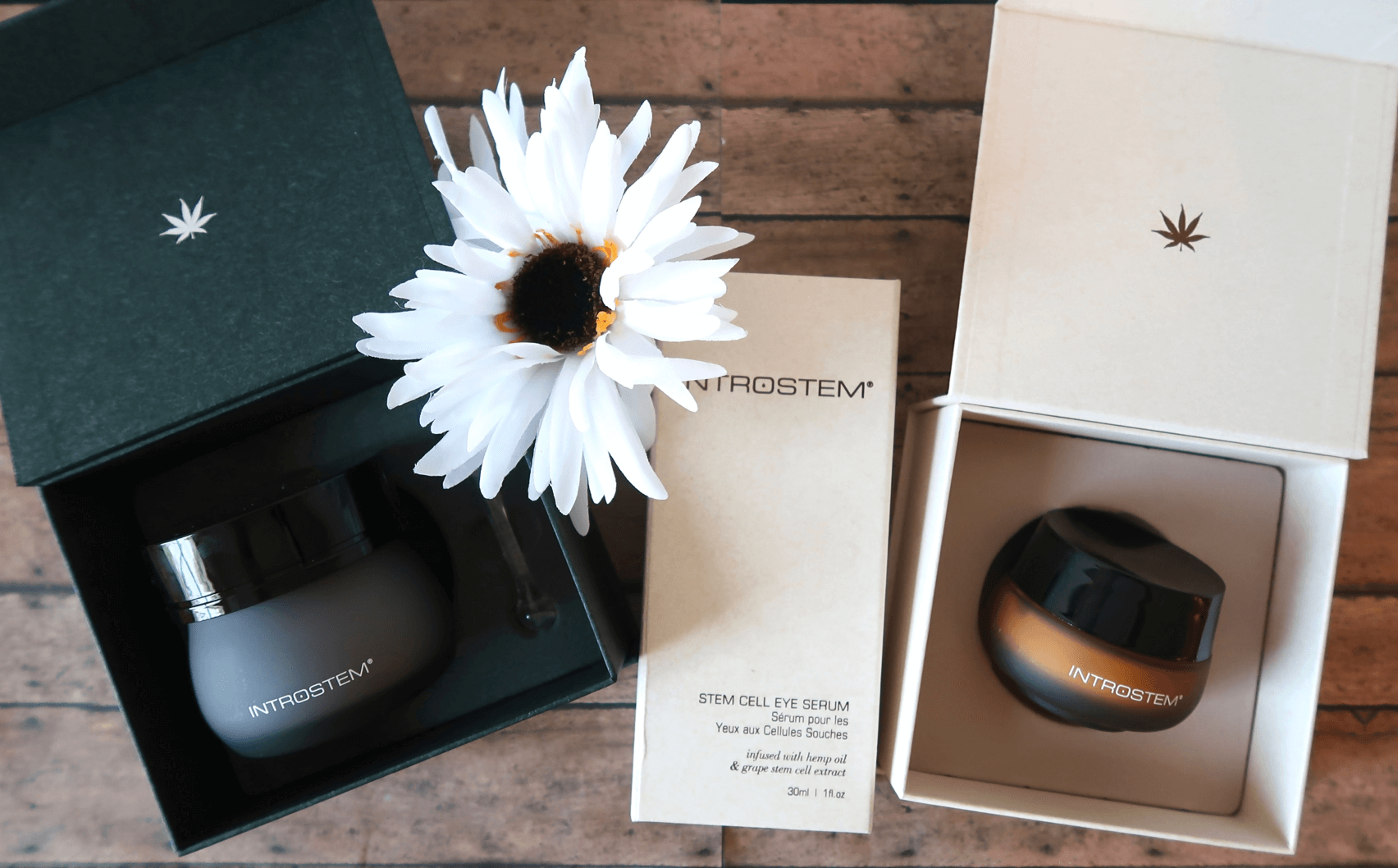 Definitely wasn't expecting that ingredient. But, as an advocate for the medicinal marijuana community I'm not complaining. I've read about the wonders that hemp oil can accomplish for skin. That along with my new-found stem cell knowledge has me ecstatic about this review. Let's begin! .
Here's a reminder of where I'm starting. I cannot get rid of the bags under my eyes. Discoloration and wrinkles are also an issue in this area. My eyes look tired all the time and I'm just too young for this.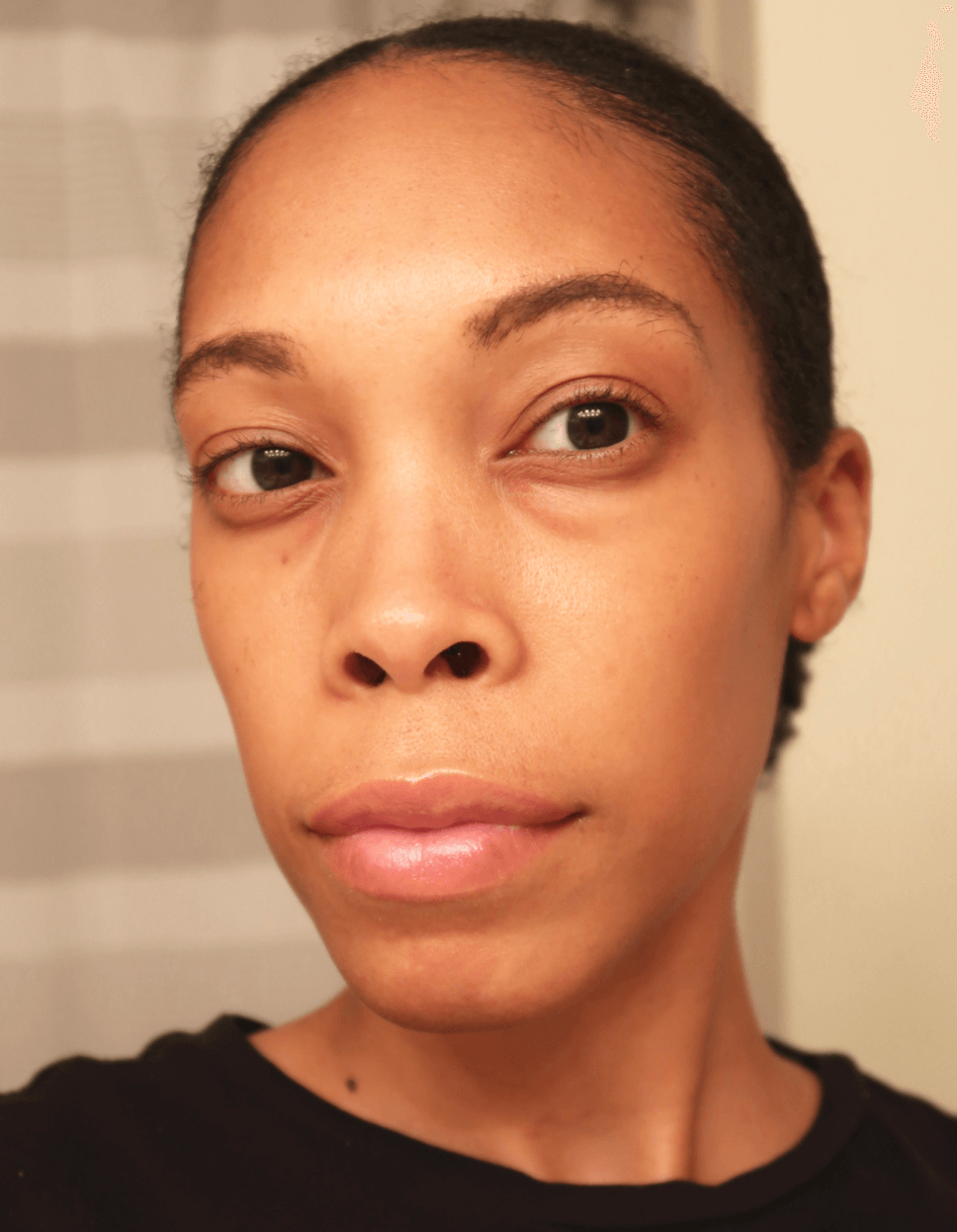 By the end of this week I would love to see an entire rejuvenated face. Also, an even complexion around my eyes and most importantly – no more bags!
Stem Cell Eye Serum
I reached for the eye serum first! Introstem promises to, "plump and smooth away fine lines and puffiness around the eyes, leaving you with brighter, livelier-looking skin." 
I didn't want to waste any time reaching these results. The serum comes in a very classy glass bottle. The shape is unique and reminds me of a vintage perfume bottle.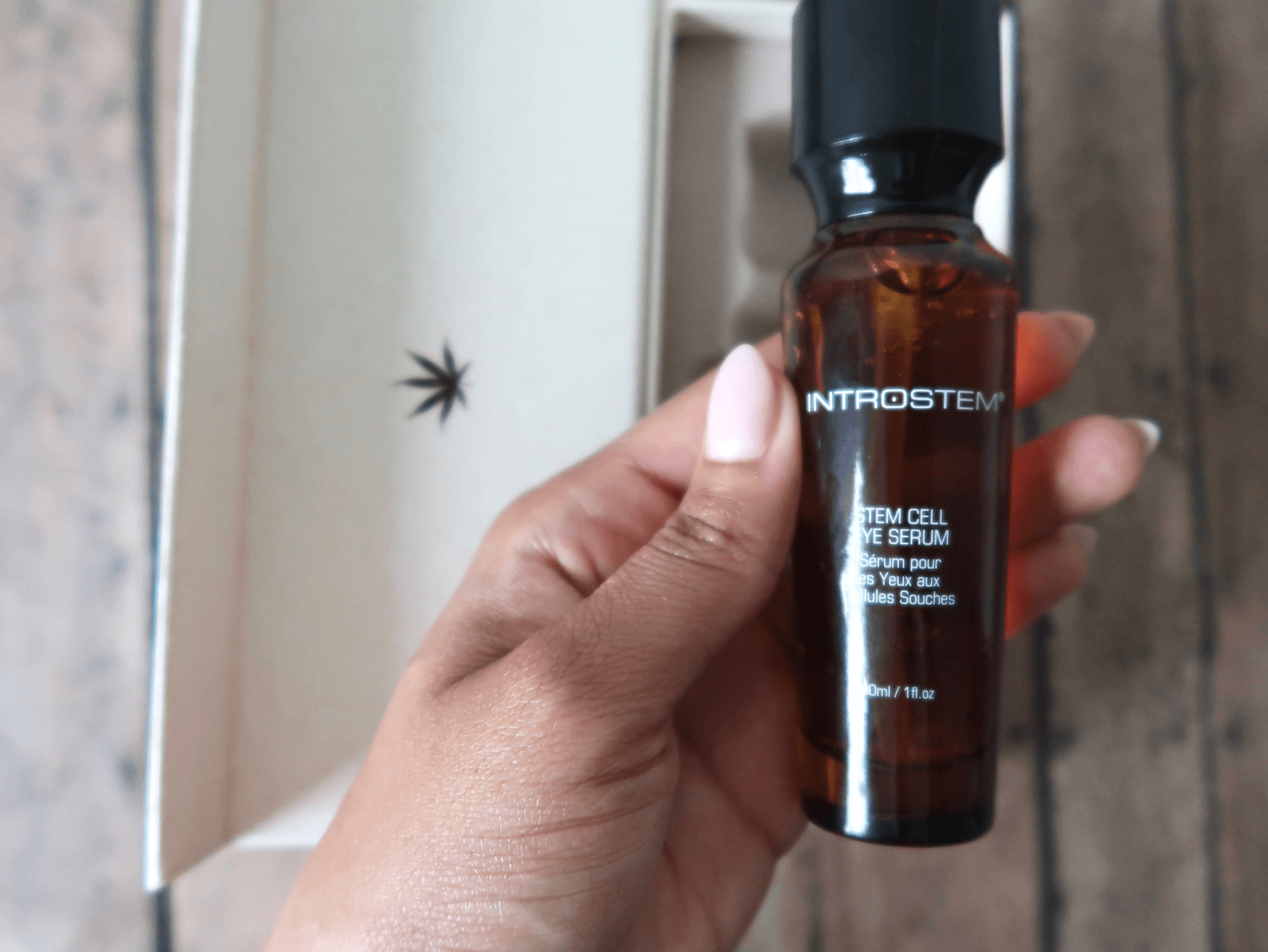 As instructed by the directions, I washed my face before applying the serum. The directions state to only use 1-2 pumps on the undereye area and around the orbital bone. The serum is a clear gel. It took a few rounds of patting for the gel to fully absorb. I always pat my under-eye area, I never rub because that area is sensitive.  There was a slight "aerie" sensation felt from the serum, but it only lasted about ten seconds
The serum fully absorbed into my skin. I didn't have any sticky residue issues on my fingers or face either which is common (and annoying) with serums. There were no immediate results from the serum. And, I wasn't expecting any because the Stem Cell Eye Serum is for daily use. I will be using this every morning for my week review. Here's what it looks like when applied.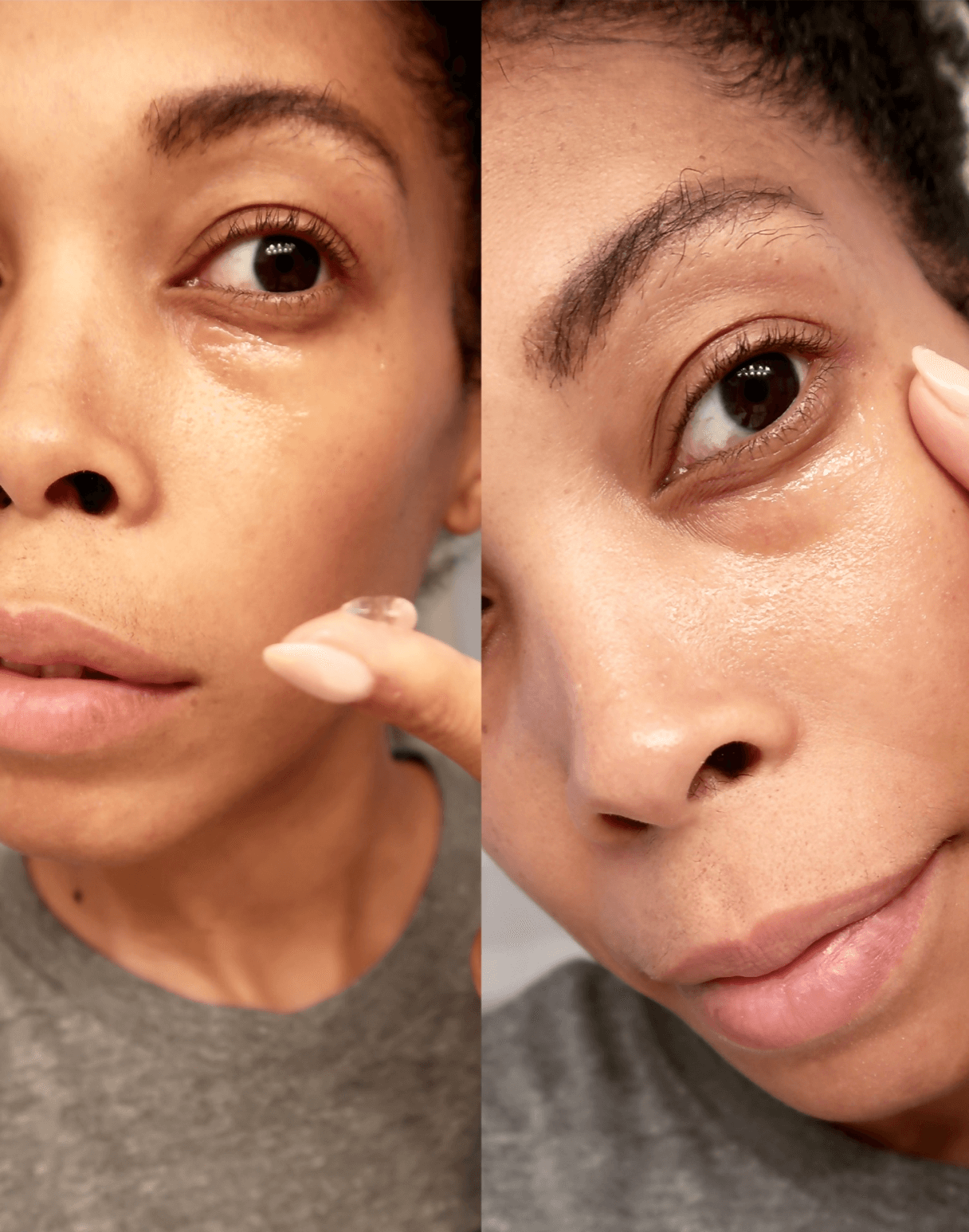 Can we take a moment to discuss the surprise ingredient hemp oil?  Hemp oil is an ingredient in this eye serum, the Stem Cell Day Moisturizer, and Thermostem mask as well. I know the wonderful benefits that hemp oil has to offer skin care. But, I'm aware that most people don't. I fault the lack of hemp seed oil's popularity to the negative stigma that cannabis plants have in our society. Hopefully I, along with the products of Introstem can change your perspective (especially if you want youthful, healthy skin.) Let's talk about all the benefits that hemp oil has to offer skin.
Cannabis Sativa (Hemp) Seed Oil
Hemp is a plant and a species of cannabis that contains 0.3% or less of THC. Hemp seed oil is made by pressing hemp seeds together until oil extracts. The seeds will normally lose all of their THC content during this process. Once it's an oil it is ready to help rejuvenate your skin by:
Reducing and hindering wrinkles and creases forming on your skin
Using its omega-fatty acids to heal eczema
Also using its omega-fatty acids for anti-inflammatory skin properties
Hydrating and moisturizing skin
Preventing acne, because hemp oil moisturizes the skin without clogging pores
See, there's no harm with using hemp seed oil. This is just its skin benefits too. There are many more ways that hemp plants and other forms of cannabis can benefit our bodies. But, now, it is time to check out this daytime moisturizer.
Stem Cell Day Moisturizer
I applied the Stem Cell Day Moisturizer after the eye serum. The moisturizer came in a frosted glass container. Which was also very classy, like the serum bottle. I am loving the aesthetics of this collection.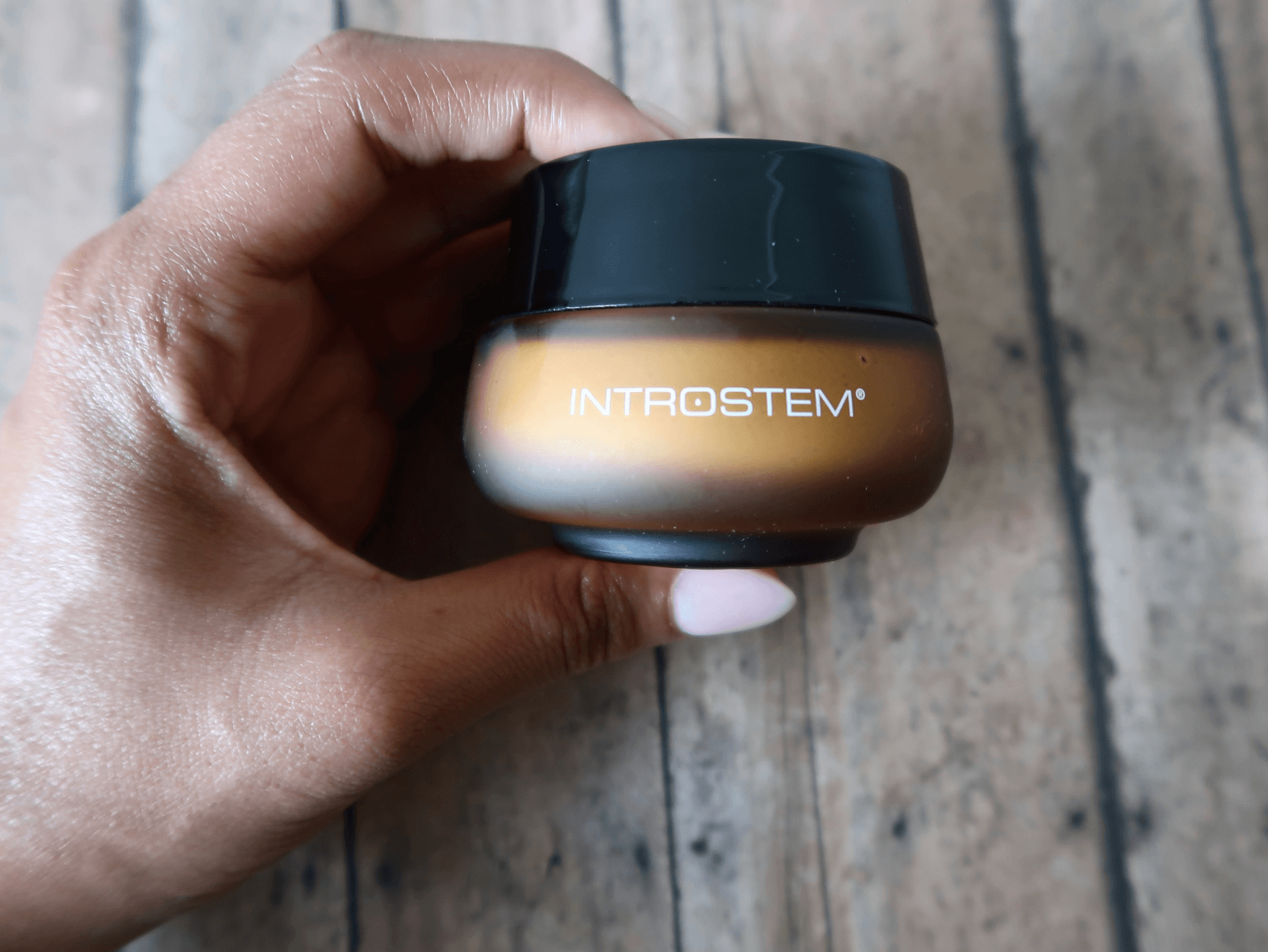 The moisturizer is white and creamy with a very light texture. I appreciate the smell of this moisturizer. It has a light fragrance that doesn't smell toxic like most skin care products. On the back of the box, it states "This exquisite blend of shea butter, vitamin E (tocopheryl acetate) and grape stem cells helps deliver skin-loving nutrients while fortifying your natural, skin-protective barrier. Discover a plumper, more youthful complexion by applying the stem cell day moisturizer daily." This is an honest review, so I'll disclose my initial thought after reading the word "daily," which was:  I'm going to need more product than this, this little bottle may not last the entire week. In my opinion, the amount of moisturizer inside the container is small. But, I also have yet to try it, therefore maybe much of it isn't needed daily. Let's see!
The directions state to use a generous amount. I used about a quarter sized amount. I placed it in my palms and then massaged it onto my entire face.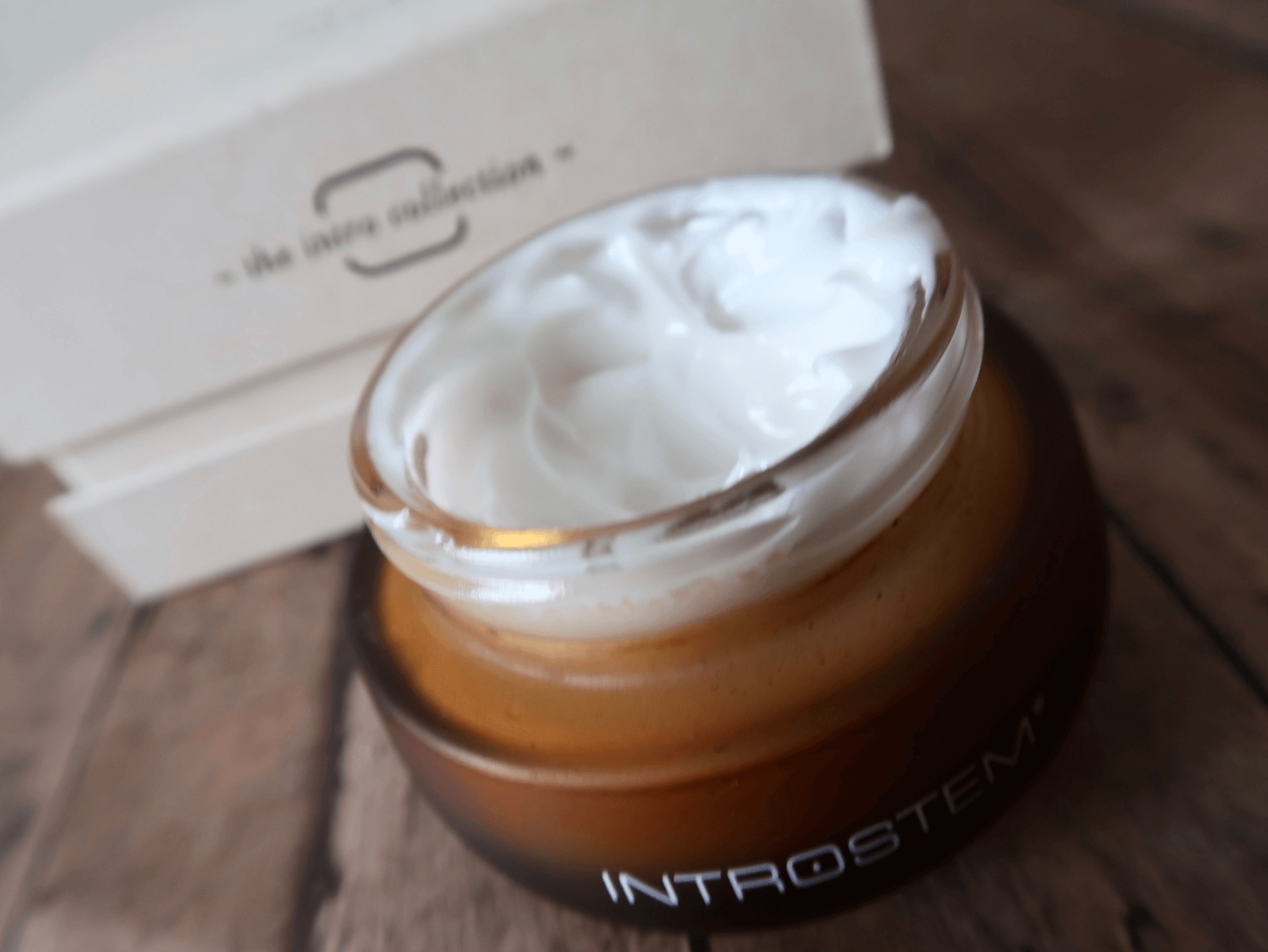 The moisturizer absorbed well. A quarter-sized amount was what I needed. It provided the perfect amount of hydration. My nose tends to get really oily with moisturizers, but with this product that didn't happen. There was a subtle, shine to my skin just how I like it. Along with the Stem Cell Eye Serum, I continued to use the Stem Cell Day Moisturizer Daily.
Grape Stem Cell Extract
There is another key and common ingredient amongst these products. I can't go any further without mentioning the notorious grape stem cell extract. Get ready, more scientific talk is coming. Remember earlier when I discussed the abilities of a stem cell (I hope you didn't skip over that part?) Well, in these products grape stem cell extracts are a prominent ingredient.
Why grape stem cells? Because they are great at fighting aging. Along with their ability to restore and replicate themselves as other cells, grapes are high in antioxidants too. Antioxidants are great for treating acne. And, more importantly, antioxidants can help cease pre-mature skin aging. This is just what my weary eyes need.
Thermostem Mask
On the third day of the review, I decided to do the Thermostem Mask that evening. I love a good face mask, especially after a long day of work. The whole process of applying, waiting and rinsing is somewhat therapeutic for me. A noteworthy fact about Introstem's Thermostem Mask is that it is infused with thermal catalysts. That means this mask packs a little heat.
It comes in a frosted gray glass container, and it is slightly larger than the moisturizer. It also comes with an applicator tool to help spread the face mask.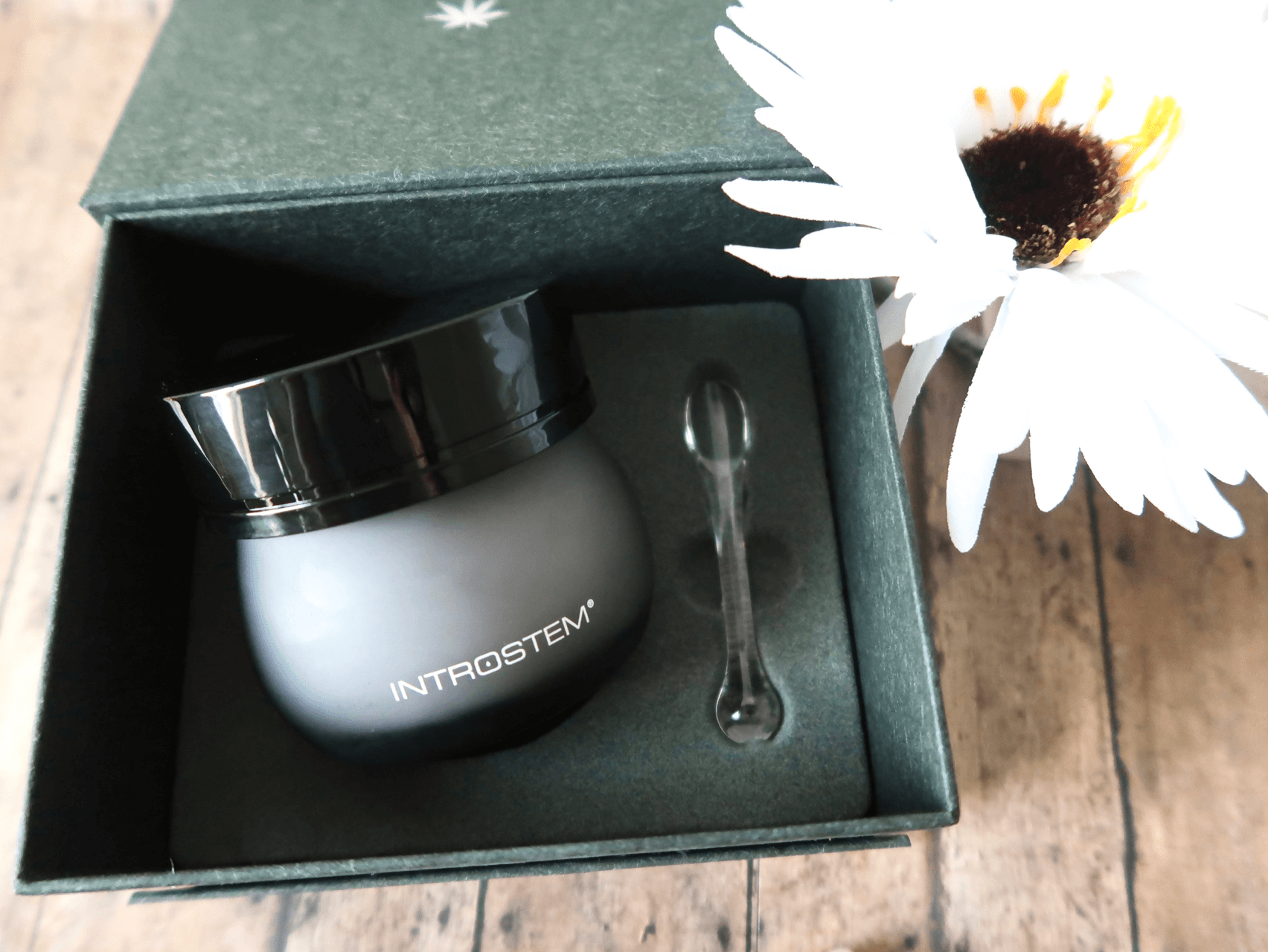 The color of the mask was a surprise when opened. The mask is a rather beautiful, lush gray. The texture is light but has a tacky feel to it as well. Perfect texture for a face mask. The directions ask that your face is cleaned and still wet and to apply the mask in an upward motion. There is then a warning of a heated sensation that will be felt and to allow the mask to sit for 10-15 minutes.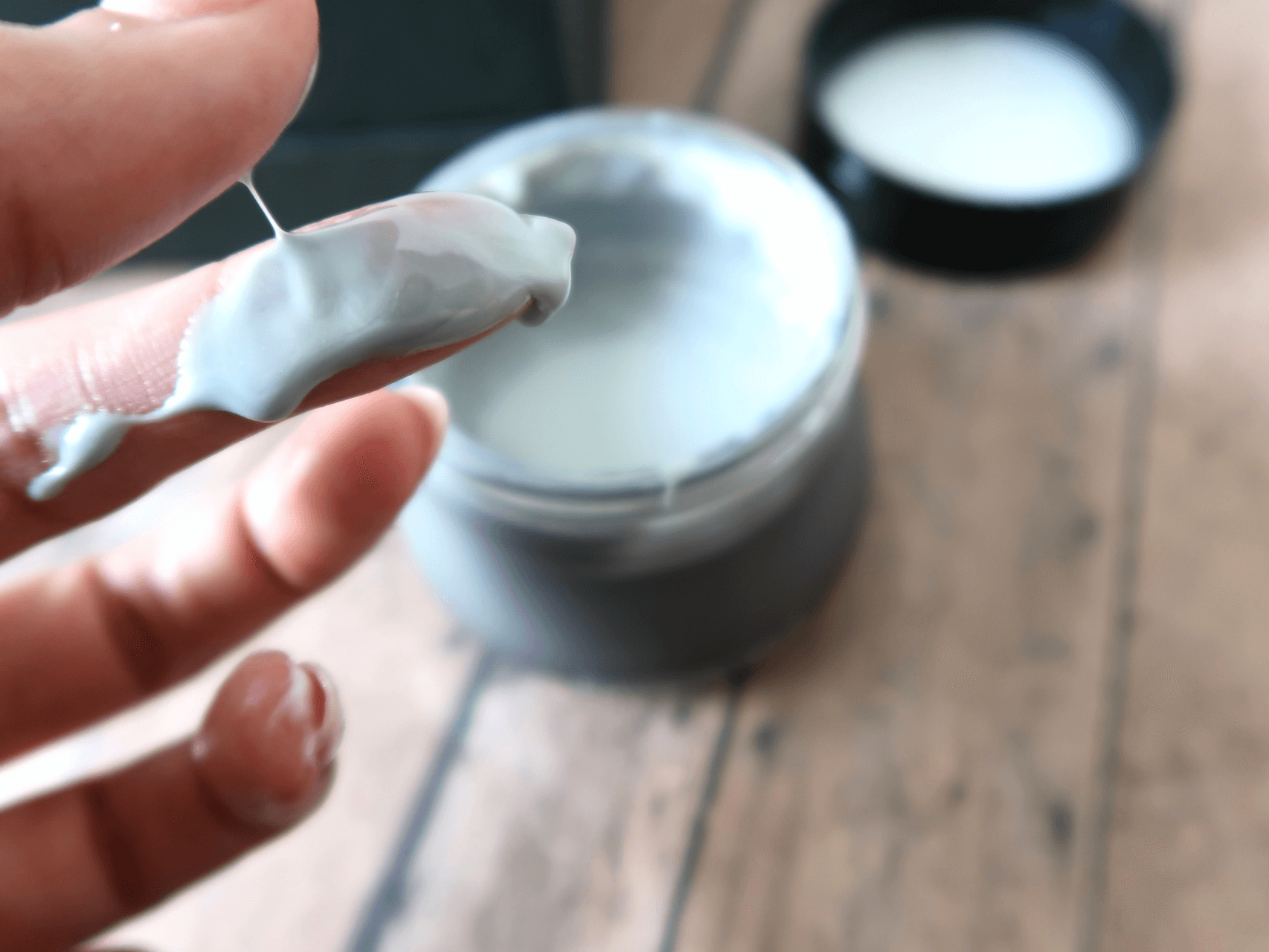 I felt the heat pretty quickly- it wasn't intense though. After about 20 seconds the heat subsided. I have sensitive skin and the heat was fine for me. The mask did not harden, but I could feel the texture of it tighten just a little bit.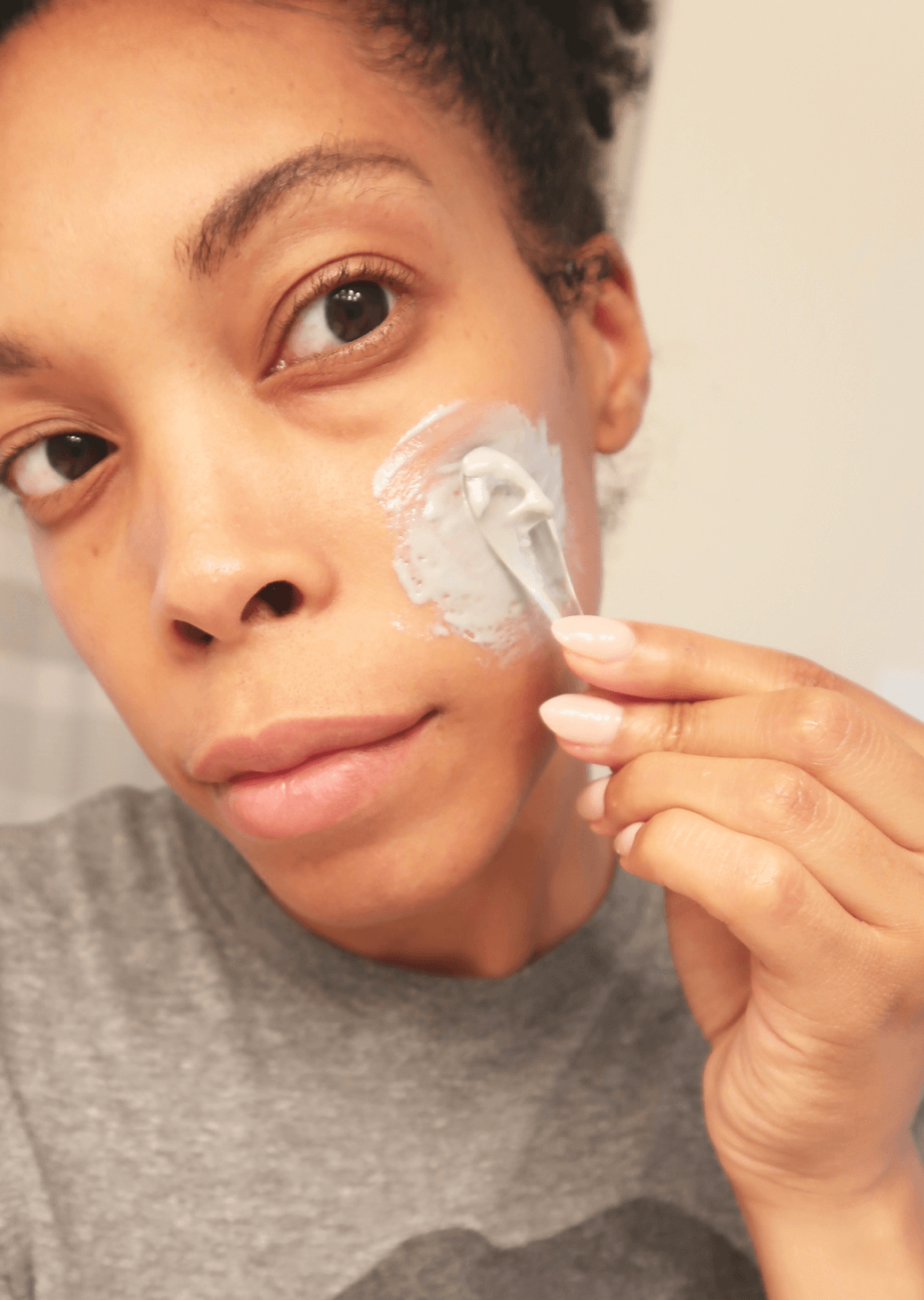 I did the minimum time just to stay on the safe side. I rinsed with cool water after 10 minutes. Rinsing was an easy process; no scrubbing was necessary. After rinsing my face had a softer texture. A boost in hydration and moisture was noticeable too. The instructions request that this face mask is only used monthly.
Skin Check
Here's a skin check-in on the fourth day of the review. This was taken the during the afternoon. At this point I had done the Thermostem mask that previous evening, and I had applied my daily Stem Cell Eye Serum and Stem Cell Day Moisturizer. Can you see the significant difference in my under-eye area? I'm so excited about it. Rejuvenation has definitely begun.
The Results
Overall, this was a great week in the name of skin care. My face has definitely improved. My under-eye area is not completely baggage free. However, the puffiness has decreased. Same with the complexion around my eyes. I would still like to see the tone improved more, but it has come a long way. I predict about another week using Introstem daily and I'll reach my eye rejuvenation goal.  As far as my overall facial appearance, I am impressed and satisfied with the improvements. My skin complexion has evened to one color and my face stays hydrated throughout the entire day.
I searched the company website for the price of these items. The Stem Cell Eye Serum is priced at $500, the Stem Cell Day Moisturizer is $350, and the ThermoStem Mask is priced at $1,500. Based on the price and performance of these products, I would definitely recommend purchasing. Especially if you're having the same skin issues like me.
Trust me, I'm only 31 years old and I've been trying to rejuvenate my eyes for over a year now. It's not easy, to get your youth back at any age. Home remedies will not work all the time. So, once you finally find quality and natural products like these – there's  going to be a price you must pay. Hereditary skin curses can be broken! After these results, I stand by Introstem I think they're worth every penny.