Let me start by stating I am very, very grateful for my job. It is the job I've always wanted for myself. And, I'm only thirty years old. That's a great accomplishment to have this young. However, yes, I still complain a little – allow me to explain. I have a love/hate relationship with the amount of time I have to be seated and in front of a computer screen. Before it hits lunchtime, my eyes are already burning and tired. Granted, this tiredness could be due to the additional screen time I intake by staring into my phone. Nonetheless, it doesn't matter how much sleep I get the night before my eyes and attention span suffer throughout the entire day. So, I joined the coffee addict club and fixed that problem easily. But, another (more serious) set of problems began. Let's talk about these horrible dark undereye circles and acne that has started to appear on my face.
I've heard that applying coffee grains directly to your skin can help with alleviating puffiness and dark circles. But, when you're intaking 2-3 cups of coffee a day like me, your skin receives an entirely different effect. Drinking an excessive amount of coffee has been known to lead to dehydrated skin, acne breakouts, discoloration, and wrinkles. A woman's worse nightmare. Although, some skin damage theories from coffee have yet to be scientifically proved- but I'm proof! I noticed a difference in the health of my skin a month after my coffee intake increased. Besides me getting older every minute of the day, coffee was the only change happening in my routine. So now I have to choose between my dream job and my youthful face. I really hope Vine Vera can help.
Vine Vera
The company Vine Vera is fairly new to the skin care market. They were established in 2012. However, since their debut, Vine Vera has become widely known for their innovative use of resveratrol to challenge skin aging and other types of skin care issues. According to Vine Vera, "Ever since science discovered the anti-aging benefits that resveratrol has to offer, the world of skin care has not been the same. Vine Vera was formed to offer our customers the very best of resveratrol-based products that present innovative solutions for your skin care regimen. Resveratrol is a powerful antioxidant found in the skin of red grapes. It is thought to cleanse your body of impurities and helps in preventing the appearance of aging signs such as fine lines and wrinkles."
If you are not familiar with resveratrol, here's a quick crash course of everything you need to know about Vine Vera's key ingredient:
On their website Vine Vera states their mission as, "Think of your skin as your fingerprint. Each person's skin is unique, and each skin type has its own set of challenges. To make things more challenging, unlike your fingerprints, your skin keeps changing throughout time. This means that you need a diverse set of possibilities that let you explore the world of anti-aging skin care in the best possible manner. Vine Vera presents 10 different collections which help you deal with different types of skin issues, irrespective of your skin type."  I love the options. Wait, that's a lie I need options with everything in my life. Vine Vera has already impressed me with their extensive product list. I also appreciate that the products are not tested on animals.
Vine Vera Cabernet High-Potency Collection
I received three items from the Vine Vera Cabernet Collection. I received the Resveratrol Cabernet High-Potency Cream, Resveratrol Cabernet High-Potency Cellular Peel, and Resveratrol Cabernet High-Potency Eye Serum. The products are packaged in sturdy brown boxes with a metallic gold shimmer. The directions, ingredients, and descriptions are all written on the back of the boxes. The packaging is nice. But, I adored the shiny chrome container and dispensers that every product was in the most.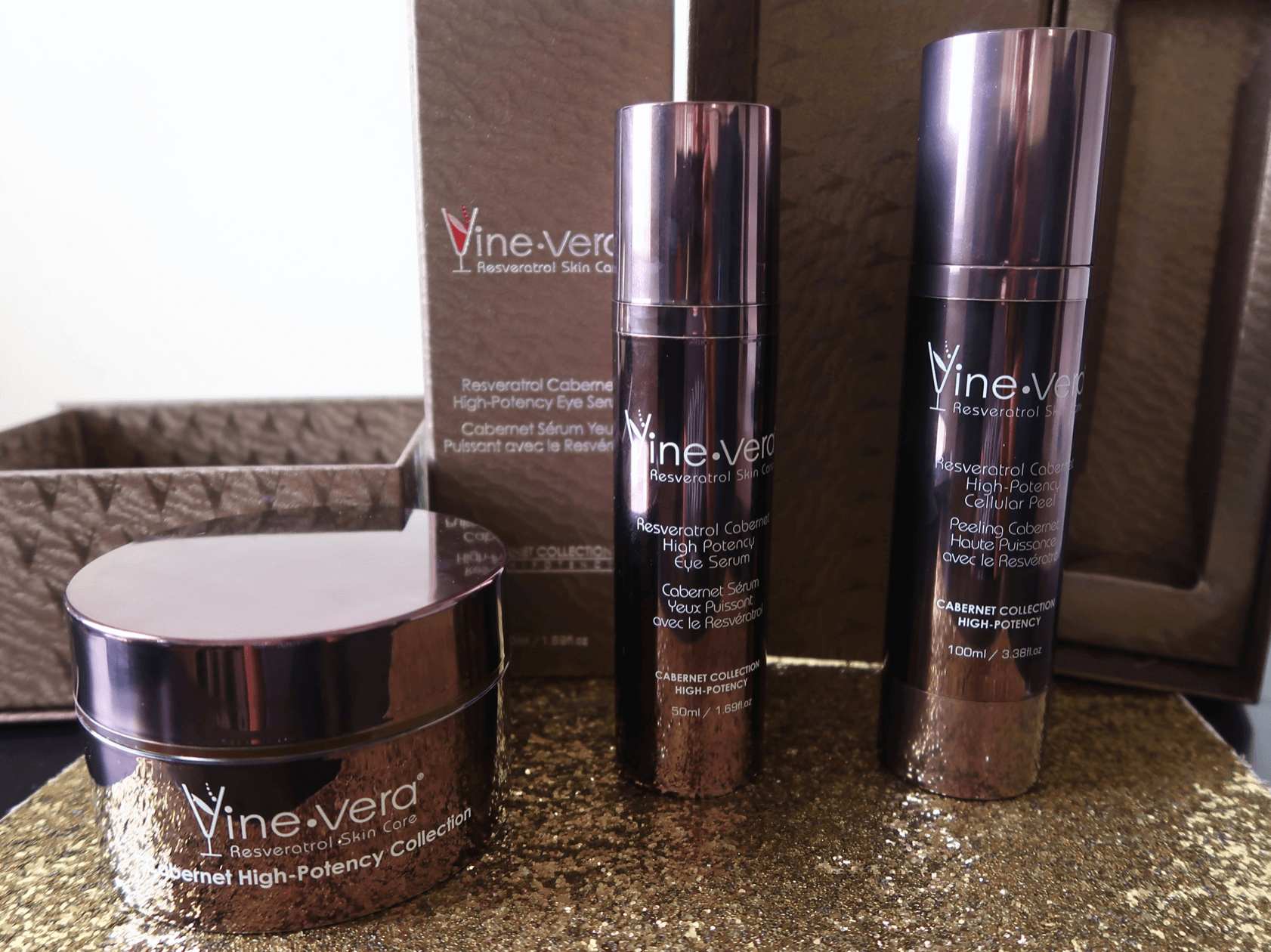 This will be my first time using a "high-potency" product. I do have sensitive skin, so I did a spot test with the cellular peel before I started my official review. For those unfamiliar with a spot test, it is where you apply a small amount of product to an area of your body and wait 24 hours to see if there's a negative reaction. I always do my arm. Everything checked out good, so it was time to get started. If you have sensitive skin like me I would highly suggest doing the same; better safe than sorry.
Resveratrol Cabernet High-Potency Cellular Peel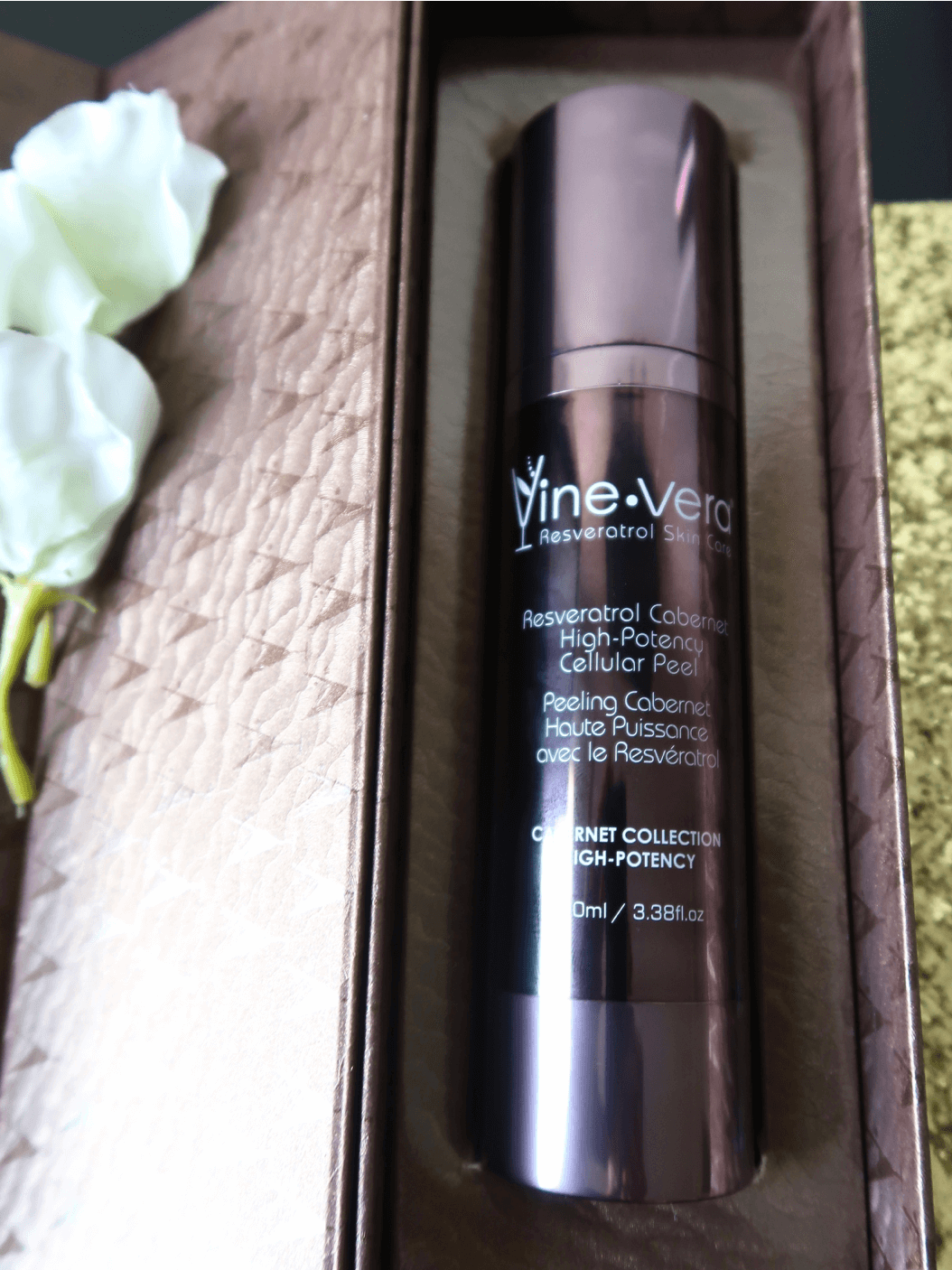 I decided to start with the cellular peel. Mainly because it's an exfoliant. I think exfoliants are always great to start with because they get rid of everything that's blocking your pores. Especially if you wear makeup, always deeply clean your face before using products to fully revitalize your skin. 
The Resveratrol Cabernet High-Potency Cellular Peel description states, "The Resveratrol High Potency Cellular Peel is carefully designed to rid the skin of dirt and oils caught beneath the surface. Our unique formula will cleanse the skin without damaging your skin. This cellular peel is formulated with a high dose of Resveratrol to give you all the benefits of this wonderful ingredient. The peel also has visible traces of Nut Shell Powder, which is a natural exfoliant, and Glycerin, to hold in extra moisture, giving you the ultimate hydration. The Resveratrol High Potency Cellular Peel will leave your skin feeling fresh and looking radiant." Wait, nutshell powder?! Are you as surprised as I am? Apparently, I'm not as knowledgeable in skin care as I thought I was. I walk past those old nuts in my grandmas' canister on her living room table every day. I had no idea those walnuts grounded into a powder could enhance my beauty.
For centuries the ingredient nutshell powder, which is actual nuts grounded into a fine powder, has been used by skin care companies and individuals to exfoliate. Nutshell powder is commonly added to products such as lotions, and cleansers to gently exfoliate the skin and allow the other nourishing ingredients of the products to get inside the pores. This will boost the results of the products. Nutshell powder is most useful for skin conditions like acne, eczema and even more severe conditions such as canker sores and psoriasis.
The instructions do not promote daily use. On the back of the box, one or twice weekly use is recommended. Even though I spot tested I wasn't quite sure it was the "gentle" enough for my skin. I decided to only use the exfoliant once. Just to play it safe.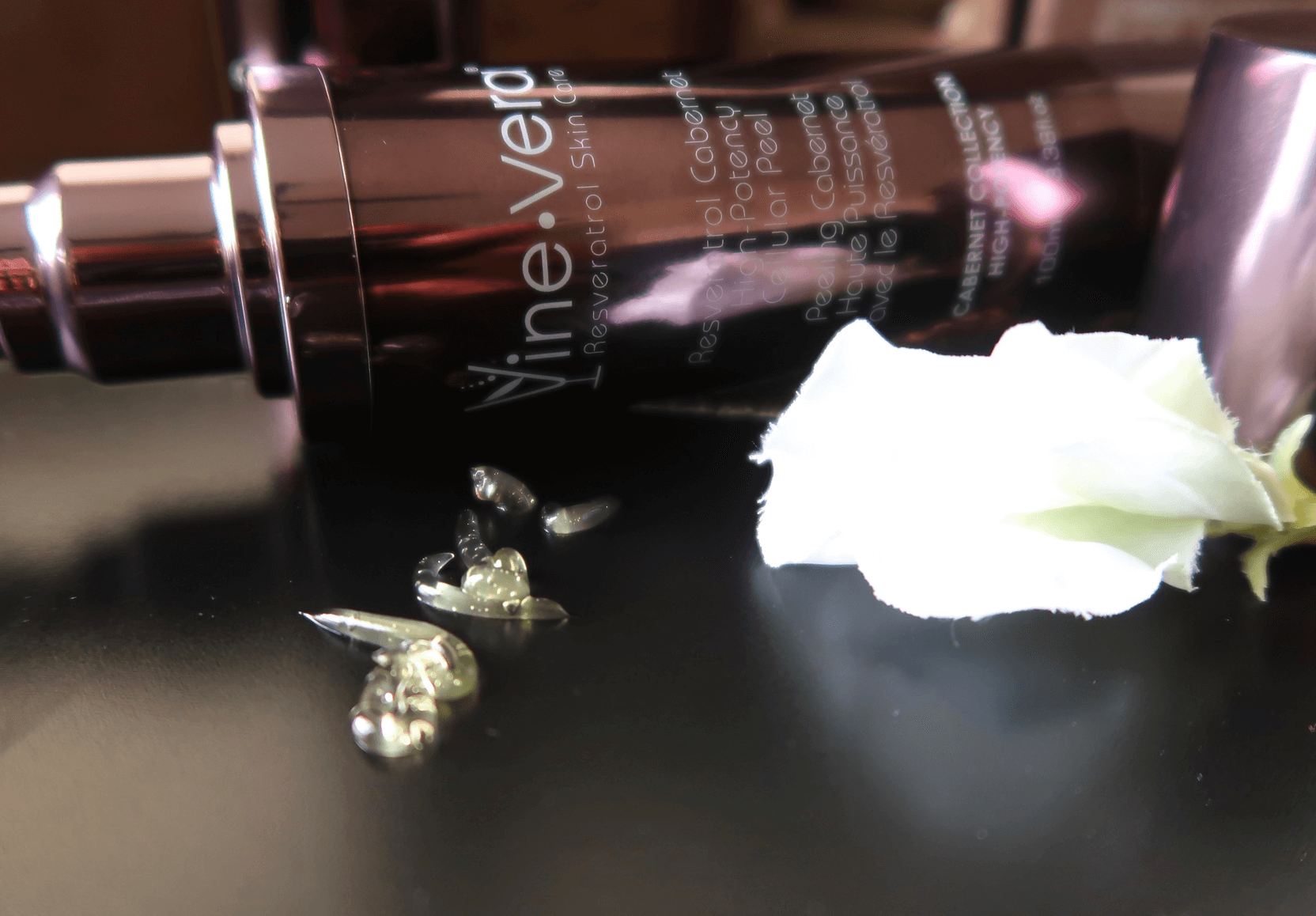 The cellular peel has a gel texture. The color is pretty much clear but has a brown tint. The directions instruct to apply a quarter-sized amount to your face. I didn't think that would be enough, but as I began to spread the gel over my face the texture changed. The peel was thinning to a water- like texture. It was actually really cool to see it transform.  I used a circular motion and spread the cellular peel around my entire face. There was no time suggestion in the instructions. I let the peel sit for about five minutes and then washed off with cool water. While letting the peel sit I felt a tingly reaction from my skin. After rinsing the peel off I felt a light burning sensation on my skin. Around my under-eye area, the burning was a little more intense. I immediately rinsed my face again with cold water. Luckily a third rinse instantly- relieved the burning.
Again, I'll state: this product is high-potency and please spot test before using. Use a more sensitive area than I did. The forearm might be more accurate. I might have let the peel sit too long as well. So, I'll suggest immediate rinsing.
Once the burning ended I did feel my pores breathing and my skin had a soft and smooth texture. No immediate sign of improvement under my eyes was noticed. But, I sure do hope the burning was worth it. Next up was moisturizing.
Resveratrol Cabernet High-Potency Cream
I checked the ingredients on this cream. I needed to make sure this cream would highly and efficiently soothe my skin back to normal. The description on Vine Vera states, "This unique ultra-light cream will leave your skin feeling silky smooth and radiant. Infused with derivatives of vitamin A (Retinyl Palmitate) and vitamin E (Tocopheryl Acetate), Avocado oil (Persea Gratissima Oil), Seaweed Extract (Laminaria Japonica Extract) along with Resveratrol Ferment Extract, this fabulous cream will help fight the signs of aging." Jackpot! I love using so many of these ingredients. I'll share why:
Vitamin E
Vitamin A
Avocado Oil
Seaweed Extract
I was uber-excited to try this cream. The texture is light and creamy. The smell isn't so pleasant though. That didn't bother me too much because I was just too anxious to hydrate. The directions state to apply a generous amount during the day and at night. I used a quarter sized amount.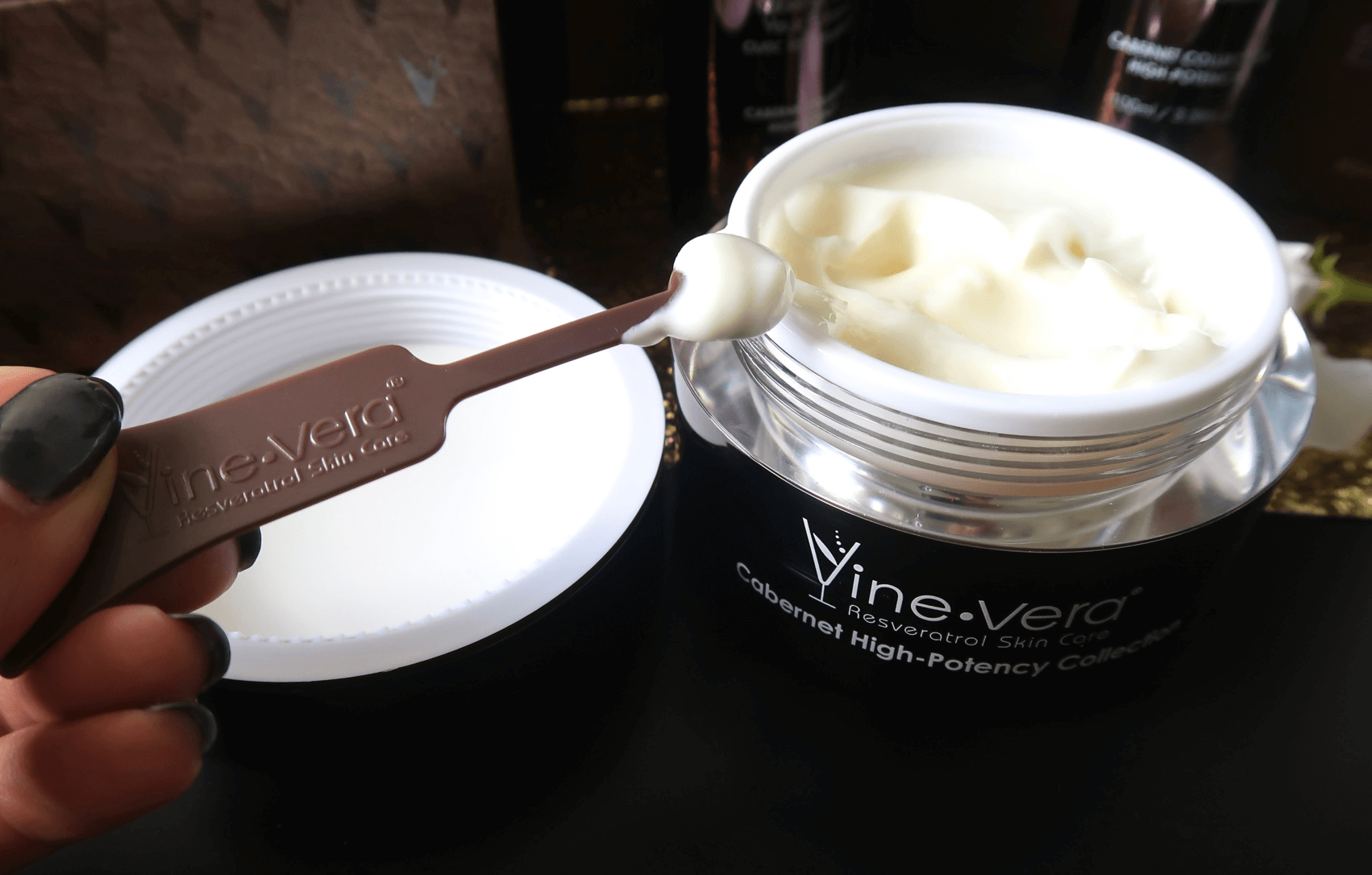 There was instantly noticeable rejuvenation. My skin was glowing, hydrated and had a youthful appearance. I am thoroughly satisfied with the texture of my skin after applying the resveratrol high-potency cream for the first time. I applied it twice every day for this review in the morning and at night.
Resveratrol Cabernet High-Potency Eye Serum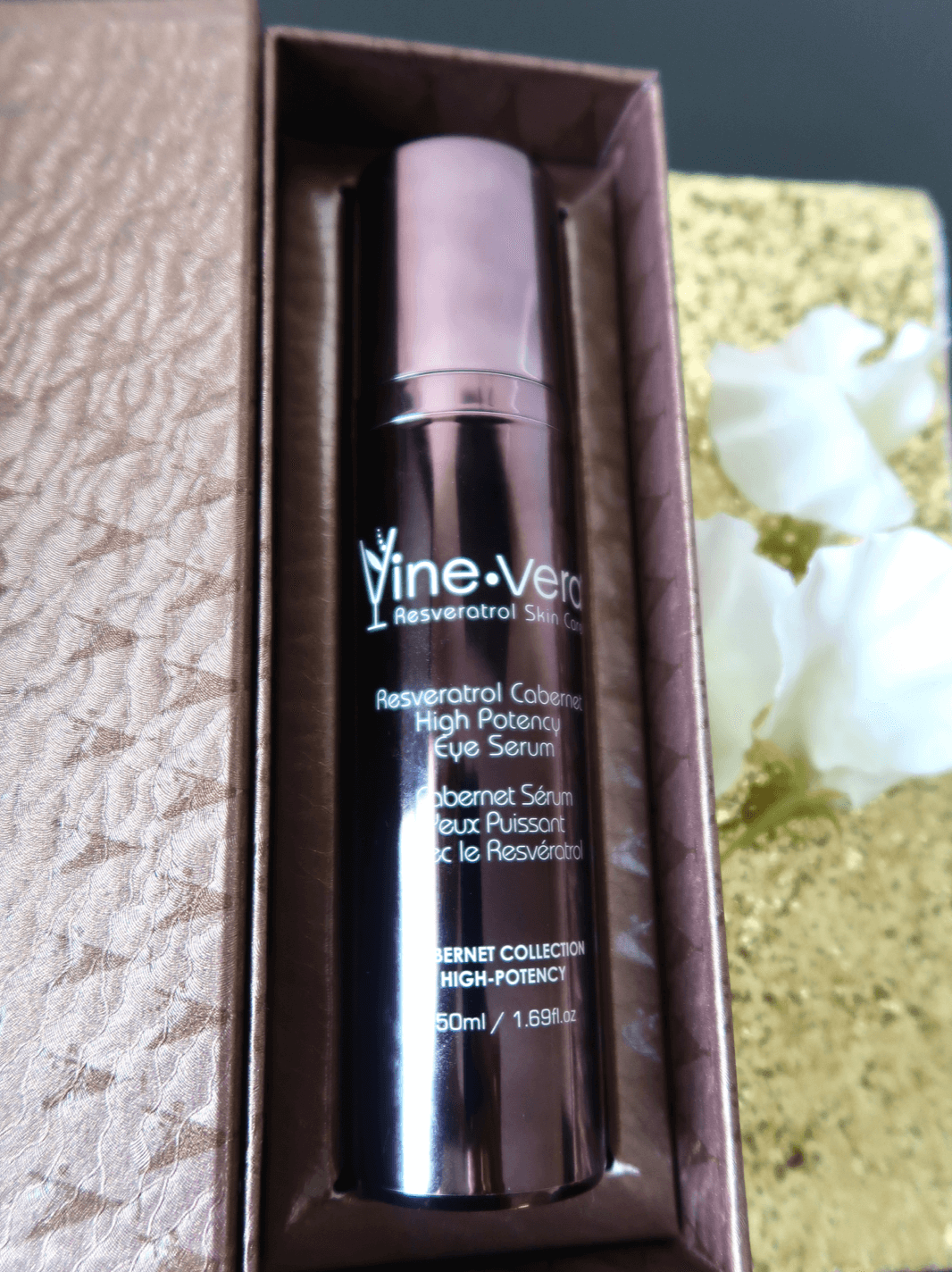 Please, please, please, fix my under-eye situation! This is the prayer I said to this eye serum before opening the box. This serum is to be used daily and has three main ingredients, Resveratrol ( Pichia/ Resveratrol Ferment Extract), Palmitoyl Oligopeptide and Vitamin C (Ascorbic Acid). On the company website, Vine Vera promotes that these ingredients will work together to, "reduce the visibility of wrinkles and fine lines. The Eye Serum will also improve skin tone and texture, leaving your skin looking rejuvenated, smooth and radiant."
Just one small squirt of this serum was enough for both of my under eyes. Here's what the serum looks like.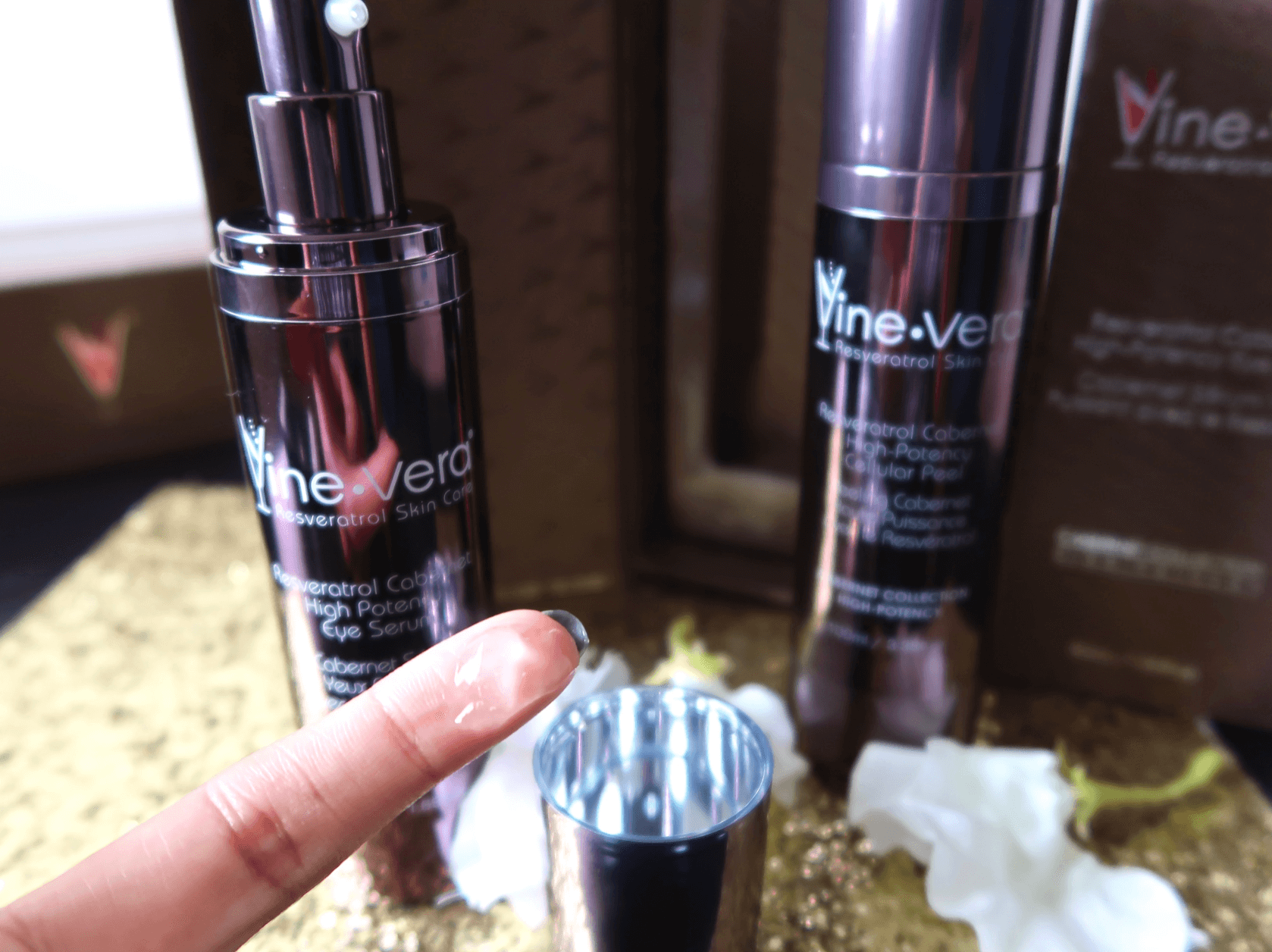 The gel does not spread thin like the cellular peel. It has a thicker texture and you'll need to rub it in for about 15 seconds. There was no burning or tingly sensation after applying. The serum absorbed well and it didn't leave my skin dry either. I used this eye serum once daily.
The Results
By the end of the seven-day review, there was an improvement in my skin condition-especially my eyes. The area under my eyes had finally lightened. My entire eye area had a more youthful appearance and remained hydrated the entire week. There was even a day I forgot to put the Resveratrol Cabernet High-Potency Cream on before work and didn't notice because my skin did not feel dry at all. This was after a morning wash. Remarkable, right?  My acne was not severe to begin there were just random breakouts I had happening quite frequently. After the second day, I did not have any breakouts. And my previous breakouts were cleared. Yup, I had a brand-new rejuvenated face ya'll! 
When it comes to purchasing these items, I'm going to be very honest with you. The Resveratrol Cabernet High-Potency Cellular Peel is not my favorite item. However, it works. My skin was exfoliated and clean as a whistle after using it. But, I think my skin is too sensitive for it. The price is $195. If you are struggling with constantly clogged pores and severe acne I would suggest the Resveratrol Cabernet High-Potency Celluar Peel. The Resveratrol Cabernet High-Potency cream is $400. This product is lovely and jam-packed with nutrients your skin needs. I would suggest buying this cream for great hydration. Last but not least the Resveratrol Cabernet High-Potency Eye Serum, which is $350 and worth every penny. This serum erased months of damage under my eyes in a week. So, cm'on let's be real -you can't put a price on that. The Resveratrol Cabernet High-Potency Collection from Vine Vera has quality products worth purchasing.