Have you ever taken a look at Pinterest? At first, I didn't really know what to do with it in the sense that I couldn't do anything concrete with some of the pins I saw in popular Pinterest boards. But then, I started exploring the site even more and I ended up in the DIY section; I was hooked from then on and have been DIY-ing ever since. What I like about the DIY section of Pinterest is that it has really interesting DIY projects that I haven't found anywhere else. Check out some of my favorite DIY projects from Pinterest below!
Best Crafts
What I like most about these crafts is that they are very easy to do. I really do not need more than a couple of hours to make them and they lead to million dollar results. Take a look at some of the projects that are easy to do with just a few handy materials:
Baby Headbands – Now you might think this doesn't apply to you if you do not have a baby but you can increase the measurements to make them fit you! These headband knots are really easy to make. All you need is a strip of fabric from old tights you never use anymore, measuring tape, pencil, scissors, and a glue gun. You can check out some tutorials on the site but there are also tutorials available in YouTube.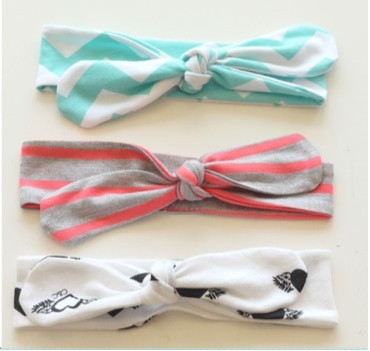 DIY Scarf Dress –I have tons of old scarves just lying around and I never let them go for the simple reason that they have a lot of sentimental value to me. I didn't want to just give them away so I decided to get on Pinterest and find out what I could do with them. If you have old scarves lying around as well, you may want to check out these ideas. Some of them require cutting and sewing but there are also ones that just require you to tuck here and there. This is a great way to reuse old scarves that are no longer trendy but mean a lot to you.
There are so many other interesting DIY ideas on the site and I urge you to go and check them out. You will be surprised at the many new things you can make using old materials!