With so much volume and texture, super-curly hair can sometimes be quite difficult to style. 
If you are stuck for ideas on what to do with your locks, here are eight ways to style your curly hair. 
A Deep Side Part
One of the advantages to having super-curly hair is all of the volume that this comes with. Volume is something that so many strive hard to achieve, but those with curly hair naturally have quite a bit of this. 
So, why not make the most of it? 
While a deep side part is flattering on just about everyone, it really emphasizes the natural volume that super-curly hair has.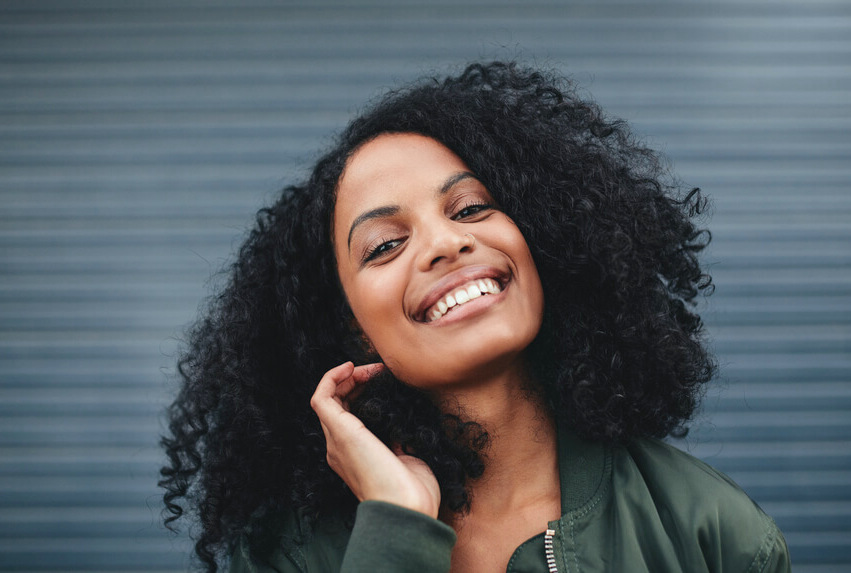 Want to know the secret to achieving the perfect deep side part? 
Part your hair while it is still wet, as this gives it some extra staying power. Use a rattail comb to do this, placing this on your hairline so that it is in line with the arch of your eyebrow. 
Why here? 
Because this is where it will be most flattering. 
Once you have created your part, comb a leave-in conditioner through your hair and apply a curl cream, as this will help to give your curls some definition. Once your hair has dried, whether you have left it to air dry or have dried it yourself, use a small amount of a defining serum on the ends of your hair, as this will help to prevent your curls from clumping together, giving them some more definition. 
Get Creative with Braids
There are so many different types of braids out there, enabling you to really get creative when it comes to putting together a braided hair style. The great thing about braids is that they work so well with curly hair, providing you with a chic, stylish and practical way to keep your hair back and out of your face. 
Not so good at braiding? 
The easiest one to get started with is the three strand braid. 
The main downside to this simple braid is the fact that it can sometimes end up frizzy, but this is still the braid to begin with if you want to start teaching yourself the more complicated braids. 
Speaking of complicated braids…
You have likely already heard of the French braid, and perhaps even the Dutch braid (both of which are great for curly hair), but how about the four or five strand braid, or even the seven strand braid? 
Yes, these can be quite tricky, and you will probably have to watch quite a few online tutorial videos to master it, but the effort will be worth it. 
Another one to look into is the waterfall braid, which enjoys even more texture and movement when created with curly hair. 
Low Bun with a Scarf
Having a bad hair day and need a chic way to hide it? 
This style is absolutely perfect for that.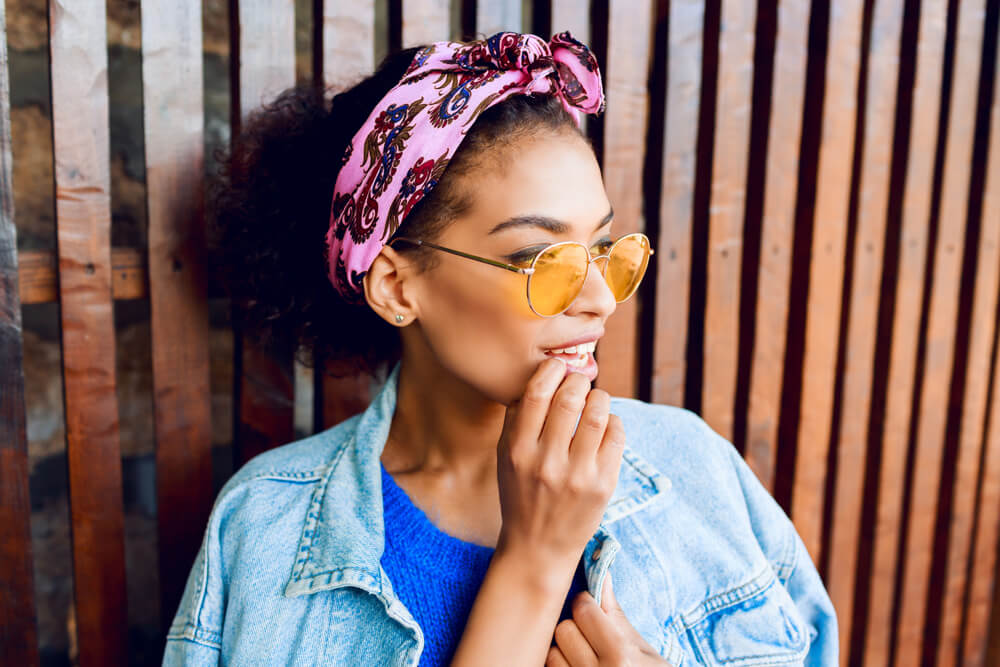 Unless your hair is extremely short, just about everyone can tie together a low bun. 
Of course, this style can often appear quite drab and boring, so this is where the scarf comes in…
Tying a scarf around your head will instantly perk your entire look up. Since the bun is behind the scarf, as well as low down, tying the scarf into a knot or a bow at the top of your head will help to balance this look out. 
Wondering how you should tie the scarf? 
There are so many options you could go for, such as: 
A huge bow – place the scarf against the nape of your neck and pull the ends upwards to the front of your head. Tie this into a knot before folding the ends in to create a bow shape. Tuck the ends into the bow to hide them

 

Twisted – pull the scarf around your head so that the ends meet at the top front. Instead of tying a knot, twist the front ends together continuously until you run out of fabric, and then tuck the ends into the scarf to hide them

 

Bunny ears – this method makes use of the popular shoe-tying technique to create a fun bunny ear bow
Space buns –these quirky double buns have been so trendy lately, and will be explained more further down

 
Since the scarf takes centerstage in this style, this is a great time to experiment with bold colors, as well as prints and patterns, incorporating new and exciting features into your wardrobe. 
Half Up, Half Down
The half up half down style is a classic one, and is a great way for those with curly hair to keep their hair back off their face, without having to fully tie it up.
While a ponytail may be the most obvious way to go about creating a half up half down style, you can actually get pretty creative with this one. 
How? 
Try a half bun instead of a half ponytail, or even half braids. A twisted halo braid is also a unique take on this style, and is a beautiful way to frame the face.
Worried that the half of your hair that is down will end up getting frizzy? 
There are a few ways in which you can overcome the frizz, such as: 
Use plenty of conditioner after each wash, along with a deep conditioner once a week

 

Avoid rubbing at your hair with a towel, gently squeezing it dry instead

 

Leave your hair to air dry, or use a hooded dryer or a diffuser when drying your hair

 

Use a boar bristle brush to brush your hair, as this helps to distribute the natural oils from your scalp down towards the ends of your hair. This is a process that naturally takes longer with curly hair, but is something that can really help to reduce frizz

 

Coat the surface of your hair with a pomade, making sure to use this sparingly so that your natural curls can still be see
Space Buns
From Ariana Grande to Miley Cyrus, space buns have been all the rage lately, with so many celebs sporting this style. 
Due to the tight nature of this style, and the way in which it keeps your hair twisted and tied out of place, this is a great hairstyle for super-curly hair.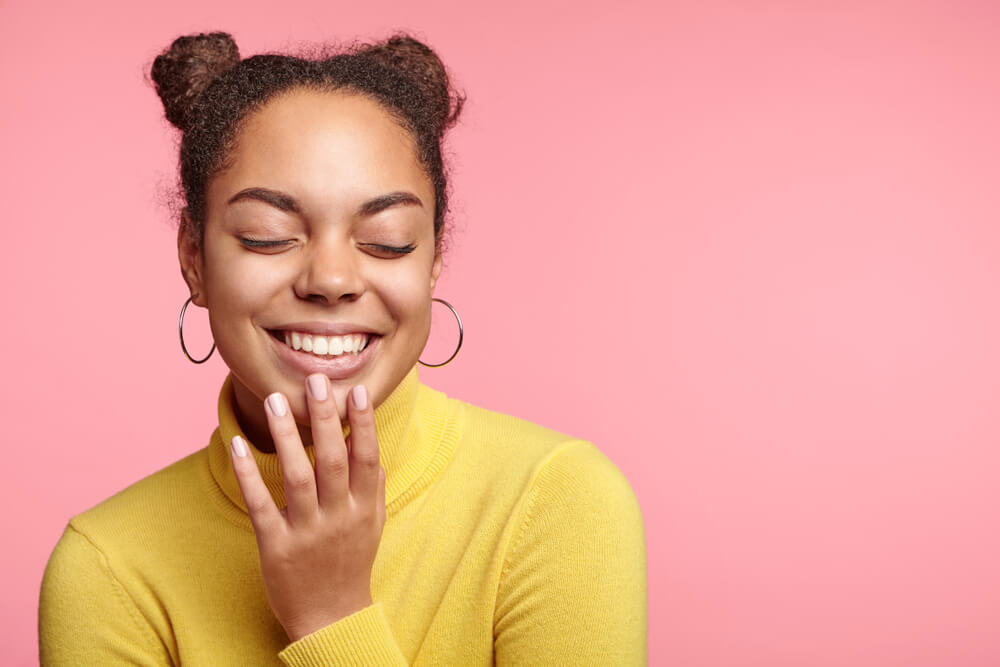 Want to know how to create this style? 
Begin by brushing your hair and combing in a middle part with a rattail comb. Make sure that this part runs all the way down from the top of your forehead to the nape of your neck. 
Then, create two pigtails, placing them as high up or as low down on your head as you want. It is always worth experimenting with different positions to see which suit you best. 
Take one of your pigtails and twist this away from your face into a rope, doing this quite tightly in order to keep all of your curly strands in place. Coil the rope up so that you have formed a bun, tucking the ends underneath, and then use a hair tie to secure this into a place. Repeat these steps with your other pigtail. 
Since your hair is super-curly, you may also need to add in a few bobby pins to help keep this style in place. 
Love this look? 
Try taking it a step further by creating braided space buns. All you need to do for this style is braid your hair after you have divided it into pigtails, before twisting these braids up into a bun. Again, this can be customized even more with the type of braid you choose. A three strand braid would be the easiest, but a five strand braid would give this look so much more texture. 
Three Twisted Buns
This style is so easy to put together, and has such an edge of sophistication about it. 
It is similar to the space bun style mentioned above, but instead of just two buns, this one features three. 
Of course, this would look quite comical if placed at the top of your head, which is why these buns should always be low down, close to the nape of your neck. 
All you need to do is separate your hair into three sections. Take each section from the top and twist it down, making sure that you are directing this away from your face. Wrap this section around itself to form the bun, and then either tie it or pin it in place.
You will probably need to top this look with some hairspray in order to make sure that no strands stray from any of the buns. 
If you want to minimize volume at the top of your head, consider pairing these buns with a headband, or even a scarf. 
Topped with Flowers
Boho-inspired styles are still on trend, and curly hair topped with flowers adheres to this perfectly. 
This is a look that has such a carefree appeal to it, so even if your hair is prone to frizzing, it won't really matter.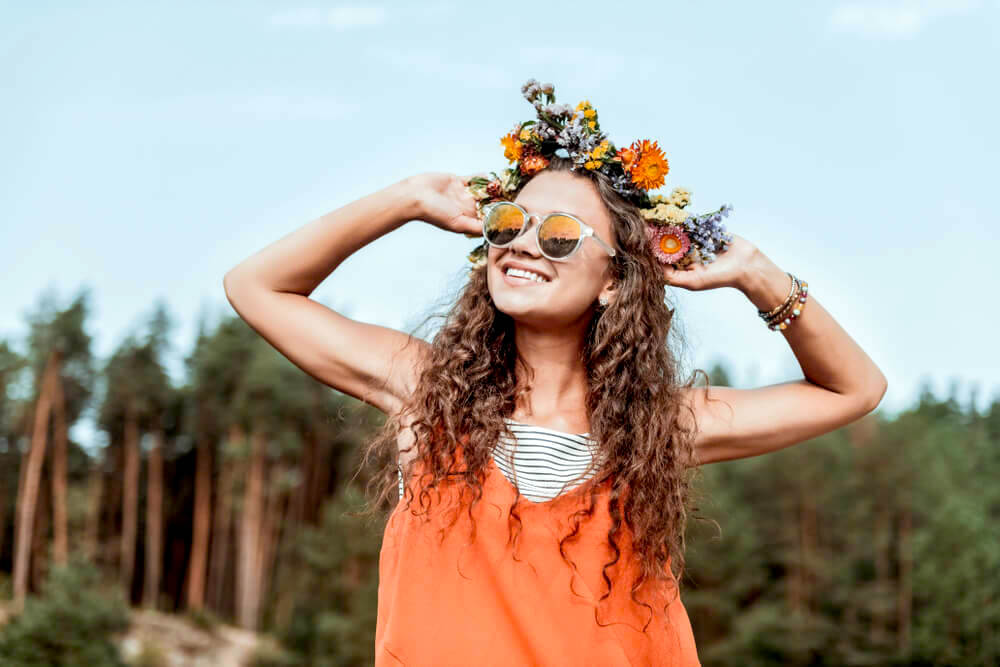 Wondering how to actually incorporate flowers into your hair? 
Well, floral crowns are always popular, but these do often tend to be too much for every day wear. 
Instead, try wearing some floral pins at the side of your head, just above your ear. Pair this with a deep side part for maximum impact. 
For a more subtle approach, scattering some small blossoms through your hair will give you such a delicate and feminine look. Daisies are perfect for this, as are wildflower blooms, or you could always mix and match different flowers. Just make sure that you pick the right sized flower in relation to your curls – flowers that are too small may end up getting drowned out by large curls. 
Want to go with real flowers so that you can make use of their beautiful fragrance too? 
Roses would be the obvious choice, while gardenias also smell heavenly. Peonies have more of a delicate scent, while the fragrance of a hyacinth is much punchier. 
Inverse Ponytail
Love the simplicity and ease of a ponytail? 
An inverse ponytail will only take a few more seconds to create, but will show off your curls in a much more interesting way. 
Also known as the inside out ponytail or the folded ponytail, you can quickly create this style by following these steps: 
Gather your hair into a standard ponytail. Whether you opt for a high ponytail or a low ponytail is completely up to you

 

After tying your ponytail off with an elastic band, use your fingers to form a hole in your hair just above the band. Try to make sure that this hole is as close to the band as you can make it

 

Keep one hand in the hole, making sure that the hair here remains separated apart, and use your other hand to take your ponytail up and through the hole, pulling it downwards from the inside

 

You can then adjust the ponytail, making it tighter or looser, before spritzing on some hairspray to keep all of your strands in place

 
Love this idea? 
You can try creating an inverse bun next. 
Rather than pulling the ponytail all the way through the hole, stop halfway, and then use some bobby pins to secure the ends of the ponytail to its base. You will likely need to tighten the bun after making it, especially with super-curly hair.
Styling super-curly hair can be difficult, but if you have the right techniques and the right products, your job immediately becomes so much easier. Whether you want to go for something elaborate and complex, such as a five strand braid, or want to keep it simple with a low bun topped with a scarf, these eight styles will provide plenty of inspiration. Remember, always have fun with your hair, and allow your personality to really come through in the styles that you choose.