Review by Lorel Rodriguez Vou Pre is a luxury skincare brand that synergizes skincare, beauty, and science. Founded by dermatologist Dr. Mary Luchetti, Vou Pre's products are carefully made with the gentlest, finest, and most effective ingredients. Many skincare brands use harsh ingredients that may damage the skin. Unlike other companies, Vou Pre uses safe and dermatologist-tested ingredients. Every single one of their products contains some of the biggest, most popular names in the skincare industry. Ingredients such as Collagen, Vitamin E, and Seaweed Extract are found in nearly all of Vou Pre's products. 
What makes these ingredients so special? 
Collagen, Vitamin E, and Seaweed Extract are all-natural ingredients that have long-lasting effects on the skin. From reducing scars and stretch marks to increasing the suppleness of the skin, these ingredients benefit the skin in so many ways. Collagen is an abundant protein made up of amino acids that have many positive effects on the body. It is widely known as the main contributor to healthy, glowing skin! Collagen is extremely effective and has been shown to improve:
Fine Lines

Wrinkles 

Skin Strength

Elasticity

Skin Moisture
Vitamin E is a powerful antioxidant that works to protect and heal the skin. It's also an anti-inflammatory agent with photoprotection qualities, which means that it calms redness and swelling, reduces scars and wrinkles, and protects your skin from sun damage. Vitamin E has always been a classic favorite, and for good reason!  Seaweed Extract is a diverse antioxidant with healing and soothing effects. Not only is Seaweed Extract abundant with vitamins and minerals for the skin, but it's also a natural plant source with extremely beneficial properties that help all skin types. Seaweed Extract is especially helpful for:
Soothing the Skin

Skin-thickening

Desensitizing the Skin

Anti-aging

Moisturizing 
As someone who struggles with severe acne scars and dry, dull-looking skin, I always look for brands that have trusted ingredients. After conducting my research, I couldn't have been more excited about Vou Pre's skincare line! Luckily for me, I received the chance to try Vou Pre's "Aqua Collection."  Here's my honest opinion:
First Impressions of The Aqua Collection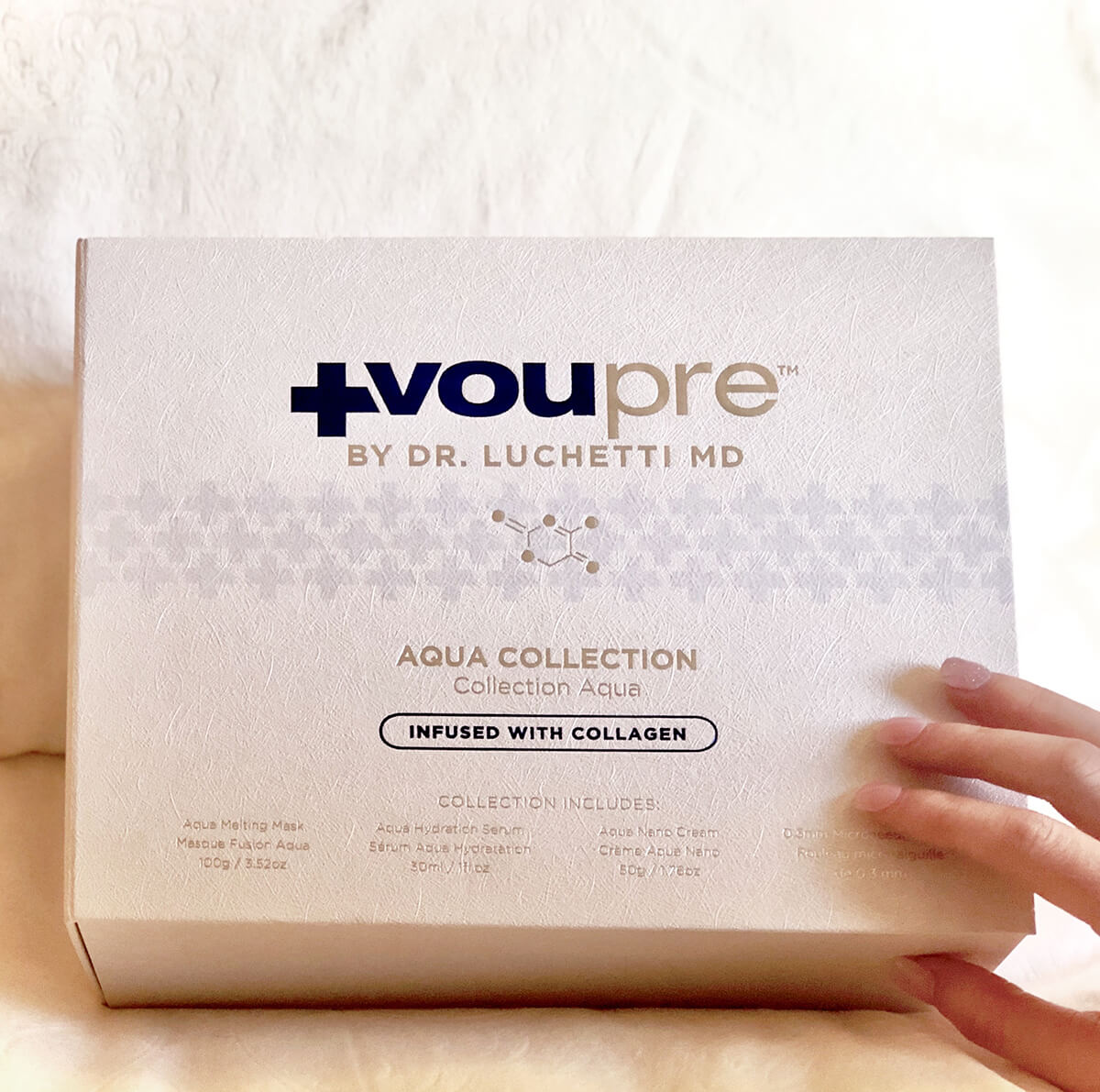 After days of waiting, I finally received the package in the mail. My first reaction after opening the box can be best described in one word: WOW. From the gorgeous, sleek packaging to the generous bottle sizes, I was impressed.  The Aqua Collection consists of five skincare products that are all aimed to restore your skin's hydration. The contents of the package include:
Aqua Melting Mask

Mask Application Brush

Aqua Hydration Serum

Aqua Nano Cream

Microneedle Roller
Vou Pre suggests that you use the Aqua Collection in this order:  1) Microneedle Roller 2) Aqua Melting Mask 3) Aqua Hydration Serum 4) Aqua Nano Cream.  These products work well individually, though it is highly recommended that you use them together for maximum effects. For the integrity of this review, I used the products in the exact order recommended. Each product is specifically designed to target certain areas of the skin and I wanted to experience these products authentically.  Excited to learn more about the Aqua Collection? Check out my breakdown of the products below!
Step 1: Microneedle Roller
Microneedling is commonly used by dermatologists and is widely popular in the skincare community. A microneedle roller (or derma roller) consists of thin, tiny needles that glide over and penetrate the skin in small punctures. The penetration stimulates the derma layer of the skin and prompts the regrowth of the skin cells. This may sound scary, but it's not! Microneedling is painless and simply feels like light pressure on the skin.
How to Use:
Cleanse your face. I've been a huge fan of micro-needling and one thing that I've learned is to always prep by cleansing your face. Since you will be deep-cleaning your skin, it is important to start with a clean canvas. We don't want any dirt getting into those pores! Apply a face oil or serum. Applying oil or serum before micro-needling allows for the roller to glide smoothly over the skin. Plus, the vitamins from the oil will penetrate deep into your pores for glowing and healthy skin! I love to use Vitamin C or Vitamin E oil. Both are lightweight, soft, and extremely beneficial for the skin. If I'm planning to work on stubborn areas (think wrinkles, scars, hyperpigmentation), I'll apply Vitamin E oil.  Glide the roller gently across your face. As you apply the roller to the targeted areas, roll the tool vertically, horizontally, and diagonally, 5 times each! Repeat for each area. Make sure to use gentle, delicate pressure as you glide the roller. Focus on each targeted area (wrinkles, enlarged pores) for 60 seconds, for a total of 4-10 minutes.  Don't forget to clean your microneedle roller! There's nothing worse than using a dirty microneedle roller on clean skin. To sanitize and clean your roller, simply follow these steps:
Place your microneedle roller in dishwashing soap, hydrogen peroxide, or rubbing alcohol. 

Let it soak for about 15-20 minutes.

Allow your microneedle roller to dry.
Typically, I will cleanse my microneedle roller once every week, but you can clean yours as often as you'd like!
Benefits of Microneedling:
So. Many. Benefits. From skin rejuvenation to texture improvement, Microneedling affects the skin in a lot of positive ways! Microneedling stimulates the growth of Collagen and Elastin. When the minuscule needles glide over the face, the body induces a healing response. This healing response stimulates the growth of brand new collagen and elastin – the proteins responsible for tight, youthful skin!  What else? Microneedling not only rejuvenates the growth of new skin cells, but may also help to tighten the skin, reduce wrinkles, stretch marks, hyperpigmentation, scars, and other signs of aging.
The Results:
Microneedling/derma rolling provides long-lasting improvements to the skin, but these improvements don't just happen overnight! It takes consistency and patience. After two weeks of using the 0.3 mm microneedle roller, I noticed that my complexion was more even, my skin was softer, and my face felt tighter and more supple.
Step 2: Aqua Melting Mask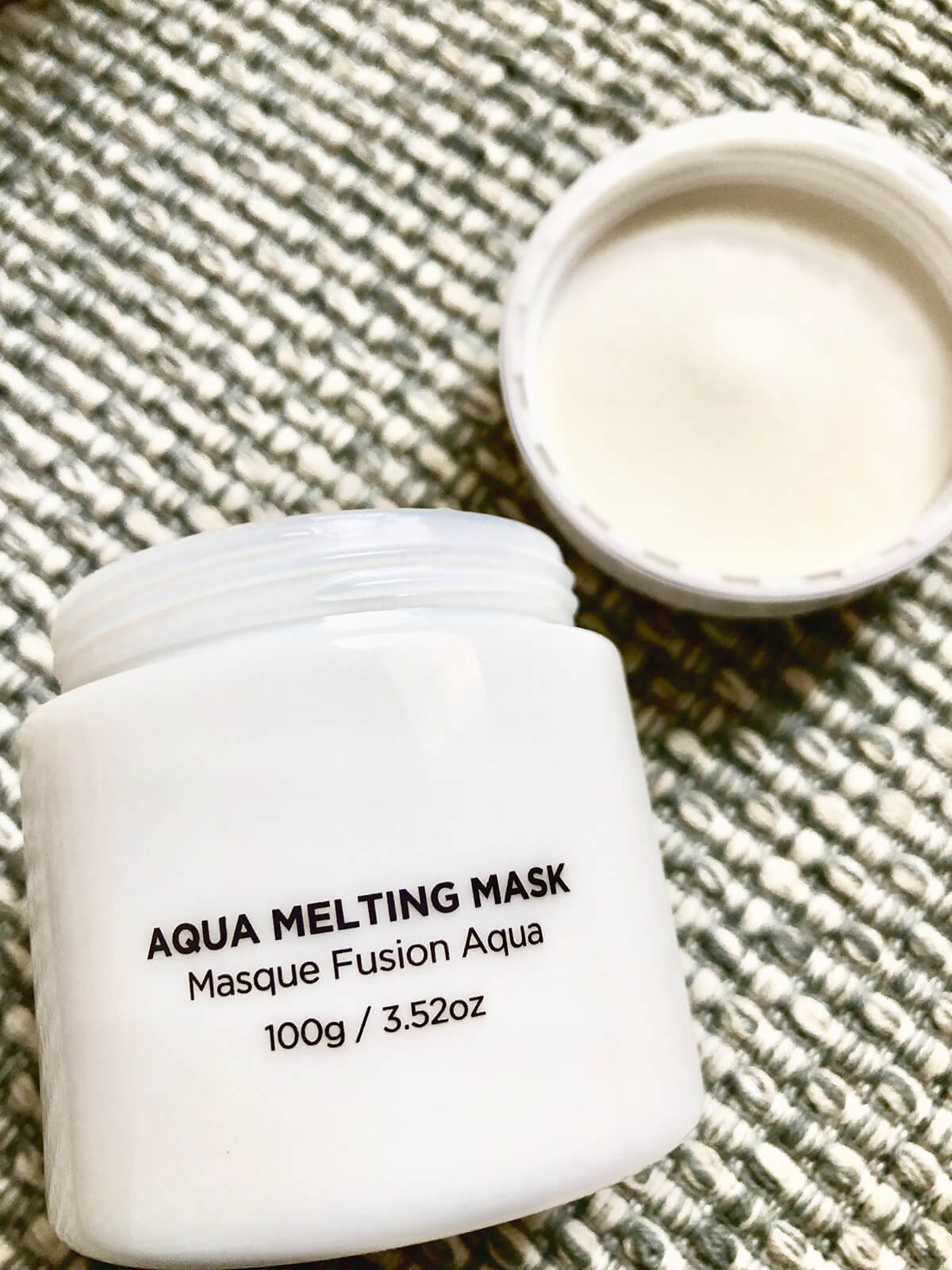 Packed with Vitamin A, Vitamin E, and fruit/plant extracts, the Aqua Melting Mask is an exciting combination of nature's finest ingredients. This mask hydrates the skin while providing the ultimate at-home spa experience. 
How To Use: 
Use the application brush to apply the mask all over the face and neck.

Leave the mask on for 10 minutes. 

Massage the mask into your skin until water droplets form.

Allow the droplets to absorb. 

Do not rinse. 
The Results:
The ingredients in this product are amazing! With Acai Berry, Pomegranate, and Goji Berry Extracts, I was head over heels for this mask. Due to these ingredients, the mask is lightly scented. The scent has a hint of flower and is entirely refreshing, but not overwhelming or unnatural. The mask itself was light and gave my skin a nice, cooling sensation.  After massaging the mask into my skin, I noticed immediate results. My skin was excitingly dewy, rehydrated, and glowing! 
Step 3: Aqua Hydration Serum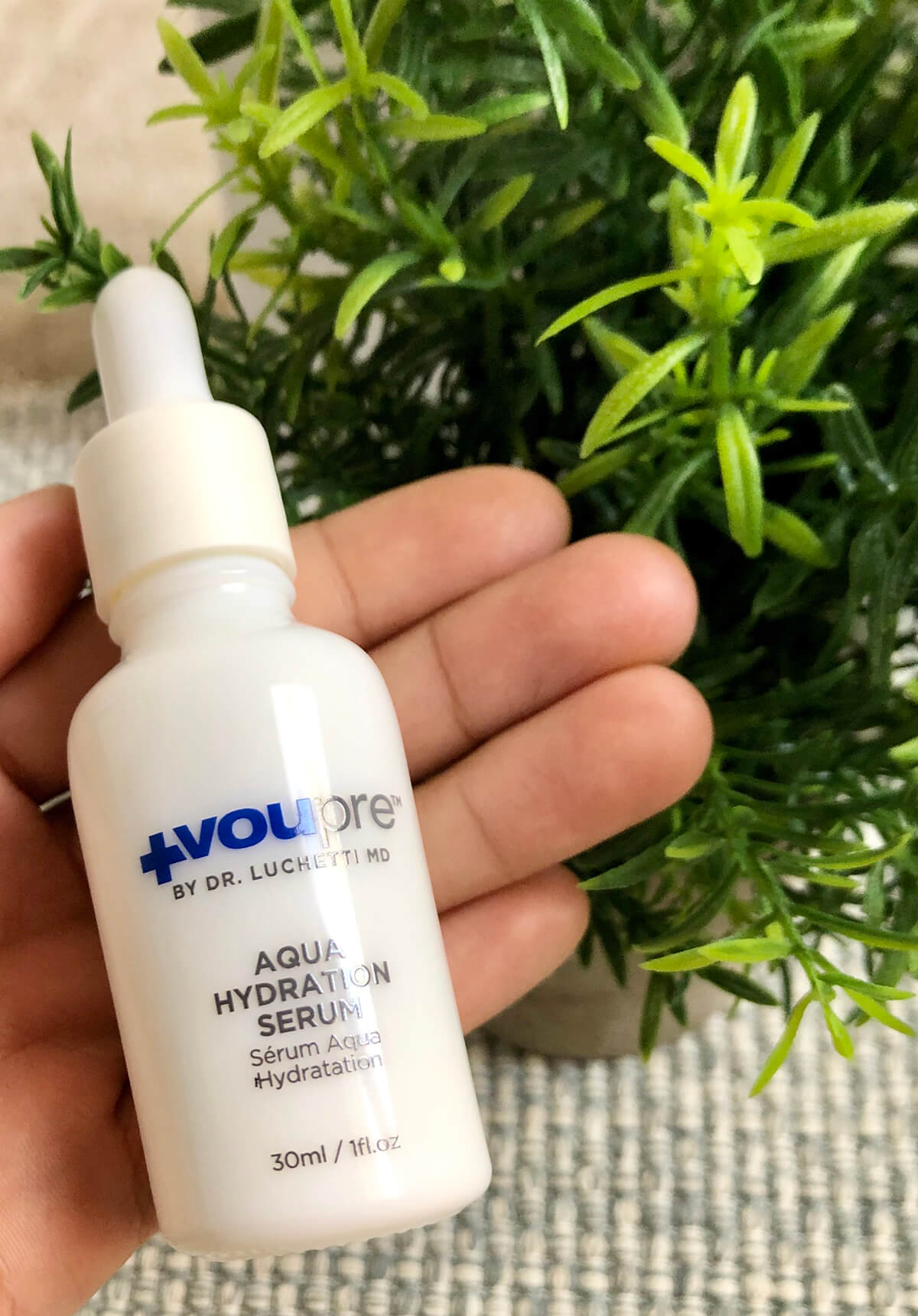 Serums are specially designed to be absorbed quickly and effectively into the skin. This Ultra-Hydration Serum is packed with nutrients and powerful ingredients that draw water to the face, stimulate skin cells and rejuvenate tired skin. 
How To Use: 
Apply 2-3 drops on the face and neck. Perform this step after you've cleansed your face, used the microneedle roller, and applied the Aqua Melting Mask.  Gently massage the serum into the face. Use gentle pats or circular motions to rub the serum into your skin. I like to apply the serum first by patting, then by massaging in circular motions. Always take care to massage the product in an upward motion – this helps to lift and sculpt your face. Let the serum fully absorb. This may take a few minutes, but it depends on your skin! If your skin is tired or deprived of nutrients, it may take less time for your skin to absorb the ingredients.
The Results:
The Aqua Hydration Serum is soft, unscented, and fast-acting. After applying the serum, it only took one minute for it to fully absorb into my skin. I was shocked at how effective it was!  After a few nights of using the serum, my skin felt brand new. I went from severely dry and cracked skin to glassy and smooth skin within days. My skin was desperate for nutrients and this serum provided all that I needed. 
Step 4: Aqua Nano Cream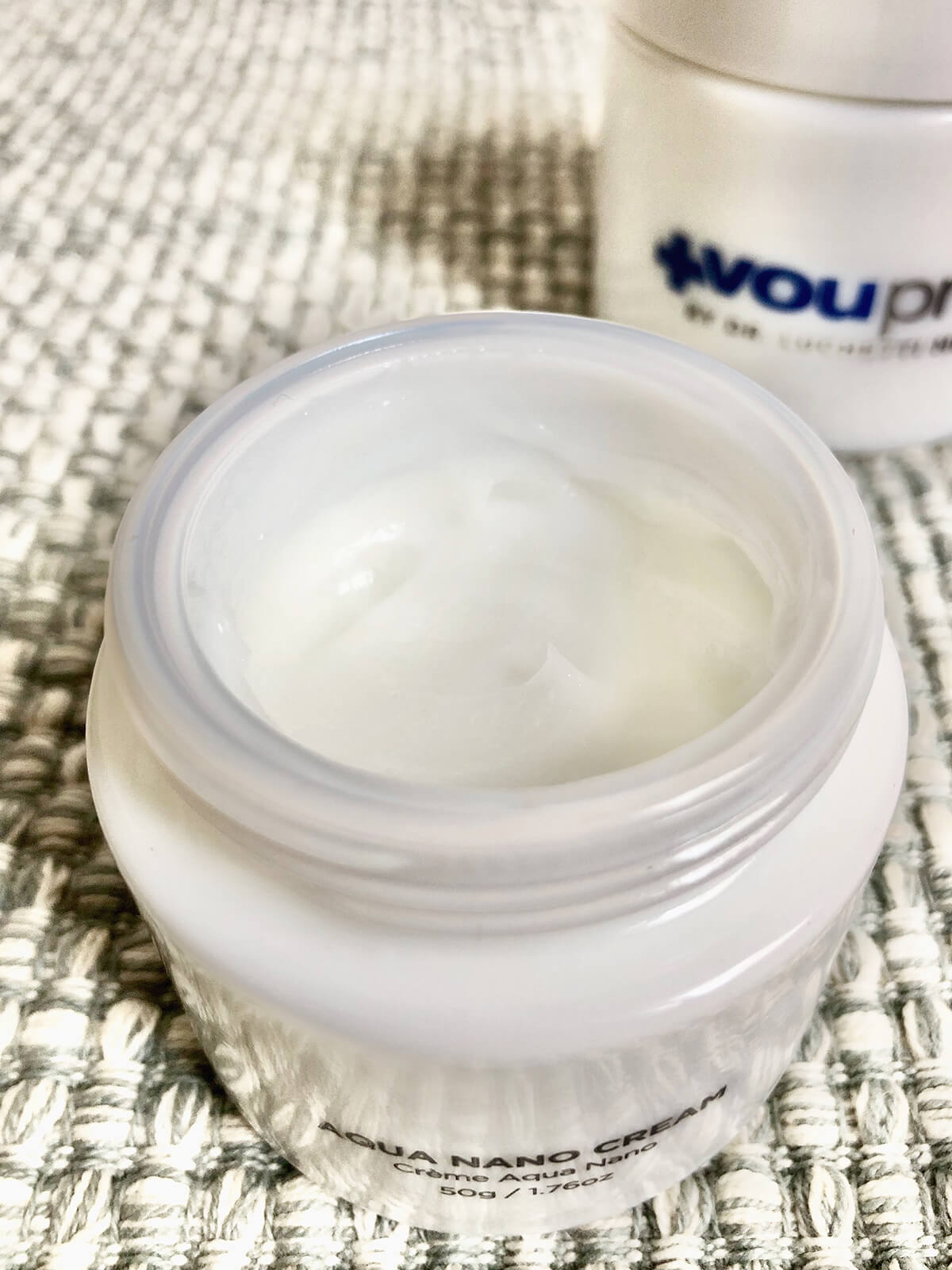 This moisturizer is the ultimate luxury experience! Infused with gold, coconut oil, and collagen, the Aqua Nano Cream restores your skin's hydration while leaving you with a silky, glowing complexion. 
How To Use: 
Apply all over clean face and neck.

Work the product into the skin using circular, upward motions.

Allow the product to fully absorb. 
The Results:
The Aqua Nano Cream was one of my favorites from this collection for its long-lasting wear and gentle ingredients. Typically, moisturizers are too thick for my liking and end up causing breakouts on my skin. The Nano Cream moisturizer was incredibly light and airy. And, I used it twice a day and did not break out once! If you're looking for a high-end moisturizer, I recommend this one.
Vou Pre's Collections
Great news! Vou Pre has a variety of collections for any skin type. From the Intro Collection to the Cannabis Collection, there is something for everyone. Check out their amazing collections here:
Intro Collection

– Perfect for all skin types. Products range from Advanced Gold Eye Serums to a luxurious Deep Renewal Facial Peel. 

Aqua Collection

– For dry skin. Products include a Microneedle Roller, Aqua Hydration Serum, Aqua Melting Mask, and Aqua Nano Cream. 

Cannabis Collection

– For those who love dewy skin and bright complexions. Products include a Cannabis Caviar Transforming Mask, Cannabis Facial Serum, Cannabis Silk Cream, and a Microneedle Roller.

Thermal Collection – For dull-looking skin. Products include a Microneedle Roller, Detoxifying Thermal Mask, Perfecting Facial Serum, and Corrective Facial Cream.
After trying and loving Vou Pre's Aqua Collection, I have high hopes for their other skincare lines. Each collection contains only the finest, high-quality products and natural ingredients. Be sure to browse the products, choose your favorites, and listen to what your skin is telling you!
Final Thoughts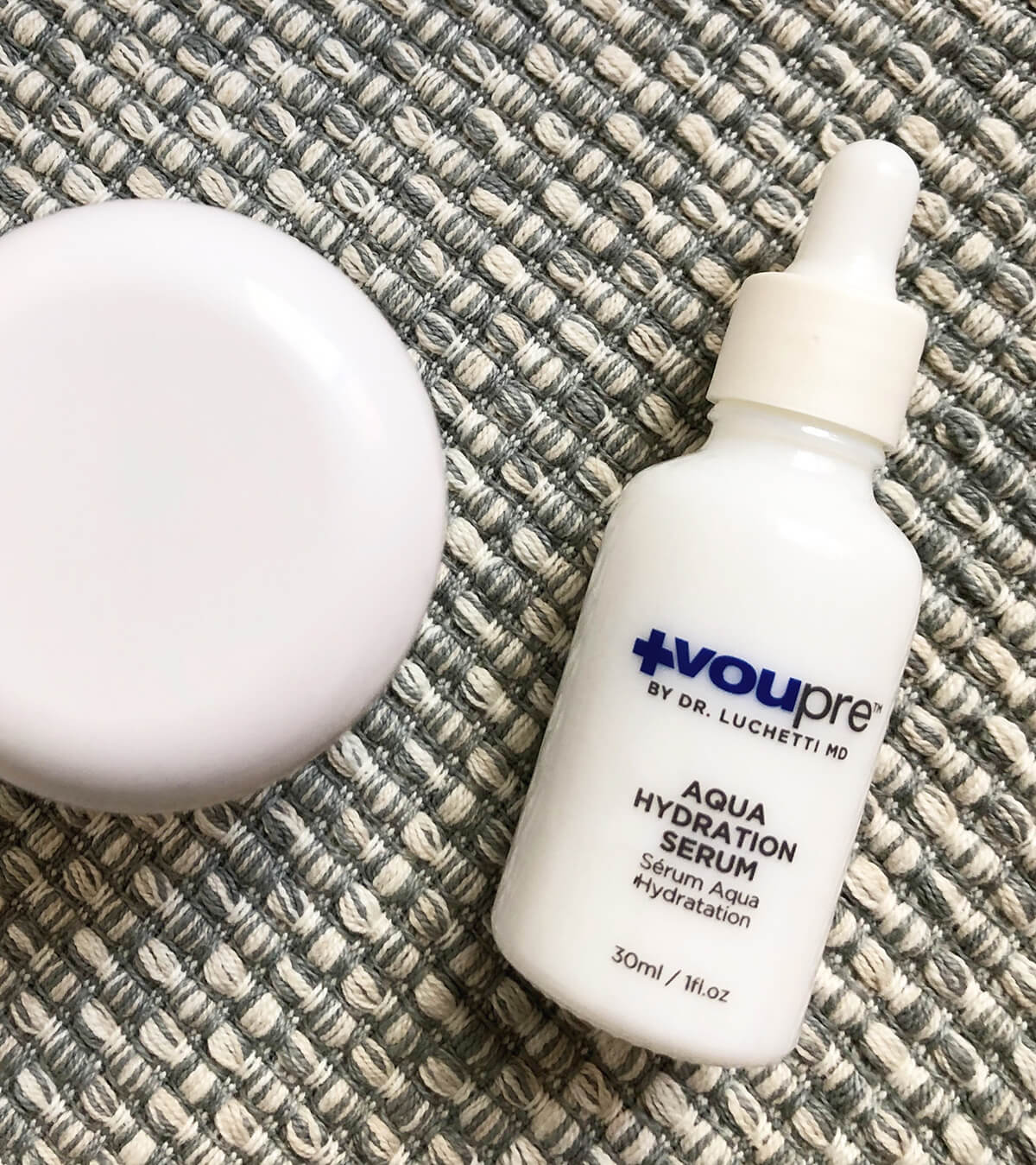 Overall, I couldn't be more impressed with Vou Pre. There are a lot of skincare companies out there that will try and sell products that aren't shown to have any real benefits, but Vou Pre is not one of them. With the finest ingredients, luxurious packaging, and effective products, it's easy to tell that Dr. Luchetti is extremely knowledgeable about her field and made these products with the highest research and care.  Since I first started using Vou Pre's products, I've noticed significant changes to my skin. There has been a huge transformation in my skin's hydration levels, texture, and tone. My skin looks so much younger and tighter! Vou Pre exceeded my expectations and I cannot wait to try out the other collections.