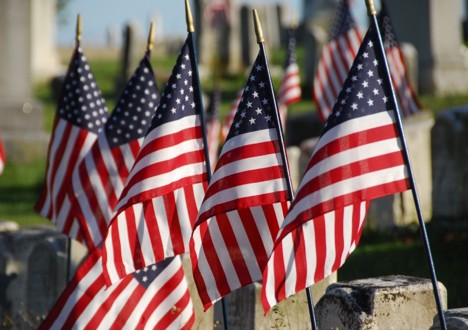 We have simple celebrations for Memorial Day every year, and I find ways to make the day more enjoyable by having good food to match the occasion. The kitchen really does become a very busy place come Memorial Day, and here are some of the favorite recipes we have for this event which we celebrate with the family:
Juicy burgers – We make our regular beef burger patties and top it with a slice of tomato, some iceberg lettuce, and cheese. For the kids, they enjoy the cheesy spread that makes it an even more enjoyable burger to eat. I just place a little flag on the buns to help set the mood.
Kebabs – Take some of your preferred meat, season it with some soy sauce and pepper or your favorite sauce mix, skewer it with some bell peppers and onions and place them on a grill. Instant kebab goodness!
Mozzarella-stuffed turkey burgers – For something a bit healthier than beef, and for my relatives who are watching their weight, I prepare the usual turkey burger patty recipe but make it special with some mozzarella cheese in the middle! I use sesame-topped burger buns for all the burgers we make.
Potato salad – Something healthy but flavorful at the same time, I boil some russet or Yukon potatoes, add some mayo dressing and herbs like basil, parsley, and chives. I also add in some eggs and chopped smoked ham. For variation, you may even add bits of bacon!
Strawberry shortcake – For dessert, I purchase my favorite shortcake mix and add sugar to taste. With some whipped cream and some sliced fresh strawberries, the family has a sweet treat waiting after the heavier meals!
Summery iced tea – To make your iced tea even more refreshing, mix in your favorite iced tea with cold water and add some lemon slices into it. Mix everything thoroughly and serve with ice.
Fruit shakes – Take your favorite fruits, some crushed ice, and milk or yogurt—whichever you prefer. Pulse them in the blender for a few minutes and voila, you have healthy fruit shakes to enjoy! A mild yet refreshing option would be to blend some lychees with crushed ice to have a mildly sweet drink.
Try out these ideas and have an enjoyable Memorial Day celebration!