The dreary winter days are over and summer is finally here, and with it, all the holidays, city breaks and all kinds of outdoorsy adventures. And since summer usually doesn't entail wearing a lot of clothes, the best venue for showcasing your personal style and aesthetic might actually be on your fingers and toes!
In fact, you'll be surprised how an intricate nail design can elevate your entire beachside ensembles. So check out our list of fun acrylic nail designs to bring in summer!
Sprinkle on Top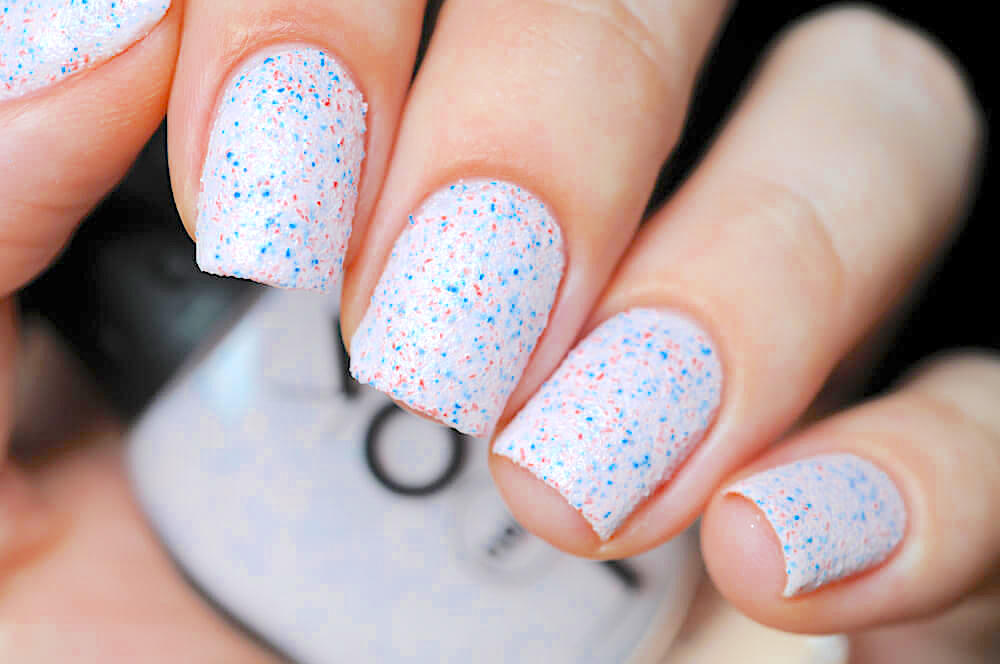 Summer is all about color, and the perfect accessory for the sizzling days is a pigment-packed nail design.
And what better way to introduce color into your summer looks than to embellish your nails with a gorgeous textured lacquer in multiple hues?
Not only will this type of mani help get you out of the boring mono-colored nail routine, it will also make you look very on trend, as textured designs are all the rage among nail art enthusiasts.
If you're not ready to go all out with the pigments, you can always opt for a subtler option that combines more saturated shades with a neutral, nude color.
This way, your mani will stand out and serve confectionary couture without clashing with the rest of your ensembles.
Feel the Teal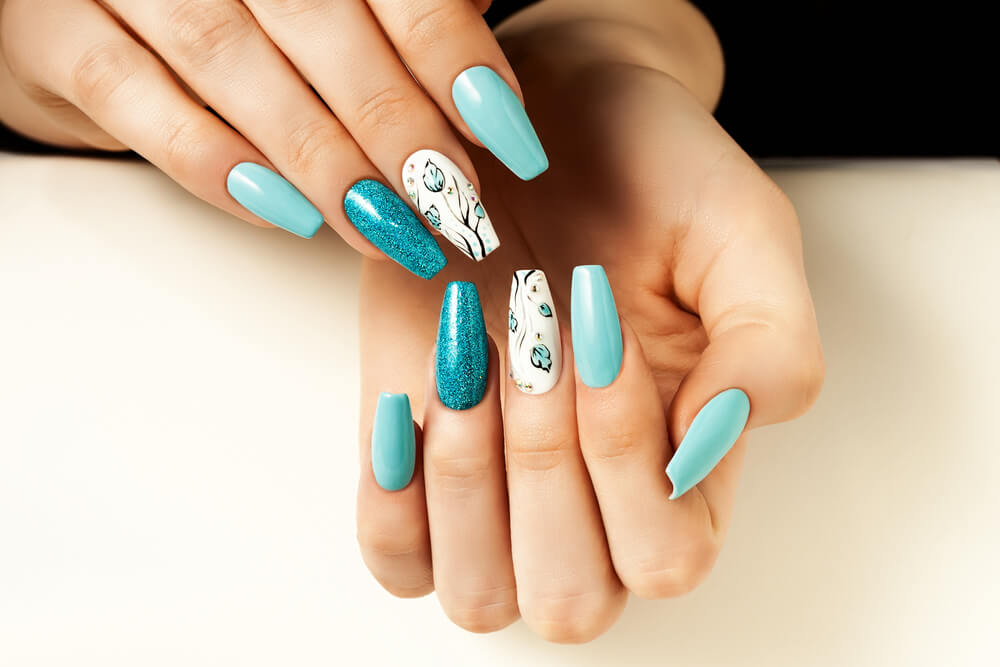 Why travel for miles to feel the ocean breeze when you can wear it on your nails?
And the perfect hue to assist you in evoking this feeling is teal, which is definitely having its moment among beauty and nail art aficionados.
Of course, these marine hues can look gorgeous enough on their own; however, you can also take it up a notch by combining different textures and designs to create a truly unique look.
The quickest shortcut to jazzing up the standard monochrome mani is simply to add a coat of glitter on one nail. This will instantly make your entire design pop and, the best of all, it takes very little effort. And to make it even more eye-catching, include a whimsical design on a nail of your choice.
White can work a great base color to contrast the teal, while your design can feature botanical art or whatever is your favorite summer motif.
A Pop of Yellow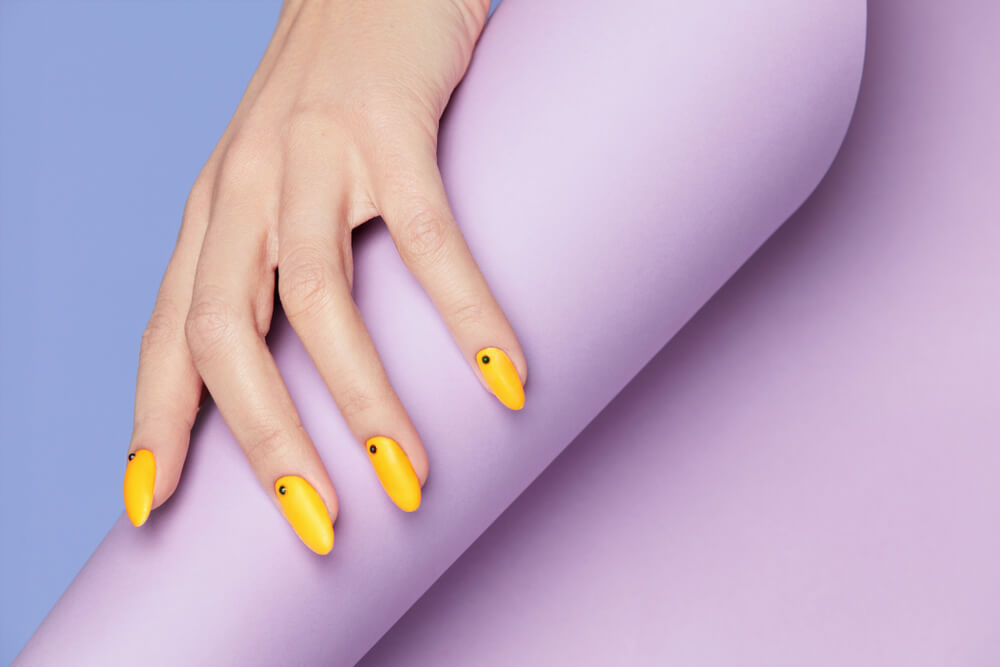 If you're keeping up with beauty and fashion trends, you might have noticed that yellow has become the latest color du jour. Not only do we want to incorporate it in our outfits, we want it on our eyes, lips and nails, as well!
Besides, what better way to feel like you're ready for the summer than to literally drench your nails in the colors of the sun?
If you want to go for the most straightforward iteration of this summer-ready nail look, opt for the matte, yolky yellow that will provide a splash of color for every beachside or poolside occasion. These bold, uniform shades work together perfectly with almond acrylics, which will give this vibrant hue a cleaner, more refined look.
And if you want to create a contrasted effect, add a single rhinestone to the bottom of your nails to break the color and add a touch of texture to your acrylics. 
Tropical Treat
When it comes to both beauty and fashion, summer is that one season when you're not supposed to hold back. Besides, why make yourself choose between one of two hues, when you can rock all the colors of the rainbow on your mani?
A great way to do that is through this lush, tropical design that features vibrant gradients of yellows, oranges, greens and pinks. And just so the overall appearance doesn't end up looking too diffused, you can add definition with tiny, vein-like lines that can serve to break the pattern.
To give your nails the real estate this beautiful design deserves, go for the super-elongated acrylics and no one will be able to miss your elaborate sunset look!
Polka Dots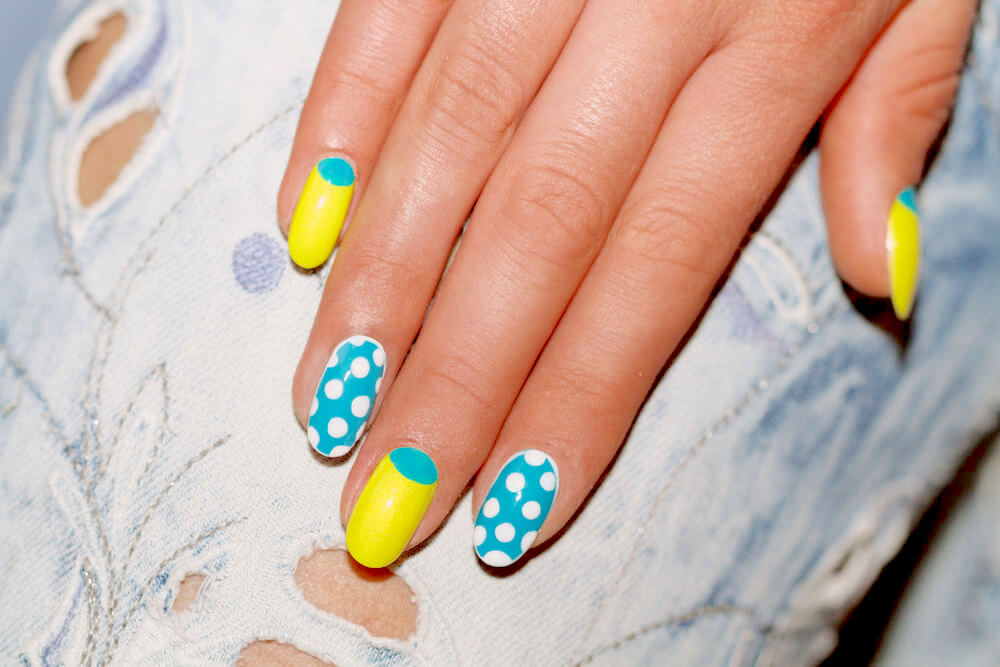 Recent seasons have seen the return of many retro patterns, and polka dots have been the sartorial go-to for giving your outfits an extra dose of flirtiness and summer vibes.
Since adorning each one of your nails in polka dots can make your mani look a little loud, you can mix and match different patterns and techniques to create a more coherent design.
For example, you can combine your retro pattern with the ever-popular half-moon design to make the entire look a little more polished.
When it comes to colors, just make sure to go for something that will provide your nails with a high contrast.
If you don't want to go down the standard route of black, red and blue, go for more summer-friendly aquamarine vibes – not only will they be more season-appropriate, they will also look beautiful when juxtaposed against a neutral color like white.
Pastel Fantasy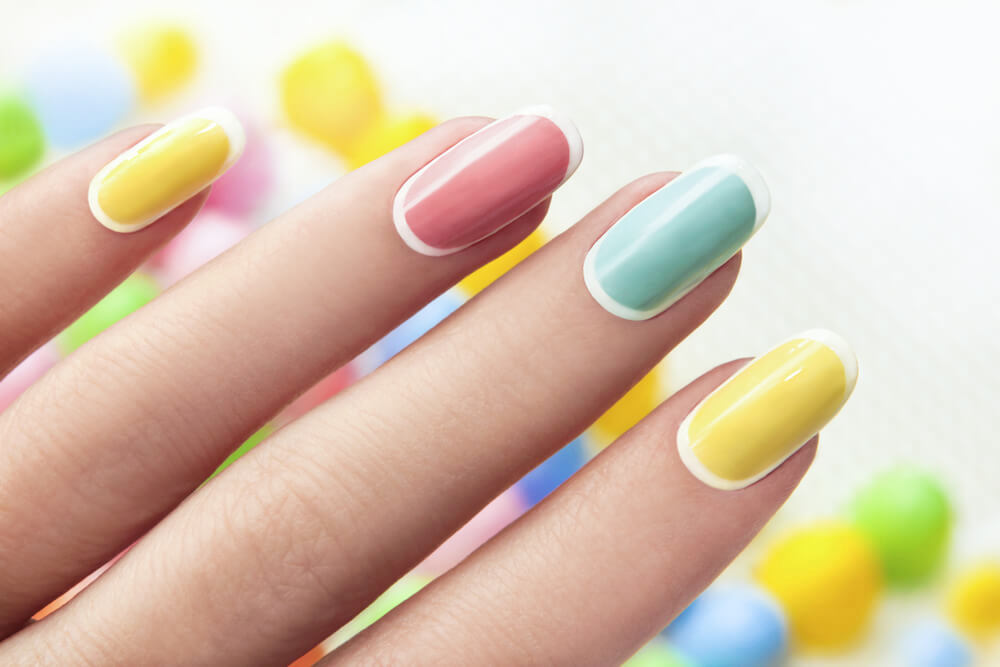 When people think of summer aesthetic, bright popsicle colors are usually the first thing to come to mind. However, not every playful summer look has to entail that much saturation. Sometimes, pastels can work just as well for rocking on those scorching summer days.
For example, a contrast between powder blues, chalky yellows and pale pinks can be used to create gorgeous, dreamy nail looks.
And, in this particular pastel mani, the very bottom and tip of the nail are kept milky white, creating a subtle, yet flirty juxtaposition.
To add to the softness of the look, go for the oblong, rounded acrylics and low-shine top coat.
Nautical Chic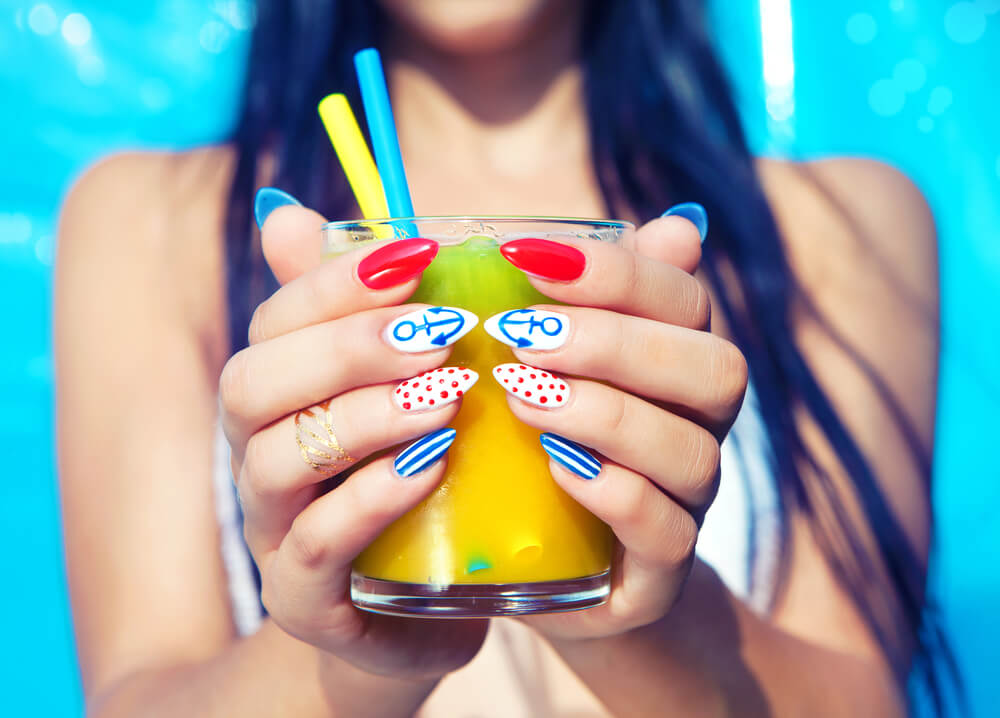 If your summer aesthetics goals can be summed up in "chillin' on a yacht", then you will absolutely love this nautical number. Because nothing evokes the preppy summer vibes quite like the timeless combination of red, white and blue.
And to make your mani a little more graphic and interesting to look at, you can mix up different patterns and motifs.
For example, keep one nail classic by coating it in true, high shine red.
The one next to it can have a white base and be adorned with a blue-hued anchor.
Red polka dots can look especially stunning against crisp matte white base; if you want to make this nail look a little more three-dimensional, you can always create the polka dot pattern with a strategic placement of red rhinestones.
And since no nautical mani can be complete without Breton stripes, you can create this pattern on your pinky nail to complete the look.
Go for vertical stripes, as they will create an illusion of elongated nails and make them look even more refined.
Graphic Pink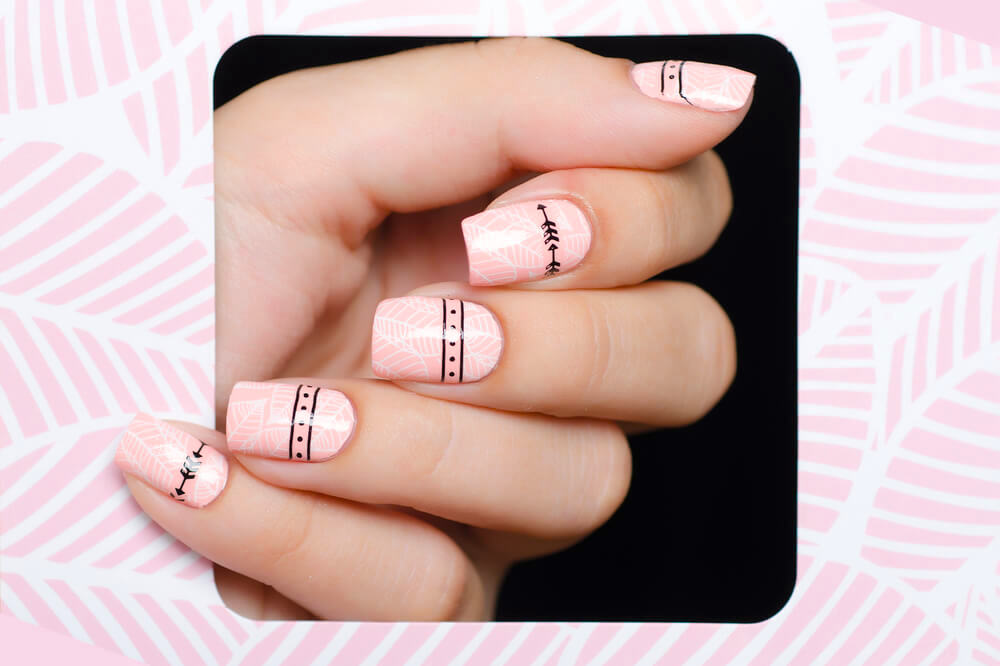 Not everyone feels at home wearing bold, bright colors – no matter how fabulous the weather is outside.
With the steady reign of minimalism in terms of fashion and beauty, it's understandable why a lot of nail art lovers would rather go for something a little more muted.
Luckily, it's perfectly easy to achieve a summer-friendly nail look while remaining true to your minimal tendencies.
A good choice for this kind of aesthetic would be a geometric look that features clean design and subtle pink color for the base.
The graphics on your nails can be as simple or as intricate as you want. For example, simple motifs like leaves and arrows can be the perfect summer-ready visual without looking too imposing.
Keeping in tune with the aesthetic of defined lines, combine your graphic look with slightly squared acrylics and – voila – your clean, subtle summer look is complete!
Botanical Beauty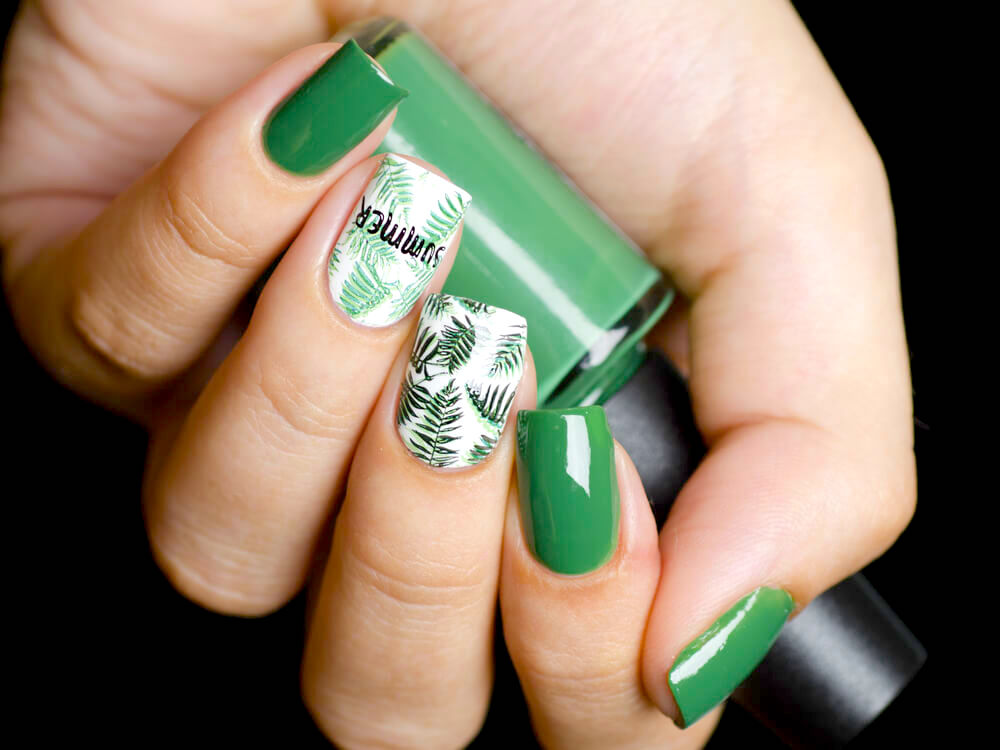 As we've already established, there are ways you can make your nails look perfectly tropical without going too wild with the colors. A look that will work like a charm against the backdrop of balmy summer nights can feature only two hues – white and green.
What makes it luscious and ready to be rocked at seaside resorts are the gorgeous fern motifs that are used to adorn the nails. The contrast of leafy greens against the crisp white base will give a gorgeous, refreshing look to your nails.
To have more room to showcase your beautiful designs, opt for square acrylics.
Keep the look subdued by decorating only one or two nails on each hand, while coating the rest of the nails in the matching green color.
Aquamarine Hues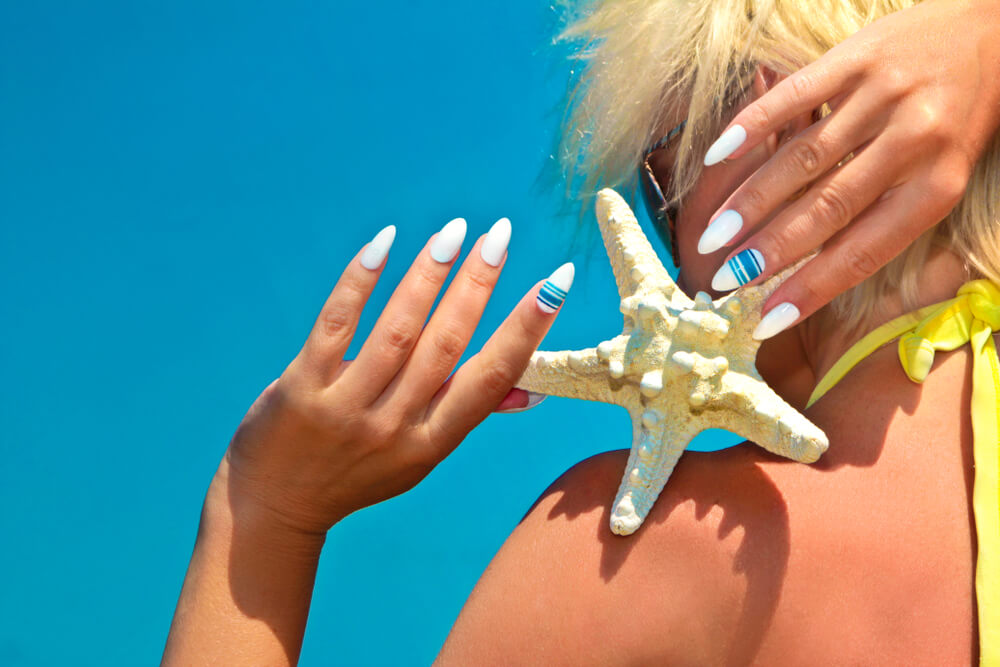 Recent nail trends suggest that a solid, pristine white is always a winning choice if you want to rock a polished, yet slightly different kind of manicure. What's more, it can be the ideal nail color for the summer – not only will work wonderfully against tanned skin, it will also brighten up any beachy look in an instant.
However, going for the all-around matte nails might feel a little uninspiring. Fret not, because you can easily jazz up this crisp look with only a couple of tweaks.
For example, adding a few simple gradient lines in aquamarine, turquoise or teal can evoke those surf vibes without taking away from its minimalistic appearance.
For a neater, more striking appearance, go for the almond-shaped acrylics and keep the white opaque and matte.
Snakeskin Illusion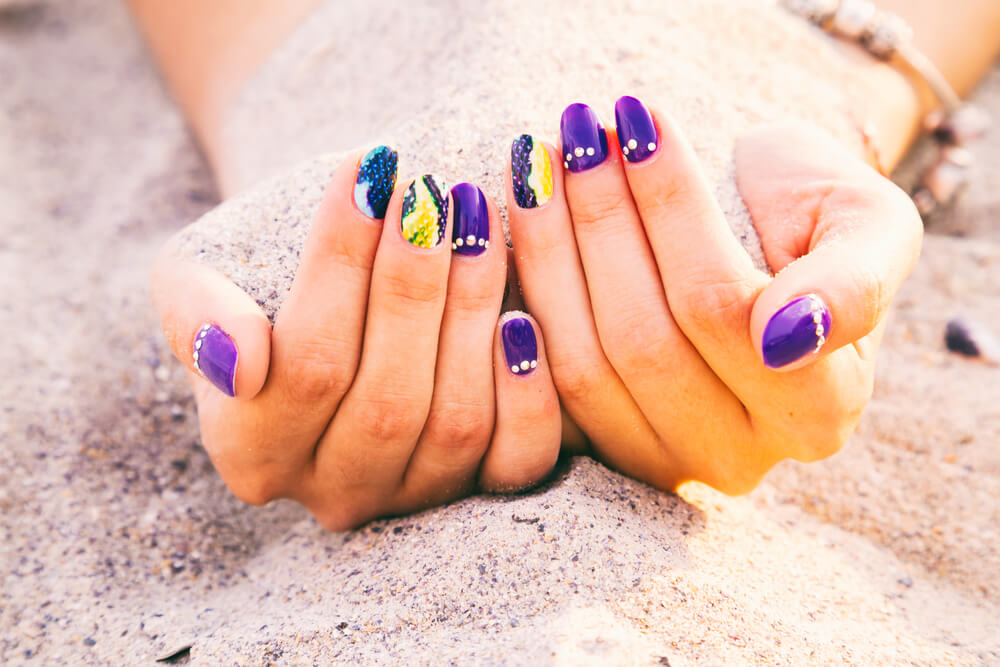 If you are looking for ways to make your nails exude opulence and luxury, the quickest shortcut to achieving this aesthetic is to adorn them with snakeskin design.
And to make this look more apt for the fun summer days, instead of the more traditional greens and browns, go for vibrant colors like yellow and light blue.
This will give you nails a dose of elegance, without making them overly stuffy.
To make them even more textured, you can always combine the snakeskin pattern with a gradient color, which will make your design even more playful and eye-catching.
If you want to go for the full extravaganza, decorate all your nails with this rich pattern.
For something a little more understated, add the snakeskin design to only one or two nails and decorate the rest with a uniform color and perhaps a few rhinestones to keep in tune with the luxurious theme.
Red with Zig-Zags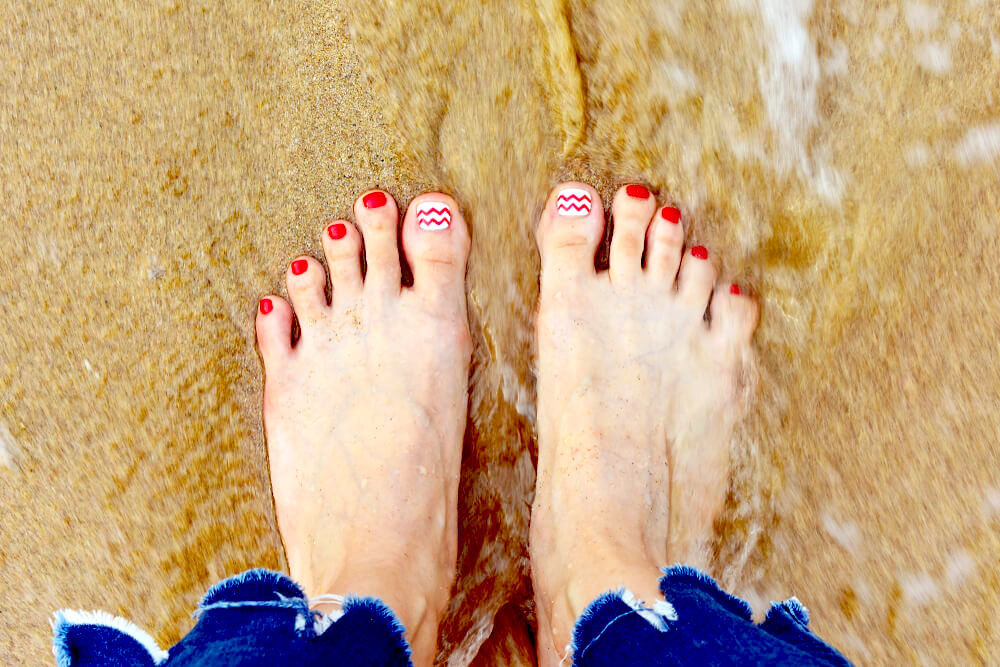 Okay, so we've figured out how to make your manicure game on point for this summer. However, don't get ready to jet off to your destination just yet. You need to sort out your pedi, too!
Since you will be spending more time outdoors, barefoot or in open-toe shoes, why not give your feet a little makeover while you're already at it?
This particular pedi look is ideal for people who are looking to switch up their usual go-to toenails.
For example, if you're fan of the classic red lacquer, maybe you can make it a little more interesting by adding a zig-zag design to disrupt the monochromatic vibe.
Since toenails generally don't give you much space to work with more intricate designs, you can just adorn your big toenail in these funky white-and-red lines and leave the rest coated in their usual red.
Just remember that your pedi needs protection, too – so make sure you layer it with a top coat and you won't have to worry about sand, salt and water ruining your fresh new look.
Blue and Orange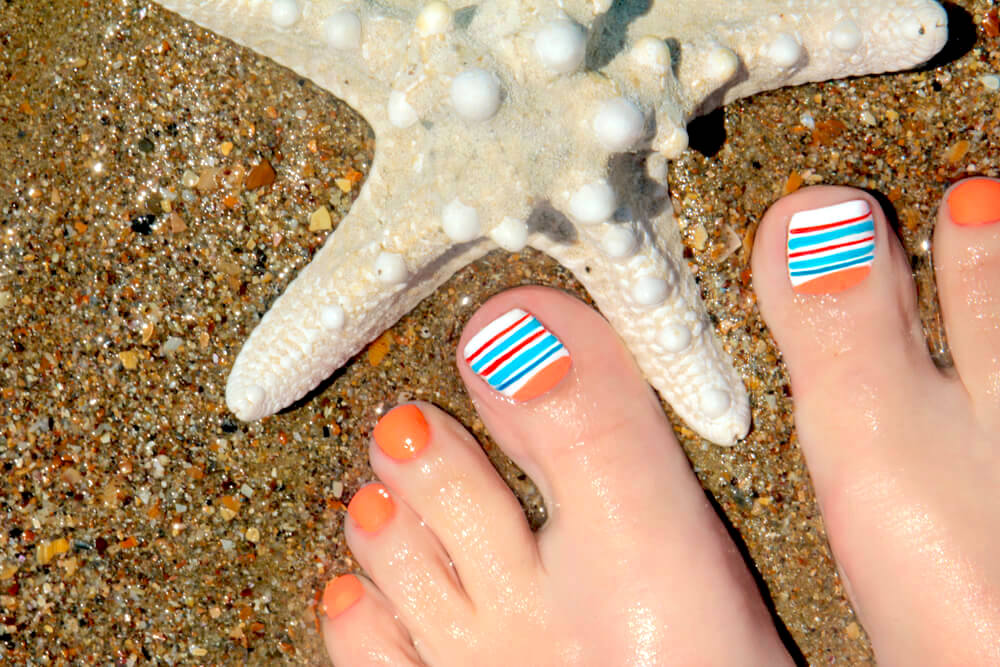 A stunning, yet not as obvious color combo that's ideal for the summer involves blues and oranges.This fresh, beachy look is a little more elaborate, yet still easy to pull off.
You can create it by coating all your toenails (except the big ones) in your preferred shade of juicy orange.
For the big toe, create a base using an opaque white lacquer.
Then, proceed to add the horizontal lines on top of it; if you want to make it more detailed, use different hues of blue, orange and yellow.
Once you're happy with the look, add a layer of protective top coat and, that's it, your beach-ready pedi is all done!
And with this, we wrap up our list of the hottest nail trends for the sun-packed season. Hopefully, you're feeling inspired and ready to rock a chic many to whatever summer adventure you have planned for the months ahead.