Thinking of a beach-proof 'do that still packs a decent dose of glam? It might a little challenging, especially when you take into consideration all the outside factors that come with a seaside ceremony, such as wind, sand and probably a fair amount of sweat.
You'll be relieved to hear that there is still a myriad of gorgeous beach-friendly bridal 'dos that will not only withstand any and all coastal conditions, but also look ultra glamorous!
Triple Braid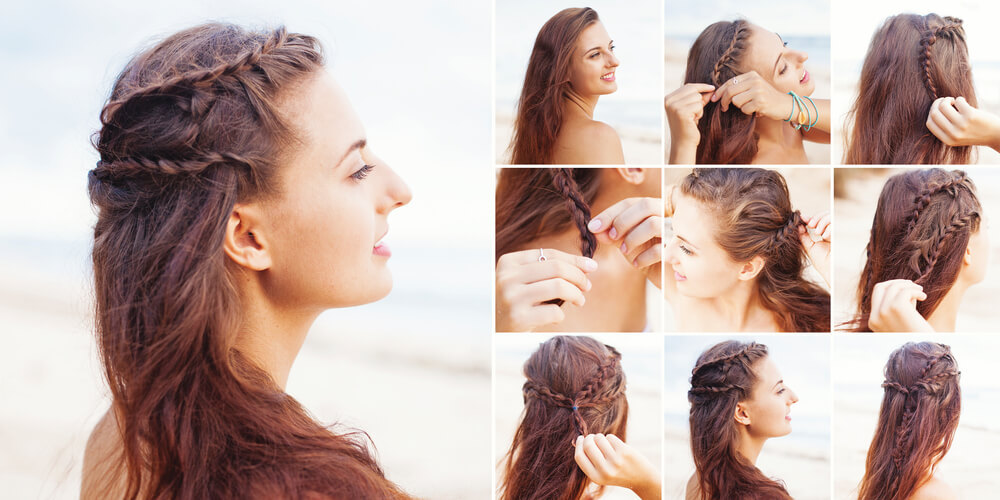 Getting married at the beach is the ideal opportunity to unleash your inner Aphrodite.
And what better way to do that than to sculpt your hair into gorgeous, Greek-inspired tresses that will perfectly compliment your seaside ceremony.
Best of all, this 'do is super easy to pull off.
Start with freshly washed hair. If you feel like you need more body to your strands, blast your hair with a touch of texturizing spray to give it more of a beachy feel.
Once you're happy with the volume, create a deep side part and section off a one-inch-wide strand at the front.
Start French braiding, incorporating new hair every time you twist it, then stop about two to three inches down your shaft and continue braiding a classic braid. Secure it with an elastic band.
Take out a strand of the same thickness just below it and repeat the previous step.
Separate another section, this time on the opposite side of where you have parted your hair.
Braid this section as well, then tie all three together at the back of your head using an inconspicuous elastic band.
Secure your entire 'do with medium-hold hairspray and your easy-as-peas Grecian look is complete.
Super-Sized Side Braid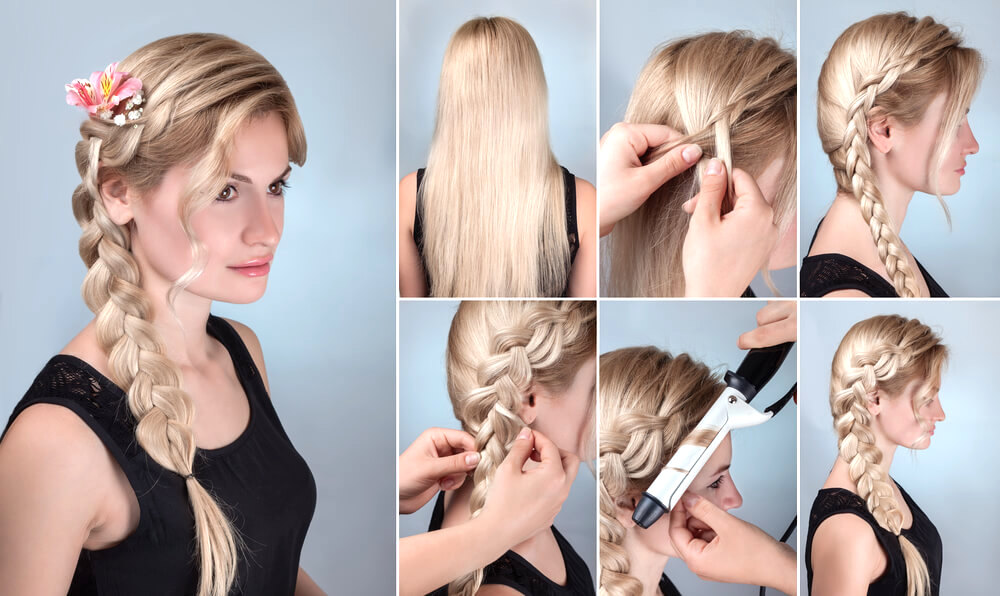 Even though the side braid is one of those styles you can pull off in seconds just about any day, there are ways to add an extra dose of glam to this classic 'do.
To begin with, start with fully dry hair.
If your hair has natural curl or frizz, you can give it a run through with a flat iron to make sure you have a smooth surface to work with.
Create a deep side part and set aside one strand at the front to frame your face.
Next, take the top section, split it into three smaller strands and begin to form a Dutch braid, by crossing the seconds under each other, as opposed to over (as is the case with French braids).
Once you reach your neck, continue braiding into a classic braid and secure the end with a small elastic band one or two inches from the tips.
Give the braid more fullness by carefully stretching out the twists, creating a flatter appearance.
Grab a wide-barrel curling iron and style the front section that you set aside at the beginning.
Top off the look by adding a flower or a hair accessory of your choice to the braid.
Low Up-Do with Twists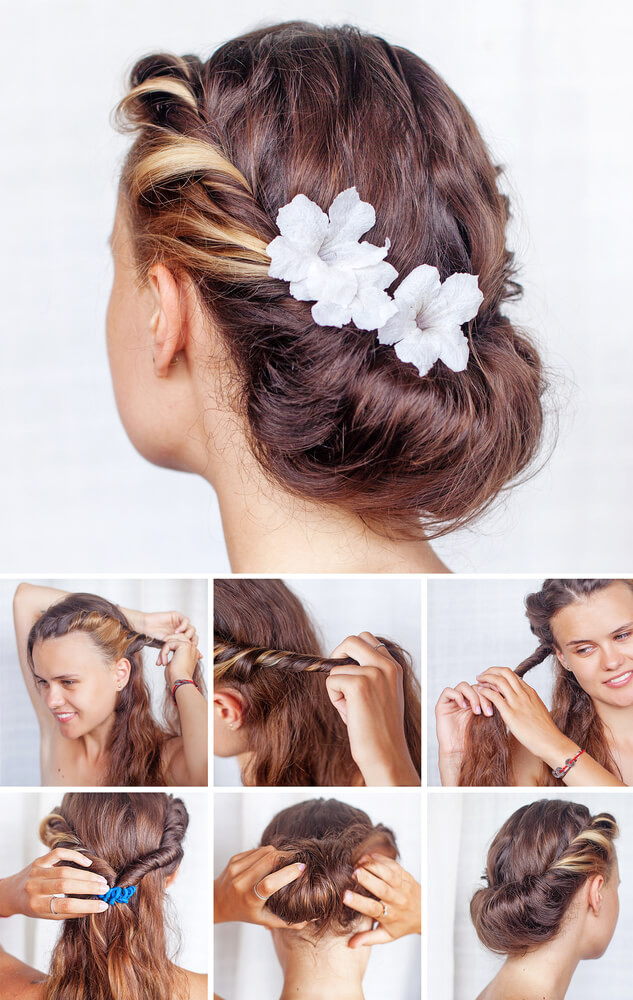 This gorgeous hairstyle features lush side twists and lots of volume that forms at the nape of the neck.
It can be a go-to bridal look if you want a fresh and romantic coif that requires zero braiding or hot tools.
To truly nail this look, you should start with volumized, slightly tousled locks.
You can achieve this by putting mousse in your hair while it's still wet, then letting it air dry.
If it still needs more plumpness, add a touch of texturizing spray.
Once you've locked in the right texture, part your hair in the middle.
Make two sections at the front, then begin twisting them away from your face.
When you've twisted each section to the back of your head, join them and secure the twists with an elastic band.
Grab the rest of the hair and use your fingers to tuck it in behind the twists, making sure that the transition appears seamless.
Use bobby pins to secure the hair to the back of your head.
Once everything is in place, blast your do with a medium-hold hairspray to secure definition and longevity of your coif.
Loose Bun with Braids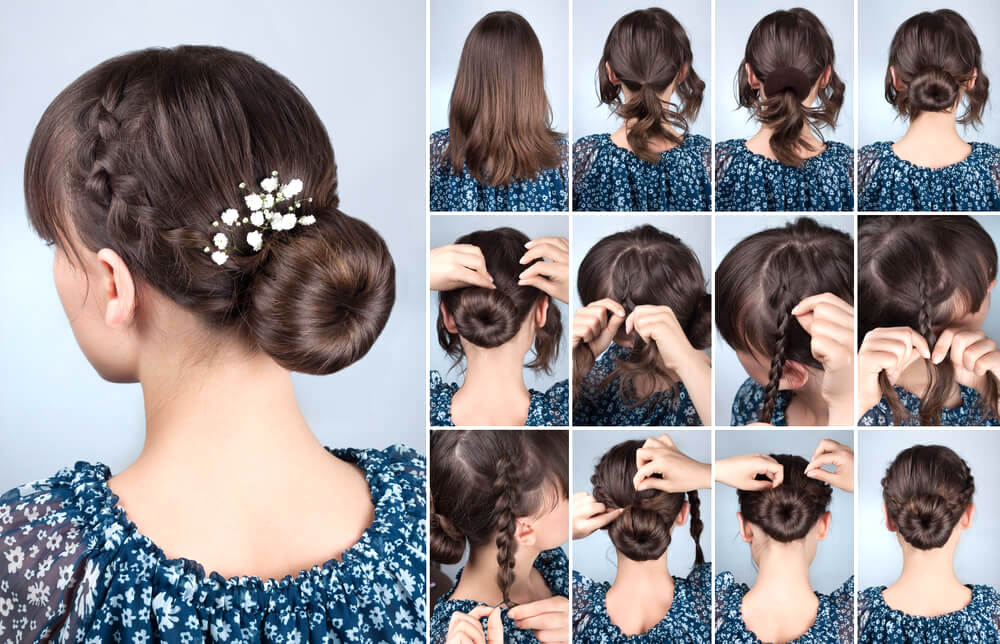 If you're debating what's the perfect hairstyle to sport while you're walking down the aisle, low up-dos are always a hit.
And this romantic number with two braids framing the style might be the perfect fit to rock on your special day.
Moreover, you don't need to have Rapunzel-line hair to pull off this look – a shoulder-length bob will do the trick just as well. It also works if your hair is layered or if you're currently sporting bangs.
Start off with clean hair. Section of a thick strand of hair on each side of the face – this will serve as the base for your braids.
Tie the rest of the hair into a low ponytail. Grab a bun donut and pull the ponytail through the hole. Wrap the hair around it and start twisting the donut to the nape of your neck.
If there are any stray hairs poking out, use bobby pins to tuck them in behind the donut.
Proceed to braid each of the section into classic three-strand braids.
Tie each one with a mini elastic band, then flatten them out by stretching out the braids ever-so-gently.
Pull each braid towards the bun, then secure them with bobby pins until you feel like you're do is sturdy enough.
Add a hair decoration of your liking and voila – this simple look is complete.
Knotted Half Up-do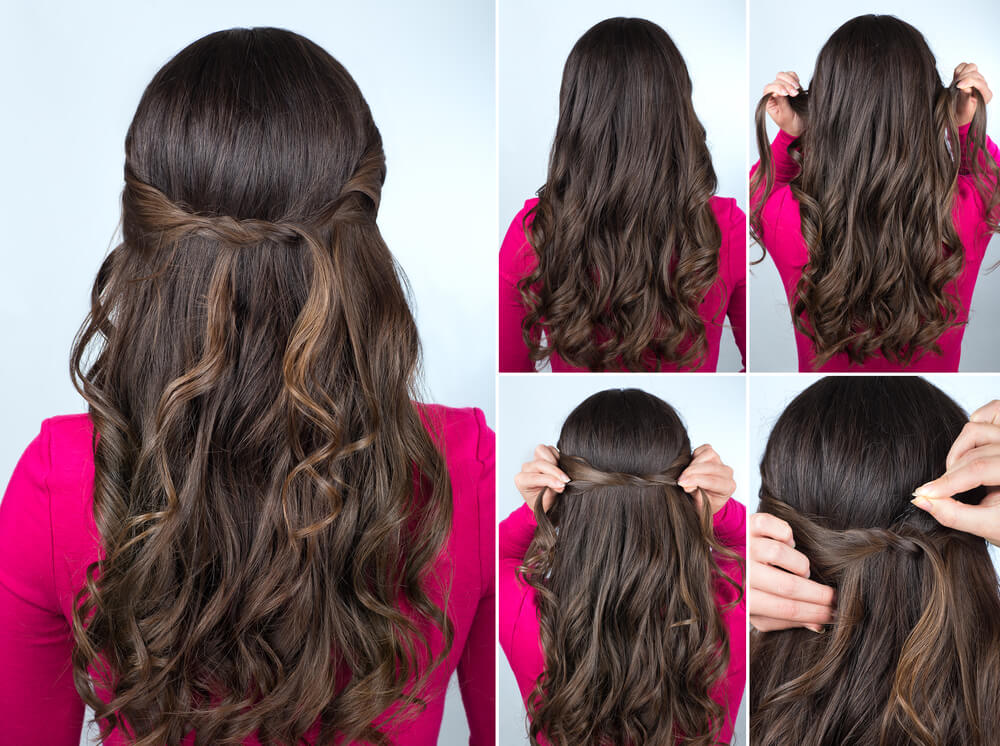 If you're not exactly a hair specialist, you might be inclined to think that achieving a glamourous bridal 'do has to involve various hot tools, a host of styling product and, of course, a lot of hard work.
This is not always the case! You'd be surprised how easy it is to lock a beautiful, wedding-ready coif in a matter of minutes.
A great example is this romantic half up-do, which will be the perfect option for all the low-maintenance brides out there.
All you need to do is take out two thin strands of hair from the front, then twist them until they meet at the back of your head.
Cross the sections twice and secure the twist with a couple of bobby pins.
And that's pretty much it! The perfect laissez-faire half up-do.
Of course, you always have the option of glamming up this simple do by grabbing a curling iron and styling the rest of your hair into loose, bouncy curls.
When you're happy with the way your coif looks, give your hair an all-over spritz with medium-hold hairspray.
Simple Side Braid with Accessories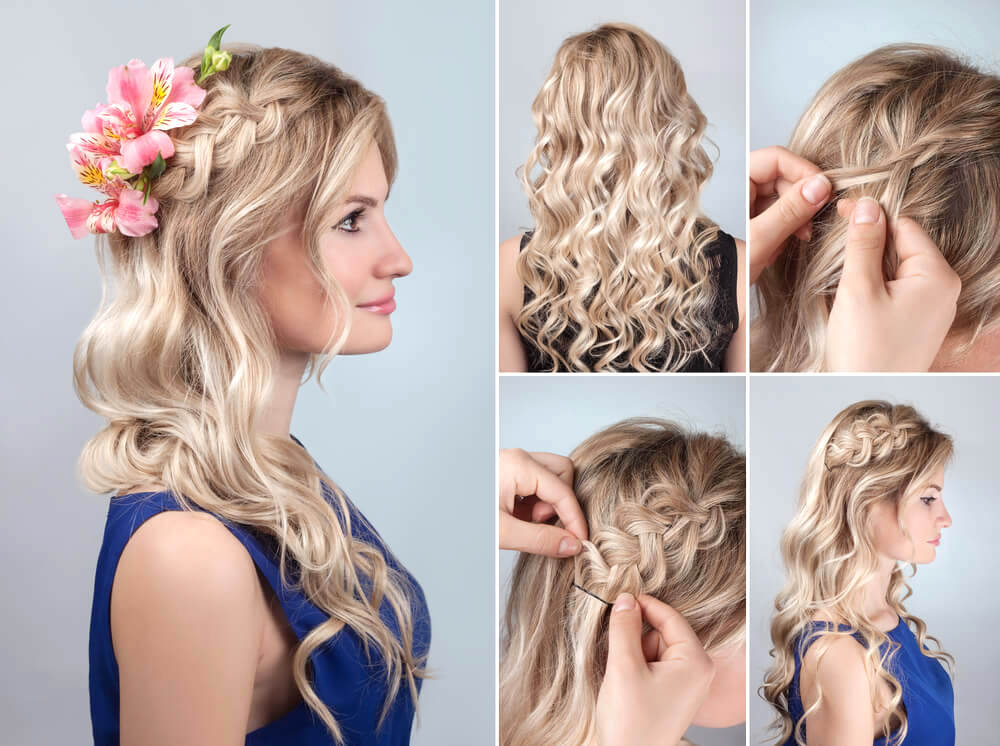 If you want to rock your hair at its full luscious length for your seaside nuptials, but worry about it looking a little too casual, there are ways to jazz up the long coif so it's picture-perfect for your big day.
Start off by washing your hair and treating it with a nourishing conditioner. If your hair has a natural wave of bend, coat it with your favorite curl-defining product then blow-dry it using a diffuser to preserve the definition.
If you still have some frizz or uneven texture (or, alternatively, if your hair is completely straight), style it with a wide-barrel curling iron until you have a full mane of gorgeous, glossy curls.
Section off a strand from the top of your head. Leave the one at the very front loose to frame your face.
Proceed to create a three-strand Dutch braid by crossing the sections underneath each other.
Once you're halfway down, grab a bobby pin and secure the braid to the rest of your hair.
Pull the braid by grabbing it from the sides to stretch it out and give it more volume.
Add a hair accessory to conceal the bobby pin and add a touch of glam to your locks.
Set your hard work with a spritz of hairspray and your side-swept braid is all done.
Half Up-do with a Waterfall Braid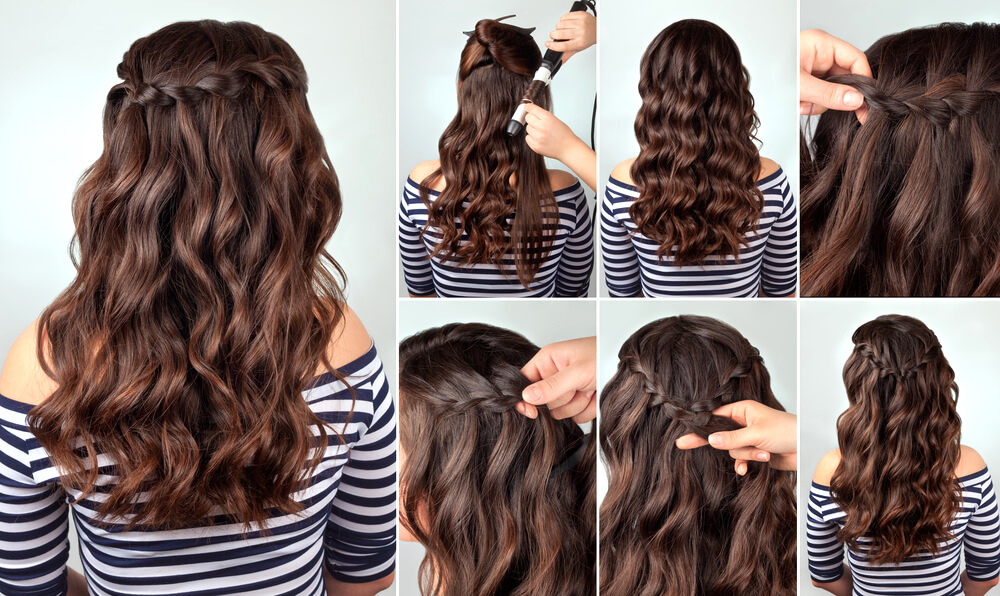 Another way to create a more innovative look for long locks is to style them into beautiful cascading braids.
Since waterfall braids aren't as widespread as their French or Dutch equivalents, this technique might seem daunting at first, but with a little bit of practice, you should be able to nail this look in no time.
To create this beautiful waterfall braid-adorned half up-do, start off by spritzing your locks with a heat protectant to shield it from styling-induced damage.
Next, grab a curling iron and begin curling each strand in alternate directions – this will give you mane more body and added texture.
Once you've curled the entire hair, take a front section and divide it into three equal parts.
Cross the three sections once, as if you were making a classic braid. At the next sequence, incorporate hair into your strands like you would do with a French braid.
Instead of crossing the right section of your hair over the middle one, simple drop it so it hangs loose in between the two strands.
Keep braiding your hair horizontally until you've reached the back of the head. Secure the braid with the bobby pin and let the unbraided part blend into the rest of your hair.
Repeat the same process on the opposite side of your parting, creating a cascade until the two braids meet in the middle.
Cross one braid over the other and secure it with bobby pins, so it appears as if they join onto each other.
Give the entire look a spritz of hairspray and the waterfall brain up-do is complete.
Jazzed Up Lob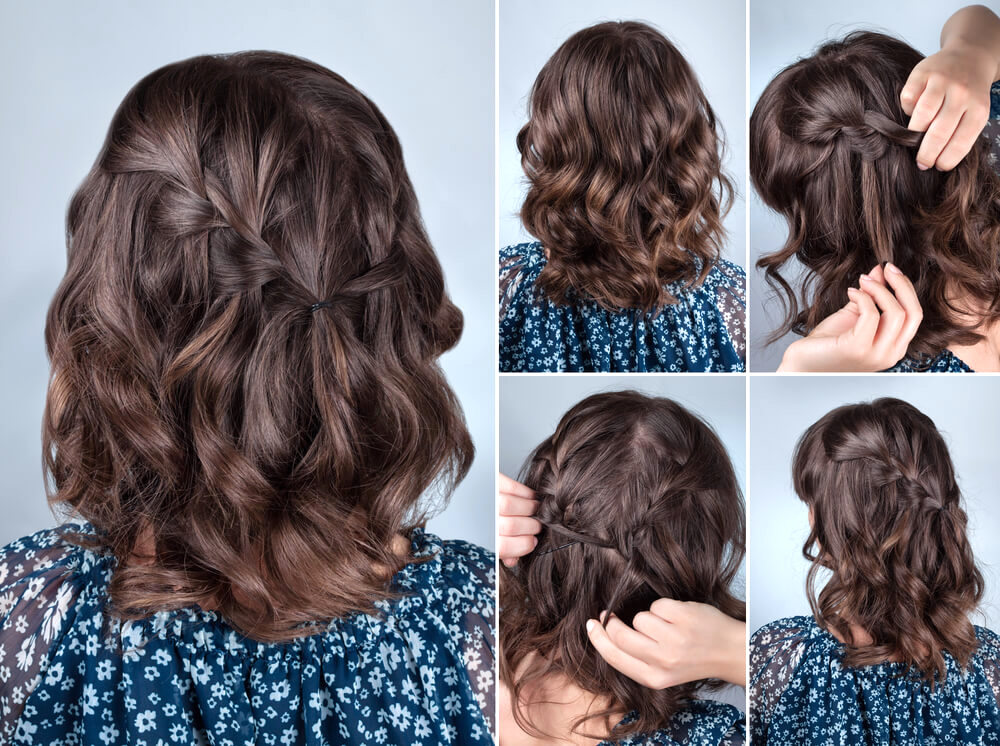 If you're currently rocking the ever-popular bobs or lobs and are concerned that the lack of length might be standing in the way of achieving a luscious matrimonial 'do, worry not!
There's no reason why your fresh, shoulder-length crop can't be just as romantic as waist-length locks.
An especially flattering wedding-ready style for short hair is the waterfall braid-adorned half up-do, which can add a touch of sophistication for every blushing beachside bride.
You can achieve this look by parting your hair on the side, then grabbing a portion of the hair from the thicker section to create a mini-waterfall braid. Once you reach the back of your hair, secure it with a bobby pin, then repeat the same on the other side of the parting.
When the two braids meet, join the ends and connect them with an elastic band.
If you want to add more va va voom to your locks, curl them before braiding the top part.
Full Low Bun with a Thick Braid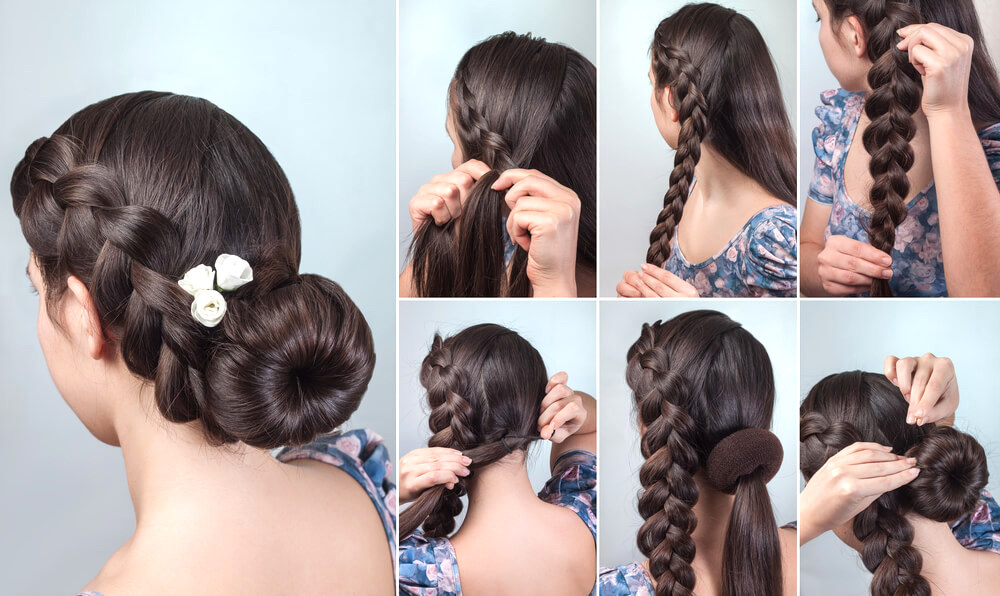 This stunning hairstyle features a low bun and a side braid with a lot of volume and gloss.
While your hair is still wet, coat your locks with your favorite shine-boosting product to make sure your hair is extra silky.
Wait until it's fully dry (or use a blow-dryer for more efficiency), then grab a decent-sized section from the very front.
Starting from the top part, split the portion of the strand into three equal section, then begin creating a Dutch braid, crossing each section underneath the one next to it, incorporating more hair into the braid each time you twist it.
Keep going until you reach the ear, then braid the rest of the hair like you would normally.
Tie the very end with a small elastic band.
Gently pull each section of the braid to make it appear more voluminous.
Next, tie the rest of the hair into a low ponytail.
Slip the ponytail into a donut bun and begin twisting it until it is securely placed at the nape of your neck.
Grab the braid and sweep it underneath the bun, tucking the ends under it using bobby pins.
Add accessories behind the bun and your tropical bridal coif is all set.
As you can see, it's super easy to achieve a tried and true bridal coif that will not only look beautiful against an ocean backdrop, but also stay put while you're out there enjoying one of the most important events in your life.