Need a change when it comes to your hair color?
Here are the hottest shades to go for this season.
Lilac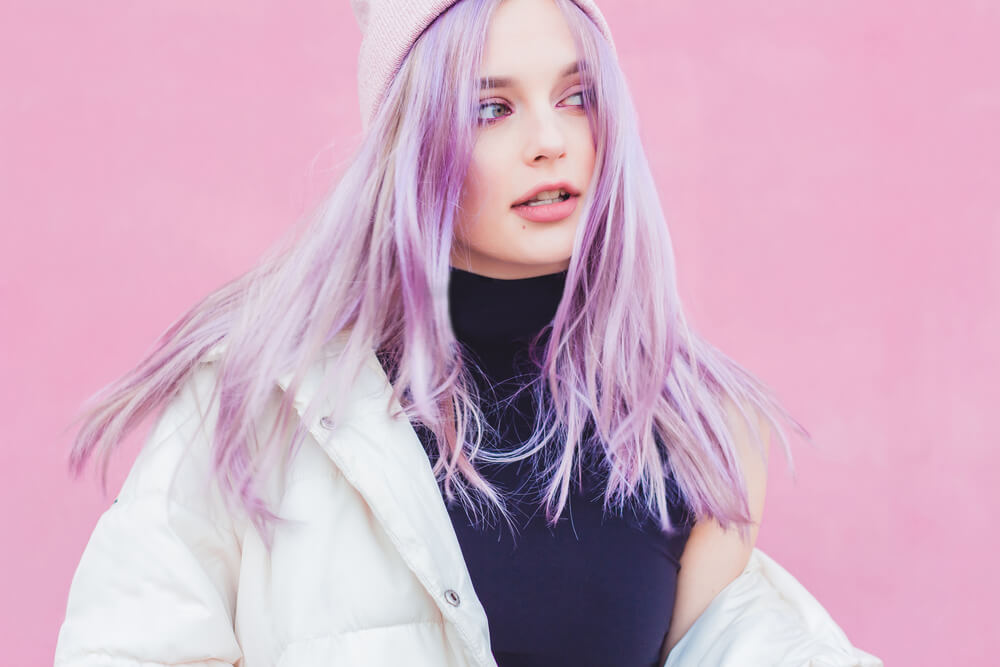 Looking for your latest pastel crush?
It's right here!
Fans of pastel hues will absolutely adore this summery shade of lilac! It's perfect if you've previously tried purple locks and are looking for something a little more subtle. Equally, if pink is your go-to but you fancy a changeup with an equally sweet finish, lilac could be the answer! We're totally in awe of this shade and think there's no better pastel for spring and summer. Not only will it take your locks to more contemporary heights, but it'll also look incredible with all of those sweet summer dresses you plan on wearing in the sunshine. 
Strawberry Blond
Let's be honest, we adore any kind of blond hair all year round! That said, when spring and summer arrives, it's always nice to be a little more playful and colorful with our dye choices and reflect the vibrancy of the seasons! With that in mind, we fully intend to hop aboard the strawberry blond trend for 2020.
Not only is it a beautiful shade for the warmer months, but it's also a subtle way of embracing a new, perhaps more vibrant, shade than you're used to. This particular shade will work perfectly for those with naturally blond tresses but is achievable for light brown and brunette locks too, just ask your colorist!
Fiery Red
Hot trend alert! 
This fiery red hair is truly a thing of beauty and we are in awe. 
Though we must admit it might not be for everyone due to its particularly bold shade, those who are brave enough to try this color aren't likely to ever turn back! It's the ideal option when you're wanting to try something truly bold but still in the same region as a natural hair color. If you've tried auburn and loved it, or you adored your pink tresses but feel you could have dared a little further, why not ask your colorist for this sizzling shade of red and celebrate the arrival of the warmer weather! 
Rainbow Drip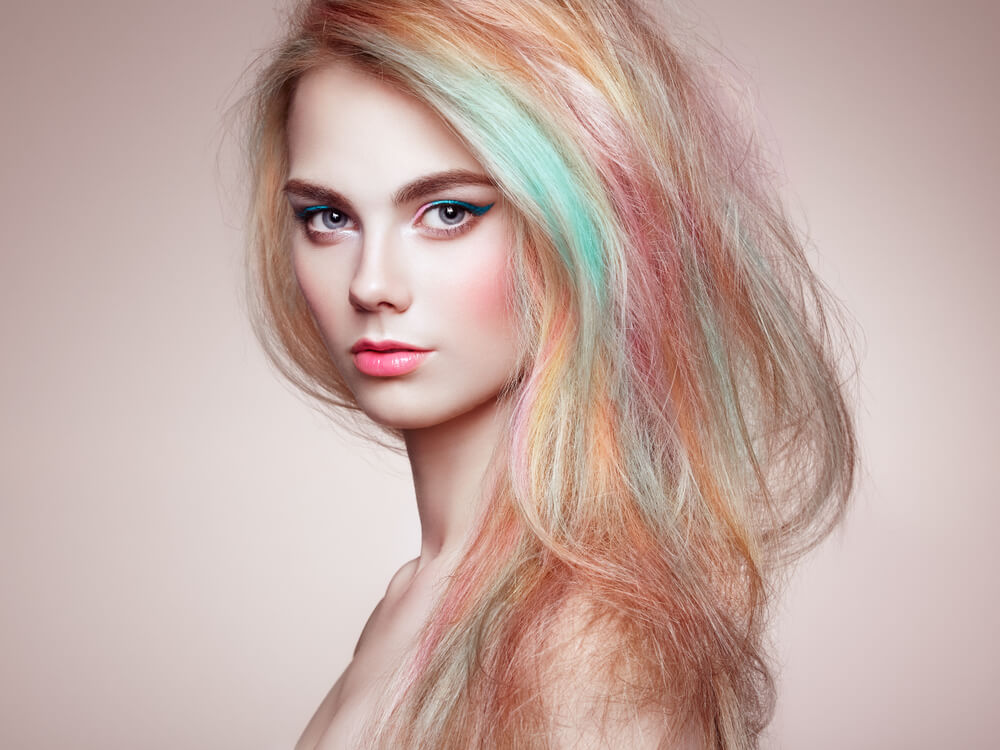 We know, this sounds like a delicious summery ice cream treat! Don't worry, it isn't. Rainbow drip hair is the latest in a long line of unusual hair trends though we have to say, we've fallen totally in love with it!
Unlike other more structured ways of achieving your dream rainbow color, the drip technique used here is truly unique! The dyes are individually mixed with water and then, quite literally, dripped all over sections of your hair one after the other! It is then combed through to achieve a more natural-looking rainbow effect with more fluid lines and a subtle pastel finish. We're betting you'll see this stunning rainbow hair taking over your Insta feed all spring and summer long!
Shadow Roots
Thankfully, the days of panicky calls to your colorist the moment your roots start to shine through are well and truly over! These days, shadowy roots are not only no problem, they're trending! Now, to be clear, we're not talking about harsh lines and totally varying shades here so if your white hair has a prominent line of black roots peering through, we won't blame you for making a call to the salon.
That said, as your natural color starts to appear this time around, don't worry about it! Simply book in to see your colorist and ask them to blend your roots into your chosen hair color for the perfect shadow root. Fewer visits between visits and money saved? We're totally on board!
Rose Brown
We're not saying we don't love rose blond hair, but, rose brown hair has come out of nowhere and completely stolen our attention! This pinky-brown shade is absolutely breathtaking and the perfect way for those with brunette locks to spice them up with a little color during spring and summer!
This color is all about subtlety and the way the pink shines so delicately as it catches the light is exactly why we love it so much. It's not an 'out there' shade of pink, nor is it a flat brown. It's the quintessential blend of the two and we know you're going to adore it! 
Warm Red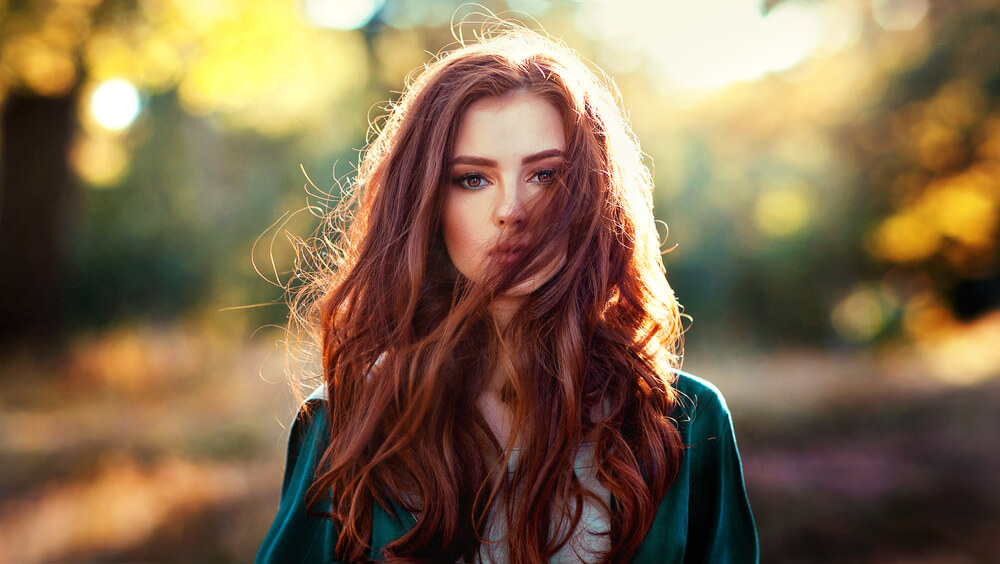 Thinking you've accidentally stumbled upon our list for autumn/winter hair colors?
Don't worry, you're still in the right place!
It's true, warm red is definitely a color we'd usually consider as an autumn/winter choice. However, as spring and summer near, we're loving the idea of shades that embrace the warmth of the seasons! This luxurious hair color is undoubtedly a favorite of ours and that's not only because it'll look great all year round.
Those who opt for it will soon notice the subtle dimensions within the color, how it looks almost brown in some lights and fiercely red in others. Style it with emerald green and vibrant purple clothing in summer to really emphasize its beauty!
Toasted Coconut
If you're looking for the most Instagram-approved shade out there, toasted coconut hair is the color for you! Similar to shadow roots, the technique for achieving this delicious, summery color combines much darker roots that transition smoothly into beautiful, light blonde ends. It's a much more dramatic and experimental shade of bronde meaning it's perfect for those wanting to try a more contemporary shade than they have currently.
If we're being honest, we absolutely can't wait to see it take over our social media accounts!
Peach
Peach! A favorite food, and favorite hair color for the seasons ahead, what could be more perfect? We adore this shade and think it's absolutely adorable for spring and summer. It's soft and subtle yet vibrant enough to appear playful and reflective of the ever-changing colors all around us during this season.
Opt for a peachy-blond if you're just starting to experiment with color, or ask your colorist for a peachy pink if you want to go for something a little closer to pastel. Whichever you choose, we know your newly colored peach locks will look incredible!
Honey Blonde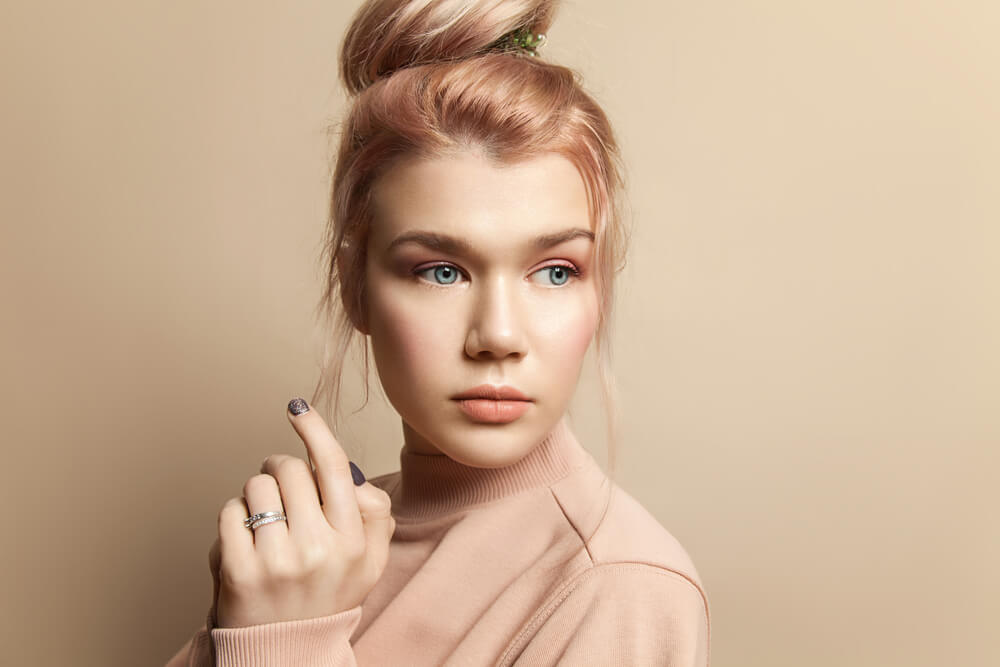 We know what you're thinking.
Another food-inspired hair color?!
Trust us, this one's just as gorgeous as those we've already mentioned in our list! Honey blonde is the ideal shade for those who love the idea of being blonde for spring and summer but want to keep a natural vibe to their tresses.
You'll find no brassy tones or almost white shades here as honey blonde is all about creamy, buttery and of course, honey hues. We highly recommend this naturally beautiful shade for those with a love of surfer-inspired locks dried naturally in the summer breeze!
Baby Blonde
Remember those photos of you as a baby with the most incredible, shiny blond locks? Locks you could only dream of achieving today? Well, that's baby blonde! We're opting to go back in time (sort of) and re-claim the gorgeous untouched tresses of our younger selves with this beautiful shade. We had it once and we're dye-ing to have it again! 
We fully intend on swishing them about all spring and summer long and therefore need to prepare for the heat!
Gem Roots
Love neon roots a la Billie Eilish? Then you'll adore gem roots! This is the newest take on the colored roots trend and, as much as we adore brightly colored ones, we're head over heels for this deeper, more dramatic iteration!
Inspired, of course, by gemstones, this trend is all about those deep, luxurious hues you find in natural stones and blending them into your natural hair color or one slightly lighter. Opt for your favorite color or ask your colorist for help deciding which will suit you and your natural locks best!
Deep Pink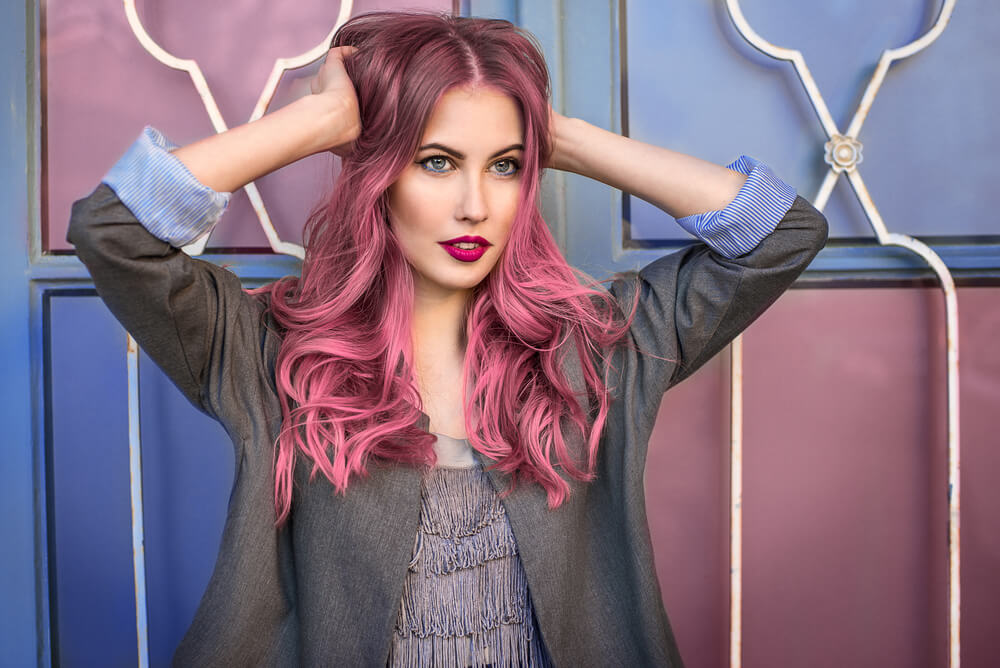 If you loved the candy floss pink colors of last spring and summer but fancy something a little different for 2020, why not choose a glorious deep pink instead!
This color combines everything we all love about lighter pink shades but offers them in a decidedly more dramatic way. Deep pink is still just as eye-catching and theatrical yet you're likely to find it matches easier with the items in your closet and won't fade as quickly or easily as lighter pinks can. We only wish we'd discovered this romantic color in time for Valentine's day!
Classic Bronde
We can safely say we'll never fall out of love with bronde hair. With warming tones of caramel brown and sweetly blended blonde, it's a trend that perfectly combines both colors. Using varying shades of both blond and brown, your colorist can create the ideal look for you and your skin tone. That's the beauty of this color, it can be varied dramatically from person to person yet will still create that luxurious blend we've all adored for years!
If you just can't decide between blond and brown this coming spring and summer, we highly recommend you opt for bronde, you won't regret it!
Sandy Blond
Considering sandy blonde hair this year? Think distant beaches and cool clear waters to be instantly inspired! This trend is all about subtly warm blond tones and a natural-looking finish. Though we love it for spring, it's simply perfect for summer.
Whether you're jetting off to an exotic vacation destination or staying put for your summer break, you'll feel like a goddess with this irresistible shade with a winning combination of caramel, honey, and sandy blond hues!
Natural Red
It may seem strange to recommend 'natural' red in a list of hair dye trends, however, natural, is exactly what you'll be going for with this stunning hair color! A delicate blend of varying red tones will help to achieve a natural red rather than going all-in on one shade.
Ask your colorist for advice before you begin and come up with a blend of natural hues that you're happy with together! If you're lucky enough to be blessed with naturally red locks, we envy you and are looking to you and your locks for inspiration this spring and summer!
Dip Dyed Ends
If you thought the introduction of balayage meant you'd seen the end of dip dye you'll be happy to know it's a huge trend for spring and summer 2020! Go for a subtle shade that's slightly lighter or darker than your natural color, or, opt for something more daring in a neon or pastel hue!
Looking for more hair inspiration over the coming seasons? Click here for The Best Celebrity Ombre Hairstyles!