There is a growing trend for more natural and organic products, both in the food industry as well as the beauty industry. In fact, it is one of the fastest growing arenas in the personal care business. An increasing awareness of ingredients and potential side effects of artificial ingredients has led more and more people to seek out natural ways to care for themselves. 
It only makes sense – if we want fewer additives in our food, why wouldn't we seek out the same in our skincare? After all, the point of skincare is to have it absorbed in order to make it work. If you wouldn't eat an ingredient, why would you put it on your skin? And vice versa – if you wouldn't use it on your skin, why would you consume it?
I believe the trend stems from an interest in moving away from all of the additives that can be found in anything and everything, and a desire to move towards what nature has already provided for us. In a lot of situations, it can be particularly good for sensitive skin if you choose the right products. Many of our perceived sensitivities are not actually sensitive skin, but simply a sensitivity to some chemical additive or fragrance within the product. My skin tends to stay calmer (and less 'reactive') with fewer artificial ingredients in my skincare regimen.
I recently had the opportunity to try two such products – two different moisturizers from a new brand called Nubi Skin.
Nubi Skin Facial Day Moisturizer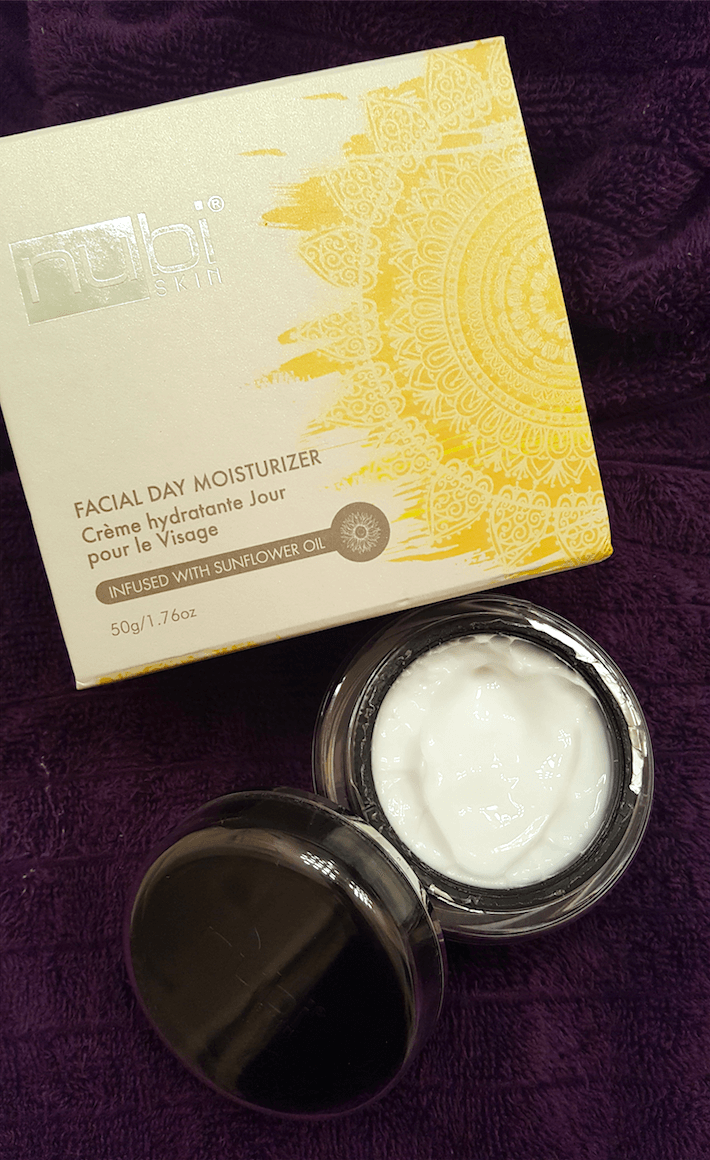 Product Description
Nubi Facial Day Moisturizer provides all-day lightweight moisture to achieve a smoother and more radiant complexion. Formulated with lush moisturizers and deep sea minerals, this whipped moisture cream helps to instantly relieve dryness while dramatically diminishing signs of fine lines and wrinkles for a more youthful refreshed look and feel.
Product Directions
Use daily on clean, dry skin, massaging a small amount over face and neck areas. Avoid direct application to the eye area.
Product Review
I was pleasantly surprised by this daytime moisturizer. Since it did not have any SPF, I actually used it at night for several nights in a row. I made sure to use a cleanser that my skin already likes so that I could best evaluate the effects of my new cream. The day cream has a light whipped texture that easily absorbs into the skin, leaving a nourished complexion but not at all greasy. I think one of the best words to describe my skin after applying was conditioned. It was soft and smooth, and there was no unpleasant residue like with heavier creams that can tend to sit on top of the skin. I also like the fact that while it has wonderful moisturizing ingredients, it has no "active" ingredients that would interfere with my treatment serums such as Vitamin C or a retinol product. I try not to use too many treatment ingredients at once, and prefer my moisturizers to be just that, moisturizing only. This really fits the bill and I have enjoyed adding it to my skincare regimen.
Nubi Skin Facial Night Cream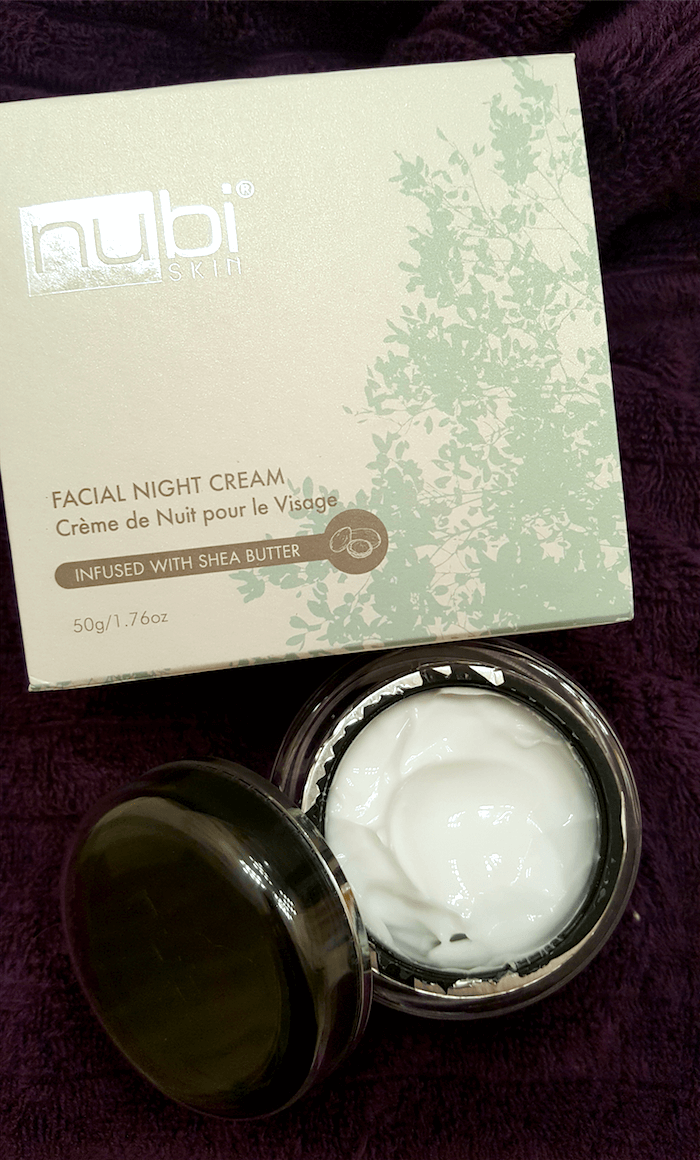 Product Description
Replenish dry, fatigued, and maturing skin with the lush moisturizing and revitalizing effects of Nubi Facial Night Cream. Formulated with a sumptuous blend of botanical oils and anti-aging extracts, this mineral-infused cream offers multi-active benefits that help to restore your skin overnight.
Product Directions
Use nightly on clean, dry skin. Massage a small amount over face and neck, avoiding contact with the immediate eye area.
Product Review
This one packed a punch! I used this for several nights in a row following the same cleanser that I used to try the day cream. The night cream was amazingly nourishing. Thicker than the day cream, it did take a bit longer to absorb but once it did my skin felt velvety smooth and surprisingly little greasiness. I have to admit, even for my combination to dry skin, it was bordering on too heavy this time of year in the humidity of Dallas, Texas. I would love to have it available during the worst of the winter weather, or on my frequent travels to the dry climate of Denver, Colorado. Every few weeks I give myself a home facial, complete with a peeling product. I think the night cream would be terrific as part of that regimen as well, to help nourish and calm and soothe my freshly revealed skin after a more aggressive exfoliation. Despite the heavier texture, I really had no noticeable breakouts. I suspect that is because despite the thick texture of the cream, it is made of mostly natural ingredients.
Overall Brand Review
Originally a hair care line, Nubi has recently released these wonderful facial moisturizers. Based on my experience with these products, I am interested to see what other treats the brand has in mind. I am always happy to support a smaller, independent, new brand.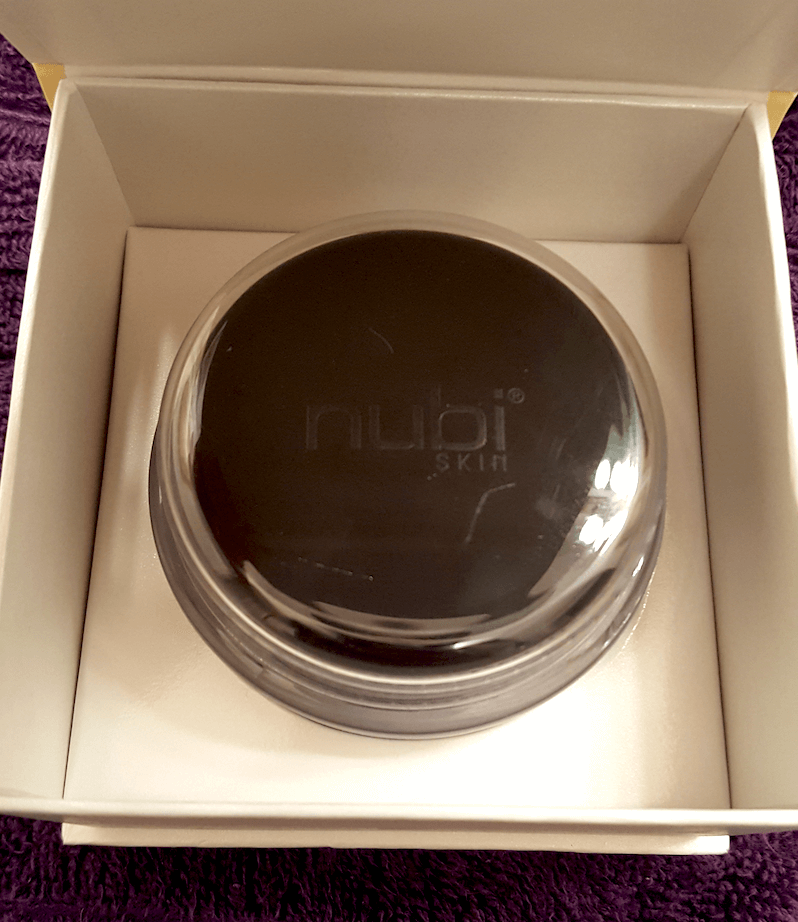 Not to mention that as I get older, I find myself drifting more and more towards natural and/or organic products. But not to the exclusion of results. The two Nubi moisturizers were a wonderful pair; one more lightweight than the other but both certainly good for my skin depending on the weather or season or current skincare needs.
I also find myself trending towards a more simplified skincare routine, and this freshly launched brand appears to be streamlined like that. While I am fascinated by the 14-step Korean skincare routines, I really do not want to spend that kind of time and money. Simple products with natural ingredients that deliver results – that seems like an excellent use of my time and money. And Nubi Skin seems to be right in line with those goals!
Quick Do's and Don'ts in Choosing Skincare
DO know your basic skin type – dry, oily, combination, or sensitive.

 

It is one of the biggest factor in selecting products.

 

And don't forget that your skin type can fluctuate based on season, weather, or hormonal changes.
DO give it a fair shot and stick with a regular routine.

 

Nothing works overnight, no matter what the claims may be.

 

If you don't see change or improvement right away, just stick with it.

 

Especially with anti-aging ingredients that take time to work.

 

Of course, if you have a negative reaction, discontinue use immediately.
DON'T overdo it.

 

Start slowly and integrate products carefully so that you can see how each one works with your skin, as well as how they work with your existing regimen.

 

If you throw too much at your skin at one time, it can get overwhelmed and you may not like how your skin expresses that feeling.
DON'T assume that more expensive means better.

 

Sometimes there are great finds right in your local drugstore.

 

But on the flip side, don't assume that more expensive is not worthwhile.

 

Sometimes those pricey creams really do deliver something special; they can better afford certain ingredients that come with a higher price tag.
Bonus Tips on Trying New Skincare Products
It's always fun to try new things – a moisturizer featured in a magazine or a facial cleanser that a movie star has recently said is the secret to her beautiful complexion. Or perhaps your skin is changing because of different factors such as the passage of time, a new environment, or a life change like pregnancy. No matter what the reason, when you are introducing new skincare products into your regimen, it is important to do it carefully and thoughtfully. Here are a few easy tips for trying out a new product:
Only one at a time.

 

The number one rule about trying something new is to only try one new product at a time.

 

That way you will be able to discern how well it is working and whether you had a reaction of some kind.

 

If you try five new products at once, it would be hard to tell which one your skin liked or didn't like.

 

Especially when it comes to the "didn't like", you could end up back at square one and still searching for a skincare routine.
Do your research.

 

Even if a product says it is for dry skin, make sure you read about the product before you put it on your skin.

 

Just because the manufacturer determined the product was for a specific skin type like dry skin, it may not be the same "dry skin" that you experience.

 

Read reviews, feel the product in the store if possible, and read more reviews. I always like to see how many people have left a review weighed against the composite rating.

 

For example, I trust 500 reviews that yield 4.5 stars over one review that has 5 stars.

 

Likewise, try a sample if you can, before you commit to the cost of the whole bottle.
Patch test, please.

 

Just in case, I would recommend trying a small amount of the product in an area like the inner wrist before massaging it all over your face.

 

If you're going to have a negative reaction to a product, then it's better to have that reaction on a small section of your arm than your entire face.

 

Even if it is a cleanser, try it first before committing to the whole thing.

 

This is another place that a sample would come in handy. 
Choose wisely.

 

Make sure that whatever product you integrate into your routine works with the other products that you already use.

 

For example, if you already use a Vitamin C serum, it would not be a good idea to integrate a retinol moisturizer.

 

If you are trying a product that doesn't have a high-potency ingredient like these, you don't have to be quite as careful.
Give it time.

 

Unless you have a strong negative reaction, make sure to give the new product a fair chance for results.

 

This is especially true for products like anti-aging serums or anti-acne products.

 

Normally treatments like those take a little while for results to start showing.

 

The general recommendation is about two weeks to start seeing results for most active products.
Follow the directions.

 

I know that may seem silly, but the product directions were carefully crafted to provide the optimal results for the product.

 

If the retinol serum says use only at night, there is a good reason (it can increase sun sensitivity).

 

If the moisturizer says to use it twice a day, it is also for a good reason.

 

And if that new facial scrub says to use it twice a week, please do not use it every day!
Time your trials smartly.

 

If you have a big event coming up, that is not the time to try anything new.

 

An anti-acne treatment could stimulate purging of impurities and toxins; an anti-aging serum could cause peeling as it evens out your skin tone and texture.

 

So it is best not to try anything new within four weeks of any significant event.
So whether you want to try nature-made products or laboratory-made products, make sure to take care of your skin properly. Either choice in personal care products is valid for your skincare needs and goals. And oftentimes, a mixture of products can provide better results, depending on your current skincare goals. I am not 100% sold on the fact that you need to use everything from one brand and nothing but that brand. Sometimes that just does not meet your skincare goals. The best strategy is just to pick individual skincare products that work for you, keeping in mind the "rules" above such as which ingredients not to mix.
But a word of advice from the other side of 40 – prevention is so much easier than correction. That is one of the rules that you really don't believe until it's too late, but it is true nonetheless. Wear your sunscreen every day. Wash your face every night. And it's never too early to start using an eye cream.