Every now and then our skin needs a bit of a pick-me-up to help it reach its most radiant potential. Changing up your skin routine, introducing new products, or even swapping out some of your tried and true faves for something new can all help give your skin the little kick it needs to really make it shine. I think it's particularly important to try new products as the seasons change—what might work in the summer might not be great in the winter—and so I'm always looking for new products around the changing of the seasons. With a name like Queen B Vitamin C Serum, I thought this new product from Venofye might just be the perfect new serum for me this summer, and was pretty surprised by the results.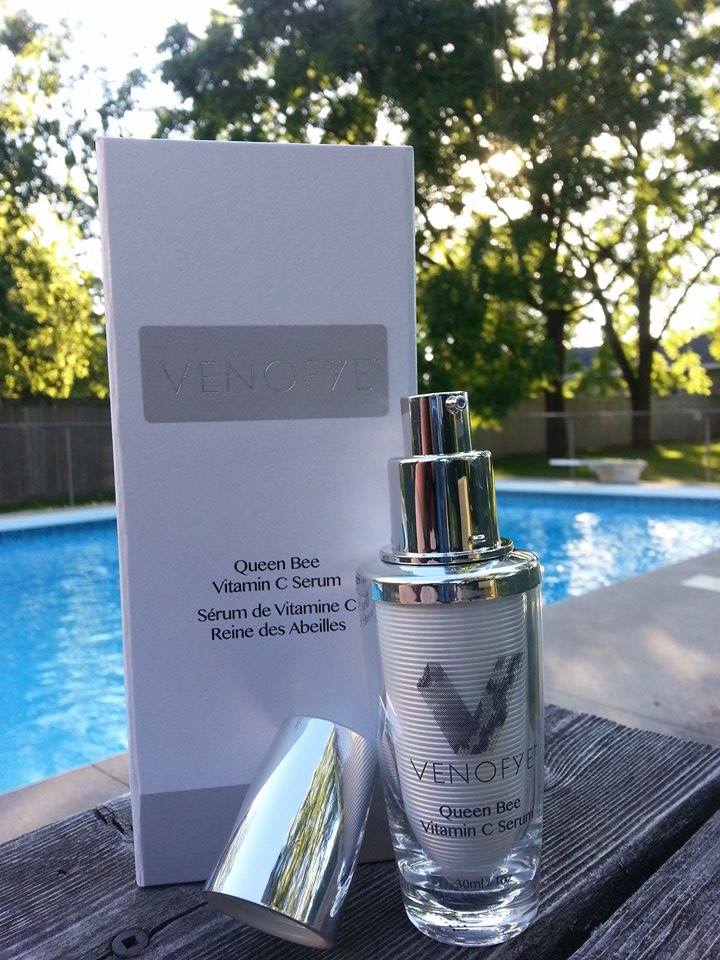 As you can tell by the name, this serum boasts some pretty impressive Vitamin C power, having two forms of the vitamin (Tetrahexyldecyl Abscorbate and Abscorbyl Palmitate) included in the formula. It also includes Bee Venom, an ingredient that I was very intrigued about. Compared to most high-end skin care products, this serum has a fairly short list of ingredients, and it's thankfully paraben-free. It's formulated to make your skin soft and radiant, and the package claims it's supposed to intensify the results of the rest of the Queen Bee collection. Unfortunately, I wasn't able to get my hands on any of the other face products from that collection, but even using it on its own, I was impressed by this serum.
First off, this serum smells absolutely delicious. I normally don't really like any fragrance in my face products, but the scent is so light and is just perfect. The serum itself has a bit of a pearly quality as soon as you pump it out, so it's no surprise that it goes on smooth and brightens the skin. There is a slight oiliness to it, but it goes on so smoothly and absorbs so nicely that I didn't even notice this until about my fifth day of using it, when my hands just happened to be very dry when applying (it softened my hands beautifully). Instead of leaving greasy residue though, as most oily moisturizers would, the serum simply left my skin feeling silky. Honestly, I didn't realize how awesome this serum is until I put it on my dry hands—I'm not at all suggesting you should ditch this as a face serum to use it as a hand cream (though if you happen to pump out a little extra, I'm sure your hands will thank you), but I'm thinking that this means it would be an absolutely wonderful serum to use in the winter. When the harsh cold is trying its best to turn your skin into scales, I think this serum would be the best thing you could do for your face.
The combination of a bathroom with better lighting and me paying more attention after this dry-hands incident made me notice that when you first apply the serum to your skin, you do see the oily properties, giving it a slight wet appearance, but once you rub it in, the wetness disappears and leaves just a slight shimmer. If I didn't know better it would almost appear as if there were just the tiniest flecks of diamonds in the formulation, giving off a beautiful luminous sheen. As far as backing up its claims, I think this serum really nails it—my skin does feel softer, and I can't imagine my skin looking more radiant than after application. I've been using it for just over a week now, and I can't say there have been any major differences in my skin overall, aside from some added softness and brightness, but it makes me wonder about how awesome this serum would be with the rest of the line—particularly the Queen Bee Day Moisturizer that it recommends. Though I'm not too blown away for now, I'm excited to put this product aside for the next few months and bring it out again as my secret skin weapon for the winter, and I'm definitely going to try to get my hands on some of the other products from this collection!