What if you could enjoy your favorite junk foods and keep your figure? If it sounds too good to be true, it's not!
Here are some healthy alternatives for the most popular junk foods, so you can surge forth confidently for a more health-conscious year!
Mexican Food
Lots of fried chips, the giant deep-fried beef chimichanga smothered in queso sauce, a side of white rice, and extra refried beans.
Salivating? You're not the only one.
But as delicious as these dishes sound, none of them are conducive to the health goals you have set for yourself. There are, however, plenty of healthy alternatives at a Mexican restaurant that are still just as tasty!
Just remember that many Mexican restaurants offer plenty of options that are filled with healthy vegetables, lean grilled meats, flavorful salsas and toppings, and the healthy fats found in delicious avocados.
Here are couple of tweaks you can make to your favorite Mexican dish.
Fajitas
As long as you limit your usage of the higher fat toppings and extras such as sour cream, fajitas can be quite healthy. Request corn tortillas instead of flour to cut calories immediately, and ask for extra lettuce and pico de gallo instead of sour cream.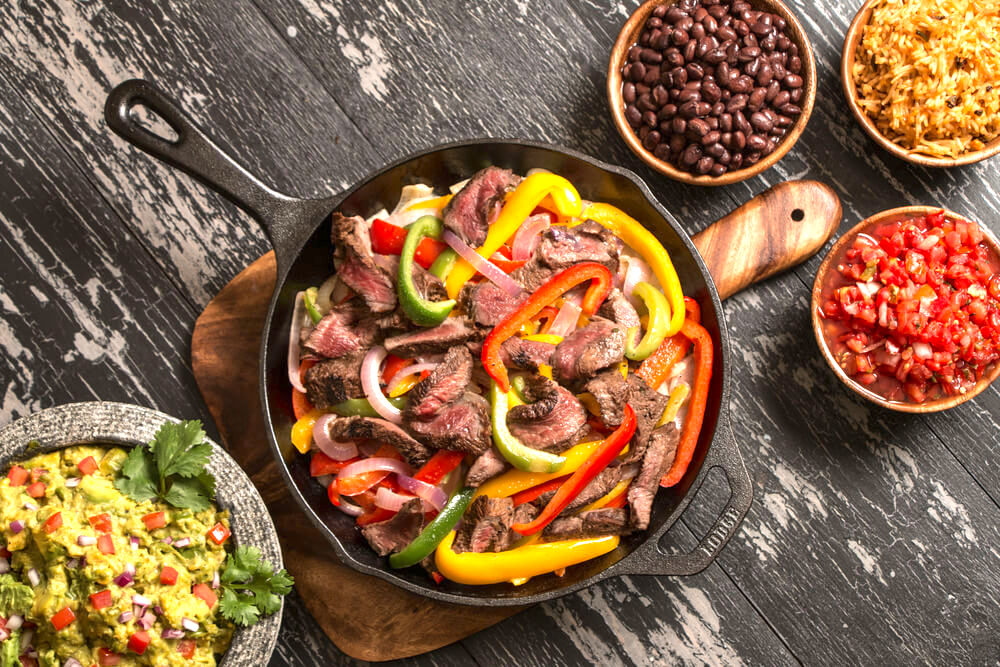 My favorite fajita combination is made with grilled Portobello mushrooms, plenty of peppers and onions and topped with a reasonable amount of guacamole, lots of spicy pico, good crunchy lettuce, and just a sprinkle of cheese. The fiber in the vegetables helps me feel fuller longer, the guacamole is creamy and delicious as always with enough healthy fat to make the meal balanced, and the pico adds so much flavor with hardly any fat or calories.
I also like to use the corn tortillas with my salsa instead of the fried chips.
Soup and Sides
There's no reason to alwys pick something standard on the regular menu. If you're looking to create your own healthy meal, then by all means, do!
Start with a cup of broth-based soup, and complete your meal with a vegetable-based salad or a single soft chicken taco. Just remember to try and omit the cheese, the crispy tortilla strips, and the dressing from the soup and the salad.
Personally, I always leave the avocado in my tortilla soup because it is full of healthy fats and I have a dressing trick I love to use. I go ahead and ask for the Ranch dressing on the side but I don't dump the whole thing on. Instead, I mix my own dressing, using about a 3 to 1 ratio with salsa to Ranch dressing. It gives me the creaminess I like in my salad plus lots of flavor and less fat.
Italian Food
Creamy Caesar salad with extra dressing, hearty Italian sausage lasagna, several slices of garlic bread, and don't forget the wine.
Americans have a long-standing romance with Italian food and there is nothing wrong with that. But the meal I just described would probably add up to thousands of calories. 
Want to keep your figure without the deprivation?
Here's what you can do about your favorite Italian foods.
Bruschetta
Not only does it taste delicious, but it is so much healthier than the fried mozzarella or sausage-stuffed mushrooms.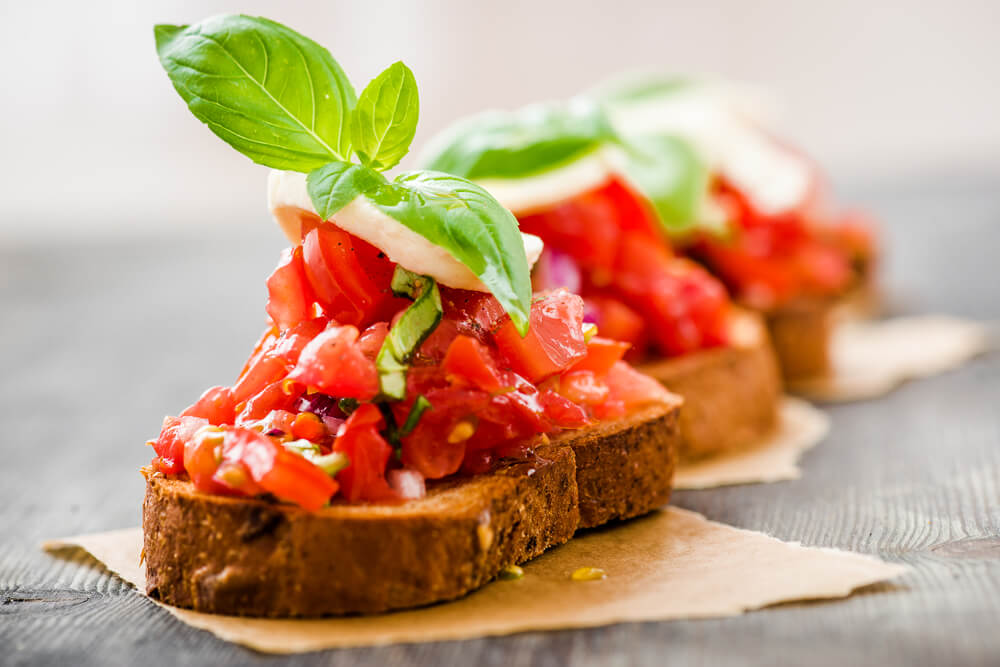 Bruschetta is typically small slices of bread rubbed with garlic then grilled and topped with a flavorful mixture of fresh tomatoes, olive oil, garlic and basil. It is light and refreshing, and still has that garlic bread flavor that you always want with an Italian meal.
Soup and Salad
As long as the soup is broth-based and vegetable-rich, it's the best way to start your meal. Minestrone is a wonderful option, filled with all kinds of beans and vegetables. Paired with a light dinner salad, you have the makings of a flavorful yet light meal.
Just make sure not to choose any options that might be full of cheese or high-fat meats such as salami or sausage. As long as you pair it with other healthy options, one of my favorite salads of all time is the Caprese, consisting of sliced tomatoes and sliced fresh mozzarella, topped with basil, balsamic vinegar, and olive oil.
Grilled Entrees
Stick with grilled or roasted fish, chicken, or seafood. Do be aware of how the protein is prepared and ask for little to no oil in the cooking process.
If you really want pasta, consider ordering a separate side with your grilled entrée.  One of my favorite requests is to swap out the regular pasta for whole-grain and choose a sauce like Primavera (filled with zucchini, peppers, and tomatoes) or margharita (fresh tomatoes, garlic, and olive oil).
Or, if the option is available, try spiralized vegetables instead of pasta altogether! At home I like to make a mix of spiral-cut zucchini and regular pasta. You can hardly tell the difference once that marinara sauce gets ladled on.
Snack Food
Extra buttery popcorn during a movie night, a huge plate of nachos for a football game, a slice of cake at a birthday celebration, or a big bowl of ice cream after dinner.
Who doesn't love these treats?
But trust me, providing healthy alternatives will be appreciated by all of your partygoers!
Popcorn
Air-popped is definitely the way to go! It eliminates all of the oil that is required for many traditional popcorn makers.
As far as the buttery topping goes, try a generous sprinkle of grated Parmesan cheese for that salty flavor boost.
Ranch dressing powder is also a great flavor addition for something a little different.
Nachos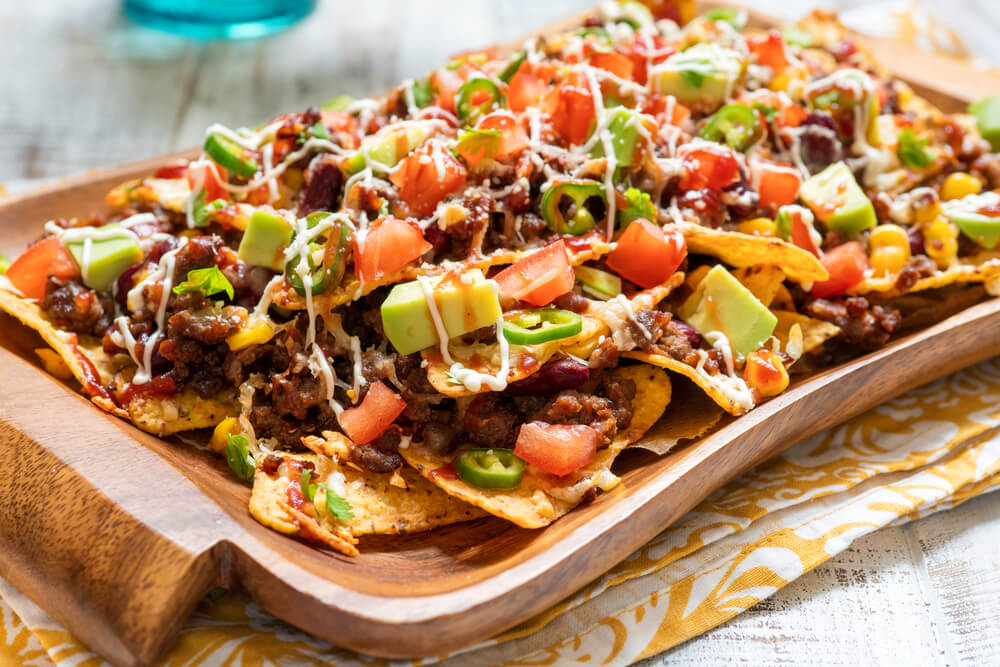 Nachos can be a difficult one to make healthy. The whole idea of nachos is pools of melted cheese, loads of spicy beef or chicken, and dollop after dollop of guacamole and sour cream. It may be difficult to find healthy nachos in a restaurant – but you can always go homemade-style.
Start with baked tortilla chips instead of fried, top them with shredded chicken, black beans, a drizzle of enchilada sauce, diced avocado, lots of fresh pico de gallo, salsa, and a sprinkle of cheese.
Everything is still full of deliciousness with lots of different textures and flavors to savor. And that's really what we all love about nachos!
Dessert
One of my favorite healthy desserts is angel food cake with fresh strawberries. You could use blueberries or blackberries if you prefer. For a frozen treat, try sorbet instead of ice cream.
If you're more in the mood for something warm and comforting, you can get all of the flavor of an apple pie from a delicious baked apple. Cut your apples in half, and remove the seeds and core. Mix together just a bit of melted butter, some brown sugar, cinnamon, and nutmeg, pour the mixture over the apples, and then bake the entire yummy concoction in apple juice. Topped with a dollop of fat-free whipped topping, it is a treat for anyone!
Of course, there's always something to be said for the way one perfect piece of rich dark chocolate melts in your mouth.
Weekday Lunches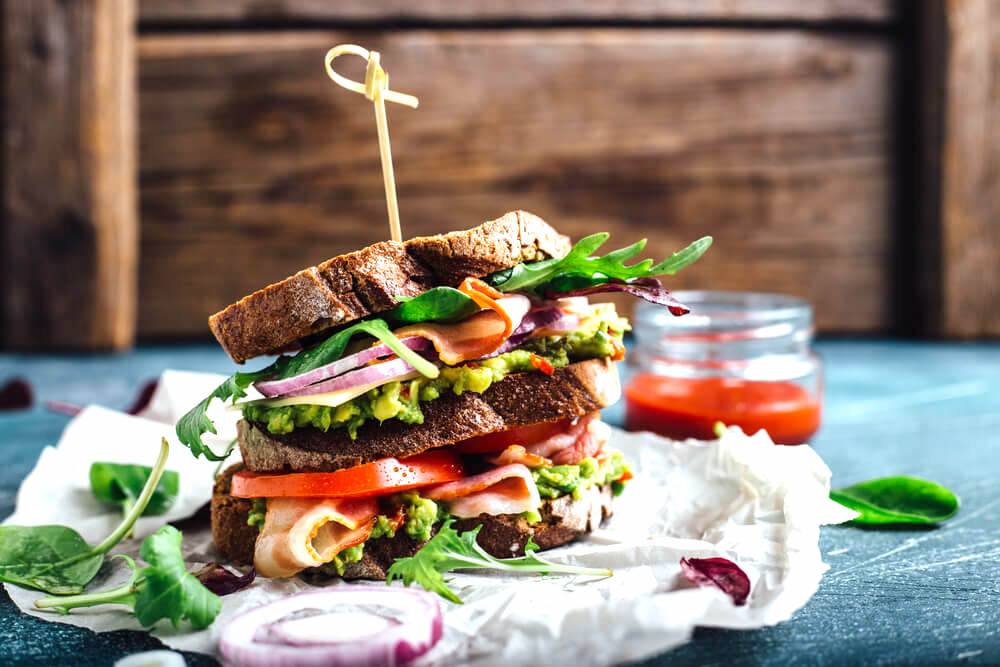 A bacon cheeseburger with French fries, a triple-decker club filled with bacon and mayo, pepperoni and sausage pizza, or even a Philly cheesesteak.
Not only will these midday meals fill your (growing) belly and (hardening) arteries but they will also empty your wallet pretty darn fast. While any of them are a tasty treat every so often, dining out on meals like this on a daily basis will quickly drain your bank account and expand your waistline before you realize what has happened.
Not to mention the afternoon slump with all of that heavy food in your tummy!
Brown bagging your lunch will save you money and give you complete control over what you are eating.
Sandwiches
You may have grown up with the simple ham and cheese on white bread, but sandwiches can be so much more now. Let's start with the part that holds everything together – the bread. Instead two slices of plain white bread, try a whole wheat tortilla or half a pita or even a premade sandwich thin. Instead of high-fat mayonnaise, try something with less fat, fewer calories, and considerably more flavor.
My personal favorite, depending on what else the sandwich will have, is an avocado spread for a dose of healthy fat and delicious creamy flavor.  For the most part, I usually forgo the meat and use the avocado and some flavorful cheese like pepper jack for my protein.
And, of course, pile on the vegetables like fresh spinach, crunchy cucumbers, tangy roasted red peppers.
Other Options
I love making my own lunchables with hard boiled egg, cheese, crackers, apple slices, and peanut butter. I also enjoy taking soup along with a small green salad.
One of the tricks I've learned is to make all my lunches for the week. Even if I am taking a salad, I go ahead and pre-dice my toppings and divide out my dressing.  The only thing I don't prep ahead of time are the greens; I add those the morning of.
It is so much easier to stay on track when you can still enjoy your favorite foods.  And with a few substitutions or additions, it is simple to make healthier versions of all your favorite junk foods.  The three key factors to remember are:
More vegetables – The fiber helps fill you up, and you get a wider variety of nutrients, minerals, antioxidants, and flavor.
Less high-fat meats and cheeses – I'm not saying to cut out meat and cheese altogether. But stick with lean meat such as turkey or tuna packed in water, and try to introduce super-healthy meats such as smoked salmon on your salad for those omega3 fatty acids. And try a more flavorful cheese like pepper jack so that you use less but still enjoy it.
Indulge every so often – To stay on track, you have to still keep some of the food you really love. Try a small high-quality piece of chocolate instead of a handful of cheap candies; order the regular nachos but plan to split it with a table full of friends.