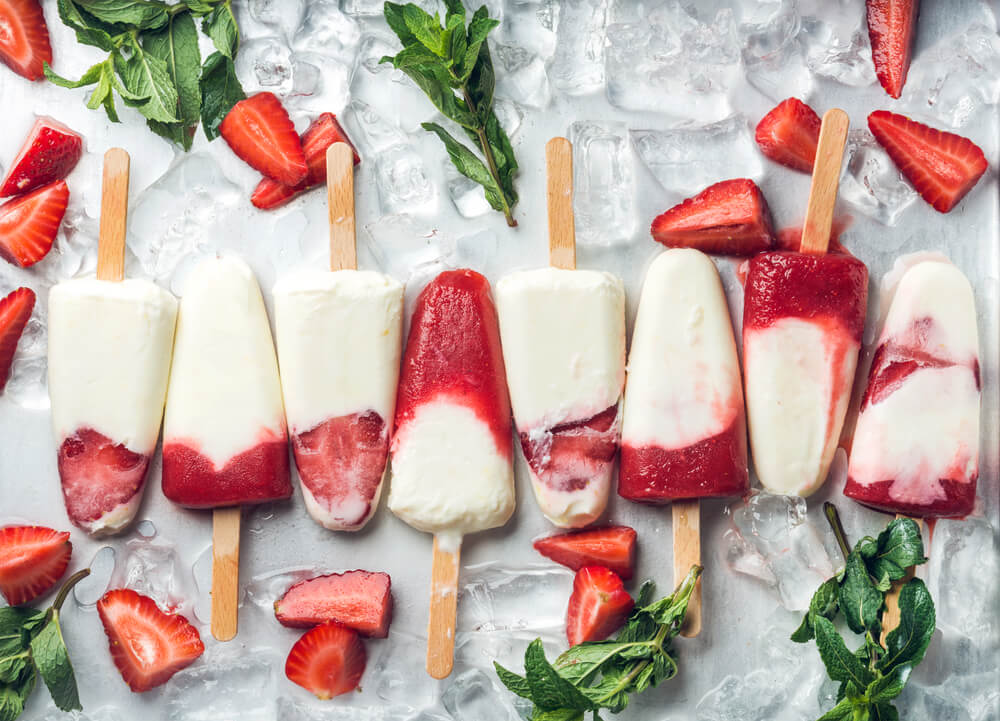 Popsicles are one of the tastiest things about our childhood. So why not give it a try, invite friends and remember old good days? These sweet and ice-cream-like frozen fruits will be great dessert for any kind of party. And the good news is that those are really simple to make. Have a nosey at these homemade popsicles recipes and do it on your own!
Blueberry Orange Popsicle Recipe
What to grab: a cup of blueberries, 2 navel oranges, ¾ cup coconut milk, half a cup of coconut cream and coconut water, Icy Pop molds.
How to make: Pour blueberries in a bowl, put the juice of one orange over and cook it for 15 minutes in an oven, which is preheated for 400 degrees Fareheit. Then you should leave it for a while to stir. The other orange should be split into half. Then you should juice one half and the second half should be peeled and cut into small pieces. In a bow you should put the coconut milk, cream, water, juice of the orange, the orange pieces and the roasted blueberries. Then you should put it evenly into the molds making sure to split the fruit and coconut mixture even for every mold. Leave it overnight to freeze.
Creamy Margarita Popsicle Recipe
What to grab: 4 limes, juice of ¼ lime, a can of sweetened condensed milk, ¼ cup of tequila, a cup of water, 2 tablespoon of orange juice, 12 3 ounce Dixie cups, pitcher/cocktail shaker and kosher salt.
How to make:  Pour the lime juice, orange juice, milk, water and tequila into the shaker. Then you need to line up Dixie cups and pour them with the mixture up to 90 percent. Then you need to add lime on the top for each cup. First divide each lime into four pieces and make a whole in the center so that the stick will be able to get through. The mixture should be left either overnight or for at least 6 hours. After it gets frozen, you can cut off the cups and get the popsicles. You can add kosher salt before serving.
Berry Lime Popsicle Recipe
What to grab: 8 plastic cups (3 ounce each), strawberries, blueberries, 12 ounce Berry Lime Iced Tea
How to make: Cut the strawberries into slices. Grab the cups and pour then half way with the berries. Add about half an ounce of the iced tea. Cover up the cups with foil and put popsicle sticks. It's important not to overfill the cups. Then you should freeze the mixture for at least 4 hours.
Cherry Apple Whiskey Popsicle Recipe
What to grab: half a cup of sugar and water, a cup of lemon juice, 3 cups of cherries, one green apple, a lime, a cup of whiskey and half a cup of sweet and sour mix.
How to make: Pour the sugar and water in a bowl and heat until the sugar is gone. Stir it. Pit cherries and slice the apple and lime. Put the fruits into blender and add the mixture.  Pour the blender mix into the popsicle form and leave it for around two hours, then add sticks and leave it overnight. To be able to get the stuff easily from the forms you can run cold water over each popsicle.
Chocolate Kiwi Popsicle Recipe
What to grab: Kiwi, a cup of chopped chocolate, half a cup of coconut oil, popsicle sticks
How to make: Firs you need to peel and slice kiwi into wide slices. Then you need to put the sticks into the kiwi slices and freeze them. Then melt the chocolate with the coconut oil in a bowl and leave it to reach the room temperature. Grab the kiwi slices and dip into the chocolate mix and refreeze them.