Let's be honest, we all love a good dose of sequins! Though it may be our party look of choice (and an especially huge hit during the holiday season) we just can't resist the idea of sporting our sparkly favorites during the day time too! Adding a hint of sparkle to our weekly outfit rotations is a perfect way to put a spring in your step now that this new decade has finally arrived. Read on and discover just how you can work sequins into your daytime look without rocking up at the office resembling a disco ball!
Sequin Tops And Sweaters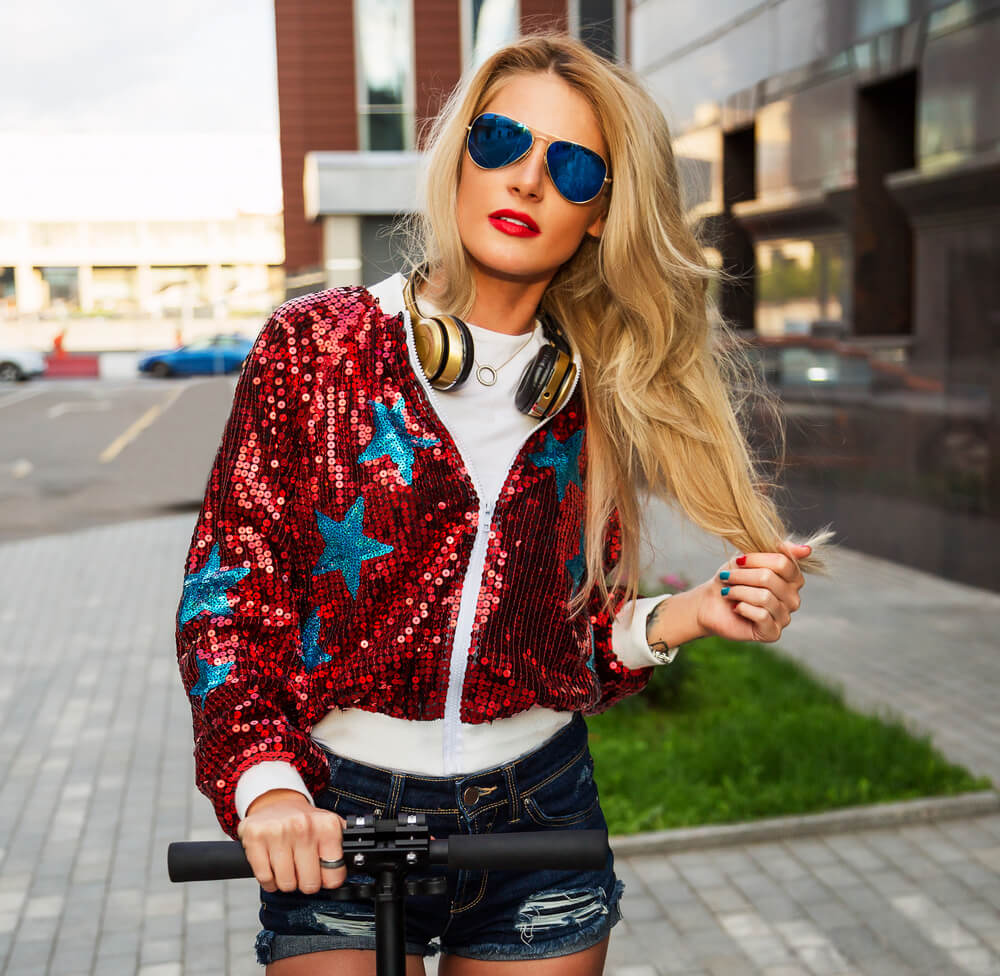 When we think of sequin tops, we're often met with images of a bright silver halter-necks, shimmering low cut vest tops, and OTT Christmas sweaters covered in ribbons and glitter. Thankfully, that's not the case here and wearing sequin tops during the daytime has never been easier or more stylish. Move over basic tees and chunky knits, this winter, we're all about the sequins! 
Still unsure how to pull it off?
Let us help you out…
Choose A Chic High Neckline
As much as we love a daring plunge neckline for an evening out, it really has no place during the day and that's no problem! Instead, when choosing your sequin tops for daytime outfits, opt for chic high necklines and even long sleeves to balance out and blend with the other items in your closet. For example, an elegant, mock neck sequin top with long sleeves in a subtle shade of gold or silver will look incredible tucked into your favorite pair of jeans. It's perfectly seasonal and fresh which is absolutely perfect for the new season. Why not add a playful touch to your look and try this one out for yourself next weekend! 
Style It Loose With Jeans
There's no reason your sequin look needs to be figure-hugging. In fact, for a day look, the baggier and more slouchy in style, the better! Try throwing on a loose-fit short-sleeved top with subtle sequin detailing and tucking it into jeans for an effortless weekend look with just a touch of sparkle! You'll love this elevated take on jeans and a t-shirt and feel that much more special for wearing it as you go about your day. The Last Night top by Standards Boutique, is one of our absolute favorites for creating this go-to look!
Enhance The Sparkle With Accessories
Instead of trying to dull the sparkle of your sequins because you're worried they're too much for the daytime, embrace your dazzling choice of outfit and highlight them with accessories! By choosing a great pair of statement earrings you'll instantly and effortlessly pull your whole look together. You can still keep it semi-casual by wearing jeans and sneakers (or boots), but this way you're making the most of your look instead of trying to hide it! For an added touch of daytime glam, be bold and opt for a red lip. This will look especially impressive with a multi-colored sequin top! One of our absolute favorites this season is this stunning Endless Rose multi-colored sequin top by Shopbop. It'll look absolutely gorgeous tucked into your favorite pair of jeans with a pair of heeled boots at your next daytime event! 
Style It As A Casual T-Shirt
Sometimes, especially when we're in a hurry, all we want is to throw on a comfy t-shirt and leave the house. However, that doesn't mean we need to forget about including sequins in your day time looks. Simply by choosing a t-shirt with subtle sequin embellishments or logos, you can amplify a casual day look with a dazzling addition. No need to go all out in a shimmering head to toe outfit or spend hours planning how you'll jazz up a simple look, a sequin embellished tee will do all the work for you in the coolest way possible. 
Sequin Skirts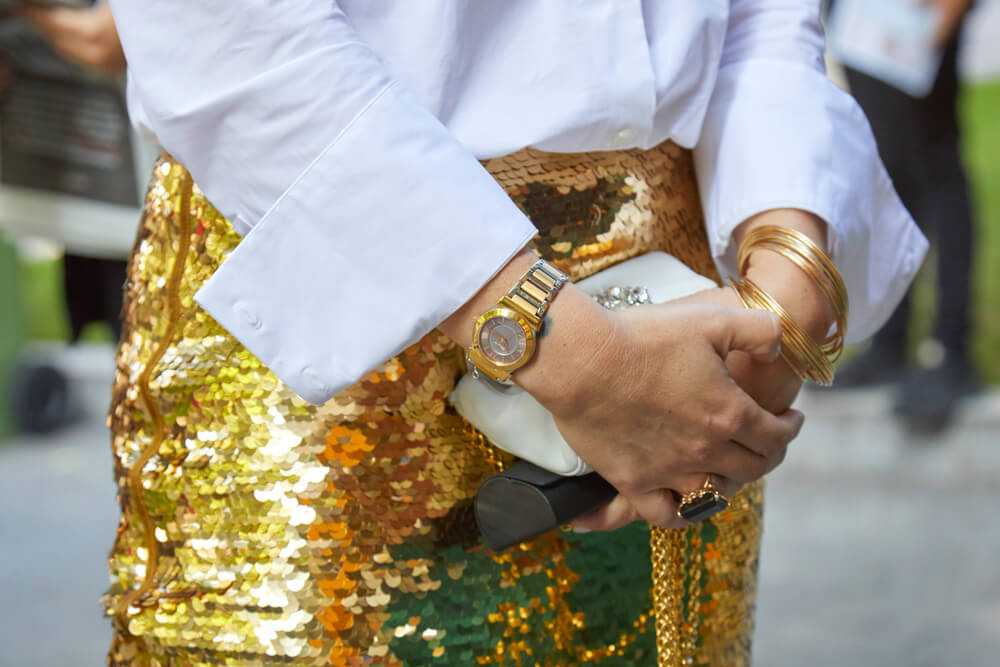 We're absolutely obsessed with sequin skirts right now and it's not hard to see why! Not only do they instantly make any evening outfit more glamorous but they're amazingly versatile for our daytime wardrobes too. There are so many ways to wear them and to dress them up or down. You'll be truly surprised at just how many simple styling tricks will allow you to get the most out of your favorite piece of go-to party wear. 
So, how exactly can I wear a sequin skirt during the daytime, you ask? 
Let us break it down for you!
Style It With A Sweater 
Want to make any item instantly more casual and appropriate for the winter months? Simply pair it with your snuggliest jumper for an instant wow factor! We adore the contrast of very dressy against very casual and plan on wearing it to any and every brunch date, lunch date and a shopping trip on our social calendar for weeks to come! All that's left is to slip into your fave pair of heeled ankle boots to complete the look.
Style It With A Long Sleeved Tee
The time for cotton midi skirts and short-sleeved tees or vests may be a while off yet, but, the time of for sequin midi skirts and long-sleeved tops is right now! If sweaters aren't really your thing, you're simply more comfortable in a t-shirt or you just prefer the look, this one's for you. The next time you fancy slipping into that sequin skirt but feel you shouldn't even consider doing so before cocktail hour, try it out with a casual long-sleeved t-shirt. We guarantee you'll love the smart casual results and feel more than confident enough to rock that sequin skirt from morning 'til night. Simply throw on your favorite pair of sneakers and trusty sunglasses and you're good to go!
The Sequin midi slip skirt with double split by Asos Design is top of our list for a dash of day time sparkle and to match with our favorite long-sleeved tops!
Style It With A Smart Shirt And Heels
Always thought a sequin skirt's place is on the dance floor, not in the office? Well, think again! Simply by choosing the right shape of skirt, such as a fitted pencil silhouette and pairing it with a simple white shirt and heels, we guarantee you'll be totally surprised by the results. Go for a subtle sequin decal on your skirt and stick to a crisp, plain white shirt to balance out the sparkle for day wear. You'll be the talk of the office! 
Style It With A Long Coat, A Woolen Hat And Winter Boots
Whether you're putting your winter ensembles together in your mind or practically laying them out on your bed, we guarantee at least 90% of them include a woolen hat, a cozy sweater, biker boots, and a long warm coat. Luckily for you, these are the exact items you need to create your dream winter outfit. Instead of slipping into your trusty jeans in the morning, mix thing up with a gorgeous sequin midi skirt. One that's loose-fitting will be ideal as it's not only comfortable but works perfectly with the other items in your look. The usual items you wear will dress your dazzling skirt down ever so slightly whilst the skirt elevates what would usually be a casual, and possibly forgettable, outfit! 
Sequin Pants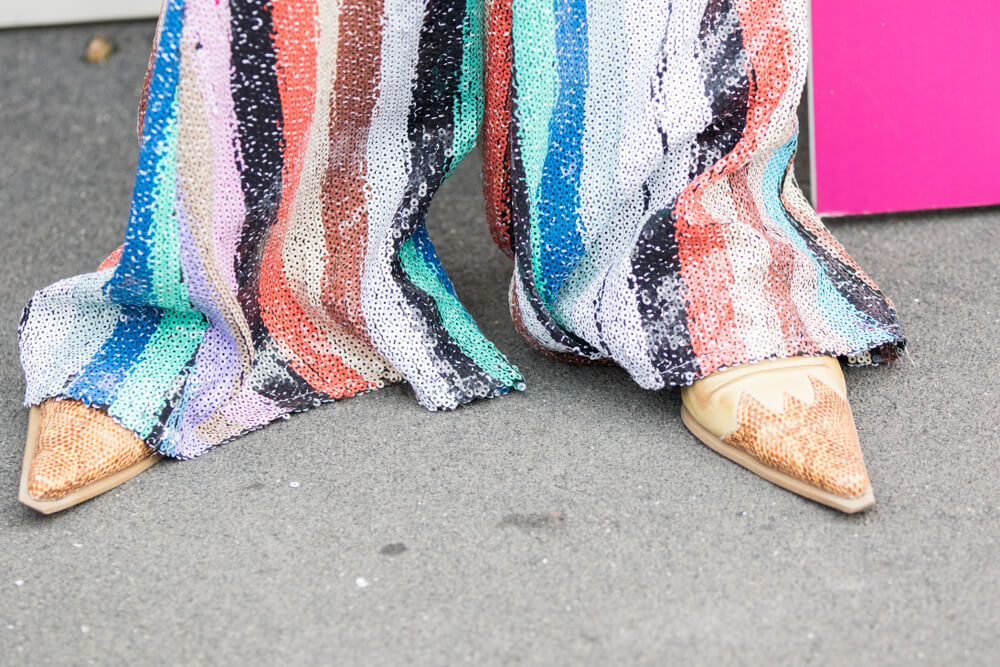 Okay, we totally understand why this one might sound daunting. 
Sequin trousers? On a Monday?! You cry.
Yes. Trust us. It can be done!
Much like a sequin skirt, choosing to style half of your outfit in sequins is no easy feat and it can take some clever styling and a fair few wears to get used to. That being said, we think the end result is more than worth it and think you'll agree! So, how do we suggest you style sequin trousers during daylight hours and not look as though you're rocking last night's look at the office? Like this…
Style Them With A Smart Shirt Or Blazer
Nothing screams office wear quite like a crisp white shirt or a fitted blazer. Having confidence and styling your sequin trousers with one of these two options, therefore, is sure to look not only incredibly daring and stylish but smart too! To pull this look off successfully, we suggest opting for wide-leg sequinned trousers with a fitted waist, heels and a fitted blazer to maintain the structure and corporate edge of your look. Simply add heels and heads will turn for sure!
Style Them With A Slouchy Sweater
As we suggested with a sequin midi skirt look, choosing to style your sequin trousers with a roll-neck sweater is a sure-fire way to add a casual edge that's also unquestionably chic. To truly nail this look, opt once again for a wide-leg design and style them with sneakers to define your look as daywear. The contrast between your off-duty sweater and sneaker vibes against your sparkling trousers will be your most daring yet effortless weekend look to date!
Style Them With A Fitted T-shirt
Almost every outfit in existence looks great with a plain white tee. A semi-casual daytime outfit with sequinned trousers, as we can see, is no exception! Style your fitted sequin pants with a fitted white t-shirt and you'll feel instantly elevated as you step out to face the day. But why stop there, if you prefer to inject a little color into your look, why not mix it up with a more colorful t-shirt or even a black one for a look that's truly elegant and a little more dramatic! We adore this look for everything from fancy lunch date right through to an evening out for cocktails. It's the perfect day to night look that'll hold up perfectly when you've no time to go home and change.
Sequin Headbands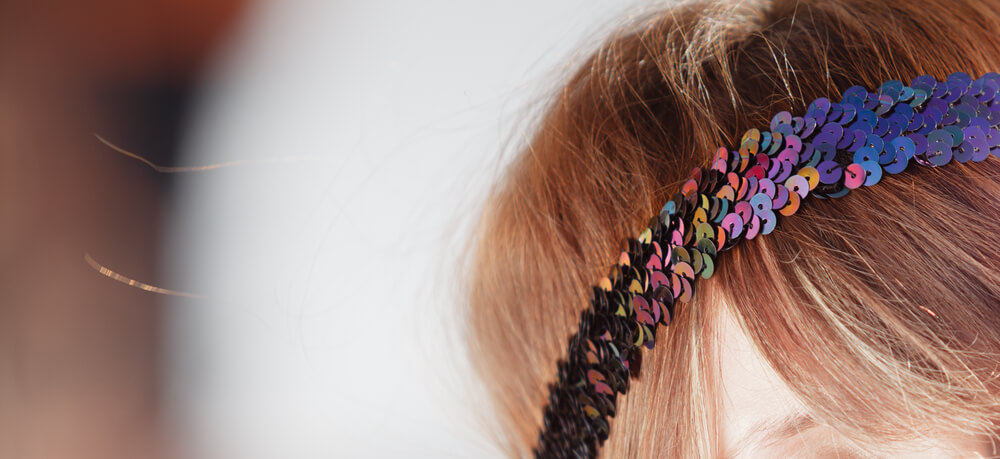 If sequin clothing just feels too much or is a little far out of your comfort zone during the day time, we totally understand and you're not alone! That doesn't mean, however, that you can't still include a subtle sequinned hint into your outfit every now and then.
What's the perfect way to do that, you ask?
Sequin headbands!
We've seen our fair share of stunning headbands over the years and we can honestly say, sequin embellished ones might just be our favorite ever!
Glorious Gold Sequin Headbands
If you're going to go for it, then go for it! We'll always recommend opting for colors that you love and feel suit your personal style and gold is one that can suit everyone! It may feel a little out there at first but thanks to its earthy metallic hue you'll soon find how well it matches with the majority of outfits already in your wardrobe. We also love how shimmery gold tones can work so well in the winter months and during the festive period but also look amazing as they shimmer in the sunshine during spring and summer!
Multi-colored Sequin Headbands
Can't decide which color you like or which is best for your outfit? 
No problem!
In this case, opt for a gorgeous multi-colored headband to highlight the shades in your outfit and to add a playful element to your look. We adore how eye-catching and fearless a multi-colored accessory can be, especially when it's embellished with shimmering sequins to really show it off! Embrace your love of all things bold in a more subtle way and style your next casual outfit with a multi-colored sequin headband, you'll be so glad you did!
Black Headband With Sequin Detailing
Happily, this particular hair accessory called the Gala Headband is available on Etsy! We love its chic finish in black velvet with subtle sequin adornments. It's perfect for any outfit (day or night) and sure to add a touch of elegance even to a slouchy sweater and jeans combo. Simply slip it on for that instant wow factor whether your hair is long or short, straight or curly. It's certain to look incredible on everyone that wears it.