Review by Catarena VanAusdall
CbGäRDN is a luxury skincare brand that takes pride in their ingredients: hemp oil, cannabis sativa seed extract, and gold. I recently had the opportunity to try out their new CBGöld line, and now I will be sharing my honest thoughts with you! 
About CBGäRDN and Their Brand
CbGäRDN's inspiration stems from the outstanding effects of their main ingredients. Cannabis sativa seed oil is becoming increasingly well-known as an anti-inflammatory for the skin. This is important because inflammation causes most of the problems we do not want for our skin, A.K.A acne and wrinkles. 
Cannabis sativa oil can also aid in decreasing rough texture of the skin, leaving a soft and smooth complexion while providing important nutrients and hydration. 
Hemp oil is a bit different as it is derived from a different part of the plant, but is just as beneficial. I have used hemp seed oil before and love the feeling of hydration and softness it provides. It is used for its anti-inflammatory properties as well as its anti-aging effects. 
CbGäRDN incorporates these ingredients along with gold in a new and innovative way to treat your skin to the care it deserves.
First Impressions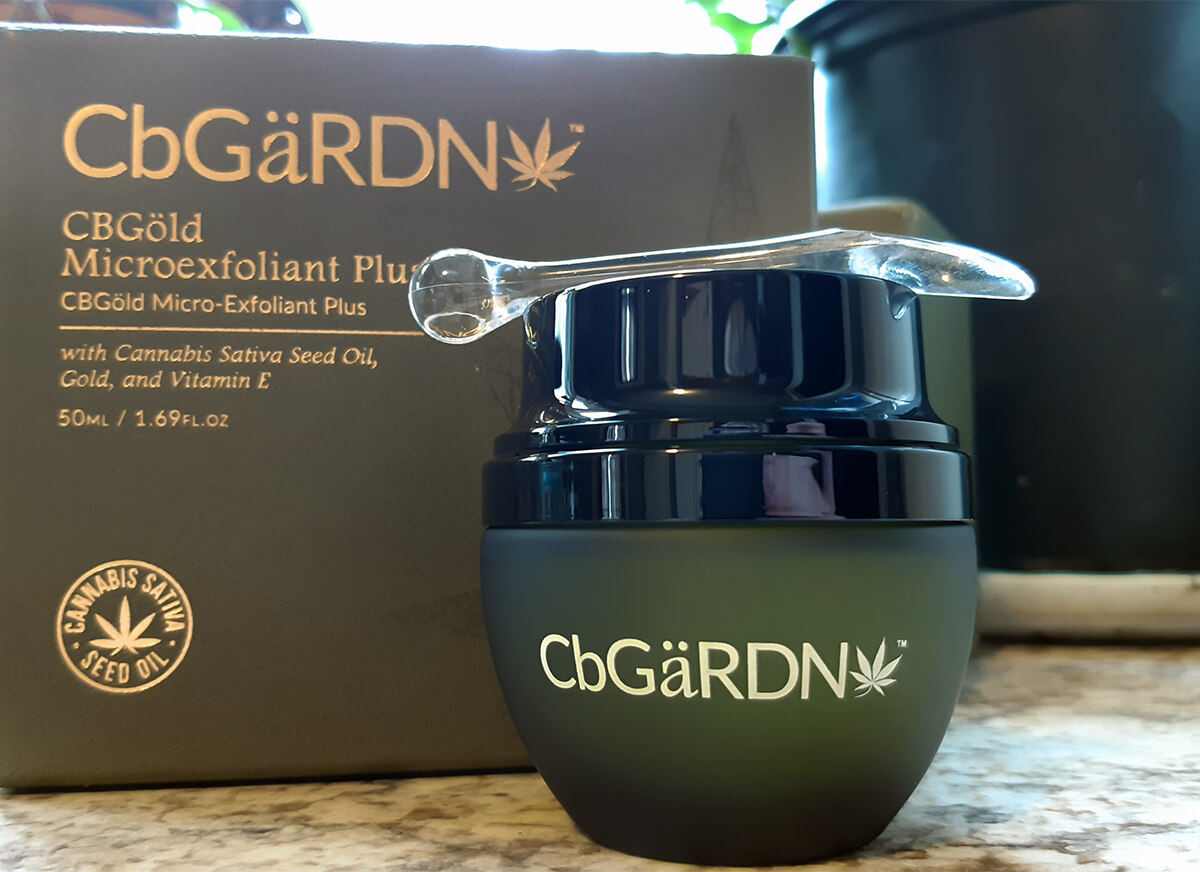 Upon receiving the products, I was super excited to try a few in specific. I'd used CBD products before and was going into this with high hopes! 
Here is what I received from the line and my initial thoughts:
CBGöld Cleansing Elixir Kit – Comes with CBGöld Facial Cleanser and Facial Toner – Cleansing is critical to great skincare, and I never knew just how important toning is, too! Initially, I didn't like the applicator for the toner, but I will elaborate on this later. Both products smelled subtle and pleasant. 
CBGöld Microexfoliant Plus – I had never used a microexfoliant like this one, so I was excited but a bit nervous, because exfoliating products sometimes irritate my skin pretty bad. This product claims to be gentle, so after a good patch test, I was ecstatic to try the soft gel out. 
CBGöld Bio-Restorative Cream – Of all the products that have irritated my skin, creams like this are my most common enemy. I wish I knew why, but I wasn't going to let that get in my way of testing the benefits. This cream is a light green/minty color with again, a subtle but nice smell. 
CBDGöld Eye Serum Concentrate – One of the issues I struggle most with in regards to my skin is dark undereye circles/bags. I have tried numerous home remedies and a few somewhat pricey creams, but none have actually cured the annoyance of my bags. So, receiving this eye serum brought me quite a bit of joy. It is a gel-like consistency with a pump applicator, which I love. I did not notice a smell with this one. 
CBDGöld Anti-Wrinkle Confidence Solution – When opening this product, I was a bit confused as it was my first time seeing this kind of applicator. The product is a syringe filled with a "velvety formula" of cannabis sativa extract, gold, and organic sweet almond oil. This solution is to be applied directly to fine lines and wrinkles to visibly reduce them. 
CBGöld Night Renewing Cream – The Night Renewing Cream is another that I was most excited to try. I love waking up with a bright, smooth face, and I was sure with the ingredients, this would do the trick. This cream had a light green color and subtle smell similar to the Bio-Restorative Cream. 
CBGöld Cleansing Elixir Kit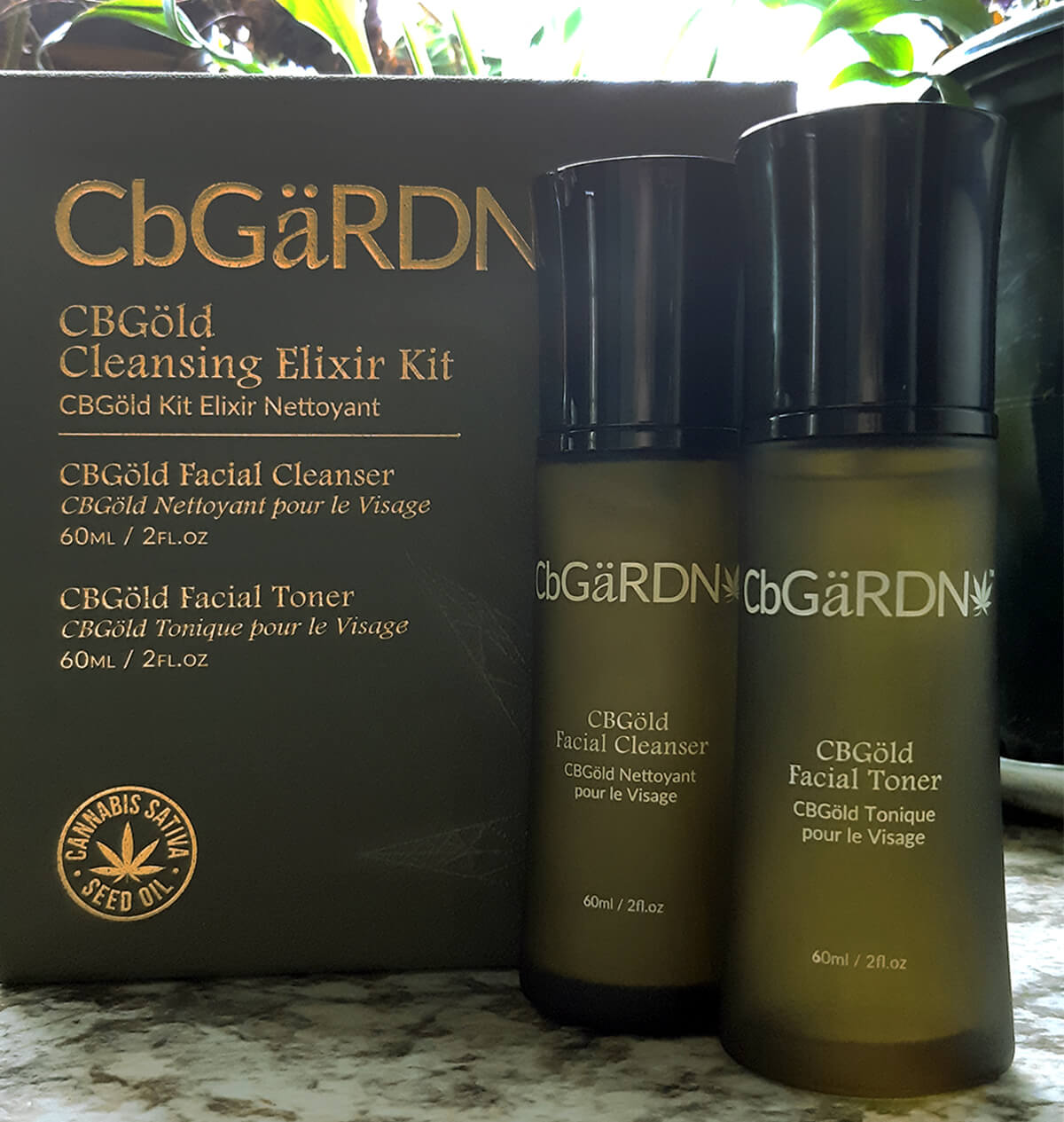 The CBGöld Facial Cleanser comes in a glass bottle with a pump applicator. It is designed to detoxify the pores and reduce fine lines and wrinkles. The ingredients are gentle but effective enough to remove impurities and leave the skin with a gorgeous complexion.  
Directions: Apply a small amount on damp skin, lather, and massage for one minute. Simply rinse off with warm water!
Upon my first use of the CBGöld Facial Cleanser, I thoroughly enjoyed how gentle the formula feels on the skin. It doesn't have an intense smell, which I know most people prefer, so that's a plus. 
I typically prefer my cleanser to feel like it's truly cleaning out the dirt and impurities in my skin. While I trust the ingredients in this product, it just didn't have the feel of a deep cleanser. I used this for a few days (about three or four) as my only cleanser, but eventually began incorporating my standard cleanser before using the CBGöld. I have now resorted to just using both to ensure the clean feeling while still benefitting from the CBGöld Facial Cleanser. 
The CBGöld Facial Toner comes in the same type of bottle, which I originally didn't enjoy because of the watery consistency and my tendency to miss where I'm aiming on cotton balls (which you are directed to use). Because of this I sometimes apply my toners directly to my face if possible, but this applicator isn't the best for that. 
Directions: Use a cotton ball to apply toner to face, avoiding the eye area. 
Overall Opinion:
The CBGöld Facial Cleanser is far from being one of my favorites, but for those who need a super gentle cleanser or who tend to get dry from cleansing, this may be for you! The product was pleasant overall, just not my cup of tea when it comes to ensuring my face truly feels clean. 
The toner was also an overall decent product as well, but once again, not my favorite. It is meant to moisturize with hyaluronic acid, but it leaves my skin feeling a bit like rubber. After completion of the routine, my skin feels better and hydrated, but right after the toner, it's somewhat unpleasant. 
CBGöld Microexfoliant Plus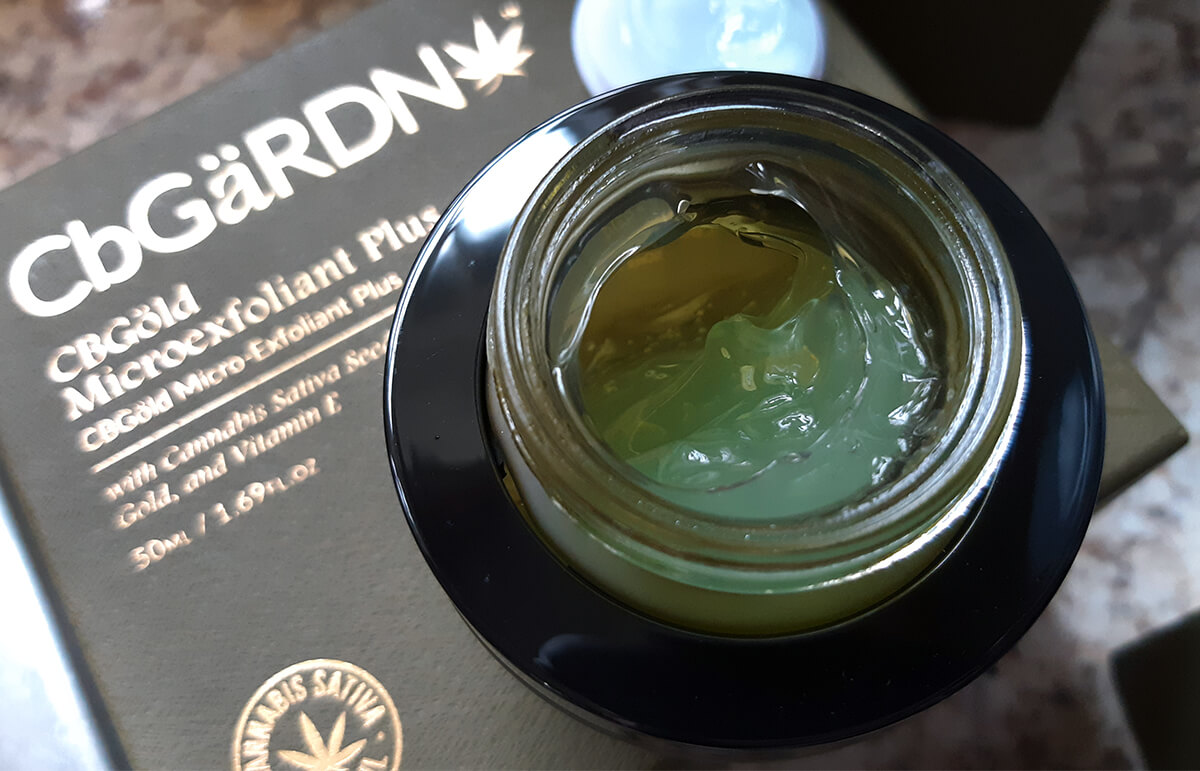 This exfoliating gel is made with cannabis sativa seed oil, gold, and vitamin E, designed to refresh skin and remove unwanted impurities.
Directions: Apply a small amount to a cleansed face. Gently massage using upwards motions for 30 seconds. Rinse immediately with cool water. Use 1-2 times a week, followed by CBGöld Bio-Restorative Cream. 
I didn't necessarily know what to expect when using this product for the first time. I followed the directions with caution and rinsed immediately after using. When massaging into the skin, you can feel the excess impurities, dirt, and dead skin begin to rub away. It took a bit more effort than I'd expected to rinse all of the excess off my face, but afterwards, I could feel a big difference. 
Overall Opinion:
I used the CBGöld Microexfoliant Plus four times over the last two weeks, and I have noticed a major difference in the appearance of my skin regarding impurities and have seen the blemishes slowly fading away. I can tell that over a longer period of time, this will drastically improve the appearance and texture of my skin, and I am excited! 
Please note that the directions for this are important. Face products, especially exfoliants in my experience, can be seriously harmful if not done properly!
CBGöld Bio-Restorative Cream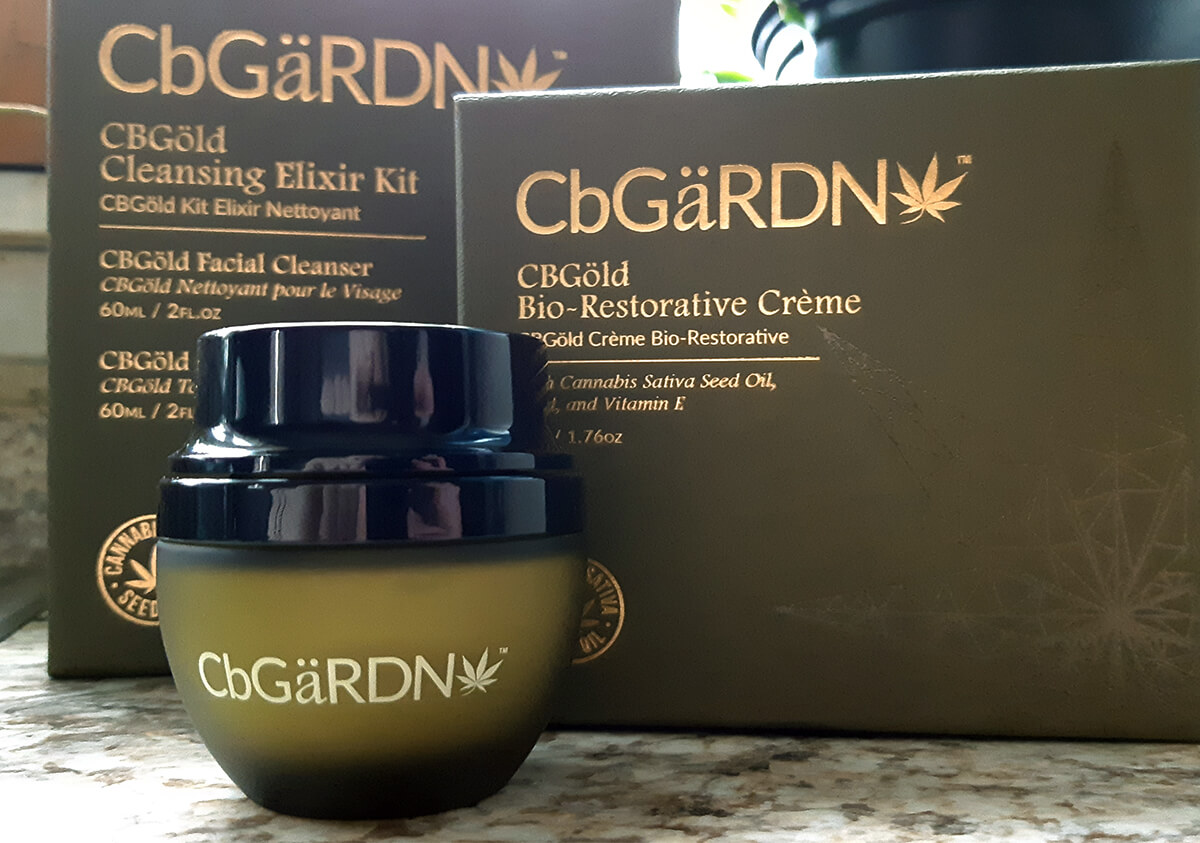 The CBGöld Bio-Restorative Cream is a "lightweight day cream" infused with a number of ingredients to moisturize, soften, and nourish while providing a long-lasting glow. 
Directions: Apply on the face and neck daily using upward motions. 
Ingredients:
Sunflower seed oil – provides hydration, anti-aging effects, and nutrients 
Shea butter – moisturizes, softens, and provides anti-inflammatory properties
Cannabis sativa oil – hydrates, softens, smooths, and provides nutrients 
Gold – helps to firm skin, increase elasticity, brighten, and provide anti-aging nutrients
Vitamin E oil – moisturizes, heals, and works to strengthen the skin's barrier 
After using this for two weeks, I have grown to like it a lot. Sometimes day creams cause me to have a bad reaction, but this one has been so far so good. It is definitely one of those products that you need to give a bit of time before you see a difference, apart from a bit of a glow. It has slowly but surely begun to smooth, soften, and tighten my skin. 
The hydration aspect isn't the best in my opinion, and I still need a separate moisturizer every day. It could work for oily skin, though, because it provides natural oils without overdoing it or clogging the pores. 
Overall Opinion:
I was nervous for this cream in the beginning, but I enjoyed it in the long run! It provides a natural-looking glow while providing incredible benefits over time. If you're looking for a product to truly brighten, tighten, and smooth, this is definitely worth a try.
CBDGöld Eye Serum Concentrate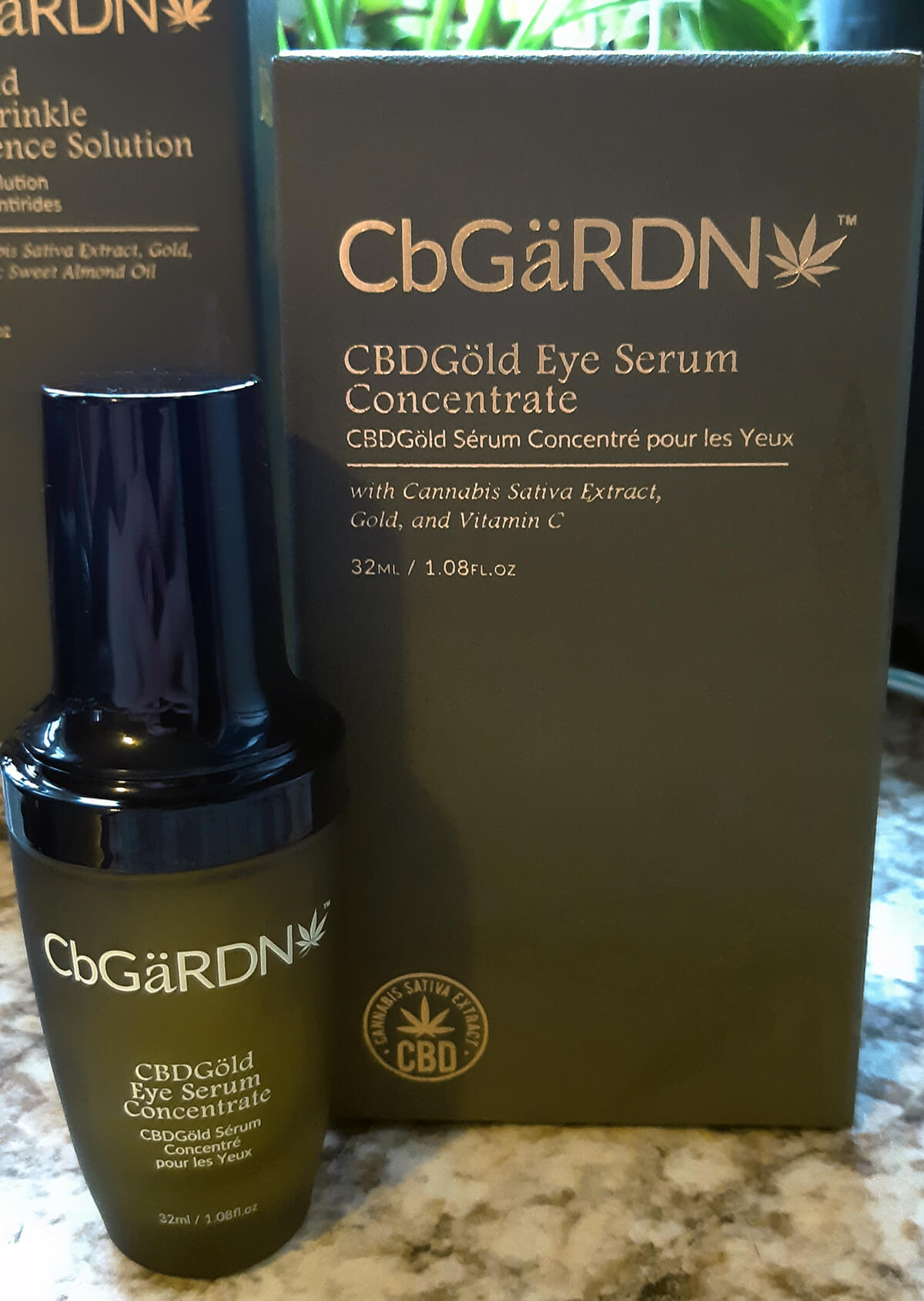 This serum is packed with ingredients to reduce the appearance of shadows and puffiness under the eyes. Made with ingredients to revive the sensitive skin around your eyes, this should aid in the brightening and hydration you need. 
Directions: Apply to the eye area in a clockwise motion every morning and evening. 
Important ingredients include:
Organic green tea extract – works to soothe, moisturize, and heal while providing improved blood circulation, anti-aging properties, and much more 
Vitamin C – Helps repair skin cells, provides anti-aging properties, brightens dark spots, and evens complexion 
Cannabis sativa extract – softens and smooths skin, provides moisture and nutrients 
Gold – increases elasticity, brightens, and provides anti-aging properties 
As mentioned, my dark under eyes are one of my biggest issues when it comes to my skin. I'm learning to love them while simultaneously trying to get rid of them. They are noticeable and my eyes don't take concealer well, so make up application is hard. 
This serum is a gel consistency, which I prefer over thin serums. I have noticed a slight difference in my under eyes regarding brightness and hydration after using this for two weeks, which makes me excited for the future.
Overall Opinion:
You can't usually expect eye creams to work super quickly, so the fact that I'm seeing a small difference so far is alright with me. I have high hopes! Plus, make up application is much nicer around my eye area after doing my regime! 
CBDGöld Anti-Wrinkle Confidence Solution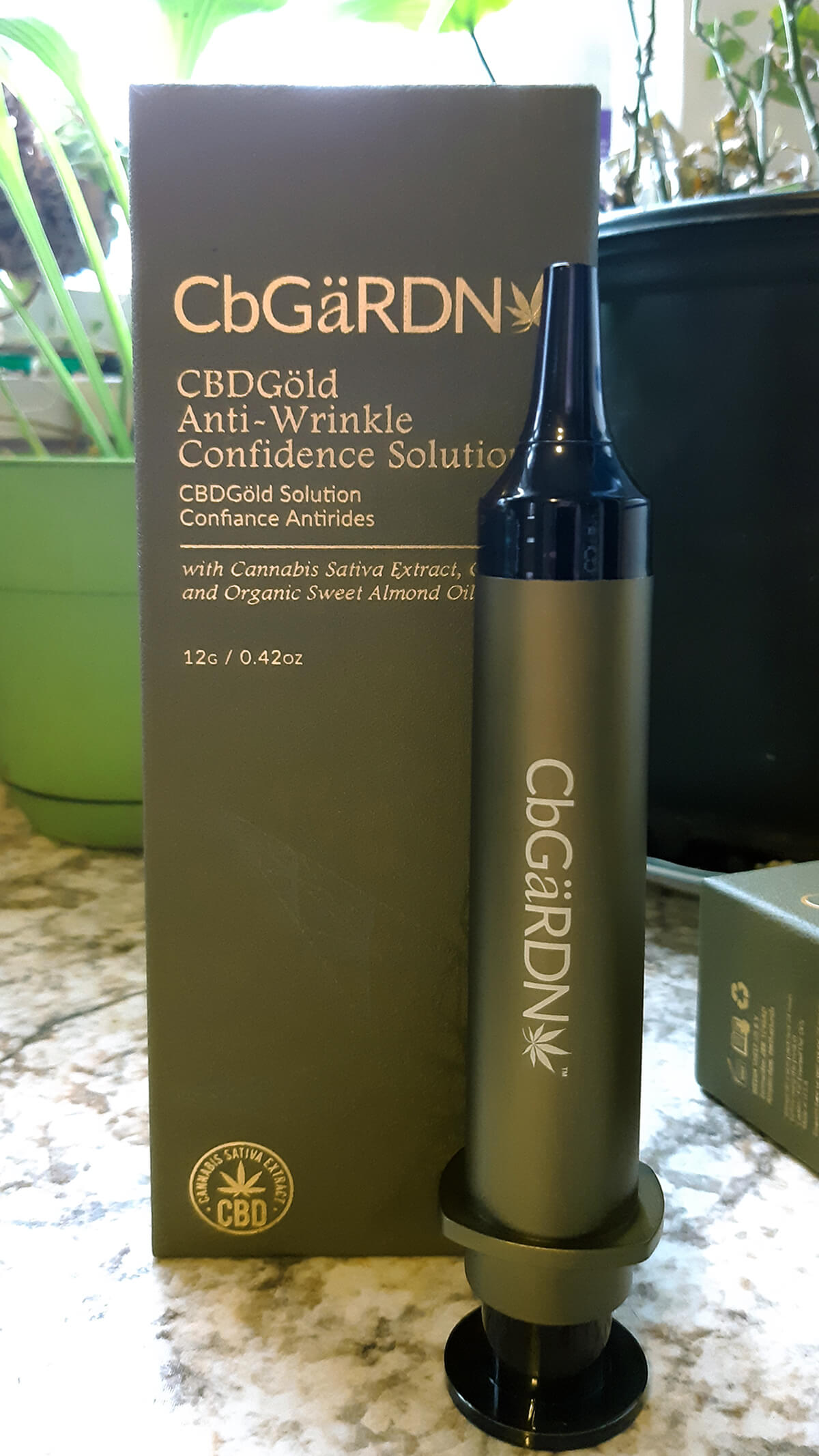 This anti-wrinkle serum is designed to go directly onto fine lines and wrinkles. It is made with ingredients to help target and reduce the appearance of fine lines on the skin, such as retinyl palmitate. 
Ingredients:
Sweet almond oil – packed full of antioxidants and nutrients, such as vitamin e, to fight the degradation of collagen
Retinyl palmitate – anti-aging ingredient that helps fight signs of wrinkles, fine lines, dark spots, and uneven complexion
Cannabis sativa extract 
Gold 
I have used this nearly every day for the last two weeks, and I do not particularly enjoy the application. There's not much of a smell and the consistency isn't bad, but I don't like the formula all that much, which is super sad to me! 
I personally haven't seen much of a difference in my fine lines, which are only now progressively causing me problems. Perhaps someone with deeper wrinkles could benefit much more, and the ingredients point towards that being the case. 
Another issue I've had with this solution is that it rubs off if you rub anything over it, overdo the amount of product, etc. So, there were a couple days I skipped this step solely because I knew it would rub off into my make up.
Overall opinion:
As I said, the ingredients in CBGäRDN's CBDGöld Anti-Wrinkle Confidence Serum are great, and I have faith that someone in need of a product to help diminish fine lines or wrinkles could benefit. I personally just didn't enjoy the formula for my face. 
CBGöld Night Renewing Cream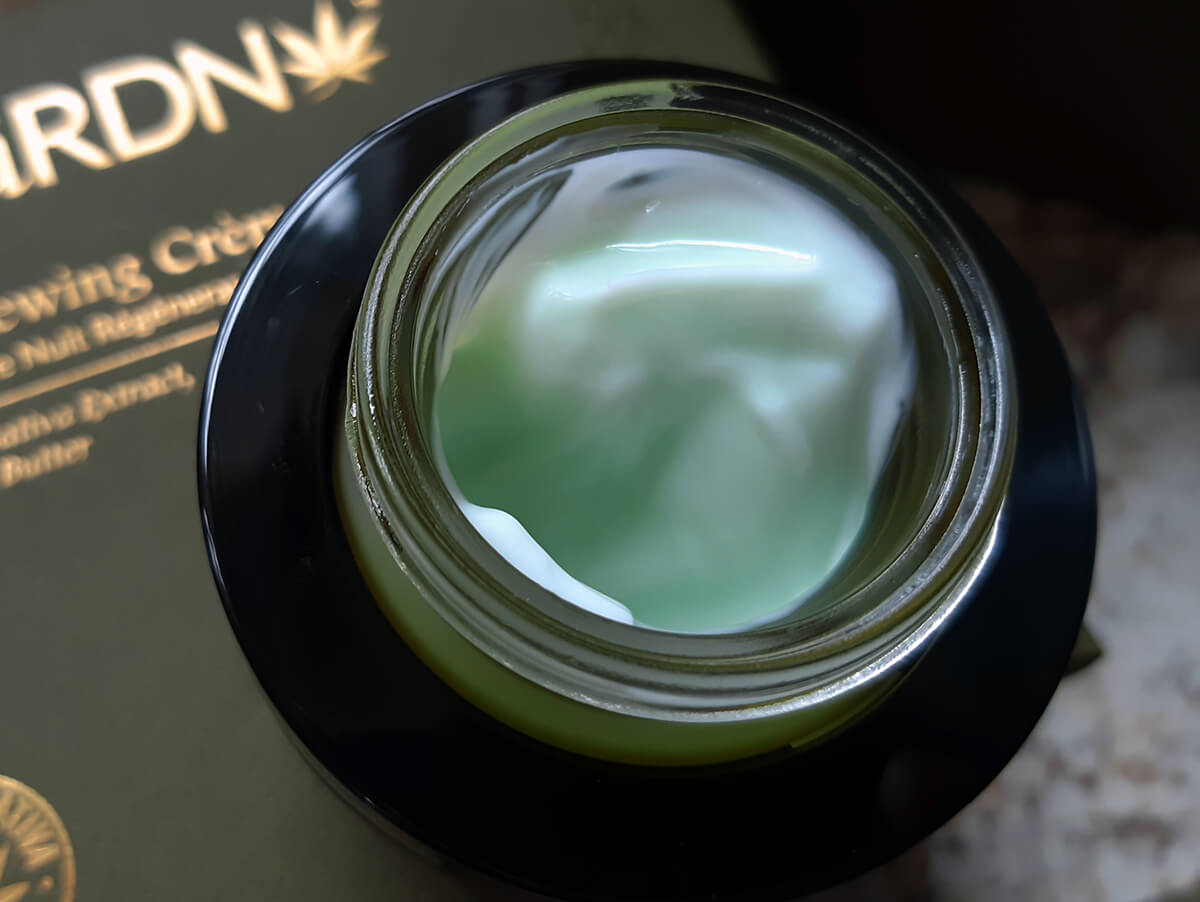 CBGöld Night Renewing Cream is designed to soften and moisturize the skin. Full of antioxidants and ingredients designed to correct impurities, this cream is the best way to achieve a beautiful look easily. 
Smooth this cream on your face each night to begin to see results.
Night creams are a big favorite in my routine, so I was excited to try this one out! I immediately enjoyed everything about it, from the super soft scent to the texture. I used this every night for two weeks, typically using the applicator it comes with. Within a few days, I loved waking up to see my skin. It looked well-moisturized and full of radiance without applying anything. 
Overall Opinion:
The Night Renewing Cream is definitely amongst my favorites of the CBGöld Collection. It works as it says it will, and I'm sure I will see a major difference in the weeks and months to come. I recommend this to those of you seeking a product to soften, moisturize, and even skin tone all in one. 
CBGöld Collection: Final Thoughts 
My overall opinion of the CBGöld line from CbGäRDN is pretty high. I will admit this is one collection I've had the most mixed feelings for, but I know how I am personally and that others could potentially benefit without the same setbacks. 
The CBGöld Night Renewing Cream, Bio-Restorative Cream, and Eye Serum Concentrate are my favorite and most recommended products of the line by far. My complexion has begun to appear much brighter, smoother, and super firm. If you have the extra money and are looking to invest in products that work, these are something to look into!