Review by Kristine Protopsaltis
Who could say no to the opportunity of trying a luxury skincare line touting truffles as the main ingredient?  Well, certainly not me.  So, let's get started.
Truffoire is a luxury skincare company with seven different collections:
Black Truffle Collection
White Truffle Collection
Body Collection
Diamond Truffle Collection
Volcanic Truffle Collection
Perigold Truffle Collection
Orchidea Truffle Collection
Each Truffoire collection has a variety of products, including products for men.  There are different types of masks, moisturizing creams, and gentle cleansers that effectively draw out impurities.  
Going to the Truffoire website and picking out the best products for your skin type may seem a little daunting, so working with one of Truffoire's skincare experts is the best way to get the right products for your skincare needs.  The experts at Truffoire will not only help you discover the products that are best suited for you but will also customize a skincare routine to help you achieve your skincare goals.  The skincare experts are a bonus to the luxury experience you will receive from Truffoire.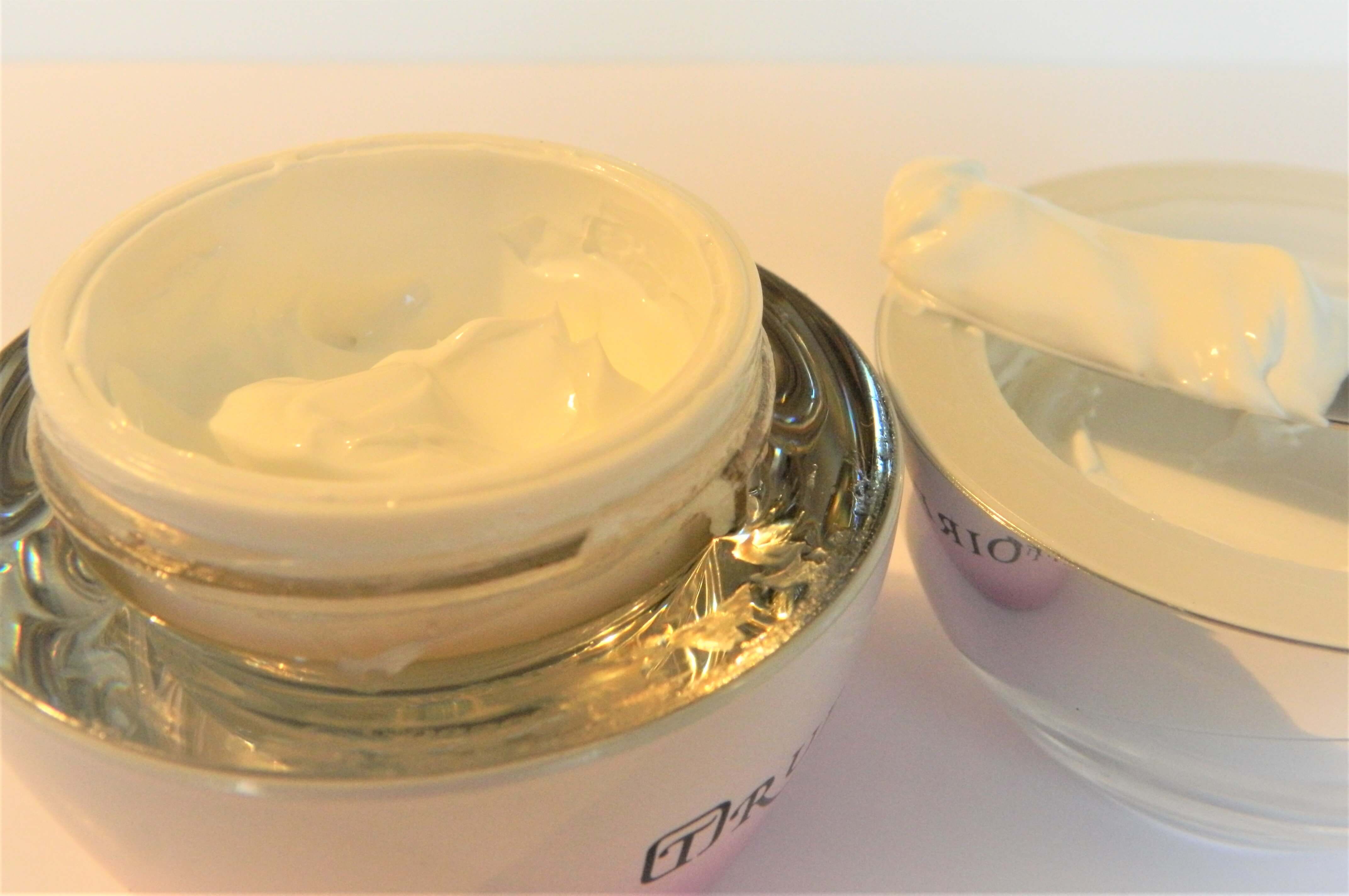 So, what's the big deal about truffles?
As I am sure you have heard, truffles are quite the thing in the culinary world, with prices going into the thousands for a single pound.  These little fungi are hidden and tricky to uncover, so truffle hunters use pigs or dogs to sniff out the fabulous fungi in the wild.  Truffles grow beneath the soil within the roots of certain types of trees.  With the difficulty of finding natural truffles in the wild, you can imagine these culinary gems are selling at the highest prices.
The most exquisite truffles are usually found in France and Italy, whether found in the wild or farmed. Truffle farms in other countries, including some in the southern region of the United States, are working hard to produce these wonderfully delicate fungi.  The price hasn't diminished due to the difficulty of farming.  Truffles like a particular type of soil, climate, and tree, and it takes about four to seven years to germinate.  Even if all conditions are met, other types of fungi may kill or weaken the truffle.  With the difficulty of finding or farming the truffle, this is only part of the big deal.  The other parts?  Taste, and of course, the skincare benefits.
What does the addition of truffles in skincare do for you?
Truffles, one of nature's best delicacies, are full of remarkable benefits that help your skin in the fight against anti-aging. 
The fatty acids found in truffles will assist in diminishing the appearance of fine lines and wrinkles, leaving you with firmer skin.
Truffles contain natural vitamins and minerals, which may help calm inflammation while rejuvenating the skin for a healthier glow.
The hydrating qualities found in truffles will help keep your skin glowing while fighting the aging process.
Truffles assist in brightening the skin, which helps decrease dark spots and hyperpigmentation.
Truffles added to skincare products will leave you with a bright, fresh, and healthy-looking complexion.  Your delicate skin deserves the benefits found in these fabulous fungi.
I had the honor of testing out the five products in Truffoire's Orchidea Truffle Collection over the past two weeks.  Here is what I thought of each product:
Truffoire Truffle Orchid Silk Mask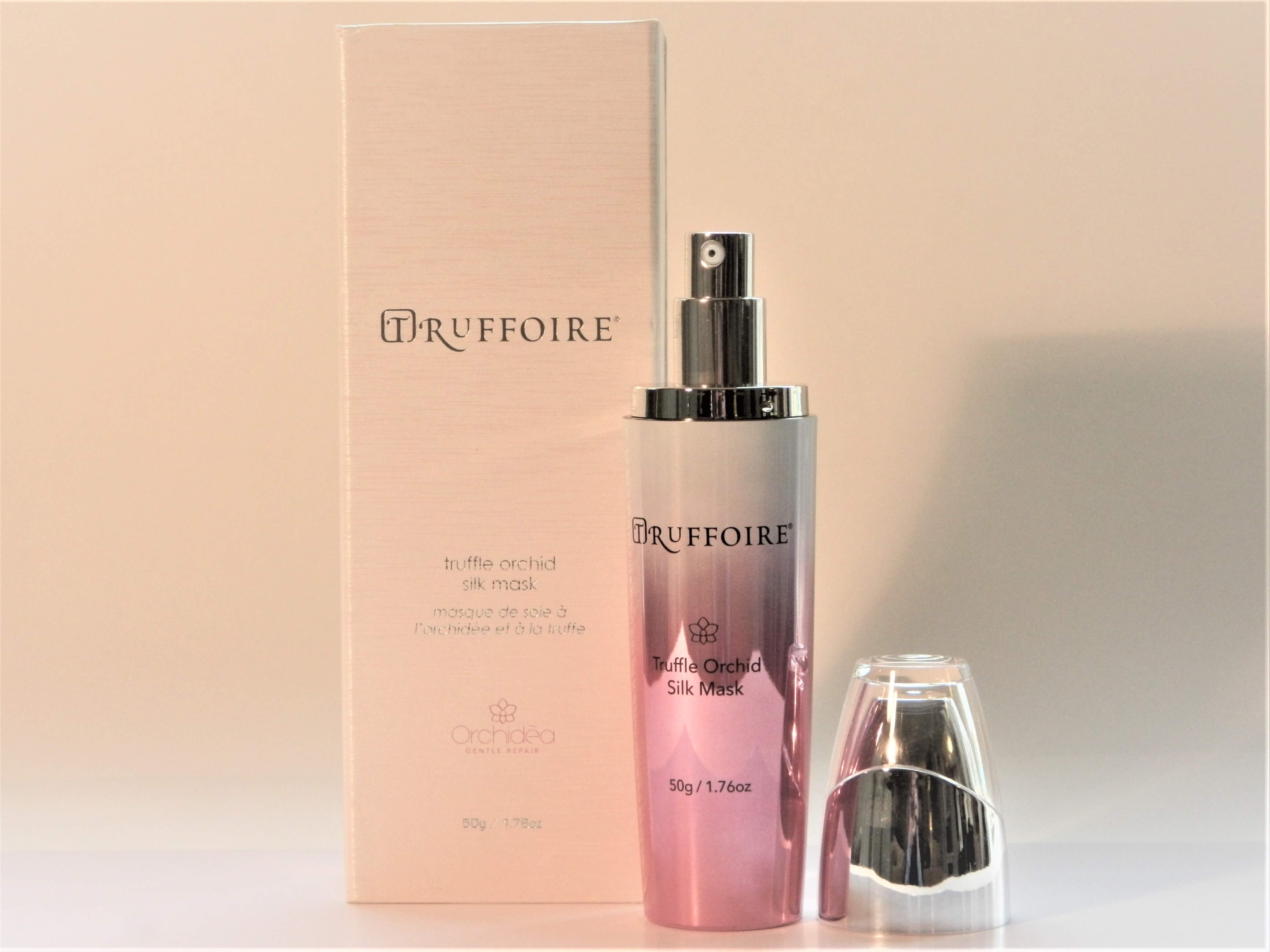 Truffoire's truffle orchid silk mask is one of my favorite products in the Orchidea Truffle Collection.  The lightweight formula is soft, with a slightly fruity fragrance.  You don't need much to get an even spread across your face and neck;  two pumps are sufficient.  It is an excellent moisturizer for dry skin, and you will feel the continued moisture for a few hours after application.  
I  prefer to use this on a morning when I am not leaving the house so I can let the mask fully penetrate my skin before applying my other daily creams. Due to the formula being so light, you don't get the feeling you even have a mask on. Compared to other skincare lines where the products are heavy and sometimes greasy, this formula is a great alternative.  I also love the fact that you don't rinse it off, and it works as an extra moisturizer for your face throughout the day.
The ingredients for the silk mask include a blend of Vitamin E (Tocopheryl Acetate), white truffle extract, and fruit extracts, including Bilberry and Gogi berry.
Directions for use:
Using once a week, apply the silk mask evenly across your skin.  Let it absorb for 10 minutes, then gently massage into the skin.  Leave the small droplets that form on the surface of your skin to be absorbed.  Do not rinse off.
Truffoire Truffle Night Eye Recovery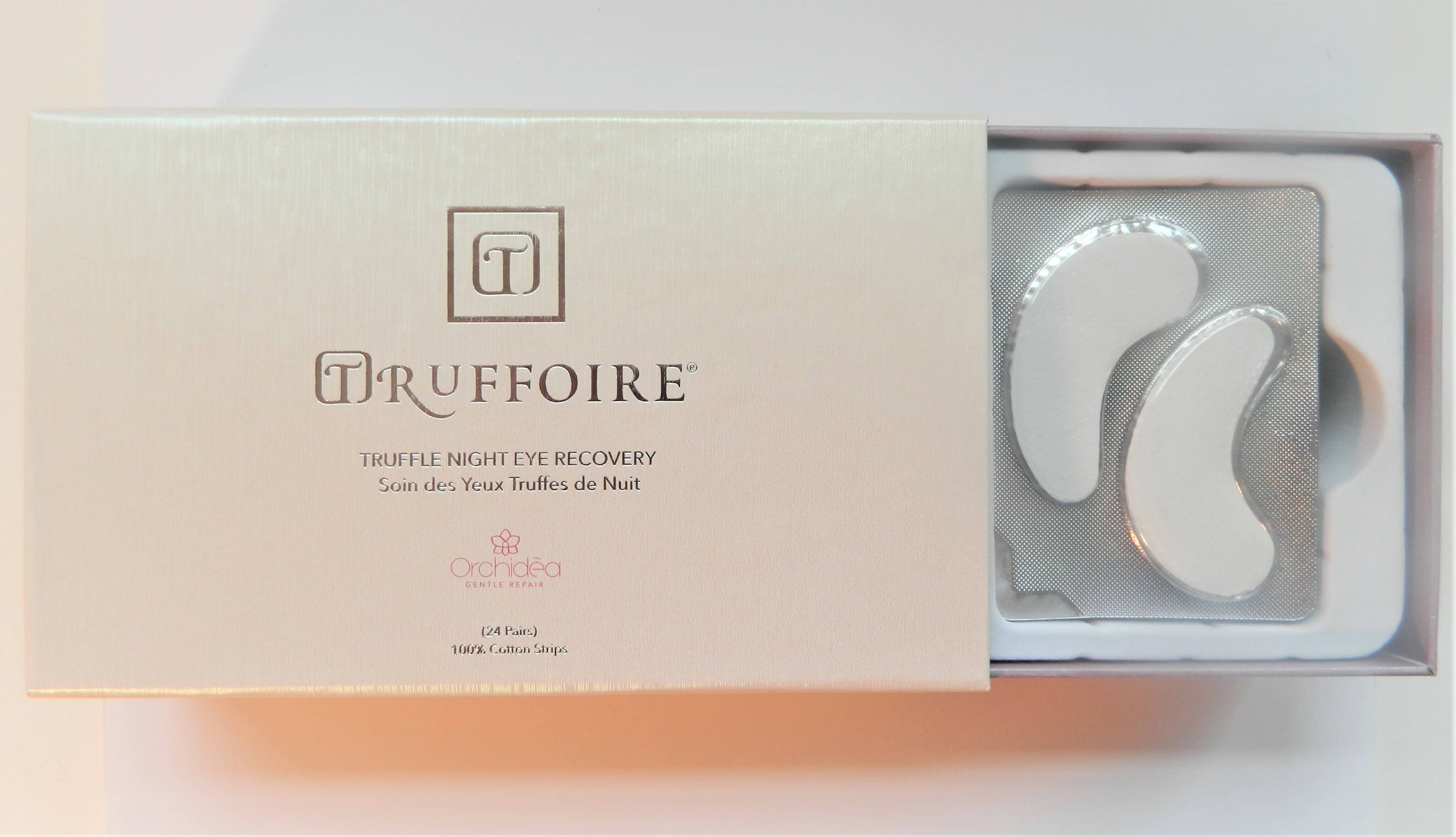 Truffoire's Truffle Night Recovery are masks infused with ingredients to soothe the delicate skin under our eyes.  The box comes with two dozen eye masks that should last you anywhere from six to twelve months, depending on your desired use.
I have only used this product once in the two weeks since using the Truffoire Orchidea Collection, and I did find the mask soothing and hydrating.  While I did not see any remarkable change in the circles beneath my eyes, I did feel that the skin was smoother, softer, and hydrated.  This product is a great extra moisturizer, especially during the winter months, when our skin tends to be dryer.
Some of the natural-sounding ingredients listed include water, sea algae extracts, paraffin oil, Lavandula Angustifolia, and white truffle extract along with the other more scientific-sounding ingredients including hyaluronic acid, chitosan, glycerol propylene glycol, and peregal collagen.
Directions for use:
Apply each gel mask onto clean, dry skin in the area below the eye.  Gently adhere the mask to your skin with your fingers.  Allow the mask to work for 15 to 20 minutes before peeling away.  Use two to four times per month.
Truffoire Truffle Skin Corrector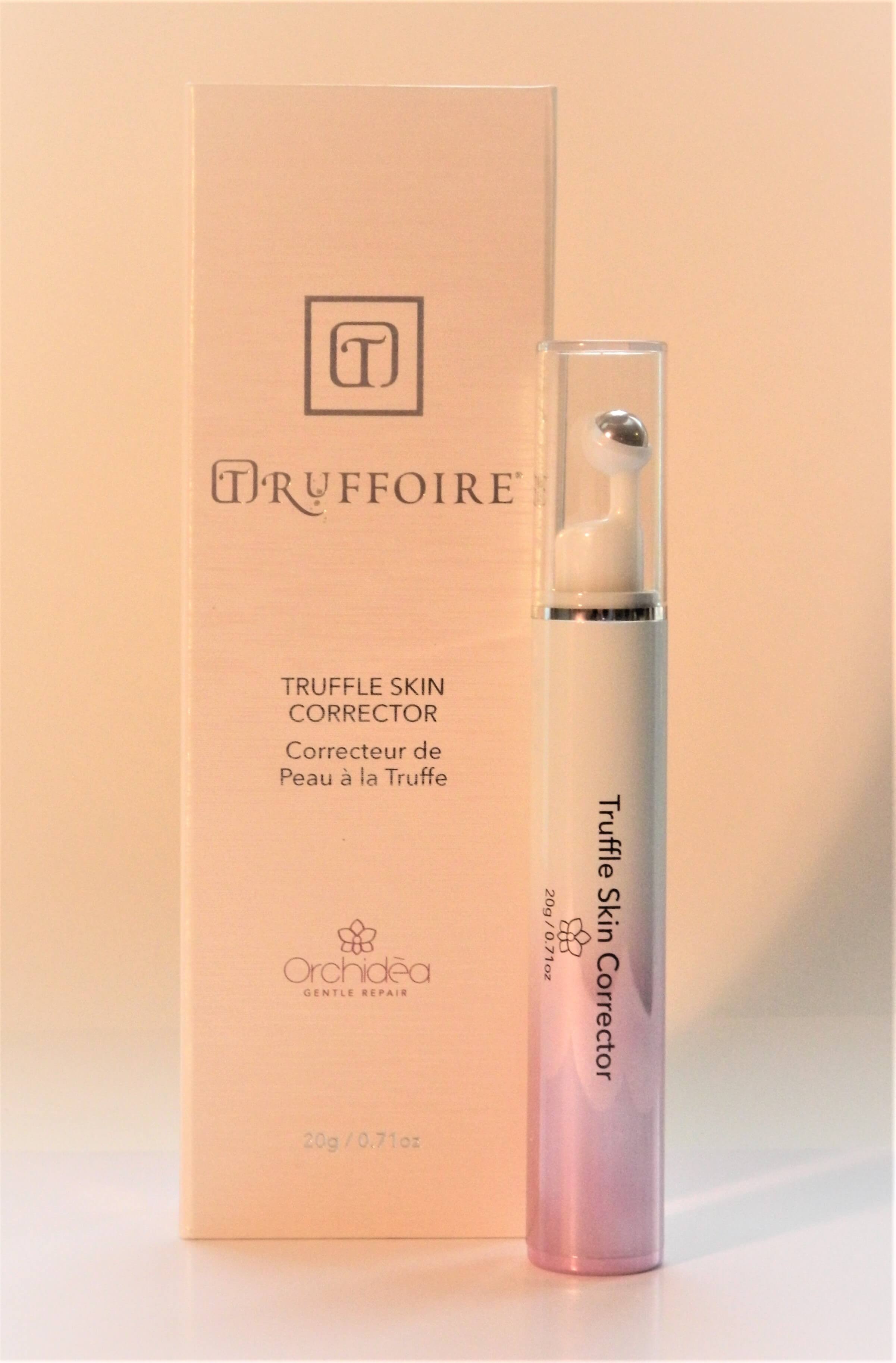 Truffoire's Truffle Skin Corrector is another one of my favorites from the Orchidea Collection.  The gel is lightweight, smooth, and moisturizing. I love the applicator.  Pump once, and a small amount of gel secretes out onto the roller.  The uncomplicated applicator makes it simple to roll-on the formula in any area where you may have a dark spot or skin discoloration.  It quickly absorbs into the skin, so you don't have to wait long before applying your daily moisturizers and sunscreens.
Directions for use:
Pump the applicator until you see the gel at the top of the applicator.  Gently roll onto areas of concern.  For best results, use daily and follow with the Orchidea truffle brightening cream.
I have been using the skin corrector daily for the past two weeks.  I have one area of concern on the left side of my face due to sun damage that I have had for almost a decade.  After two weeks of use, my spot is still there.  Whether or not the dark spot has faded over the past two weeks is hard to say.  I will continue using the product in hopes that my area of concern will begin to fade over the next few months.  
Some of the ingredients include aqua, white truffle extract, citrus unshiu peel extract, glycyrrhiza glabra root extract, dimethiconol, propylene glycol, glycerin, glycine soja oil, and lactic acid along with several other ingredients.  See the full list here.
Truffoire Truffle Brightening Cream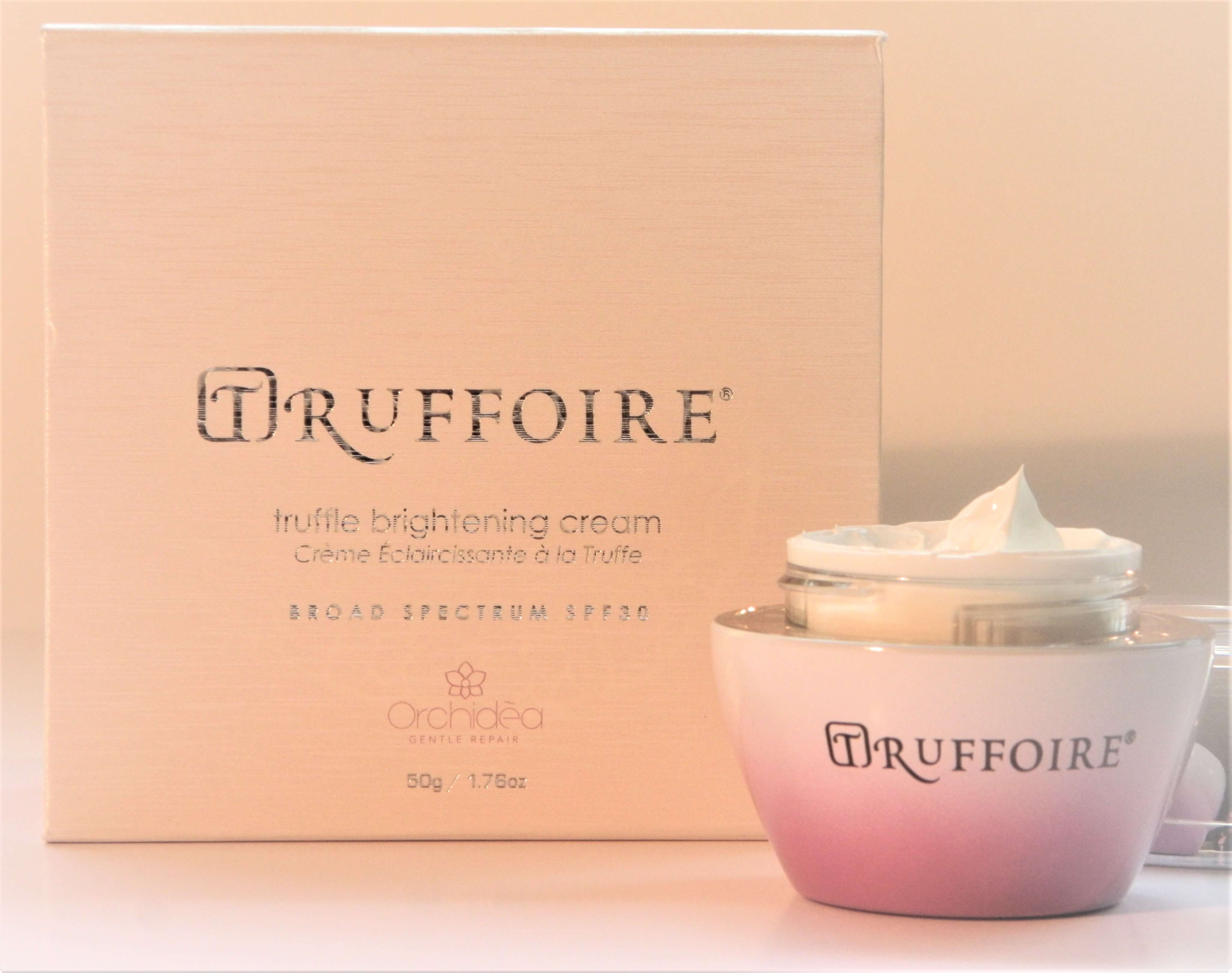 Truffoire's truffle brightening cream is most certainly the brightest in the bunch.  The lightweight cream has a refreshing scent and goes on smooth and creamy.  This remarkable moisturizing cream isn't just overly hydrating, leaving your skin silky smooth, it also contains a UVA defense of plus SPF30.  The brightening cream does just that; it brightens your face giving you a fresh, youthful look along with a more even skin tone.
I have been using the truffle brightening cream for two weeks now, and I absolutely love this product.  It is an instant refresher that I love to put on to my face after I use the truffle skin corrector.  
My skin tone is fair, and a bit on the splotchy side.  I have never felt truly comfortable leaving the house without the application of tinted BB cream, which gives me a more even skin tone, and an extra layer of protection from the sun.  Since I have started using the truffle brightening cream, I have not felt the need to use my BB cream.  My skin tone is more even, and I certainly don't feel self-conscious going make-up free.
Directions for use:
Apply Truffoire's truffle brightening cream daily on a cleansed face and neck at least 15 minutes before sun exposure.  For best results, use with the Orchidea truffle skin corrector.
The ingredient list includes active ingredients for sun exposure and a list of inactive ingredients including aqua, glycerin, aloe barbadensis leaf extract, camellia sinensis leaf extract, and white truffle extract.  Click here for a complete list of ingredients.
Truffoire Night Repair Truffles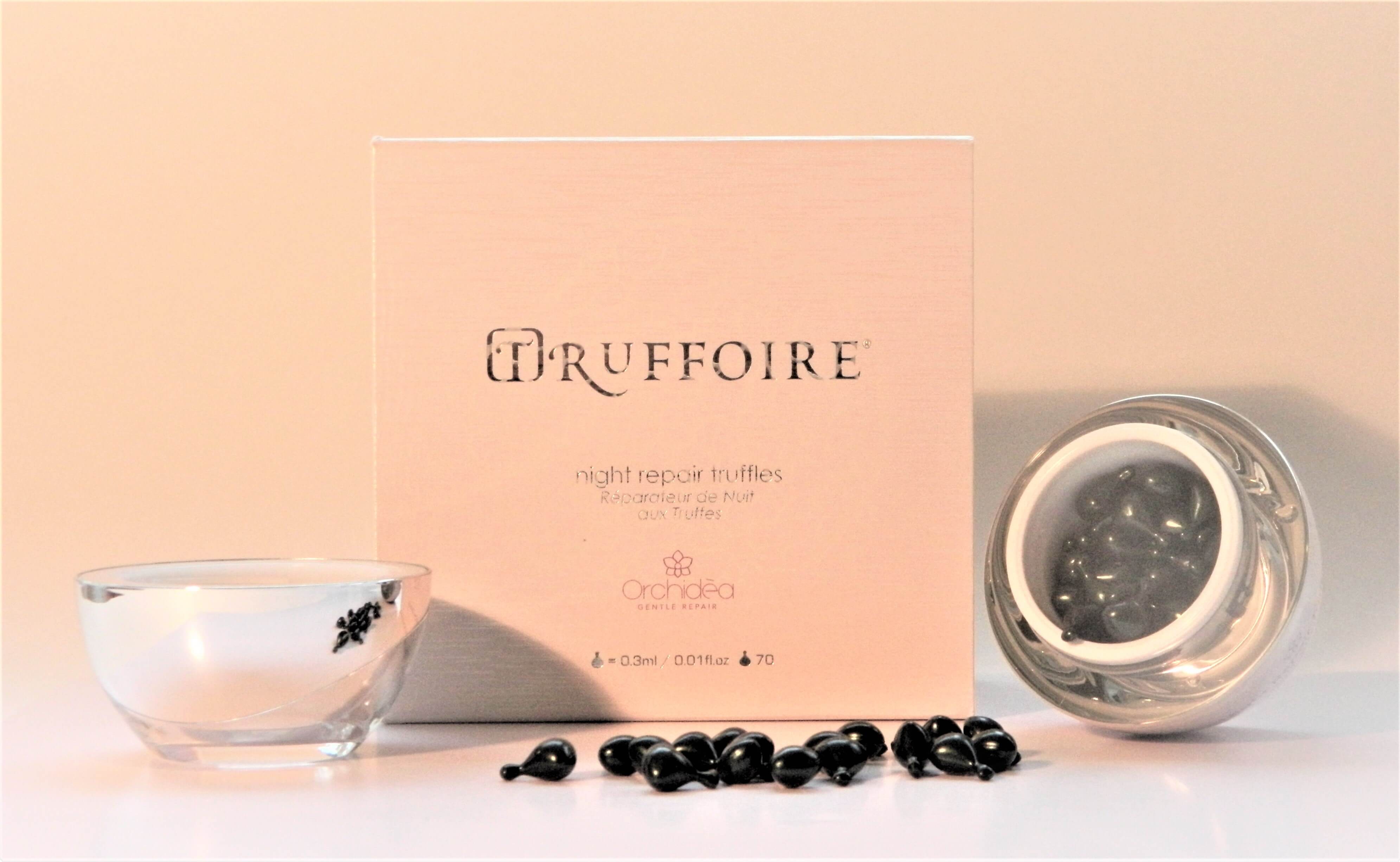 Truffoire's night repair truffles are an absolute special treat for your skin.  The formula in each little truffle leaves your skin feeling silky smooth.  While one is supposed to be enough, I have had to use two each week to be able to apply evenly on my face and neck.  The silky formula in each little truffle capsule will leave your skin feeling pampered and soothed, perfect right before bedtime. 
While I think the mini truffle capsule packaging is cute, I am not enthusiastic about adding to the microplastic waste problem.  Also, these petite little capsules may spray if not opened carefully.  The first time I opened one, the contents ended up in my hair.  While I suppose this was the best way to make sure we are using the correct amount each week, a friendlier packaging without the waste would be great. 
Overall, I think the night repair truffles are most definitely a skincare gem, and I look forward to using them each week.
Directions for use:
Apply and massage onto cleansed skin at night.  Use weekly.  For best results, use with the other products in the Truffoire Orchidea Collection.
When looking over the list of ingredients, it is not clear if the ingredients are only for the formula found in the mini truffle capsules, or if the ingredients are for the capsules as well.  For a full list, click here.
Packaging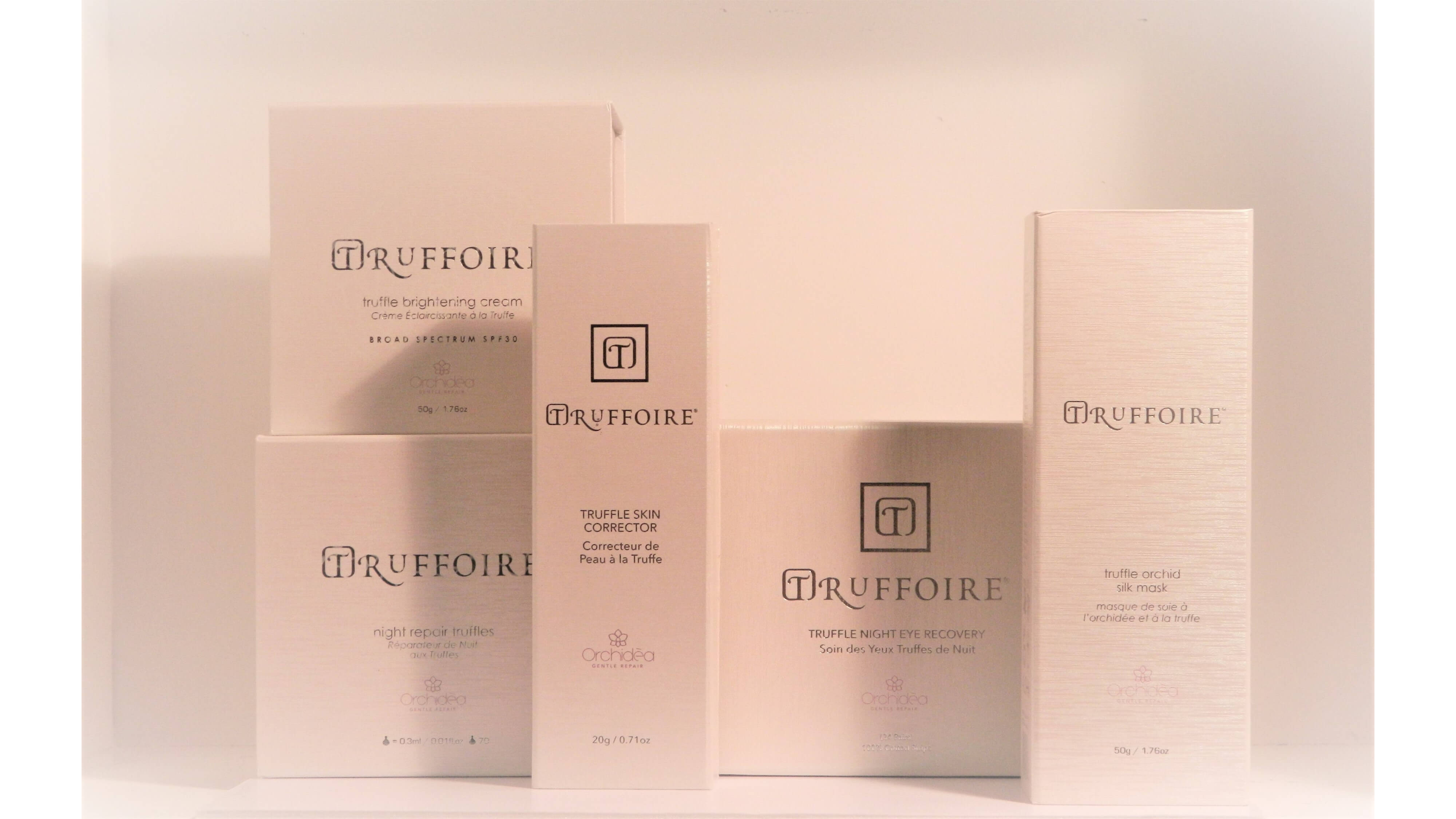 All of the products in Truffoire's Orchidea Collection come packaged in thoughtfully designed containers in an orchid-esque color scheme.  The silk mask comes in a metal container with a simple to use pump. The skin corrector is in a more slender metal container with a simple pump and roll-on applicator.  
Both the truffle brightening cream and truffle night repair cream come in jars with the matching shaded orchid color scheme.  Both have gleaming metal tops that will show your reflection and are easy to open.  You won't have any issues letting this gorgeous collection decorate your bathroom countertops.
All of the items come in creamy white, almost iridescent outer boxes that open to a light shade of lilac, matching the product containers.  The packaging for this luxurious skincare line is lovely and makes quite an impression upon opening.  
All of the products are paraben-free and have not been tested on animals.
Take-away
If you're looking for a way to moisturize, hydrate, and brighten your skin while continuing to fight anti-aging, the Truffoire Orchidea Collection is a great way to start.  Over the past few weeks, my skin feels thoroughly hydrated and moisturized with a more even skin tone, and should I dare say, even a little brighter.  
Overall, I am impressed with Truffoire's Orchidea Collection.  Packaging and containers are an essential part of the overall look of any luxury brand; it's what inside of those packages that count the most.  The creams and formulas in each of these products hydrate and moisturize your skin, leaving you feeling refreshed with a healthy glow.  I certainly have a few favorites in the collection; the silk mask, the skin corrector, and most definitely, the brightening cream. 
Check out the Truffoire website here to learn more about their other collections or to work with a Truffoire expert to help you customize a skincare regimen to fit your needs.