Preppy styles, which are often referred to as being classic American, have been trendy for quite a while now.
If you really want to embrace that preppy look, here are 10 fashion must-haves that you should have in your wardrobe.
Blazer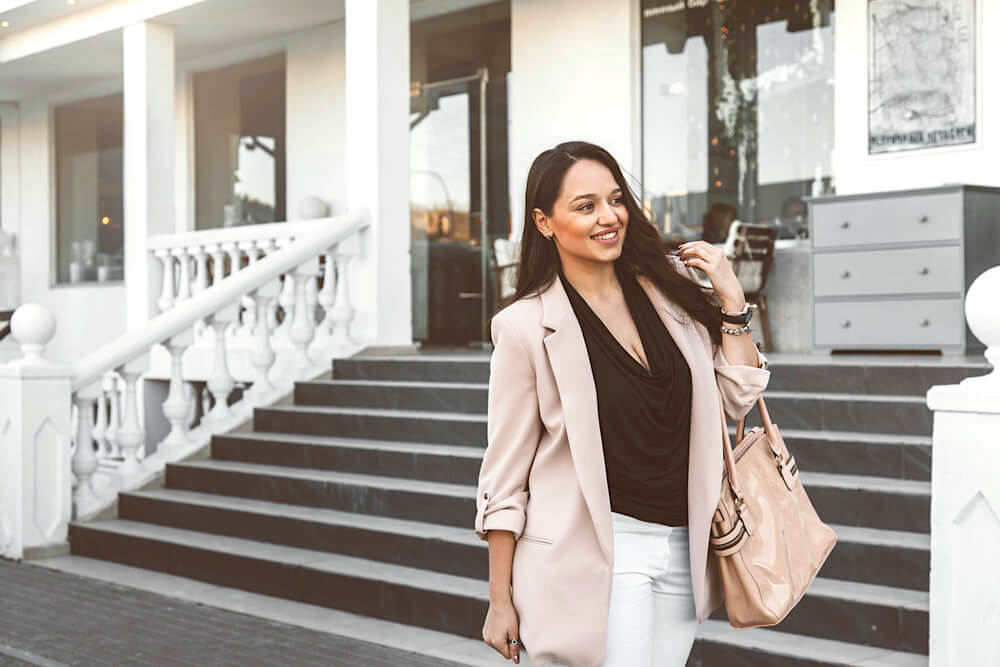 No one would argue about Kate Middleton perfectly epitomizing the preppy look, and this image features not one, but two fashion must-haves.
A blazer is something that you definitely need in a preppy wardrobe, and ideally it should be one with brass buttons.
Don't own a blazer?
The key to being able to pull one off in a variety of outfits is ensuring that your blazer fits you correctly. When trying a blazer on, make sure that it is fitting enough to flatter your body, but is loose enough to enable you to comfortably continue on with your daily activities. The seams should also line up with your natural shoulder line.
The lapels are another part of the blazer that deserve your attention…
While the size of your lapels should always be proportional to your body shape and size, you can still have fun with the lapels. Try going for an oversized design, or even a minimalistic one.
Wondering what the second fashion must-have in the image is?
See below…
Striped Sweater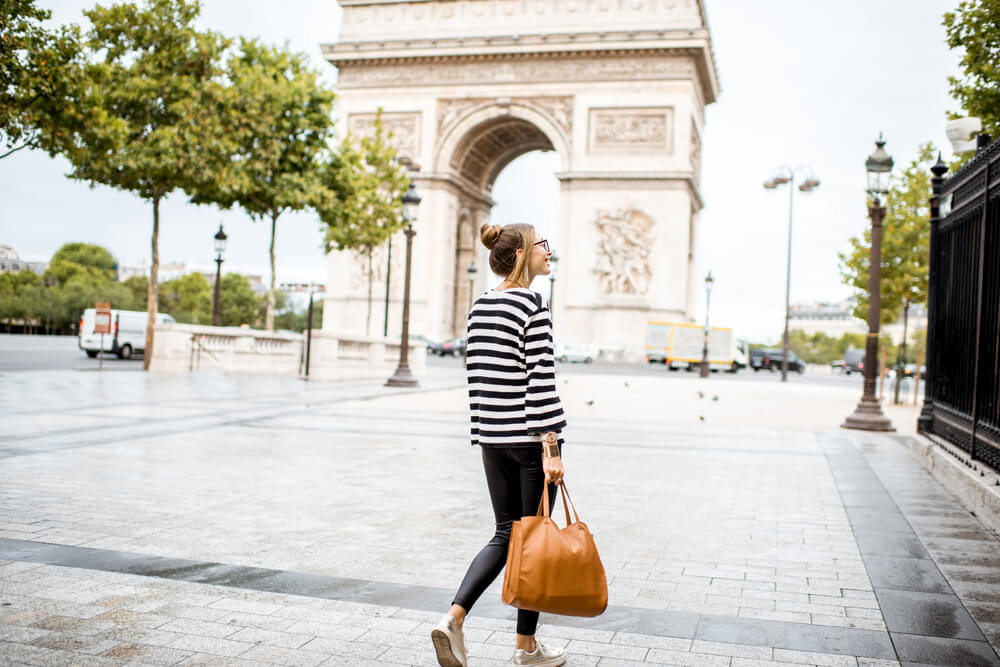 Even if your style isn't yet very preppy, chances are that you've already got a striped sweater in your wardrobe.
This is such a classic garment, and lends itself perfectly to a preppy look.
Of course, if you really want to embrace the preppy style, your sweater should be made from cashmere (as should several other items in your wardrobe – cashmere is a must for preppy fashion!).
If you're new to buying cashmere…
Keep in mind that some garments will feature a cashmere blend, while others will be pure cashmere.
How do you know what yours is?
Take a look at the label, as all cashmere products are required to be properly labeled.
You should also make sure that the sweater has been made with quite a tight knit.
Why?
Because a cashmere garment that has been knitted or woven in a loose way is unlikely to be pure. 
Feminine Blouses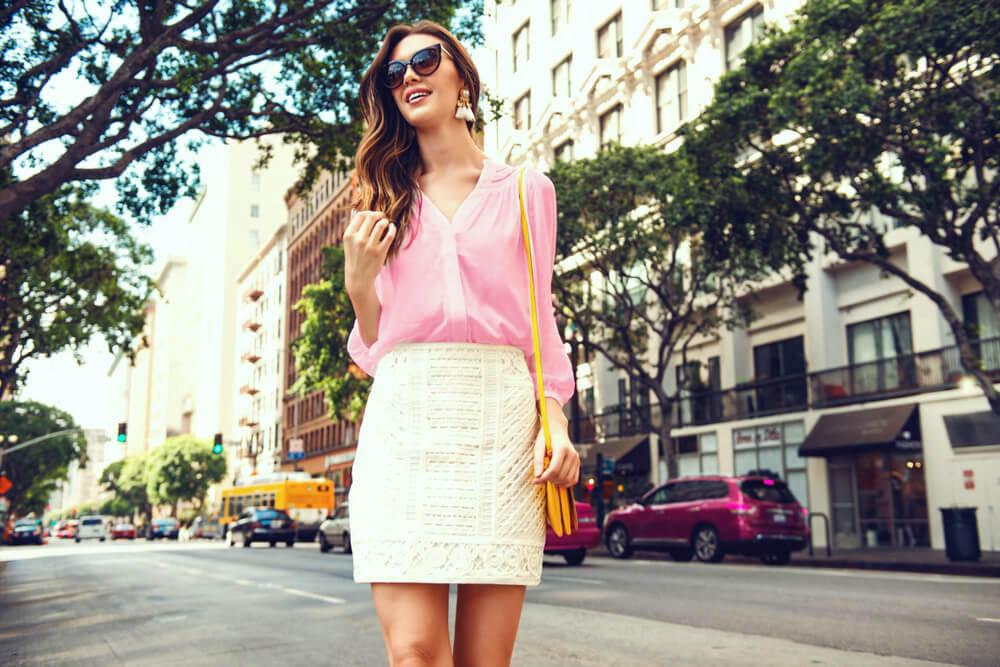 Another must-have for a preppy wardrobe, feminine blouses come in so many different shapes, sizes and styles.
To keep your look classy, make sure that your blouse fits you well, but is not too tight. Some volume and movement is always a good thing.
Of course, you don't want your blouse to be too loose either…
Too much extra fabric will prevent you from being able to tuck your blouse in, which is something that you will likely need to do quite frequently.
Don't be afraid to go for blouses with added design details. Whether this may be bows, ruffles or anything else, each of these elements will help to add even more of a feminine quality to your outfit.
What about sheer blouses?
These are quite trendy at the moment and can be incorporated quite well into a preppy look. However, as always, make sure that you pair a sheer blouse with the correct undergarments!
Large Leather Handbag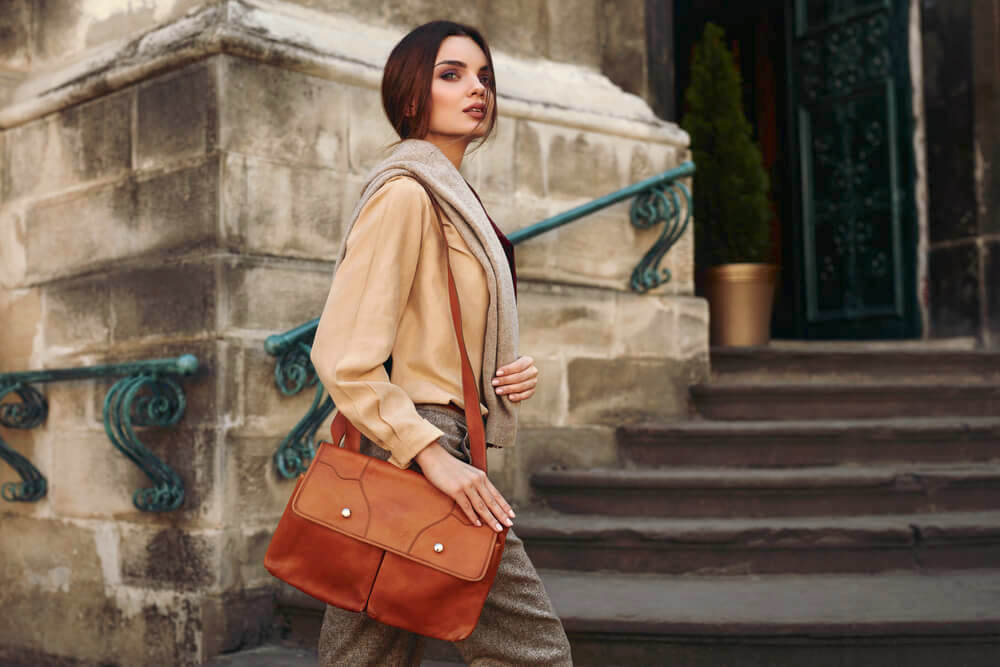 A large and luxurious handbag is a must for preppy women, and ideally this should be crafted from leather.
Yes, this may end up being quite a big investment, but this bag is something that you will be able to use for the rest of your life. 
Need some help shopping for a new bag?
Here are some beautiful designs to check out:
Aspinal of London – the Madison Tote is made from a pebble-textured leather with a soft suede interior
Cuyana – their Classic Leather Zipped Tote is made from Argentinian leather and is available in several different colors
Everlane – made from Italian leather, the Day Market Tote is one that has been spotted on a number of celebrities lately, including Angelina Jolie and Meghan Markle
Issara – the Leather Ziptop Tote is a great one for travel as it features so many different pockets, both on the inside and the outside of the bag
Madewell – the Leather Transport Tote can be quickly turned into a cross-body bag to leave you with your hands free
Senreve – the Voya Tote is made in Italy, and its leather exterior is both scratch and stain-proof
Colored Pants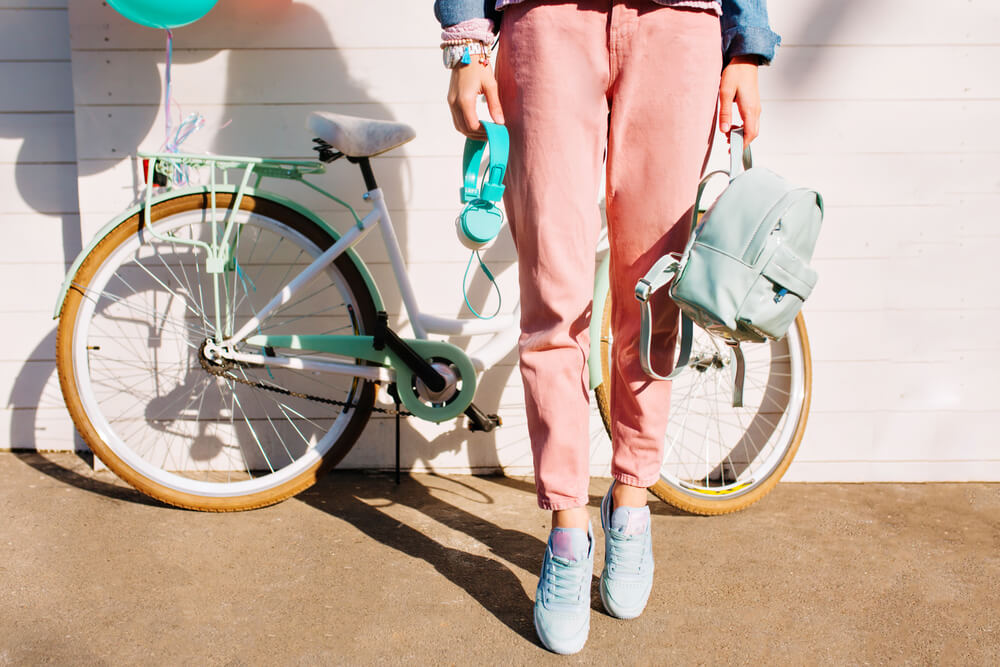 While you definitely want a pair of colored pants in your wardrobe, you need to be careful when choosing these.
Why?
Because colored pants can sometimes look urban rather than preppy, which will only throw off your whole look.
So, how do you keep colored pants preppy?
Make sure that they are a slim-fitting style, but not too tight. You could also try opting for some unusual fabrics, such as corduroy or velvet. These work especially well with a blazer and a feminine blouse.
Another way to give your colored pants a bit of edge is to cuff them.
How?
Simply fold up the hem to about an inch, doing this three times. However, on your third fold, only turn up the outer edge, leaving the inner edge as it is. This will make the inner edge slightly longer than the outer edge, which will have the effect of elongating your legs.
Ballet Flats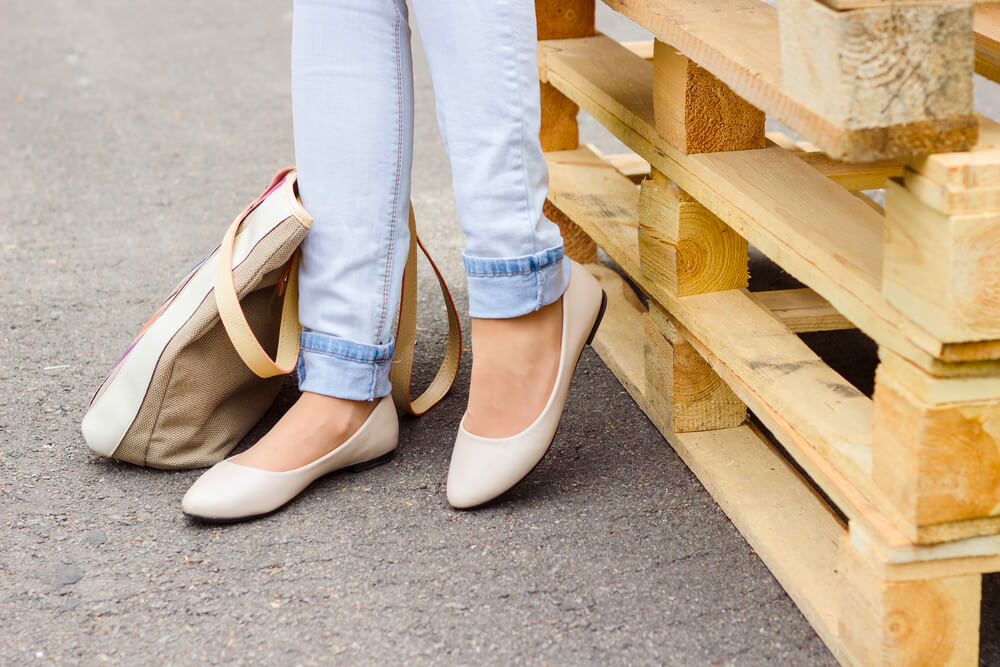 Ballet flats have a simple, feminine quality to them, and this is why they lend themselves so well to a preppy look.
They are also so practical and versatile, although this does depend on the style and color of flats you choose. If you want to ensure that your flats will match with just about everything else in your wardrobe, go for something in a solid or neutral color.
Make sure that they fit well and are comfortable. Many people find that a new pair of ballet flats quickly end up digging into the heels. Well, this is something that you can solve with heel liners, which will make a pair of flats so much more comfortable.
Hoping to bag a bargain when it comes to purchasing your ballet flats?
There are many cheaper styles out there, but you do need to be careful with these…
While they may look cute, they are likely to have quite thin soles, meaning that it will not be long before they start to wear out.
Of course, you don't want to be spending lots of money on low quality flats either…
If you do decide to invest, make sure that you opt for a thick pair that you know will last you for a while.
Not keen on ballet flats?
An alternative would be to go for penny loafers instead. These can often be even more preppy, and are less feminine than ballet flats.
Pearls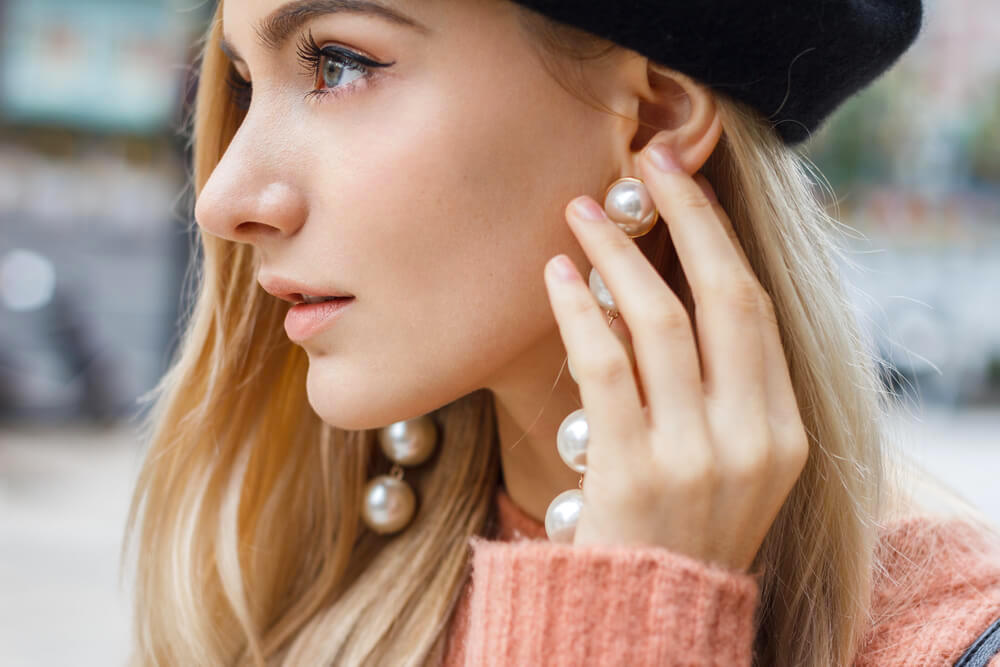 You probably already know that pearl jewelry is a must for a preppy outfit.
Pearls are a true classic, and have been worn for centuries around the world.
Of course, a quality set of pearls will be quite an investment, but, again, the versatility of pearls mean that you will be able to incorporate them into such a wide variety of outfits.
Wondering how you would go about choosing high quality pearls?
There are a few different things to consider:
Reflectiveness – some pearls are extremely shiny, whereas others aren't. Usually, the shinier the pearls, the higher quality they are (and the more expensive they will be)
Shape – classic pearls are almost perfectly round, but there are plenty of other shapes available if you want to get creative
Size – while larger pearls are more expensive, you don't necessarily need large pearls to pull off a preppy look
Surface quality – ideally, you want the surface of your pearls to be clear and free of any blemishes
So, which pearl jewelry items should you own?
A pearl necklace is a must, and a matching bracelet and earrings would not go amiss either. These will work with just about any outfit, even something simple such as jeans and a t-shirt.
If you want to take it even further, find yourself a pearl brooch too. This will look stunning pinned against your blazer!
Sheath Dress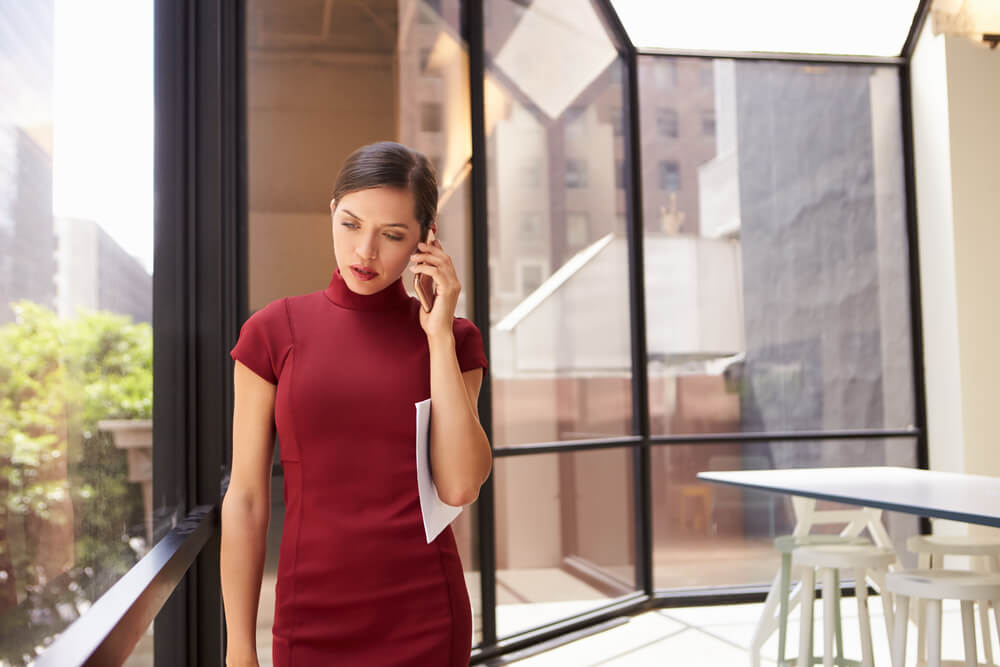 Let's begin by taking a look at exactly what a sheath dress is, since this style is easily confused with a shift dress.
A sheath dress is a dress that is fitting and streamlined. It usually tends to fall at, or just above, the knee. This differs from a shift dress, which will usually hang from the shoulders and skim over the body's curves, having a looser, rather than a fitted, effect. While a shift dress will have a wider hem, the hem on a sheath dress is usually quite narrow. 
Sheath dresses are classic and contoured, and work well for so many different body shapes. If you are worried about accentuating your curves too much, you can always wear some slimming shapewear underneath.
The great thing about sheath dresses is that they are so versatile. You can wear them casually during the day, professionally at work, or dress them up for a night out on the town.
When it comes to choosing a color, go with what appeals to you. Neutral colors are more adaptable, but just about any solid color can be styled in numerous ways.
One thing that you should pay attention to is fabric…
Stiff materials are best avoided, especially if your weight tends to fluctuate a bit. These won't have much give, meaning that they can soon feel quite restrictive. On the other hand, thinner fabrics can sometimes emphasize and bumps or bulges, which you also don't want.
So, what fabric should you go for?
A classic cotton is ideal. This is still quite sturdy, but is also flexible and breathable.
Trench Coat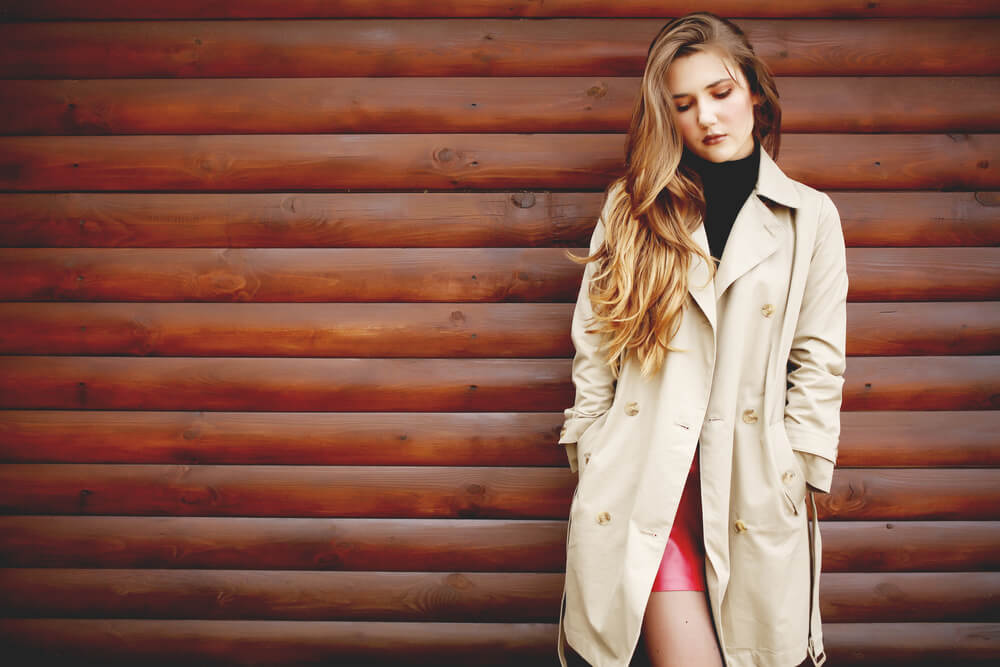 Although they date back to the 1850's, trench coats never really go out of style, making this a piece well worth adding to your wardrobe. 
The great thing about a trench coat is that it will keep you warm, but it is still quite light. This makes it easy to layer up with a trench coat, adding a whole new dimension to your look.
Here are a few things to consider when choosing a trench coat:
Length – if you are quite petite, opt for a cropped or shorter style of coat. Those who are taller will have more freedom to experiment with maxi coats. Of course, a classic length that hits just above the knee is a style that will work for just about everyone
Design details – from different lapel widths to belts, buttons and more, there is so much out there when it comes to trench coat styles. Opt for something relatively classic, without many fussy details, as this will help to keep your look preppy
Color – thanks to how trendy trench coats have been recently, they are now available in so many different colors. If your skin tone is quite dark, feel free to experiment with the brighter and bolder colors out there. However, if your skin tone is light, you may find that a pastel or jewel tone works better for you. Of course, you can also never go wrong with a classic beige, no matter what your skin tone may be
Headband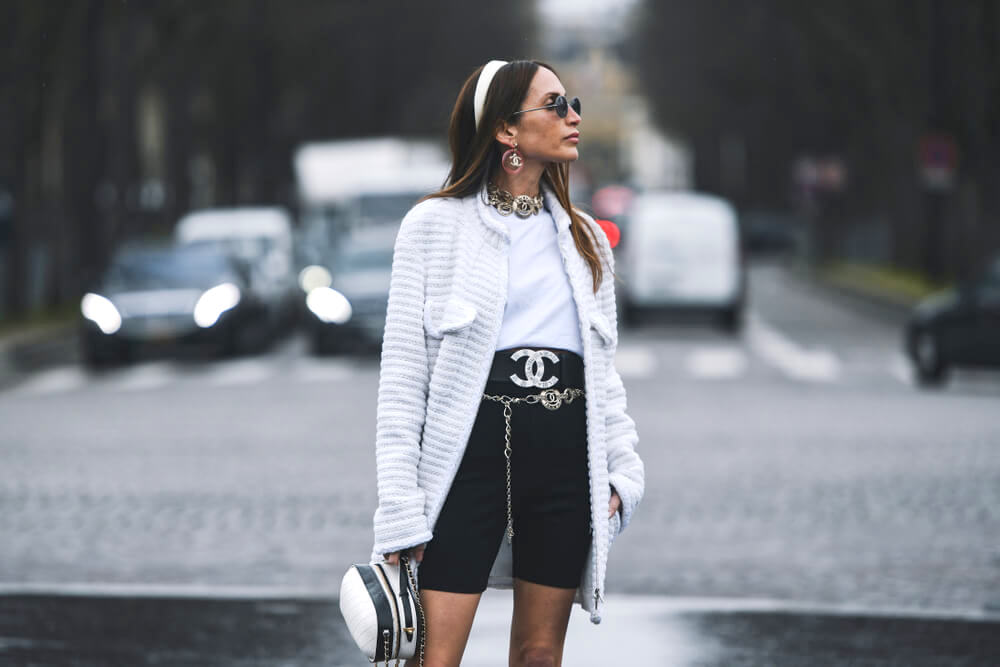 How should you style your hair when going for a preppy look?
There are plenty of options, but an accessory that will never let you down is a headband. Whether you have your hair up or down, a headband will work. 
Go for a hard style rather than a soft cloth band, and consider pairing this with a couple of masculine pieces to help tone down how girly a headband can be.
There are so many different ways in which you can style a preppy look. However, these ten must-haves will work in just about any outfit, making each one worth investing in.