If you want to add some definition to your face to enhance your bone structure and facial features, contouring and highlighting is the way to do this.
For beginners, contouring and highlighting techniques can definitely seem a little overwhelming. After all, there are so many different ways in which you can do this!
However, don't worry, it doesn't need to be difficult…
All you need to do is follow these nine steps for contouring and highlighting perfection!
What You'll Need
Of course, before you can begin contouring and highlighting, you need to make sure that you have the right products and tools.
Here is a list of what you will need to follow these nine steps:
A cleanser

A moisturizer

A primer

Color correcting concealers, only if you have any skin discoloration or blemishes you want to cover up

A foundation that matches your skin tone

A highlighting product, or a concealer or foundation, that is two shades lighter and brighter than your skin tone

A contouring product, or a foundation or concealer that is two shades deeper than your skin tone

A beauty sponge or blending brush

A blush (optional but recommended)

A setting spray or powder
Tempted to go for a product with a bit of shimmer?
Don't be.
When you are first getting started with contouring and highlighting, you want the final result to look as natural as possible. Using a shimmery or glittery product will have the opposite effect.
Step 1: Prep Your Face
Before you can get started with the actual makeup products, you will need to first prep your face.
Begin by cleansing, making sure that you have done this thoroughly.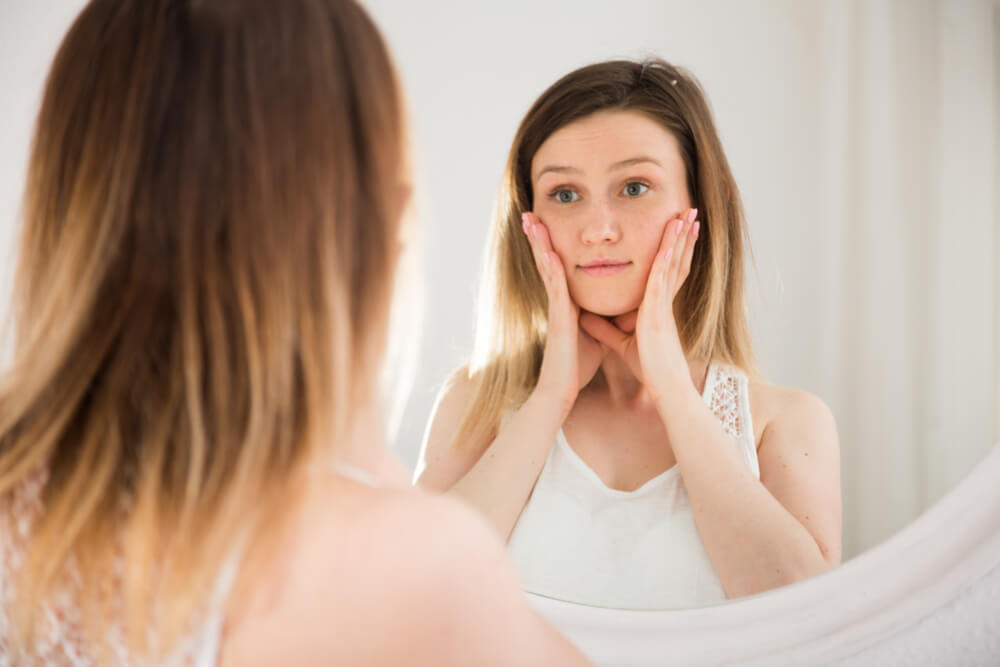 Then, follow up with a layer of moisturizer. Ideally, choose a moisturizer that does not leave a greasy residue behind, but that still nourishes and protects your skin.
Finish up with a primer, applying this all over your face.
Wondering if you can skip this prep step?
You can, but the results won't be as flawless as they otherwise would have been.
Cleansing, moisturizing and priming gives you a clean, blank canvas to work from. It will enable your makeup to glide seamlessly onto your skin, and will also ensure that all of your hard work lasts for so much longer.
Step 2: Color Correct 
If you don't have any blemishes or discoloration problems, then this is a step that you can skip.
However, for everyone who isn't quite so lucky, a color correcting product is essential for a flawless face.
These concealers come in specific colors that are able to mask certain skin concerns.
For example:
Green Color Correctors – these neutralize any redness on the face, whether these may be spots or larger patches
Yellow Color Correctors – these are great for hiding dark spots and bruising, while also adding a warmth to the skin
Orange Color Correctors – these help to hide dark circles and age spots, and can also add a radiant glow to dull skin
Pink Color Correctors – another one that is good for under-eye dark circles, as well as any dark shadows around the mouth
Purple Color Correctors – these are great for minimizing and yellow tones in the skin, helping to brighten up the complexion
Those are only the main categories that color correctors are available in…
Each color mentioned above will feature color correctors in several different shades and intensities. The one you choose should depend on your skin tone, as well as the severity of the skin concerns you are trying to target. This is why it is so important to try several different products before settling on the one that works best for you.
Ready to apply your color corrector?
All you need to do is apply the product to the problem area and then blend this in well until your redness, dark spots and blemishes have disappeared.
Step 3: Foundation
While the prep stage, along with the color correcting stage, already helps to give you a smoother and more even base to work from, you will still need to apply a layer of foundation too.
This foundation should be in a shade that matches your skin tone as perfectly as possible.
Use a brush or a sponge to apply your foundation, blending it in well.
Do you have a darker skin tone?
Make sure that you spend extra time blending your foundation halfway down your neck. This will give you a much smoother transition between your face and neck, helping your makeup to look more natural.
Can't seem to find a foundation that matches your skin tone?
Here are some tips to help you out:
Swatches on the arm may look pretty on Instagram, but you need to actually try foundation swatches out on your face in order to get the true effect of how they match your skin tone. You want to go for the shade that disappears into your skin and cannot be seen

Your skin tone changes through the year, and is likely to be darker in the summer. Skin tone can also vary on different parts of the face, so you may require more than one foundation shade to really achieve a flawless finish

Test a foundation out in different light settings, taking plenty of photographs along the way so that you can see the full effect of the shade you are using

If you're still stuck, a professional color matching service may be what you need
Step 4: Start Highlighting
You're now ready to begin highlighting.
For this, you will need the highlighting product that you have chosen, which should be two shades lighter than your skin tone.
These are the areas of your face to apply the highlighting product to:
Across the forehead

Down the bridge of the nose

Across the chin

Underneath the eyes
If you want to take things further, add some highlighter to these areas as well:
The inner corners of your eyes

Underneath your eyebrow arch

In between your eyebrows

Above your cheekbones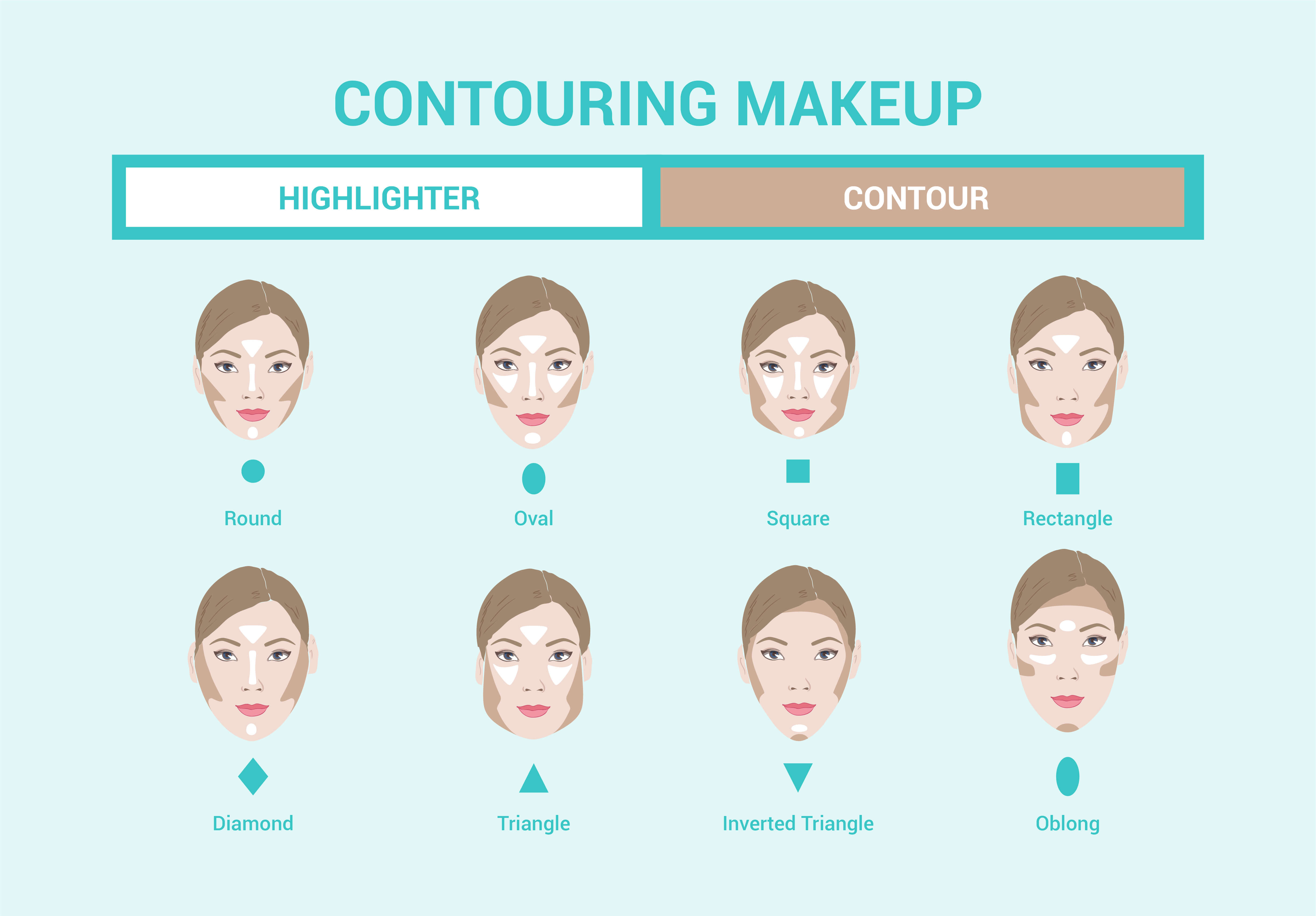 Basically, the highlighter needs to be applied to all of the areas where the sun naturally hits the face. These are the areas that naturally reflect light, and all you are doing is emphasizing this.
Step 5: Blend (Optional)
This step is an optional one.
You are probably thinking…
What happens to the streaks of highlighter on my face if I don't blend?
You will still have the chance to blend them in later on, once you are done contouring. While some people like to blend in between highlighting and contouring, others save the blend for the end. Experiment with both methods to learn which one you prefer.
How should you blend?
You can use a blending brush for this, although a beauty sponge tends to be easier. Simply pat at your skin with short and quick strokes, until the lines have become invisible.
Step 6: The Contouring 
You can now begin countouring, so will need your contouring product, which should be two shades deeper than your skin tone.
All you need to do is apply the product to the following areas of your face:
Around the hairline

Underneath the cheekbones/ the hollows of the cheeks

Along the jawline

Down the center of the neck
Of course, that advice is quite generalized…
In order to perfectly contour your face, you need to also keep your face shape in mind:
Square-shaped face – apply your countouring product to the perimeter of your face, as this will help to soften up your angles
Oval-shaped face – this is the ideal face shape, so you can spend more time contouring the smaller details that you want to emphasize
Long face – contouring along your jawline and forehead will help to create the illusion of a shorter face
Round face – contouring along the sides of your forehead, as well as your temples, jawline and below the cheekbones, will give your face more of an angular look
Diamond-shaped face – pay extra attention to the sides of your face, as well as the center of your forehead, as this will help to elongate your face
Heart-shaped face – give the bottom half of your face more contouring, as this will help to round out the point of your chin 
Step 7: Blend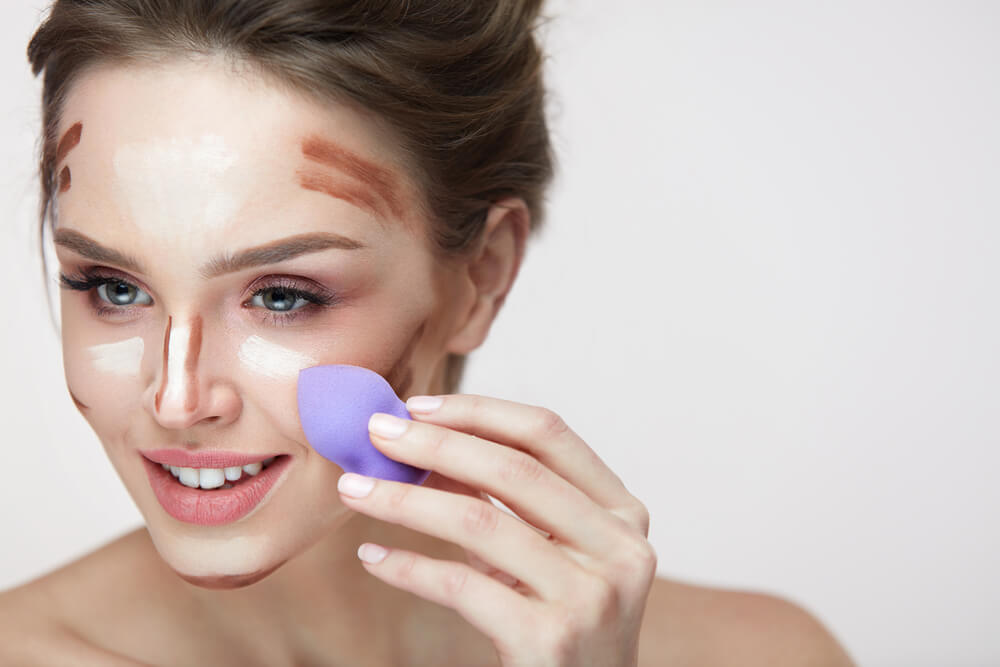 Now comes the blending part again…
Follow the blending advice mentioned in Step 5, making sure that you fade away any harsh lines.
Step 8: The Blush (Optional)
Applying some blush to your face is another optional step, but is a step that is highly advised.
Why?
Because the blush helps to add a softer and more natural color to your face. It will give your face even more dimension, while perfectly pulling together your entire look.
Convinced that you would benefit from some blush?
Well, just like with your contouring product, the way in which you apply your brush should be based on your face shape.
Here are some guidelines:
Square-shaped face – use your blush to cover your entire cheekbone, running it outwards to your hairline
Oval-shaped face – focus on our cheekbones, taking the blush outwards towards your earlobes and then up towards your temples
Long face – focus on the apples of your cheeks, blending the blush towards your nose and then back out towards your temples
Round face – smile, and then apply two swipes of blush to the apples of your cheeks, blending this outwards rather than towards the nose (which will only make your face appear rounder)
Diamond-shaped face – focus your blush on the top half of your cheekbones, as this will help to balance out your face shape
Heart-shaped face – apply your blush in a "C" shape from the top of your temples down to your cheekbones, before diffusing it upwards 
Of course, the color of your blush is important too.
This should be chosen based on your skin tone:
Fair Skin – baby pink and peach shades work well for you
Medium Skin – try an apricot, mauve or soft berry shade to warm your skin up even more
Olive Skin – warm tones, such as a warm peach, rose or even a bronze, will help to complement the green undertones in olive skin
Dark Skin – go for a highly pigmented shade, such as a deep raisin, a tangerine or a terracotta 
Step 9: Setting It All in Place
It goes without saying that you will want all of your hard work to remain on your face for as long as possible, preferably until you choose to remove it yourself.
While the primer that you applied right at the start in Step 1 will help with this from beneath, a setting product will really lock everything in place from above once you are done.
What sort of setting product should you use?
That all depends on the formulas of the products that you have already used.
If you have highlighted and contoured using powdered products, then you would be best off with a setting spray rather than a powder. You will only need to spritz this onto your face a couple of times for it to fully work.
Alternatively, if you have opted for cream or liquid formulas, then a setting powder may be best for you. A setting spray would still work, but a translucent finishing powder would help to reduce any of the shine that liquid formulas can often leave behind.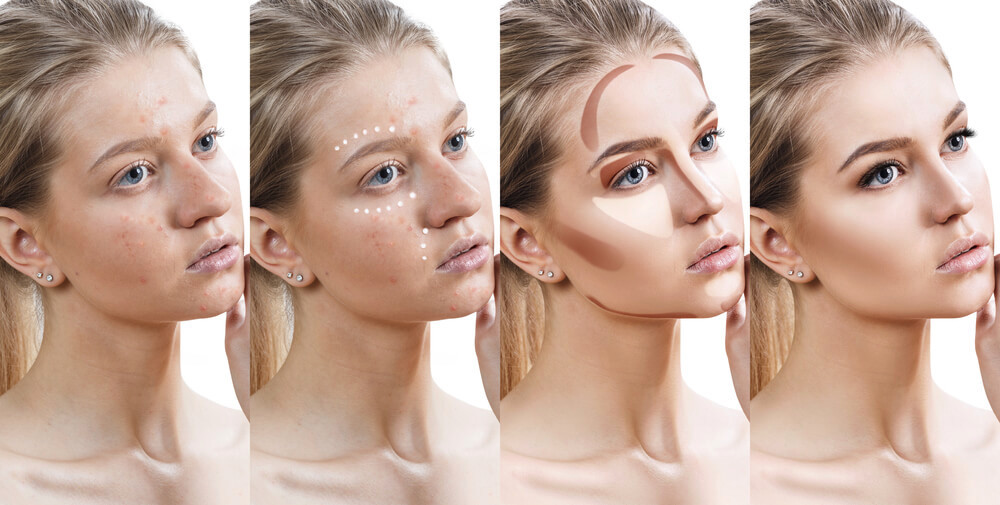 Even if you have never contoured and highlighted your face before, it isn't going to take you very long to master those six steps. Once you do, you can then look into some of the more advanced techniques out there to help you take your highlighting and contouring game to the next level!