There are obviously millions of variations because there are millions of us out there, but there are a handful of basic body shapes that we all fall into. Once we determine what our basic shape is, we can learn to dress to accentuate the positive parts of us!
Let's start with the basics on how to identify which body shape category you fall into. The types can be called variations of these things, and are defined by the shoulder / waist / hip ratio.
Here are five basic body shapes:
Pear is characterized by a narrower upper body and a fuller lower body.
Column is typically defined by very little waist definition, with shoulders and hips being equal.
Apple is rounder in the middle than anywhere else.
Hourglass has an equal balance of shoulders and hips with terrific waist definition.
Strawberry is sort of the opposite of the Pear, and characterized by broad shoulders and narrow hips.
This may sound complicated, however if you picture each item mentioned, it makes a lot of sense. Do keep in mind that we can be a blend of shapes, and our bodies can change over time and through life events.
In this article, we will look at what fashion choices work best for each shape. This can include what shape of skirt, what handbag, and even what jewelry works best to accentuate that positive!
You can also create curves where you might not have them, or you can create emphasis on the slimmer parts. For each primary shape, there are numerous ways to accentuate the positives of while still flattering the "less favored" features.
Dressing for Your Body Shape: Pear
The Pear body shape is characterized by a narrower upper body and a fuller lower body.
The overall goal is to lengthen your body visually to balance out the wider portion, the hip area. The easiest way to create this balance is to accentuate the slenderest portions above the waist.
Color – Wearing darker colors on the bottom half will help slenderize as well as minimize the visual attention. Conversely, a patterned or colorful blouse on the top will help draw attention upwards. With this much creativity available on the top half, make sure to play it up.  Try a seasonal trend to really make it pop, or layer to add balancing volume.
Shapes – Wearing an A-line skirt is a perfect way to camouflage the wider portion, and choosing flared slacks and jeans also draws the eye away from the hip area. Off-the-shoulder and boat-neck tops or a deeper neckline also help draw attention to the slender portions as well as lengthen the upper body. The perfect dress for the pear shape is what I call the "Donna Reed" dress, fitted on top to the waist with a flowing A-line skirt.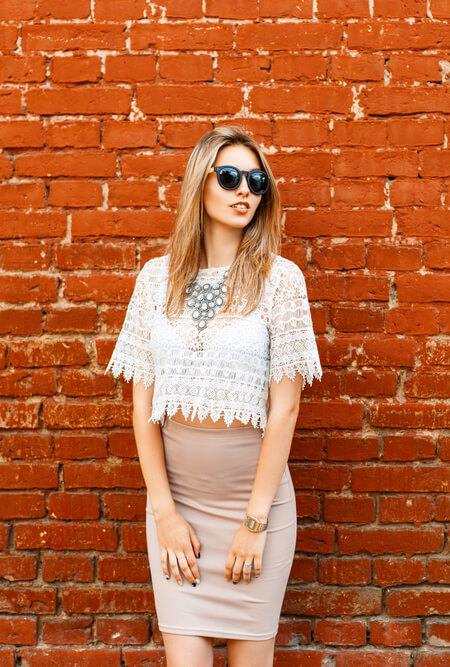 Accessories – Wearing an eye-catching statement necklace or a flowy scarf draws the attention up rather than down. You can also accentuate your slender waist with a narrow belt.  Regarding shoes, heels are the best bet to lengthen the body and slim the legs.
Dressing for Your Body Shape: Column
The Column body shape (also known as the ruler) is characterized by little to no waist definition, with the shoulders, bust, and hips being mostly equal.
The overall goal is to build the illusion of curves through layering, creating roundness at the neckline and leg line, and choosing high or low waist styles.  This body shape tends to be based on straight lines, so curves and waist definition are key.
Color – Try to avoid the monochromatic look; it can emphasize the length of your figure. Boxy jackets can emphasize the straight lines while hiding the slender torso; cropped tops will throw off the ratio of your torso to your legs. Dropped waists will have the opposite effect; shortening your legs and lengthening your torso. Using different blocks of color on the top and bottom can visually break up the length of your torso.
Shapes – Ruffles, cowl necks, turtlenecks, and scoop necks are great for creating roundness and drawing attention to the center of your figure. Flared cuffs and loose sleeves also help create volume and softness. It is also good to shorten a lengthy top half with an empire waist or a wrap top. Flared slacks and A-line skirts add shape and curve to the lower half of your body.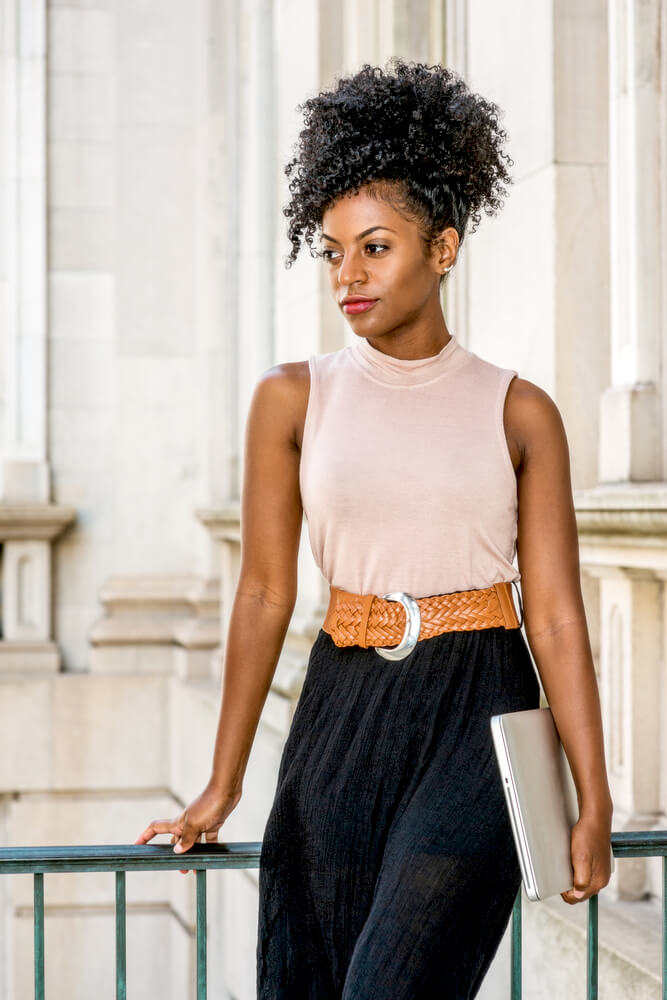 Accessories – Highlighting the waist is very important to break up the straight lines of this particular body shape. Thin belts, wide belts, single-button jackets, and gathered blouses all help create the illusion of a waist.
Dressing for Your Body Shape: Apple
The Apple body shape is defined by a figure that is top heavy, with broader shoulders, a wider torso, and a full bust, waist, and upper back.  The arms, hips, and legs tend to be slender and weight gain usually happens at the undefined waistline area.
The overall goal is to draw attention away from the middle area.
Color – For the most part, avoid clothing with a different or distinct pattern in the center. Likewise, keep the lighter colors to the bottom half and the darker colors on top.
Shapes – Most apple figures should shy away from low cut pants and high cut shirts. Clingy shirts and dresses also draw attention to the area we are trying to minimize. The bust area is usually one of the great features of the apple shape, so do not be afraid to flaunt it (within reason, of course). V-necks and plunging necklines should be your go-to items. Try to avoid halter tops and boat necks which as not extremely flattering to this figure. Empire waist and A-line dresses, as well as peplums, do a great job of flattering the bust area while skimming past the thicker middle. And by all means, show off those great legs with shorter skirts and high heels.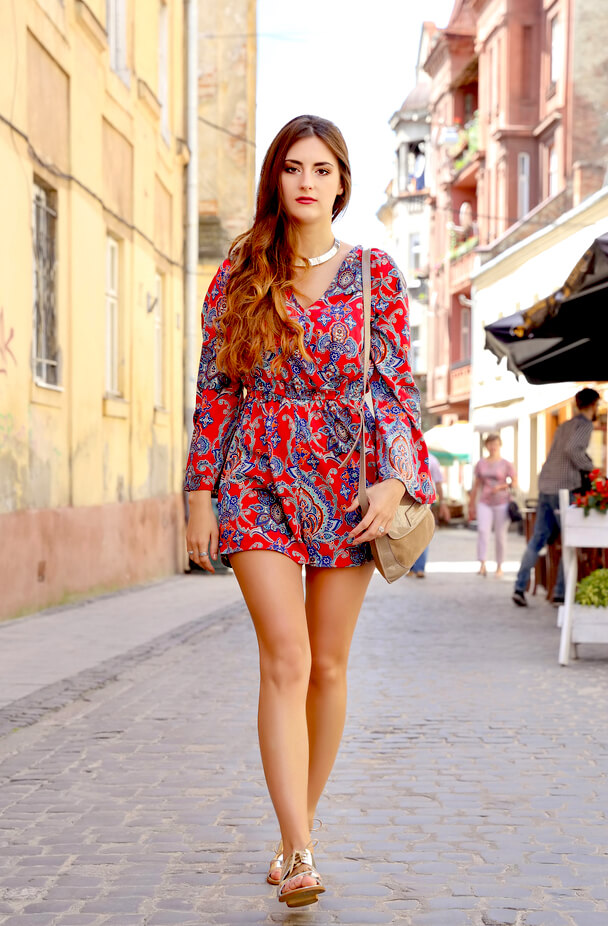 Accessories – Thick belts are a big no, since they will obviously draw attention to a thicker middle. Try to find slacks and jeans with back pockets. Since this figure usually has a flatter behind, it helps add shape and definition.
Dressing for Your Body Shape: Hourglass
The Hourglass body shape is defined by a figure that has an equal balance of shoulders / bust and hips with terrific waist definition. By many experts, this shape is considered the "ideal" body shape.
Do keep in mind that some people can have a secondary body shape. For example, if your hips are slightly fuller, you may want to try some of the tips for a Pear shape.
The overall goal is to focus on your waist and flatter those beautiful curves.
Color – Wearing your darker colors in the middle will help emphasize your narrow waistline. If you are trying to slenderize your generous curves, vertical details such as prints or pleats are the way to go.
Shapes – Avoid jackets and dresses that look boxy because your curves will disappear. You'll do very well in figure-hugging fashion, since this will accentuate your naturally given curves. Dresses and jackets that nip in at the waist are perfectly suited for you.  Soft draping fabrics also flatter your curves but they are best with a little stretch for some forgiveness. V-necks and wrap tops or dresses are slimming for your upper half, especially if you are on the busty side. Boot-cut pants can help balance out the curves if you feel you are too curvy in places. If you are on the shorter side with an hourglass figure, make sure your lines are lengthening.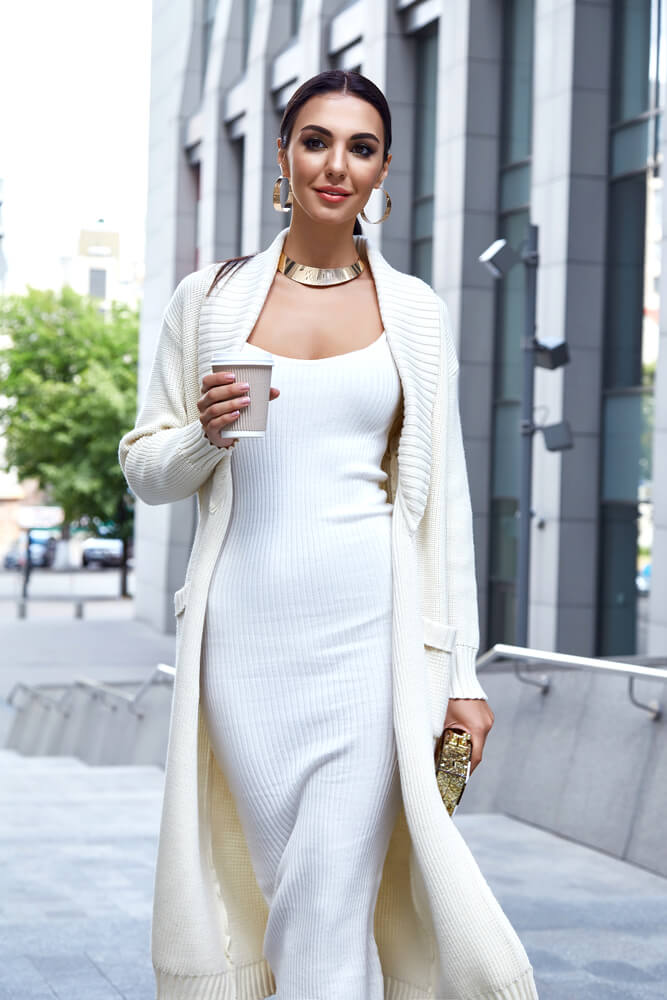 Accessories – Belts are your best friends!  They perfectly highlight your slimmest feature and really accentuate your perfect proportions. Heels will help lengthen and slim your legs.
Dressing for Your Body Shape: Strawberry
The Strawberry shape is sort of the opposite of the Pear, and characterized by broad shoulders, typically a generous bust, a wide back, narrow hips, and sometimes a flat behind.  Your best feature is usually lean, shapely legs. This shape is essentially an inverted triangle.
The overall goal is to accentuate the right curves and to balance out the larger upper body.
Color – Keep the light and bright colors to the bottom half and darker colors on the top; wearing bright or light colors on the top half will emphasize this larger portion of your body. Patterns can be used carefully, as long as they draw attention to the slenderer sections such as your hips or legs.
Shapes – Flared skirts and slacks are wonderful at enhancing this body shape. They balance out the wider top half for a more proportionate look. Square or sweetheart necklines are very flattering to this top-heavy shape. Deep V-necks look great on your generous bust. If you are concerned about over-exposure, layer the deep V-neck with a light-colored shell. When shopping for a dress, aim for a cinched waistline to accentuate the slender part of your figure. Try to avoid high-neck styles and flowing tops because they will also bring unwanted focus on your upper half.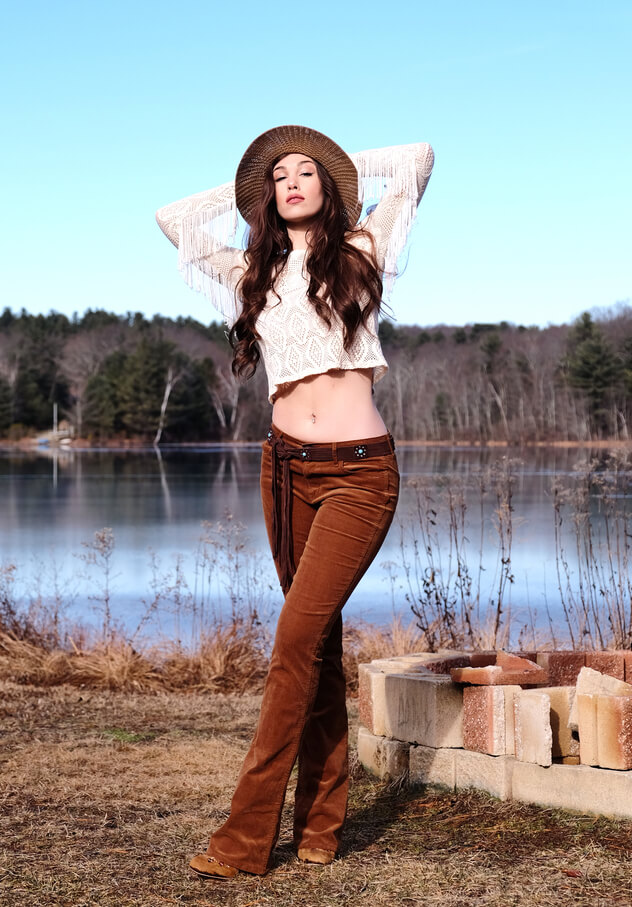 Accessories – Interesting and eye-catching belts draw attention to your slender waist and add definition. Low-slung belts that sit on your hips are also a great way to accentuate this slender part of your figure.
BONUS NUMBER ONE!
Swimsuits for Your Body Type
We have looked at the most flattering clothing for each body type, but let us take a moment for a more personal (albeit sometimes painful) clothing issue – swimsuits.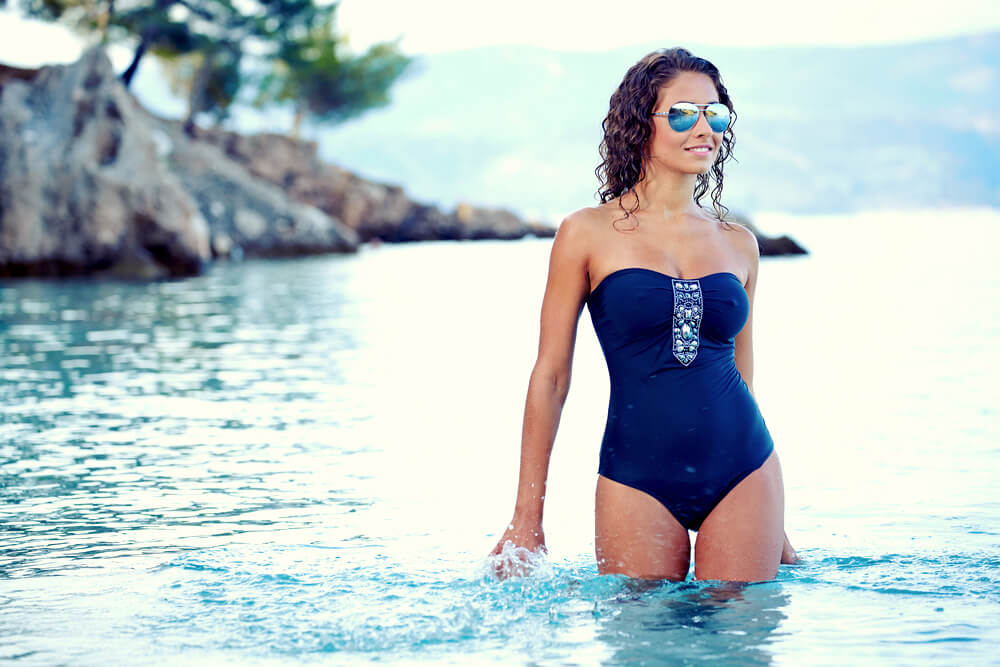 For most of us, swimsuit shopping is almost as much fun as a root canal. But if you go to the store better informed about what is the most flattering suit for your body shape, it can reduce the pain because you know what to look for!
Pear – One-piece swim-dresses with an empire waist provide balance to your shape.  A light-colored top and darker bottom also help draw the eye up to your slimmer upper half.
Column – Try creating the illusion of curves with halter or V-neck swim-dresses.  Detailed, ruffled, or embellished tops also help add the visual curves to your top half.
Apple – Built-in underwire bra tops and skirted bottoms are very flattering.  Scooped or square-necked tops can narrow the wider portion of your figure, usually the shoulders.
Hourglass – Generally speaking, the most flattering styles for an hourglass accentuate the waist and highlight the curves.  Halter tops, V-necks and side panels are your best bet.
Strawberry – Underwire tops can give excellent support to a generous bust while skirted bottoms help balance out the wider upper half.  Wide-necked styles also narrow the shoulders.
BONUS NUMBER TWO!
Jeans for Every Body Shape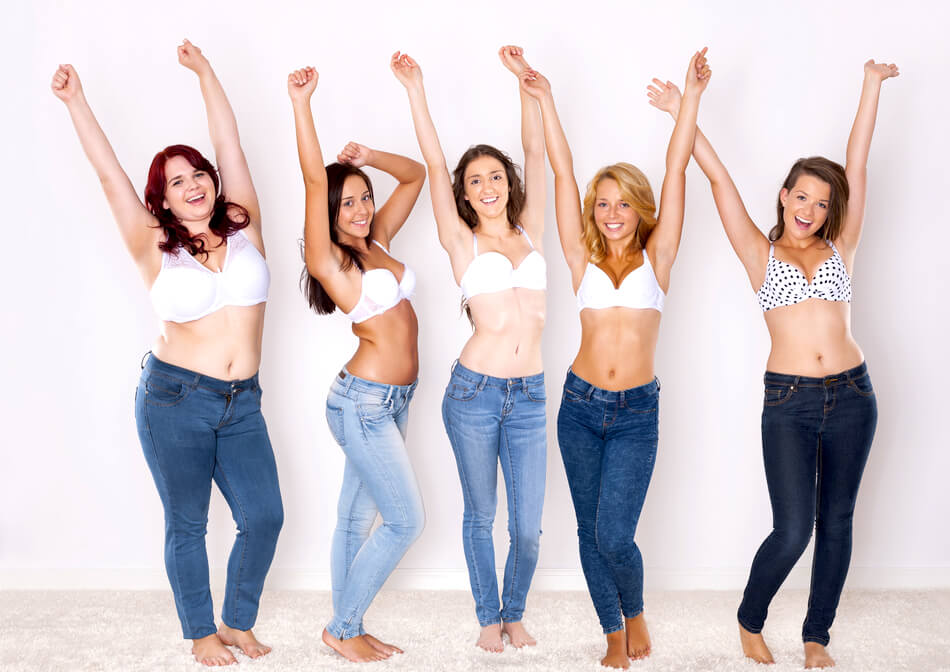 For almost all women, the only thing that comes close to the pain of swimsuit shopping is the agony of jeans shopping. But there really is a style of jeans that flatters any body type.
Pear – Avoid anything with a severe taper and choose more of a low-rise flare or trouser style.  Boyfriend jeans also do a great job of skimming over the heavier portion of your figure, highlighting the slender top half of your body.
Column – To create curves, stick with the mid-rise styles and a slight flare or boot cut at the bottom.  Skinny jeans seem to be made for this particular figure.
Apple – Again, the mid-rise styles are the most flattering.  Too low and you risk spilling over; too high and you risk emphasizing your thicker middle.
Hourglass – The classic wide leg or boot cut jeans with a mid-rise will balance your curves and keep you looking slender.
Strawberry – Strawberry-shaped women should really avoid anything with a high waist.  The rise should hit at the natural waist or slightly below.  Flared jeans with a suitable waist can visually give you a slimmer waist and narrower shoulders.  Likewise, since your legs are usually quite an asset, straight cut or cigarette jeans accentuate nicely.