I love, love high heels and I can't get enough of them! However, there are times when I just cannot stand them. When I hit the 3-hour mark and my feet start to feel all sore and blistered, I always end up wondering why I shove my feet into them but one glimpse of how gorgeous they make my legs look and I forget any such misgivings.
I recently learned that we do not have to suffer in silence when we wear our heels. There are lots of different and simple ways to make wearing heels more bearable and I am dying to share some of them with you. Check out some of my tips and tricks below!
Ice it – We always had that one pair of heels that would pinch our toes no matter how often we used them. This trick is a bit weird but it works wonders! All you need to do is put some water in a plastic bag, place the bag inside your shoes, and place them in the freezer. As the water freezes, it will expand and stretch out the tight areas.
Deodorant – No, this is in no way to imply that you have stinky feet. There is foot powder for that. Deodorant is to be applied to your Achilles heel or any other area where you usually blister. This will prevent any from forming and you can dance the night way without looking for a band aid.
Inserts – You know, there really is no shame in using inserts for your heels. It is not like anyone can see them, and they provide extra cushion for the balls of your feet. I got my inserts for under $10 and they made me feel like a million bucks.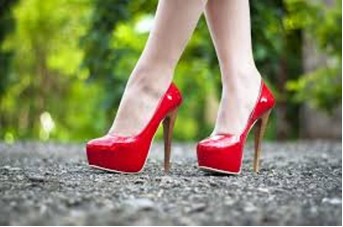 These are just some ways that you can make those heels comfortable. However, if you plan on wearing heels and being on your feet the whole night, you really should bring a pair of flats in your purse in case the pain gets too much to bear. Also, take quick breaks by kicking your shoes off and stretching your feet all throughout the day.