Rather than simply being a fashion trend, bohemian chic is so much more…
The style first appeared towards the end of the 18th century, but really became popular in the 1960's and 1970's. It represented an alternative way of life, forming as a counterculture against materialism and societal constraints.
The popularity of the bohemian chic style hasn't died down over the years, with more and more people embracing it and incorporating it into their wardrobe.
Want to do the same?
Here are ten fun ways in which you can achieve the bohemian chic look for yourself:
Keep Fabrics Light and Natural
Let's begin with one of the main aspects of the bohemian chic look – natural fabrics that are lightweight and free-flowing.
You want the majority of your outfit to be floaty rather than fitted, and choosing the right fabrics is key to achieving this.
Wondering which fabrics are best for the bohemian chic look?
Here are some that won't let you down:
Light cotton

Natural hemp

Chiffon

Lace

Silk

Linen

Denim

Crochet

Canvas

Faux fur

Faux leather and suede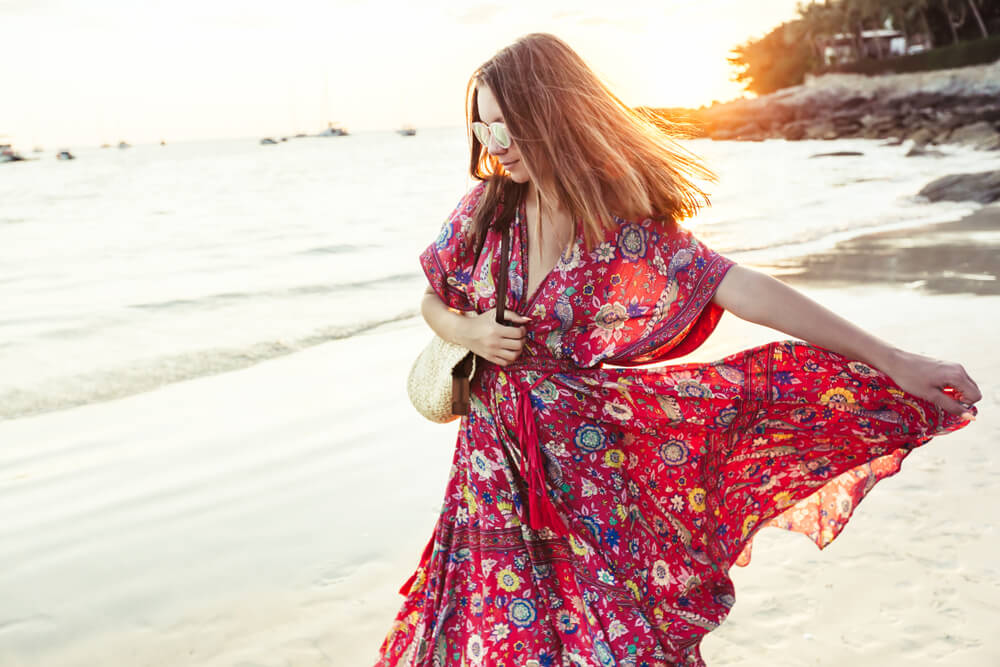 As you can see, the list is pretty long, giving you plenty of versatility when it comes to putting together an outfit.
Choose a Boho Chic Color Palette
Fabrics are important, but so are colors.
There are some colors out there, such as neons and metallics, that will definitely not work with the bohemian chic look.
Instead, you want to go for natural and earthy colors as much as possible. Once you put together a range of garments in the right fabrics, with the right colors, you will be well on your way to creating the perfect bohemian chic wardrobe.
Want some color inspiration?
Here are some shades that work really well with the boho chic look:
Shades of brown, such as caramel and latte

Pastel colors

Neutrals

Dark greens

Earthy oranges and reds
Don't go for any colors that are too bright or overly-saturated, as these will only detract from your bohemian look.
Invest in a Couple of Maxi Dresses and Maxi Skirts
When it comes to the actual clothing styles that work well with the bohemian chic look, maxi dresses and maxi skirts are a must.
Their floaty, flowing nature makes it so easy to achieve the bohemian look, and they are quite easy to style with other garments and accessories too.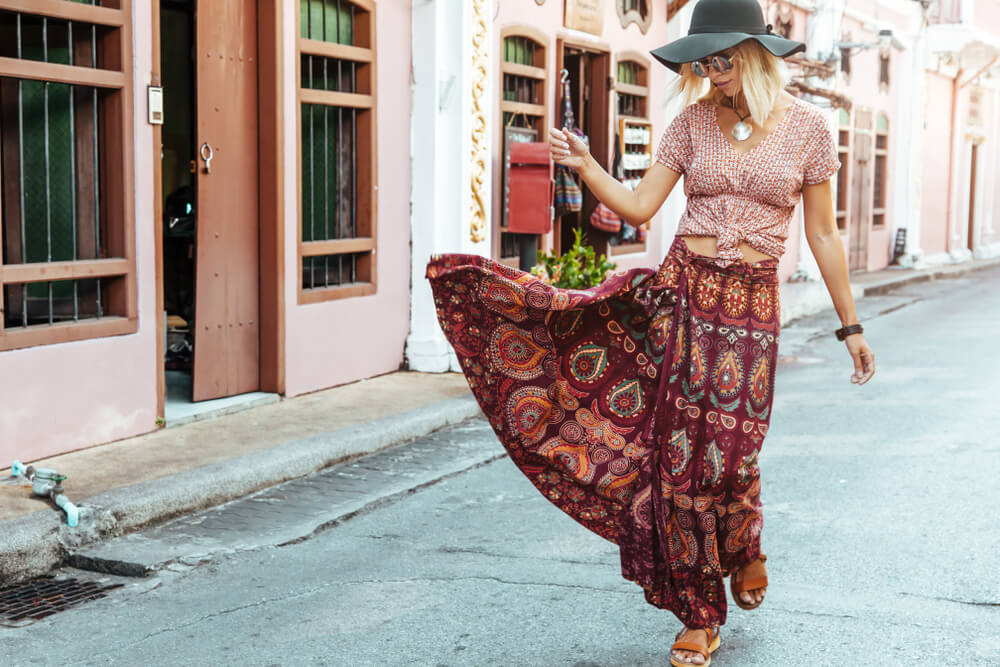 Maxi dresses tend to be easier to work with than maxi skirts, since you only really have to worry about accessories, and maybe an outerwear piece too.
Need some help styling a maxi skirt?
Go for one that is relatively simple in both style and color. You don't want it to be to voluminous, but you still want it to flow naturally.

Try pairing a maxi skirt with a solid colored t-shirt, or even a graphic t-shirt, for a clean and fun look. 
Don't forget to keep an eye out for styles that will work well for both day and night. This will make your wardrobe so multi-functional, and you can simply use accessories to transform each garment.
Layer, Layer, and Layer Again
Layering is so important when it comes to the bohemian chic look, but you need to make sure that you layer your clothing in a way that suits your body type and shape.
How?
Here are some guidelines:
Apple shape – go for garments that are looser around the waist, adding in a structured jacket for some extra definition (more on structured clothing further down)
Pear shape – experiment with volume, such as wide-legged, high-waisted jeans and bell-shaped sleeves
Hourglass – layer your clothing in a way that accentuates your natural waist
Athletic – try wrap dresses and tops to add curves and volume to your top half. Dresses that skim the body are also great for emphasizing your naturally lean shape
Pile on the Jewelry
As mentioned above, layers are key to the bohemian chic look, and this is something that you can create with your accessories as well as your clothing.
Jewelry is the perfect way to complete your look, and you shouldn't be afraid to combine multiple pieces and styles.
Begin by adding in some bracelets and bangles. You have so many options to choose from, be it thin and silver or thick and colorful. Wooden bangles also add a beautiful touch to any outfit.
Experiment with the placement of your bracelets and bangles too…
Armbands, which are worn on the upper arm, are great, but you can sometimes use your regular bracelets to achieve this effect, rather than purchasing dedicated armbands. The same applies to anklets, which are worn around the ankles.
Long, dangling earrings also work so well for the boho chic look. However, make sure that you keep these as natural as possible, not only in terms of shape and style, but also when it comes to the materials used. Look for features such as metals, natural stones and feathers.
The same applies to any necklaces you wear. Ethnic-inspired items, such as those featuring shells, fringing and natural stones, are always popular for the bohemian chic look. You can try layering your necklaces too for an even more dazzling effect.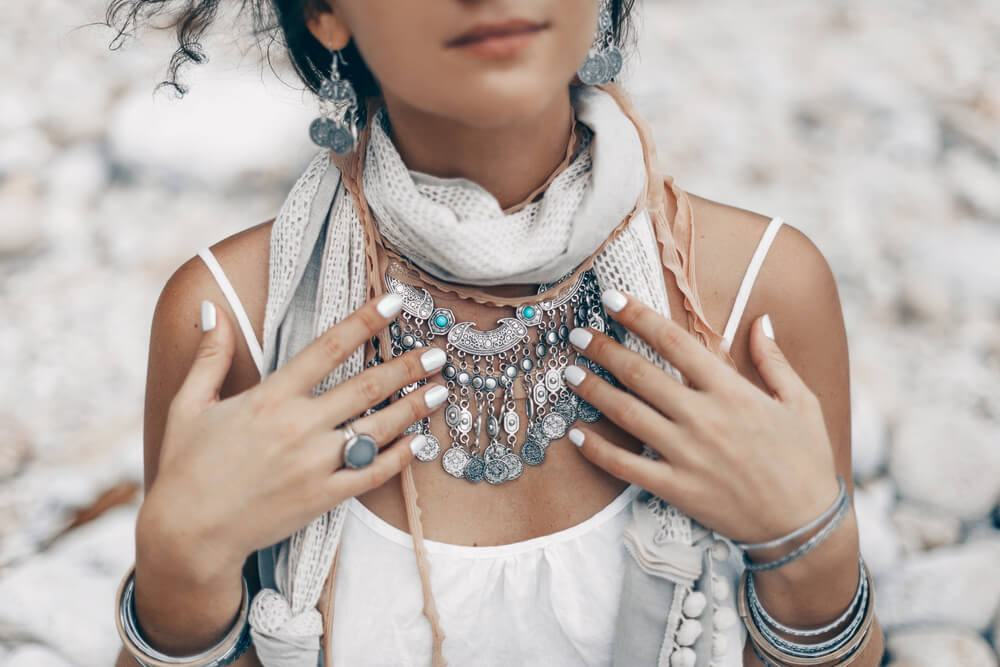 Rings are another item that are so much fun to get creative with. Try pairing large with small, both on the same finger as well as on different fingers.
Embrace Prints
It was mentioned above that you should try to keep your bohemian chic color palette as natural and neutral as possible, but this doesn't mean that you need to go for single, solid colors…
Prints are perfect for the boho chic look – they exude energy and attitude, and it is completely up to you whether you go for something bold or subtle. 
Just like with jewelry, ethnic prints always work well.
Geometric prints are another good option, as is paisley.
Of course, florals lend themselves perfectly to the bohemian chic look, and are quite easy to style with other garments too.
You could also look into tribal prints. Although these tend to be bolder and brighter in color, they still work quite well with the boho chic look.
Don't be afraid to mix prints either…
So long as you stick to a similar color palette with the prints you choose, your outfit will look cohesive and thoughtful.
Don't Be Afraid to Add In a Fitted Item
While the main elements of your bohemian chic look should be loose and flowing, adding in a structured and fitted item can really help to pull your whole look together.
This is especially true if your outfit contains multiple separates, as mixing volume with volume can often drown out the body instead of accentuating your best features.
On the other hand, if you pair a voluminous item with a fitted one, the contrast will be so much more chic, but will still in-keep with the boho style.
Wondering which fitted items would work well with your style?
Here are some to consider:
A stretchy vest top underneath your other layers

Leggings

A structured blazer

Fitted jeans
Pay Attention to Footwear
You may have the perfect bohemian chic outfit in mind, but, if you pair this with the wrong footwear, your outfit will not work as well as it otherwise might have.
What footwear do you need for the boho chic look?
Gladiator sandals are always popular, and these are available in a variety of styles, from ankle-length to knee-high. You could even opt for some high-heeled gladiator sandals if you are dressing for a special occasion.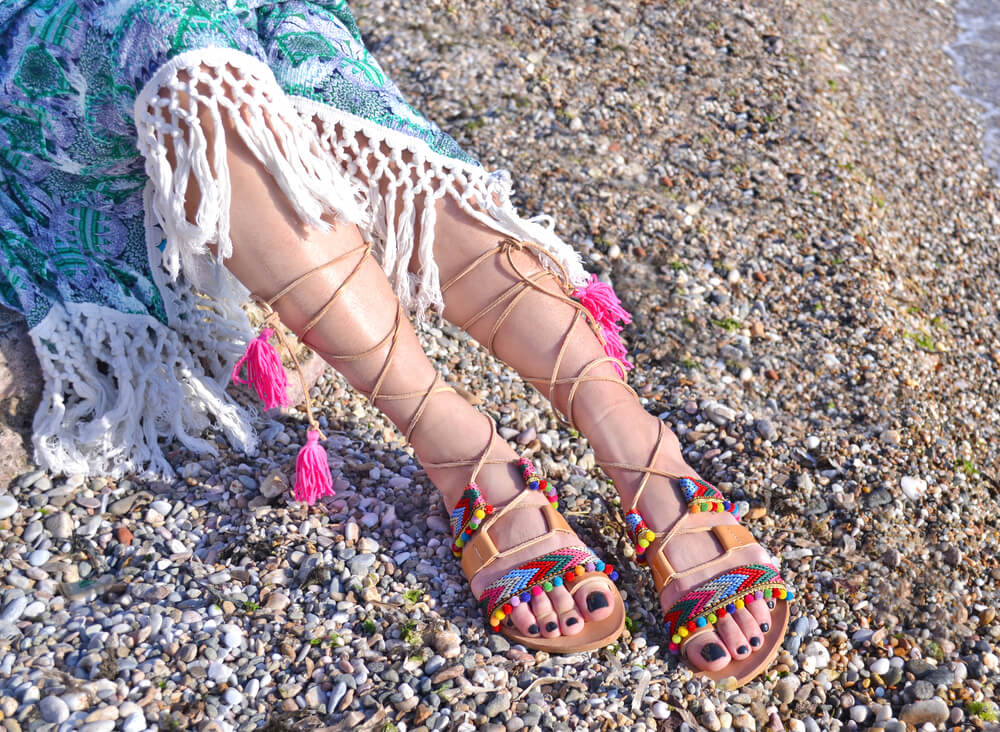 If you don't like wearing heels that are too high, try on some platform heels or chunky clogs instead. These will give you the added height, but are more comfortable, and easier to walk in, than other styles of high heels.
Ankle boots also work beautifully with the boho look, and pair surprisingly well with feminine dresses and skirts. Ankle boots with embellishments, such as fringing, could also be considered. Don't be afraid to go for chunky boots either, especially if your skirt is quite short.
Ballet flats may seem simple, but these are another good option. Their minimal style makes them easy to match with pretty much any outfit.
Accessorize Smartly
Accessories can really make or break a look, whether this may be a bohemian chic look or anything else.
With the boho style being all about layering, accessories lend themselves quite well to this trend, so long as you choose ones that are in-keeping with the rest of your outfit.
Which accessories are best for the boho chic look?
Well, jewelry has already been discussed earlier, and this is a must-have when going for the boho chic style.
The handbag you choose to wear is important too – anything that features a pattern, or even fringing, will work well. Keep things as natural as possible, both in terms of style as well as color.
Hats are also popular, such as:
Floppy and wide-brimmed (which will also give you some extra sun protection)

Crocheted

Fedoras
If you don't like wearing hats, you may want to add in some hair accessories instead…
A headband will work well with just about any type of boho chic outfit, whether you opt for a braided headband, a floral headband, or even just tie a scarf or a bandanna around your hair.
Other hair accessories, such as feathered hair clips, a floral hair chain or natural stone hair ties, would also suit this look so well.
Want to add in some sunglasses too?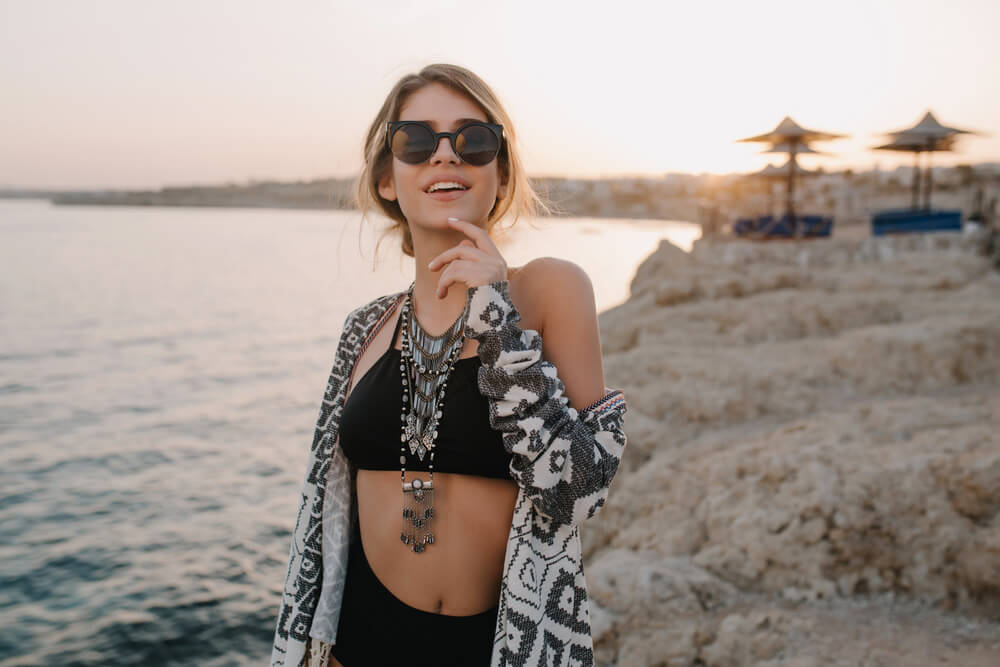 You would be best off going for vintage-style sunglasses. While round shapes and aviator styles are usually what you will see paired with the boho chic look, just about any shape would work well so long as you stick with something that looks relatively vintage. Of course, make sure that the shape, size and style of the sunglasses you choose work well with your face shape too!
Scarves have already been mentioned in the hair accessories section, but this is something that you can wear as part of your outfit too. A scarf with a geometric or floral print is a great way to liven up an outfit that is more neutral in color. Wear this in a voluminous way around your neck, or tie it around another part of your body, such as your waist to cinch an outfit in. 
Don't Go Over the Top
When putting together a bohemian chic wardrobe for the first time, many people often gather together all of their suitable garments and accessories, and then use these to create outfits.
However, when faced with so many different options, it can sometimes be easy to go over the top with your look.
Although the bohemian chic style is all about layering and combining numerous natural elements together, you still want to make sure that your overall look is not overdone.
How?
Begin by taking a look at the layers in your outfit. Although you want a flowing silhouette, make sure that your outfit still accentuates the best parts of your body.
In terms of your accessories, there is nothing wrong with wearing multiple layers and styles, but make sure that these all work with the main vibe of your outfit. You don't want your accessories to compete with each other, so, for example, don't wear four feathered necklaces together. Instead, go for a longer feathered necklace and pair this with a shorter natural stone necklace, or even a choker.
For some, the bohemian chic look can feel like such a challenge to achieve, especially if your wardrobe does not contain many boho-esque pieces. However, so long as you pick the right colors, fabrics and accessories, it will not take you long to put together a variety of bohemian chic looks that perfectly flatter your shape and personality.