Can you imagine yourself spending $20 on a makeup sponge? I couldn't, even when other people were raving about the Beauty Blender. It was only until the makeup wedge I've been using finally gave up that I decided to try it. If it didn't work for me, then there was no way I'd be buying another one, but if it does work, then I guess there'd be no harm in buying, right? Now what was my experience with the Beauty Blender Sponge?
It looked weird! That was the first thing that I thought when I first saw it at the beauty stores and on the internet. I got it wet before first using it and it doubled in size, which was pretty amazing. That aside, in terms of functionality, I liked its unique shape. Apparently, they made it so that it doesn't have edges, which helps in applying makeup. I found that to be true when I used it and noted the absence of those edge marks when using a brush or a wedge. The sponge does blend the makeup so well.
My first concerns were whether I was using more product and if the sponge was soaking up some of it. I tried it for a week and looked at what's left of my product. There didn't seem to be any big waste, which I was glad about. One issue I have, however, is cleaning. The sponge is not meant to be disposable, and if it wasn't, I definitely won't buy it, but cleaning it without the blender cleanser that's supposed to go with it is hard. I noticed the color washing off easily. I wasn't eager to buy the blender cleanser because that'd be another couple of dollars, so I guess my sponge won't last as long as the others. Fortunately, drying it wasn't problematic, since it could be put on its container where it will air-dry and return to its normal size. Oh, and I noticed a significant reduction in the time it took me to apply makeup.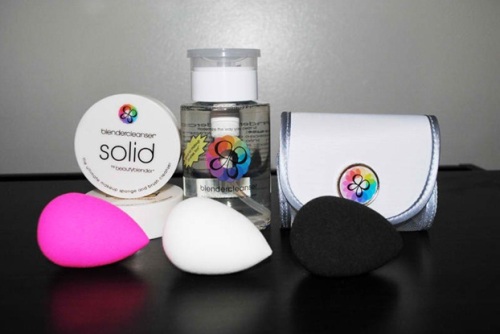 Overall, the beauty blender brush does what it promises which is to blend makeup so well that people won't notice you're wearing any. However, its expensive price cannot be ignored, and that is a big issue for most users.