2The truth is, he won't know. He won't know how many hours you spent preparing for the date. He won't know how many dresses you tried on and decided against. He won't know how much time you spent in the gym. He won't know about the nights you spent getting advice from your friends about how to act. He won't know that you already decided what you would eat before he even looked at the menu.
But there is one thing he will know, and that's how great you look.
If there's one thing women have over men, its access to some great makeup, and a little know-how about putting it on. If you've taken care of the first, we're going to take care of the second. Here are a few tips for easy date night makeup looks.
Natural Look
The look: feminine unfussy. Your hair: tousled. Your makeup: Sheer. Your date: We'll have to ask you about that later.
It doesn't have to take a lot of effort to make something look effortless. Ditch the high shine red lipstick (remember that stuff?) and just use sheer tint on the lips and cheeks. Cream blush is the easiest to apply and less pigmented lips mean you don't have to worry about making sure he doesn't end up wearing more of the lipstick than you are.
Bring curl to your lashes by using a curling mascara instead of a lash curler. It's quicker and it won't crimp your lashes. Grab a smoky black pencil, line your eyes, and give it a little smudge; remember, you did just wake up like this.
Words of Advice: Do a quick blot test before entering the restaurant. Candlelight may be flattering, but you may want to save greasy for the meal.
Smoky Eyes
Where there's smoke, there's fire. Here's a step by step no-fail way to make sure your date is smokin' hot.
Primer: It's very easy to go from the smoky eye look to the raccoon eye look. One false move and you've gone from hot to hot mess. Do damage control by applying an eyeshadow primer. It will hold your shadow in place and prevent creasing and smearing.
When you have dark shadow on your eyes, the last thing you want is dark shadows under your eyes. Get rid of under eye circles with a creamy concealer. For best results, choose something with a thick base, as compared to a liquid one. Use your ring finger to apply.
The dark shadow: No, this is not the Dark Shadow as in the American Gothic soap that aired in the 60's, nor is it the movie starring Johnny Depp based on it. This is the dark shadow that's going to make your significant other swoon on your date.
When it comes to picking the "dark shadow", it doesn't have to be black. It can be gray, plum, dark blue or forest green. Just choose a dark color from your palette and sweep it across your eyes. Then apply shadow to your lower lash line using a small angled brush.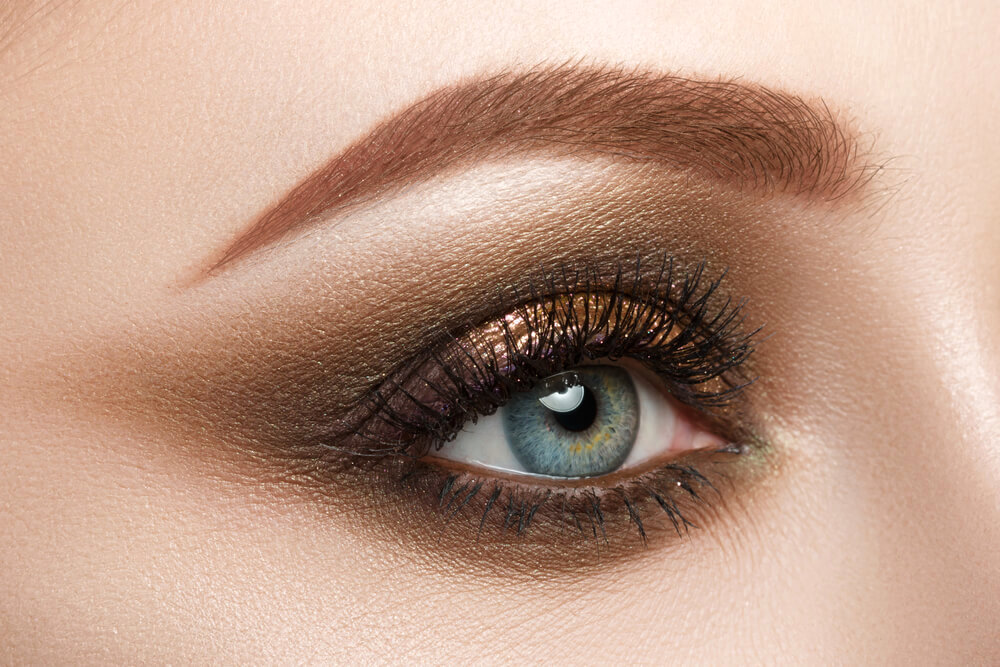 Smudge: Here you are the artist. Smoky eyes shouldn't have any harsh edges, so you want to make sure your smudge is perfectly shaped. Use a Q-tip or smudger brush to blend the shadow into the crease of your eye using the windshield wiper motion. Then work it into your bottom lash line as well.
Definition: Now that you've got the color down, it's time to give it some definition. Take your smudgiest black pencil and drag it across your top and bottom lashes, making sure there is no exposed skin peeking through. If you're feeling extra hot, line your inner bottom lash line for an even more sultry look.
Nighttime Lip Effect
It's what the pros are calling the "nighttime lip." It's seductive, its alluring, but you may want to make sure you wipe it off before you hit the sheets.
To get the nighttime lip effect, pick out a color of your choosing (dark and seductive, preferably) and a lip pencil to match. Prep lips with the pencil, making sure to outline and fill in the mouth so the dark pigment won't budge. Top lids with shimmery gold shadow and define the outer corners of the eye with a sable brown color. Finish off with a heavy-handed coat of mascara and get lippy.
Charming Blush
Nothing like a hint of a blush to bring out your girlish charm. Although blush is applied on the cheeks, it's the eyes that are the real stars of the show. See Ashley Grahame for inspo. The key to creating the perfect blush is knowing how to work with your eye shape.
The road to the softly flushed look starts with smoky eyes. When applying shadow, avoid getting it above the crease, and don't let it extend beyond your brows. Then blend the edges with wild abandon. FYI: This is not a one brush job. Try a small and densely packed brush for sweeping on the powder and fluffy one for softening the pigment around the edges.
Winging It
Cleopatra first applied the cat eye to ward off evil, but now it seems like its stirring up more than its warding off.
Sometimes, it's not about what you do, it's about the tools you have in the box. If you're living in a perfect world the eyeliner, it will glide across your eyes in minutes, with perfect precision and stay on all night.
In a more realistic world, you can make a wicked cat eye by drawing a triangle at the corner of your eye and filling it in. For best results, draw three dots and connect the dots when making your triangle. It will keep the fail factor to a minimum. Take off any excess with a cue tip, and you've got cat-eyes that Elvira would be proud to wear.
Peach It Up
Orange you glad that the days of orange glow makeup are over? These subtler monochromes are proving the peach is the new orange.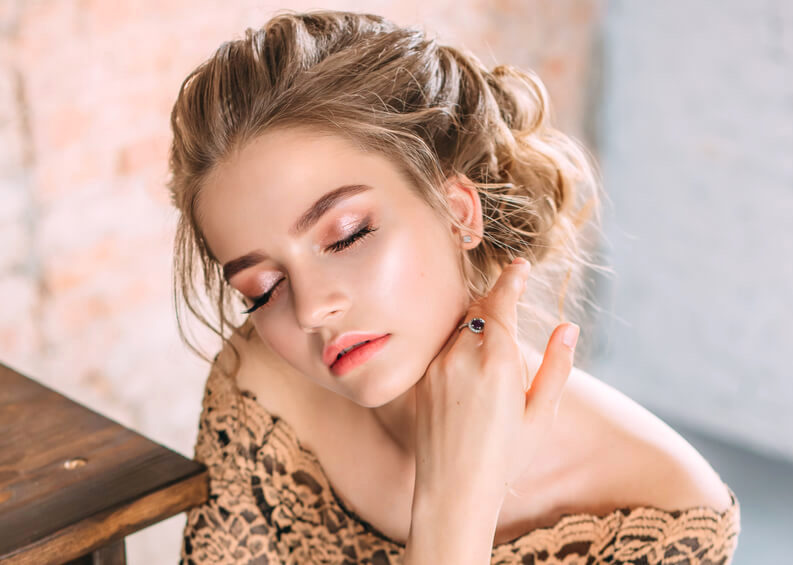 The trick when applying peach makeup is to keep it sheer, rather than saturated, which means blending colors across the eyes using neutral tones of peach and apricot. Bring it together with a coral lipstick and a muted peach blush on the cheeks and you'll have a peach of a date.
Jeweled Lids
Looking for a sexy eye that with a pop of color? Smokey eyes don't have to be black. Tones of amethyst, sapphire, and emerald can feel lighter and look more romantic. Apply color all over the lid and the lower lash line. Intensify the color along the lashes using a pencil liner of the same color.
Fringe Effect
When it comes to false lashes, long and thick will do the trick.
When applying, don't look straight into the mirror, instead, put the mirror on the table so you're looking down on it. That way you'll be able to see what you're doing, and the strip will fall right on the lash line.
Mascara Massacre
Lash glue dried up? Got mascara? You don't always need falsies to go big on your lashes. Keep it real. Dusting them with a coat of translucent powder and topping it with two coats of mascara can create a web of seduction. Declump with a lash comb and balance with bold eyes, neutral blush, and gloss.
Light it Up
How do think the Hadid sisters get their glowing cheeks? It may be genetic, but we think it's more likely to be highlighting powder.
To get the Hadid look, without the genetics, shade the smallest corner of the eye and brush on mascara. Add a little definition under the cheeks. Apply a silver powder along your tear ducts, and a streak of pearly highlighter down the bridge of your nose.
Blend until smooth and your lit!
How Lo Can You Go?
Want the low down on J.Lo's look? J.Lo has the golden tones that define sexy. If you're lucky enough to have the J.Lo complexion, here's the how-to on how she does it.
Start by covering your lids in a shimmery neutral, go heavy on the black liner and apply half a tube of mascara. (LOL, but we mean do not apply with caution.)
Dust some bronze along your cheeks and choose a gloss in the caramel/toffee range. Now, that you've got J.Lo's signature look down, all you need to do now is learn her dance moves.
Are You Blue?
Do you like a blue hue? Brilliant blue eyeliners have existed for time immemorial, it's only now that we dare to wear.
One benefit of blue eyeliner is that it speaks for itself. You don't need much else to make a statement.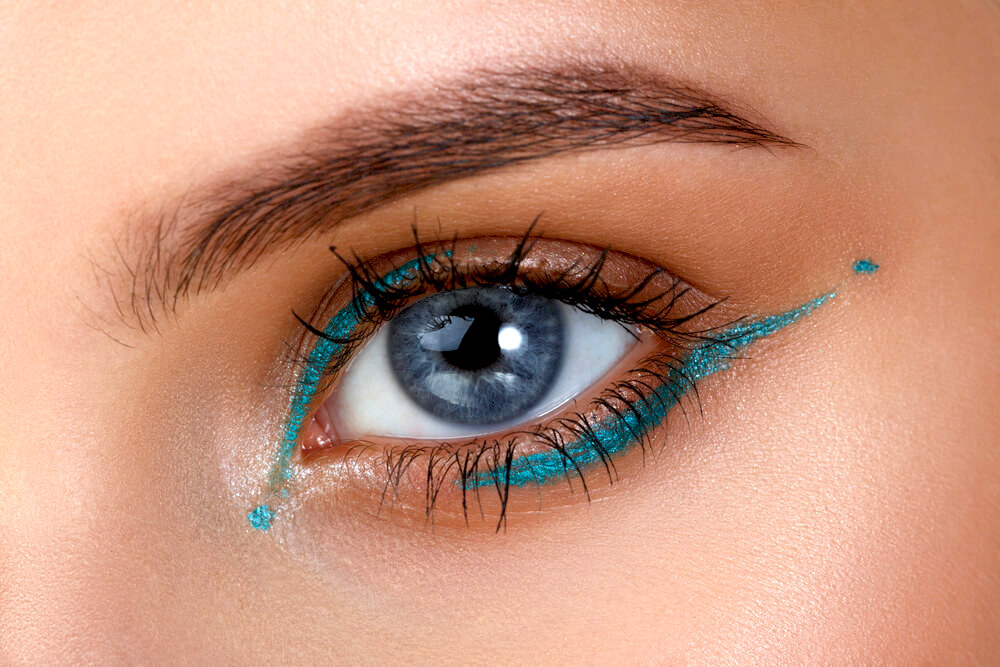 In order to cop the Janelle Monet look, take a darkly pigmented black liquid liner and trace it along your top lids. Add your turquoise/ blue/ aquamarine/ lapis Azul eyeliner (gel, liquid or pencil) and trace it all the way across your lower lashes, from cornea to corner. Finish it with a ton of a mascara, a light dusting of rose gold blush and keep your lips sheer.
Rosy Gold
If peach is the new orange, rose gold is the new peach. Here the color is the star, so you don't have to do much to make it look good and there's a place for it on every part of your body. Dust it on eyes, use it in a pencil, highlight your cheeks and drag it across your lips, then go out with a dazzle.
The Date Night Prep: Behind the Make-up
Now that you've got your after picture, let's go back to before, back to a time when your date was just a spark on the horizon before the makeup went on. Here's what your date night prep might have looked like. Image blurs, flashback music plays….
The shower bath prep: Of course, we don't think you're going to go out on your date without showering first, but we do want to give you a few girl-to- girl tips on how you can make that shower really work for you.
As soon as you step in, apply a moisture mask or vitamin E oil, and let the moisture of the shower work its magic. By the time you get out, your skin will be dewy soft and oh-so-touchable. While you're at it, put some whitening strips on your teeth, so you can wow him with your smile.
Feeling bloated? Take a bath in Epsom salt. Add two cups of Epsom salt to your bath and sit for ten minutes. The magnesium will help to draw the toxins from your body and you'll feel instantly deflated.
Exfoliate: We've got four words for you: Ex-Fo-Li-Ate. Not only is it going to keep your skin looking bright, it's also going to keep your stress levels down. Exfoliate using exfoliating gloves and a gentle scrub and make sure to get every part of your body. Don't forget your hands and feet; you may be doing some hand-holding later.
De-fuzz: Women are not supposed to be the hairy ones in the relationship. After exfoliation, the dead cells have been removed from your skin, so you'll get a closer shave. Use a moisturizing shave cream to keep skin soft and smooth.
Fragrance yourself: Scent can be a source of major attraction, use it to your full advantage! Now is the time to layer on the fragrance. Use a body wash and follow up with a luxurious cream for a sinfully seductive scent-station.
The rest is up to you. He won't know what you did to get ready, but we want to know how your date turned out. Let us know if you tried any of these ideas and how your date went. Don't leave out the juicy details!