If you're debating whether to introduce oils into your regular skin care regimen, a million questions might arise: Will it irritate my skin? Can I use them if my skin is already oily? How do I know how to chose the right one?
These dilemmas are totally understandable – after all, we all want the best possible results for our skin with minimal chances of breakouts and other type of irritation.
You'll be pleased to hear that oils, both essential and carrier, can indeed help you make those first steps towards the skin of your dreams.
Essential Oils vs. Carrier Oils: What's the Difference?
To figure out how to use these agents in your skin care, the first thing you need to do is learn the oils ABCs.
And the most important is the distinction between essential oils and carrier oils.
Essential oils represent concentrated formulas that are derived directly from plants, their seeds, roots and fruits.
As such, they should be used with caution and sparingly. When applied the right way, they can be tremendously beneficial for your skin in a number of ways.
Some of the most widespread essential oils on the market include:
Lavender oil
Peppermint oil
Patchouli
Oregano oil
While some essential oils can be applied topically on the skin on their own (albeit in small doses), others require diluting so as not to aggravate the skin.
And this is where carrier oils step onto the scene. These milder oil iterations can be used to dial down the intensity of their essential counterparts and make them more skin care-friendly, while still preserving all of their nutrients.
Alternatively, carrier oils can be used on their own, and they are versatile enough you can implement them in just about every step of your skin care regimen.
Some of the more popular carrier oils used for cosmetic purposes include:
Coconut oil
Olive oil
Argan oil
Avocado oil
With the right kind of application, these can all be used to enhance the appearance of your complexion, whatever your current skin care woes might be.
Be Guided By Your Skin Type
If you're not sure where to start with oils in your skin care routine, determining your skin type can be a useful tool for navigating your way towards the ideal oil for your complexion.
When it comes to essential oils, it's important to choose the right one for your particular skin, so you can avoid irritation and other adverse reactions.
Here are a few pointers on which essential oils can benefit each skin type:
Dry and sensitive skin types might find sandalwood, lavender and Roman chamomile oils best suited for their complexion
Oily skin will benefit from eucalyptus, geranium and cypress oil
Sandalwood and rose oil may improve the look of mature skin
Normal to combination skin can try out lavender, rose and palmarosa oils
The same philosophy applies to carrier oils. Here is a quick guide on matching carrier oils to your particular skin type:
Dry, dehydrated types will benefit from wheatgerm, avocado and jojoba oils
Mature skin may find hemp seed oil, jojoba oil and sweet almond oils particularly beneficial
Oil skin types will find castor oil, neem oil and hemp seed oil helpful
Normal and combination skin can benefit from avocado, jojoba and olive oil
Finding the right kind of oil for your skin type may involve a little bit of trial and error.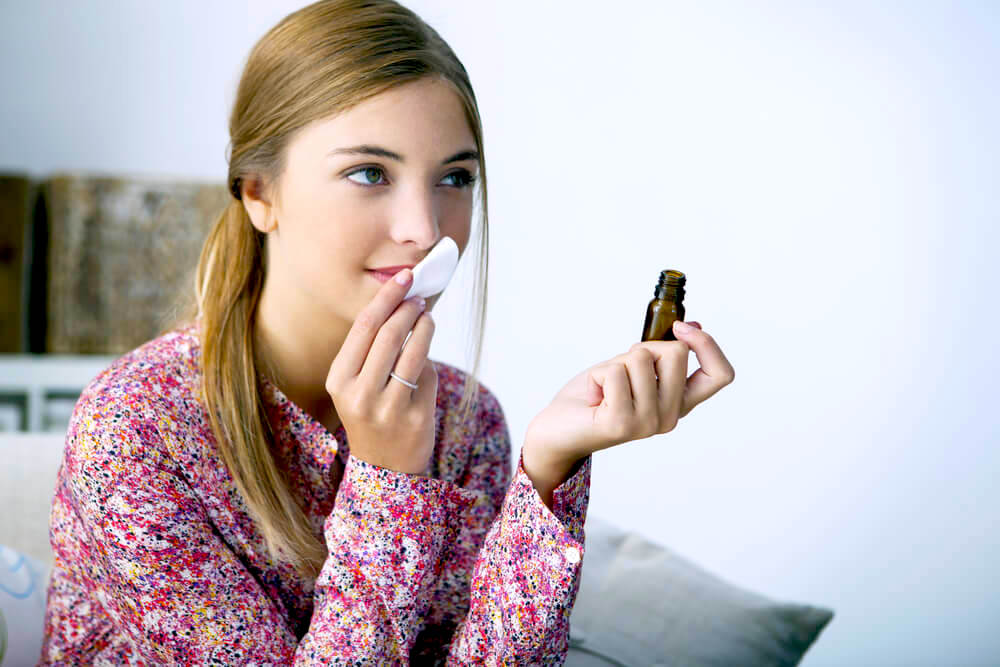 That's why it's best to patch test it on your skin, then increase to usage if you start to notice positive results.
Carrier Oils for Cleansing
If you're new to this whole oils-in-skin care trend, the easiest way you can introduce them into your beauty regimen is thorough cleansing.
In recent years, the popularity of oil cleansers has been on a steady rise and, once you consider the benefits of this skin-purifying method, this trend should come as no surprise.
First of all, due to its thick consistency, oils are a powerful agent for breaking down all the buildup that amasses on your face over the course of a single day.
This includes environmental pollutants, but also make up and skin care product residue.
Moreover, the texture of oils makes it extremely gentle on the skin. Unlike the case with some cleansers, using oil to remove your makeup will allow you to clean your face without needlessly pulling or tugging at the skin.
Finally, many oils that can be used for cleansing have an ability to penetrate deep into your pores, where they dislodge dirt, grime and excess sebum. In doing so, they minimize chances of developing acne and other kinds of unpleasant skin surprises.
Despite the age-old skin care myths, it is completely okay to use oil-based cleansers even if your skin is on the greasier side. Since oil-prone skin is still vulnerable to dehydration, a cleanser of this kind will help purify your complexion without striping your skin of its natural H2O.
If you're willing to dip into the world of cleansing oils, here are some of the well loved options you could go for:
Olive oil
Grapeseed oil
Castor oil
And if you're chasing that squeaky clean feeling of the skin, you can always follow up your oil with a more lightweight cleanser. The growingly popular double cleansing method, which originates from Asian beauty circles, will undoubtedly leave your skin smooth and free of any impurities.
Oils As Moisturizing Agents
Keeping your skin hydrated around the clock is of paramount importance if you are looking to rock healthy, radiant skin.
However, just water is not enough to make you successful in this task.
According to dermatologists, your cells need a combination of 70% water and 30% oil in hydration in order to be balanced.
The role of oils is crucial for achieving optimal moisturization, as they help keep the water locked in the cells, but also protect your complexion from environmental pollutant, by reinforcing the skin's natural barrier.
That's why it's important to regularly replenish your skin with oils, alongside water.
Some of the commonly recommended carrier oils for improving moisture levels in the skin include:
Moreover, these carrier oils can be even more powerful when infused with a couple of drops of moisture-charging essential oils.
Essential Oils Can be Used as Spot Treatments
Carrier oils have a broad set of benefits for the skin, while essential oil can be extremely useful for a more targeted application.
This is especially true in the case of acne-prone skin, where essential oils can be a powerful remedy for treating this condition.
They work by cleaning the affected area from dirt, dead skin and bacteria that is causing the skin to flare up.
Essential oils can also help calm aggravated skin, reducing redness and inflammation.
Finally, they can contribute to more accelerated skin healing, promoting cell regeneration and unveiling clean, healthy complexion.
These are some of the most well-known oil treatments for treating all kinds of skin imperfections:
Tea tree oil – one of the most famous remedies for battling acne prone skin due to it powerful antimicrobial and skin-soothing properties
Juniper berry oil – a powerful all-natural detoxifying agent that can help remove dirt and bacteria that causes acne and breakouts
Clary sage – helps calm down irritated skin, but also slows down the production of oils, reducing chances of breakouts
Lavender oil – sanitizes the skin, but also helps with healing, including fading of dark spots or scars caused by acne
You can use essential oils as spot treatments on their own, by applying them topically on the affected area.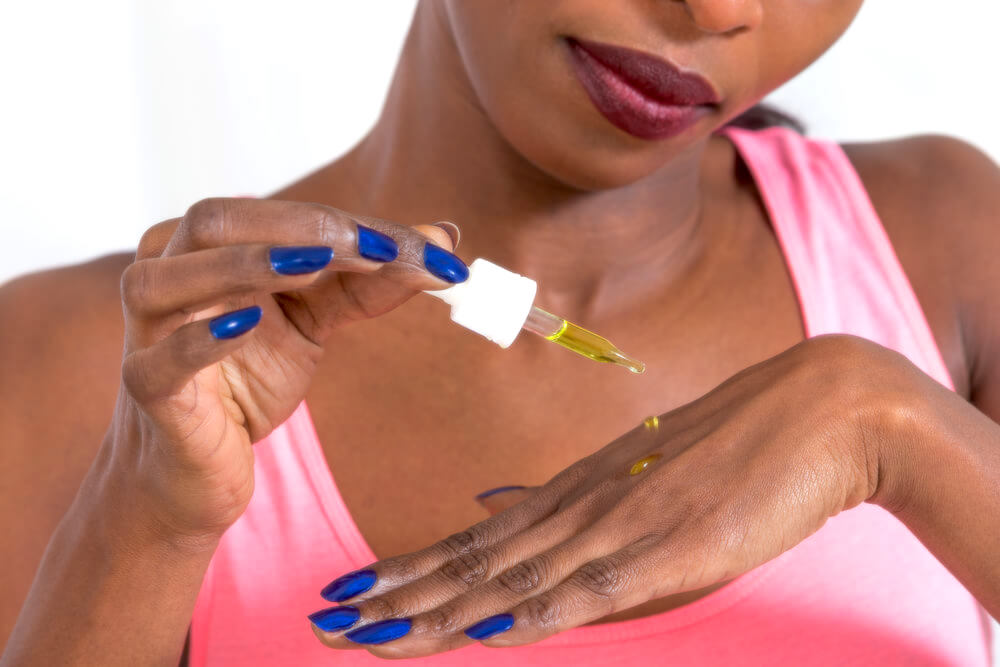 You can also mix them up with carrier oils for a more diluted formula, which you can apply in small amounts on affected areas or, alternatively, use as a facial cleanser to rid your skin of acne-causing impurities.
The Role of Oils in Anti-Aging Routines
As we grow older, the natural processes of renewal in our skin start to slow down.
For one, our skin becomes less efficient in retaining moisture, which can lead to increasing feeling of dryness and lack of shine to your complexion.
Moreover, there is a decreased production of collagen, a substance that's essential for keeping your skin firm and supple.
Before you start despairing, here is some good news: oils can help combat and slow down these aging processes.
Carrier oils and essential oils are chock-full of nutrients that can aid your skin in rejuvenation, but also help reinforce its natural barrier that will keep it protected from outside pollutants and preserve its youthful look.
And one of the best ways to use the anti-aging power of facial oils is through a massage, which will not only replenish your skin with all those age-reversing nutrients, it will also stimulate blood flow and help drain damaging toxins from your skin, contributing to a balanced and youthful complexion.
There are no limits as to which oil combination you can choose for your skin-pampering face massage.
Here are some of the most commonly used carrier oils that can serve as the base ingredient for your massage:
Jojoba oil – helps replenish skin with moisture, excellent for dry skin types
Avocado oil – skin-rejuvenating agent that is beneficial for oily skin types
Marula oil – great option for all skin types, as it's not too thick in consistency
Of course, you can always infuse your carrier oil with a couple of drops of essential oils for even more potent results.
Some of the most beneficial essential oils that can be introduced in your massage routine include:
Roman chamomile oil for sensitive and irritation-prone skin
Eucalyptus oil and tea tree oil for oily and acne-prone skin
Lavender oil for skin that tends to be dry and damaged
Sandalwood oil for skin that showing signs of aging
If you plan on mixing your oils, make sure not to put more than 3-4 drops of essential oil per 30 milliliters of your preferred carrier oil.
Once you've whipped up your ideal concoction, you can finally proceed to the best part – the massage!
First, make sure your face is thoroughly clean, after which you can pat it dry with a soft towel. No product should be used before you start applying your mixture.
Warm up the oil between your fingers, then begin rubbing into your skin using gentle circular motions. Start from the center of your face and work your way outwards, stimulating the blood flow and dislodging all the impurities as you go.
Take as little or as long as you'd like and, after you've finished with the massage, rinse the oil using lukewarm water, then proceed to the rest of your skin care.
Oils Combined with Other Products
Using facial oils on their own can sometimes be the best thing you can do for your skin, but the use of these skin care super-chargers can be even broader.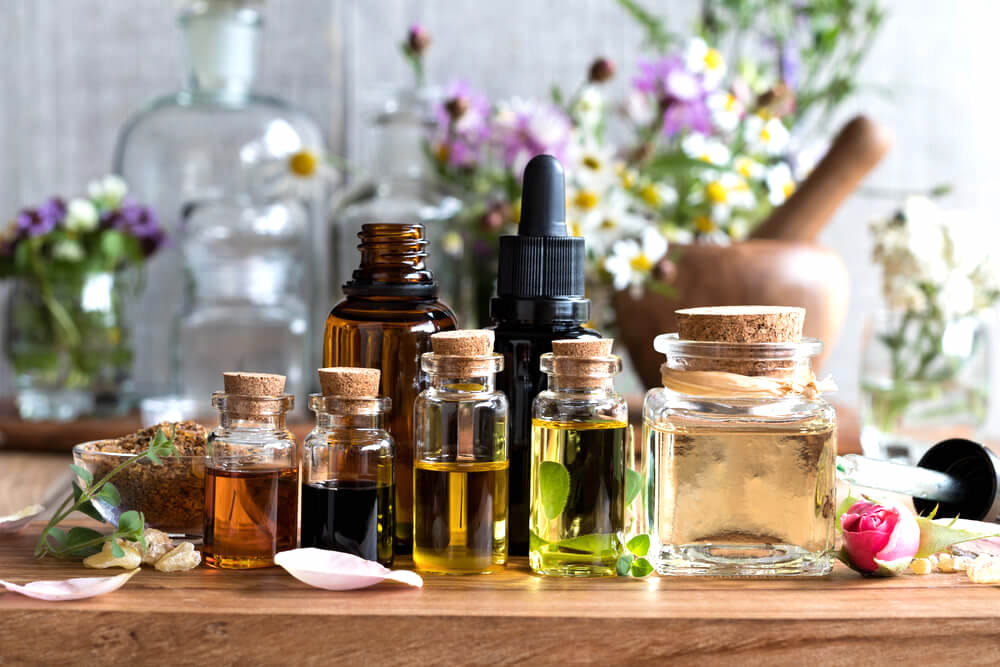 For one, they can instantly improve the products you're already using in your skin care and make them more beneficial for your complexion.
For example, if you feel like your moisturizer isn't supplying your cells with enough moisture, you can infuse it with a couple of drops of facial oil and you will immediately achieve a more heavy-duty formula that ideal for winter months.
Oils can also be used in your makeup. For example, if you feel like your foundation looks to cakey or dull, mix it with a couple of drop of your favorite facial oil and you will get a natural illuminating agent for your base.
You can also add it to your sunscreen to achieve smoother application and more radiant finish on the skin.
After reading this, perhaps you won't find cosmetic oils as puzzling as you did before. With the right kind of oil in your skin care routine, you will soon be able to sport a glowing, age-defying complexion.