If your feet are extremely tired because of wearing uncomfortable shoes or being on feet for a long time, you should look after your feet in order not to face any serious problem. Go for these great remedies for tired feet.
Soak your feet or opt for baths, do exercises and they will relax your tired feet. Find out the best solutions and you will face no problem with your feet.
Soaking the Tired Feet in Water
Here is one of the great remedies for tired feet. Just after taking off your shoes, soak your tired feet into water. Moreover, go for both cold and cool water. Pour cold water into one deep dish and cool water into another bowl. Consider that you should put your feet into lukewarm water. Change your feet from cold to cool water for several minutes. This temperature variation is great for blood circulation and it will make the pain less severe.
You may also put Epsom salts into water or go for essential oils. Your tired feet will be relaxed, if you opt for peppermint oil or pour eucalyptus oil. In case you suffer from tendonitis, ice may be the most effective remedy.
Consider that after soaking your tired feet into Epsom salts, you should apply moisturizing product in order to soften your dry skin.
Massaging Your Tired Feet
Massage is another great remedy for tired feet. Massage your feet with special oils in order to calm the pain. You may mix lavender oil (3 drops) and olive oil (2 tablespoons) and massage your feet with it. You may also opt for peppermint oil (3 drops) and combine it sesame oil (2 tablespoons).
In case you avoid using any oil while massaging your feet, go for a roller. The tennis ball may also help you greatly. 5-10 minutes of massaging will calm your tired feet.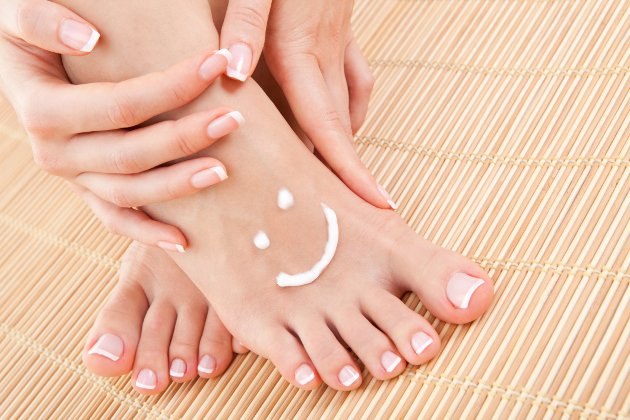 Massage Your Feet with Mint
This great remedy should also be considered, if your feet are tired. Just massage your tired feet with a mint lotion. You may also leave this lotion on your feet during the whole night for a better result. Just put on socks and sleep.
Bath Your Feet Using Milk and Honey
Bath your feet, going for the most effective ingredients. Dr. Oz recommends blending whole milk (1cup), juice of orange (1/2 cup), honey (5 tablespoons), baking soda (2 teaspoons), cinnamon (1 teaspoon), and vanilla extract (1teaspoon). Add warm water and bath your tired feet for 15 minutes. This great remedy will show its result.
Go for Exercises
Exercising the tired feet is another great remedy you may go for. Collect the pencils from the floor, using your feet toes. This exercise will stretch your feet and calm them. You may also divide your toes, using your fingers.
Raise Your Feet
If you are exhausted and can't go any of the mentioned above remedies, just raise your feet with several pillows. Keep your feet in this pose for 15 minutes and you will feel relaxed.
Thus, don't suffer from foot pain, try any of these great remedies for tired feet without forgetting about the comfortable shoes.
See also: Ways To Remove Skin Redness
How To Get Rid Of Sweaty Hands Problem
How To Make Your Skin Look Better In 7 Days