Curling your hair is a great way to add volume to your locks. I love the overall change of look that curled hair brings! There are big curls, beach waves, and many different kinds of curled hair variations that look good depending on how you style them. Here are some great ideas on how to easily curl your hair if you want a new look:
Heat stylers – Heat stylers are probably the fastest way I know to curl my hair. I've used curling wands and even flat irons for hair curling purposes! Curling wands are very easy to use: just wrap a thin section of your hair onto the barrel, hold for a few seconds, and release. For the flat iron method, you're going to have to practice on this one a bit because it needs twisting and pulling. Start mid-length without letting go of the ends of your hair, twist the flat iron until you have hair wrapped around it. Hold for a few seconds and pull downwards while releasing slowly.
Several hair ties – While your hair is still a bit wet but not towel-dried damp kind of wet, take several hair ties and use them to secure sections of hair which you have twisted tightly until you reach the crown of your head. You'll have several bun-like sections of twisted hair. Wait until you feel your hair has dried in this position. About 30 minutes would be enough. Style it with some hair mousse and you're good to go!
Bobby pins and a blower – If you have patience arranging your hair in spirals on top of your head, you can use bobby pins to secure all the sections you want to curl and use a blow dryer after. This would usually result in soft curls, but you can make them curlier depending on how small your spirals are.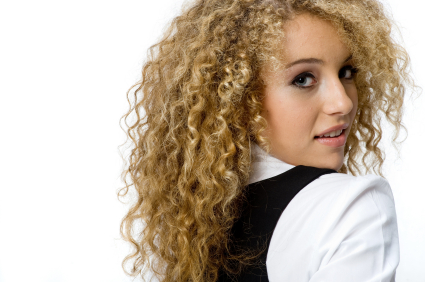 Try not to run your fingers through your hair since this may ruin the form of your curls. You can spritz some hairspray to set your hair and keep the curls in good condition for much longer! With these simple hair styling tools, you can come up with curly, fuller hair.