To make your curls and waves straight, you may go for a special procedure, called chemical hair straightening. Using this method, you will be able to enjoy your straight tresses for a certain period. Chemical Hair Straightening is a safe process.
Before opting for this hair straightening method, find all the necessary information and then decide whether you are pro or con.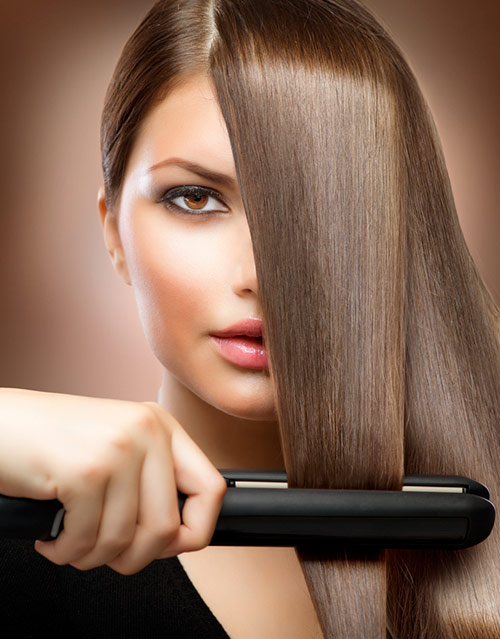 This procedure is a chemical treatment, performed on your tresses. It dissolves the bonds that help your tresses to keep its form. After applying the chemical, heat is used for oxidization. This will help your hair remain straight long.
The experts claim that the chemical hair straightening is not dangerous for any type of hair. However, if you notice that your tresses are spoiled after this process, you had better stay away from it.
Chemical Hair Straightening Types
It's very essential to know about all the chemical hair straightening types.
Thermal reconditioning is great for loose curls. Besides, this treatment will take you much money, for about $1.500. Relaxing is another way of treatment, which is recommendable for kinky type of curls. Moreover, it won't take you much money, approximately $250. You should also consider keratin treatment. Opting for this method, you will have straight hair for several months. For this treatment, you will have to pay for $300-600.
Consider Several Essential Tips
If you have already decided to straighten your tresses with chemical treatments, you should consider several essential tips in order not to cause damage to your hair.
Ask a professional for help. You may exposed to danger while using chemicals. If you make any mistake while preparing the mixture, you will have not only a bedhead look but also spoiled tresses, which cannot be repaired any more. Professionals will do it in a right way, without causing any harm to your hair.
Take care of your straightened tresses, going for a deep conditioning. The chemicals leave your hair without any moisture, so you should apply moisturizing products. Purchase those products, which are packed with coconut oil and argan oil. Avocado oil will also nourish your tresses.
Going for right maintenance is also important, as the health of your hair depends on it. Skip using products, which are high in chemicals.
If you made up your mind to opt for chemical hair straightening, you should pay much attention to its pros and cons.
See also: How To Give Texture To The Hair Without Drying It Out
Common Hair Problems Every Girl Has
How To Make Your Hair Color Last Longer