Review by Alina Jumabhoy
While I would never say no to trying out a new skin care product, I also have some long-standing favorites that I would likely never replace. Once I find a product that seems to really help my skin, I tend to stay loyal. After all, why mess with what works? 
My skin is sometimes dry…sometimes sensitive…and sometimes I get the odd breakout too. Fine lines are also starting to creep up, especially around my eyes and mouth. With such a varied range of skin concerns to target, I used to always pick 'n' mix my skin care products from several different brands. Although fun at first, this quickly became tedious. 
Fortunately, everything changed for the better once I found Lavelier…
Who is Lavelier? 
I first discovered Lavelier a couple of years ago, stumbling upon their Lexington Avenue store while shopping my way around Manhattan's East Side. The overall aesthetic of their store really appealed to me, so I ventured in to see what they were about. 
Lavelier is a luxury skin care brand that strives to harness the power and potential of one very special ingredient – red coral seaweed, otherwise known as corallina officinalis. Each of their products, in each of their collections, contains this star botanical, with the other ingredients used in each formula carefully selected to support and enhance the effects of red coral seaweed. 
What's So Great About Red Coral Seaweed? 
So, why has Lavelier chosen red coral seaweed as their main ingredient? Especially when there are so many other beneficial botanicals around…
Well, plants that grow on land use their roots to draw in nutrients. However, seaweed doesn't have roots, meaning that the plant directly takes in nutrients from the ocean, making seaweed much more potent than plants grown on land. In fact, it is understood that sea plants are eight times more potent than plants that have been grown on land. 
One of the ways in which seaweed is more potent is when it comes to skin care is in terms of hydration.When applied to the skin, seaweed instantly hydrates and conditions, giving you skin that is immediately smoother and softer to the touch. 
Seaweed is also packed full of powerful antioxidants. These are key when it comes to protecting the skin from aging, since antioxidants are pretty much the only thing that will fight the free radicals damaging your skin cells. In addition to antioxidants, seaweed contains several other vitamins, minerals and skin-boosting compounds too, such as: 
Vitamins A, B, C and E 
Amino acids, which your skin uses to make proteins
Proteins, which your skin can directly use to produce collagen and elastin 
Essential fatty acids that strengthen your skin's protective barrier 
Zinc and magnesium, both of which can help to heal everything from acne to eczema 
The red coral seaweed that Lavelier uses in their skin care products is hydrolyzed, meaning that its bonds have been broken down in order to enhance the rate at which the skin absorbs the ingredients.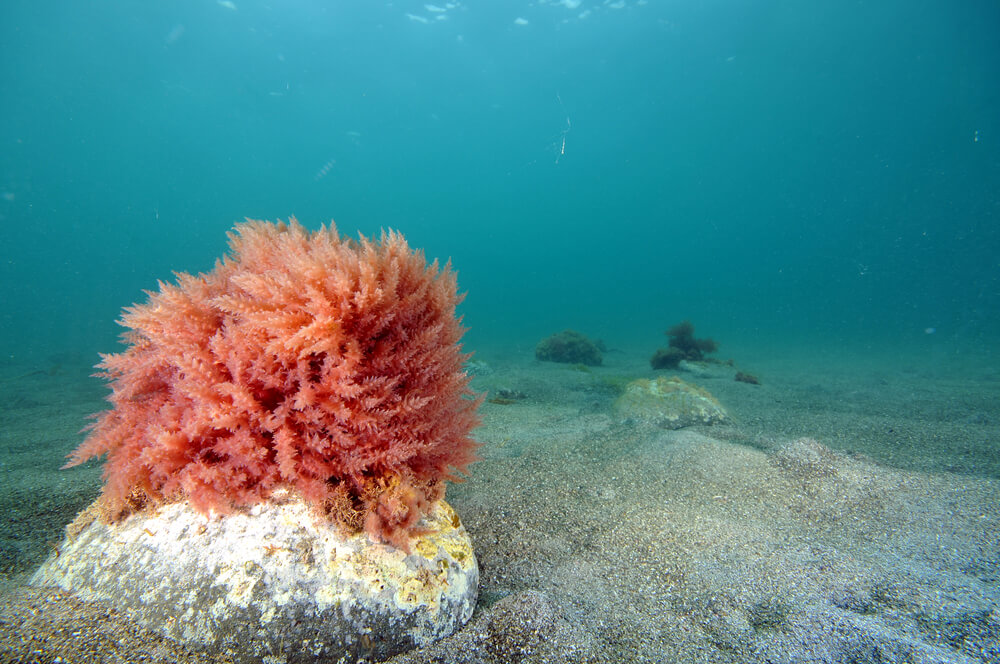 My Lavelier Journey
In addition to learning more about the brand when I first stopped by at Lavelier's Lexington Avenue store, I was also offered a couple of free product demonstrations – something I would never refuse! 
I tried a serum and a moisturizer from the brand's HydroTherm Collection, and was absolutely blown away by how the products felt on my skin. Unfortunately, the products were slightly out of my price range, and so I had to turn away. 
Fast forward to one year later…
A new job, complete with a raise, and an increased skin care obsession sent me back in search of Lavelier. Luckily, I didn't have to travel very far, as the brand has locations all over the USA, along with a few other countries, including: 
(Don't worry if you live anywhere else in the world – the brand ships internationally for a flat rate when you order through their website.)
I made my way to their Miami Beach store, and the rest is history. I have been using Lavelier products on my skin for just over a year now (not exclusively – other brands do sometimes tend to make an appearance in my skin care routine, but they never stick around), and I genuinely couldn't be happier with the results.
What Makes Lavelier So Special? 
Everyone has their own reasons as to why they love different brands. For some, it may be their values, for others, it may be a particular aesthetic. For me, the reason I love Lavelier is simple – their products are truly amazing. 
I am someone who always scrutinizes the ingredient list of a skin care product before making a purchase, and I did the same with Lavelier's products. This is an area where many brands fail, but Lavelier's thoughtful, yet forward-thinking, curation of ingredients is what helps to really set the brand apart from their competition. (I do also admire and appreciate their values – more on that later!) 
There are several different stand-out ingredients utilized throughout Lavelier's various collections, but here are some of my favorites: 
Algae Extract – just like red coral seaweed, algae extract comes from the sea, and is revered for its hydrating, softening and detoxifying effects. Again, just like seaweed, algae extract is jam-packed with antioxidants, peptides, vitamins and minerals, boosting overall skin health in numerous ways 
Acetyl Hexapeptide-8 – this is a synthetic peptide that has actually been created from one of the very same proteins used in Botox, giving this ingredient a similar, but milder, effect. It instantly smooths away expression lines and wrinkles by relaxing the facial muscles, and also boasts water-binding properties to help keep the skin better hydrated
Sodium Hyaluronate – this powerful humectant is a form of hyaluronic acid, with the main difference being that it features a much smaller molecular size. This enables it to delve deeper into the skin, where it then has an immediate hydrating and plumping effect on skin cells, giving you a brighter and smoother appearance 
Cactus Flower Extract – this unusual botanical is now trending in the cosmetics world, although Lavelier has already been utilizing it for a while now. Cactus flower extract is a powerful anti-inflammatory, while also boasting high levels of antioxidants and fantastic moisture-retention properties 
Retinyl Palmitate – this form of vitamin A is a powerhouse when it comes to skin care. It does so much, from speeding up cell turnover to give you a brighter and more even skin tone, to reducing the appearance of fine lines and wrinkles, to treating acne 
Comfrey Extract – this botanical is an amazing natural source of allantoin, a compound that boosts skin cell production while also reducing inflammation (Lavelier does also use allantoin itself in some of their products)
Burdock Root Extract – with strong anti-inflammatory and antibacterial properties, this botanical has long since been used to treat a variety of different skin conditions, including eczema, psoriasis and acne 
With ingredients that hydrate, brighten, tighten, and soften, while also treating various skin conditions, it's not really much of a surprise that Lavelier is able to provide my skin with just about all it will ever need! 
Lavelier's Brand Values
You don't have to be a diehard animal rights activist to understand just how unnecessary animal testing is when it comes to cosmetics. With so many technological advancements, brands now have several other options – causing pain and detriment to innocent creatures is something that simply isn't needed. 
The cruelty-free movement is infiltrating markets all over the world, with the European Union, India and Israel banning the sale of any cosmetic products, or even cosmetic ingredients, that have been tested on animals. 
This is something that matters quite a bit to me, which is why the first question I asked at my very first visit to a Lavelier store was…
Does Lavelier test any of their products or ingredients on animals? 
Big sigh of relief…the answer was no, most definitely not. The Lavelier brand is completely cruelty-free, and 100% proud of it. 
Now, remember earlier when I mentioned how I scrutinize the ingredient list of a product before making a purchase? 
One of the things I always look out for are ingredients that end with the word paraben. For example: 
Methylparaben 
Propylparaben 
Isopropylparaben 
Butylparaben 
Sodium butylparaben 
Wondering what these paraben ingredients actually are? 
Parabens are synthetic preservatives that are commonly used in health and beauty products. From shampoos and conditioners to skin creams and makeup products, parabens work by preventing the growth of bacteria and other harmful microbes. 
However, parabens don't come without harm themselves…
When parabens enter into the body (and they regularly do – they are absorbed into the bloodstream at an alarming rate), they mimic the estrogen hormone. This then causes significant disruptions to hormone function, resulting in parabens being linked to reproductive problems and breast cancer. In fact, when researchers studied breast cancer tumor tissue samples from 20 different women, traces of five different parabens were found in 19 of them. 
Although parabens have been linked to breast cancer in numerous studies, there is still no conclusive evidence to prove that parabens themselves are causing these tumors, meaning that the FDA has not banned the use of parabens in products sold in the USA (the European Union did this way back in 2012). 
So, with parabens being an easy way to prolong the shelf life of a product, many companies are continuing to ignore their health risks and are still using parabens in their formulas. 
Fortunately, Lavelier is different… 
All Lavelier products are paraben-free. The brand tries to use natural preservatives whenever possible, and, when synthetic alternatives do need to be used, they make sure that their choices are not detrimental to the skin in any way. 
My Lavelier Skin Care Routine
I now have a couple of shelves in my cosmetics cupboard jam-packed with Lavelier products, from various different collections. I use some of them interchangeably, but my go-to Lavelier skin care routine is as follows: 
Wondering how long it took before I began to see results after first using Lavelier's products? 
To be completely honest, it varied quite a bit. 
Some products had an immediate effect, such as the HydroTherm Age Defying Syringe, although I only use this one before a special occasion. 
Others, such as the serums and moisturizers, took about six to eight weeks to really make a noticeable difference, but this is to be expected. It usually takes the skin just under two months to build new collagen and elastin fibers, with these being the proteins that keep it looking firm, smooth and tight. Many of the ingredients that Lavelier uses in their products are designed to stimulate collagen and elastin production from within, so although you need to wait a little longer to see the results, the improvements will stick around for the long term. 
Lavelier is a brand focused on innovation, and so I truly cannot wait to see the future products that they end up creating. The way in which their products have managed to take care of all of my skin's needs has made me a devoted customer, and I can easily see myself using Lavelier products as I continue on through life. 
Well, all of this talk of Lavelier has strangely given me face mask cravings, so I'm now off to treat my skin to its monthly dose of the incredibly indulgent Coral Luminous Masque – another product I would highly recommend for people seeking an instant glow!