There is no greater ode to self-care than taking the time to sit down in front of a mirror and put on your face step-by-step, from primer to setting spray.
But if you're prone to early starts and a chaotic schedule, you probably don't have the luxury to dive into an elaborate makeup routine every morning.
So, how do you find the balance and manage to look fresh and glowing without sacrificing precious sleep?
With a dash of know-how and a little bit of multitasking, you will manage to look fabulous and no one will be able to guess you pulled this look in between brewing your coffee and rushing to scramble an outfit.
Supercharge Your Skin Care the Night Before
Let's face the truth: no amount of makeup can be a substitute for clear, healthy skin.
So, if you want to look your best in the AM, you might want to start laying the foundations for the fresh look the night before.
If you treat your face with quality skin care in the evening, not you will look more radiant when you wake up, you will also save time on trying to cover up sullenness, blemishes and other imperfections that occur when we neglect to take care of our skin.
First off, make sure to remove all of your makeup – thoroughly. Cleansing oils can do wonders for melting even the most stubborn pigments; however, if you prefer a milder formula, you can also invest in a bottle of micellar water.
Dirt and makeup-free skin will give you a clean canvas and reduce the chances of waking up with a terrible breakout.
Next, restore your pH levels with a balancing toner. This will help even out your skin tone and minimize dullness.
Follow up your toner with a serum, a formula that will enrich your skin with all those cell-boosting, repairing nutrients.
Finally, lock in the moisture with a quality sleeping pack. If you still haven't caught up with the hype, sleeping packs or masks are an amped up version of your classic hydrating cream. They are a powerful tool for replenishing your skin with moisture while you're catching up on your zzz's.
De-puff Your Skin
One of the biggest symptoms of sleep deprivation is that unfortunate puffiness that occurs in the early morning hours.
Luckily, there are several ways you can alleviate the problem of bloated face and tired eyes in a matter of minutes.
First up, arm your self with two spoons placed safely in the fridge the night before. Once you're awake, press them gently against your eyelids and under-eye area to cool down the skin and eradicate puffiness.
Alternatively, you can prepare ice cubes infused with slices of cucumber or mint leaves. This way, you will double-up on the soothing effect and give yourself a relaxing massage in the process.
In the morning, simply wrap an ice cube in a piece of clean cloth and rub any areas that feel bloated or puffy.
For a less DIY option, invest in a couple of cooling under-eye masks. To save time, you can slap these on and let them work their magic.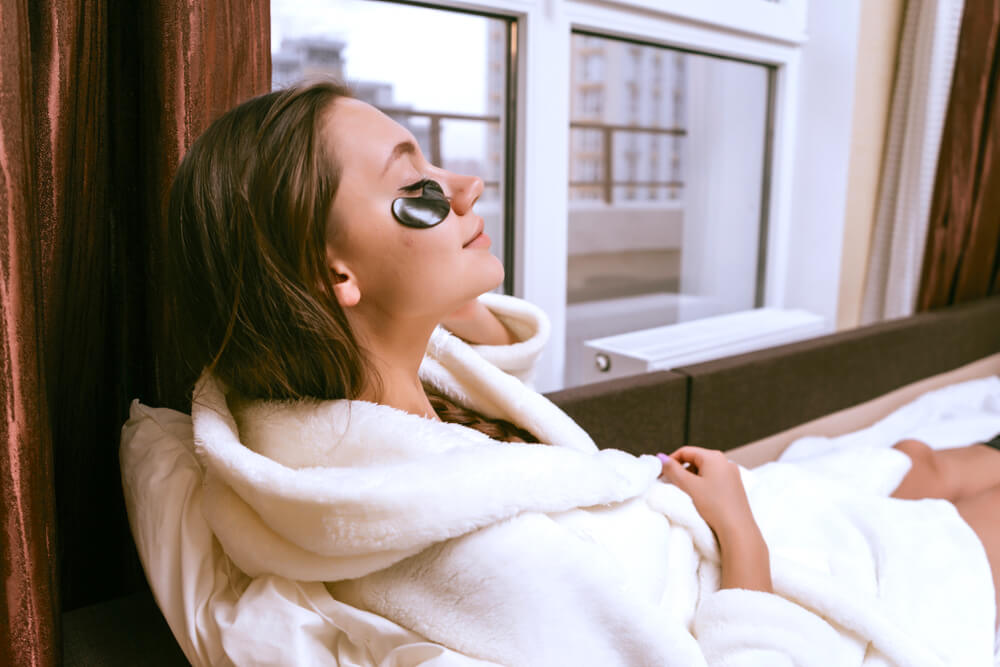 Not only will your under eye area feel refreshed, you will also prevent any potential fallout from the eyeshadow.
Prep and Prime
If you have a long day ahead of you, you might want to prime your skin to ensure the longevity of the makeup you're wearing.
Primers are a quick and easy way to enhance your skin and give yourself a good base for the makeup you're about to layer.
Your go-to primer may vary depending on your skin type and the goal you're trying to achieve with your look.
Here are some basic pointers to help you choose the perfect product for your morning routine.
Mattifying primer is beneficial for people with oily skin and visible pores. It blurs out any imperfections on your skin and prevents it from looking greasy as the day progresses.
Strobing primers are a great solution for achieving radiant skin. Apply them on the highs of your face and you will get that coveted glow, which is especially useful on days when you feel tired and drained.
Hydrating primers are ideal for people who suffer from dry, patchy skin. They will help prevent the cakey foundation build-up.
Color-correcting primers address and diminish various skin issues, such as redness, irritation or visible eye bags.
Once you found a primer that is designed to counteract your skin concerns, you will soon notice how your overall makeup looks better and stays put for longer periods of time.
Skip the Foundation
When you're in a pinch, taking the time to properly apply foundation might be a challenge.
And if you do it in a rush, you might end up with uneven application, the dreaded cakey finish or the ultimate foundation nightmare – unblended jawline.
This is why you might want to go for the radical option – foregoing foundation altogether.
And if the mere thought of this fills you with anxiety, hear us out: unless your work involves being under stage lights or in front of cameras, you probably don't need a full coverage product anyway.
And any imperfections you might have can be strategically corrected with a bit of concealer.
You can do this with the pinpoint method or by mixing your concealer with a touch of moisturizer to cover up any larger areas.
However, if you still can't imagine leaving the house without a base layer, you might want to opt for a tinted moisturizer or BB cream.
Because of their lightweight texture, these products are much more forgiving when it comes to application, and they will give your skin a flattering, natural finish.
Go for Multipurpose Products
When time is of crucial importance, no one wants to rummage through a pile of cosmetic products.
That's why it is incredibly time-saving to introduce those super-convenient and versatile makeup products in your morning routine.
Here are some of the most useful double duty products you can incorporate in your regimen to get ready faster:
Concealer can be used to cover the blemishes, under eye circles, but also serve as highlighter or eye shadow primer;
Liquid blush can double up as lip tint or even eye shadow;
Bronzer can also be used for defining the crease or contouring your nose area;
Lipsticks and lip tints can also be applied on the cheeks to give you a flush of color.
Not only will these handy 2-in-1s allow you to have a couple of extra minutes of precious sleep, they will also make your overall makeup look more cohesive and put-together.
Makeup Sponge is Your Friend
And just like messing around with twenty different makeup products can be a hassle, the same goes for beauty tools.
Thanks to glossy magazines and beauty gurus, a lot of us have come to believe that you're not doing makeup right if you don't have a whole artillery of makeup brushes for just about every purpose.
However, who has time to pick apart between a bazillion of different iterations of makeup brushes when you're supposed to rush out of the door in minutes?
Luckily, the beauty industry has come up with an array of multipurpose makeup sponges in various shapes, sizes and densities, which can help you cut the makeup application time in half.
For a quick and easy makeup applying process, simply dampen your sponge with water and use it to layer and blend your BBs, foundations, concealers and blushes.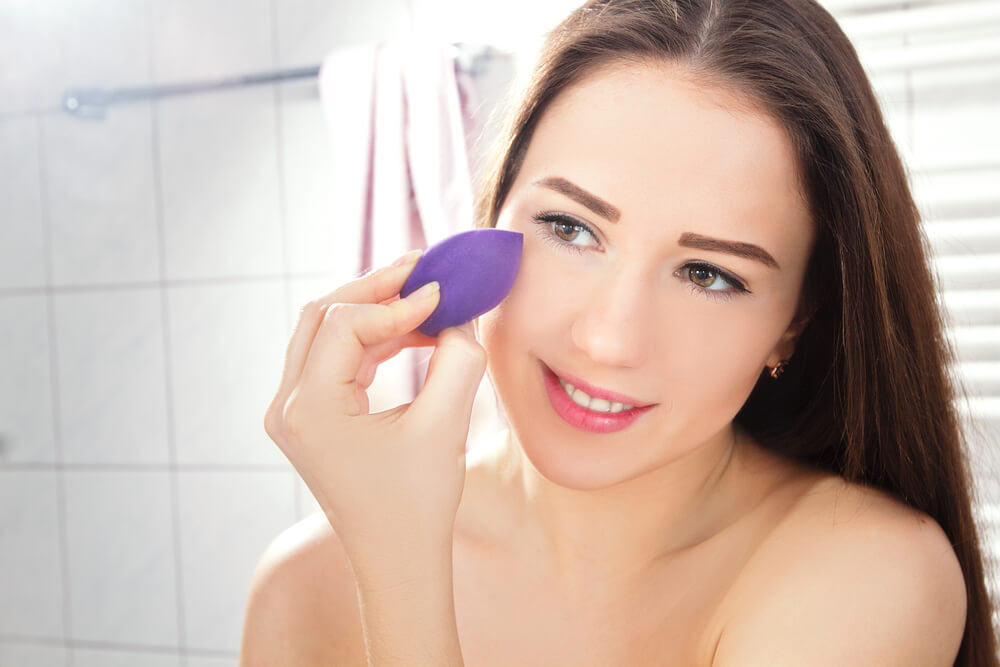 Sponges work best with liquid products, but can be used for powders as well.
Master the Natural Eye Look
As much as we love the razor-sharp cat flicks and cut creases, most people have neither time nor patience to create a full glam eye as soon as they step out of their beds.
Plus, on those mornings when you feel like you didn't get enough sleep, it might be more flattering to give yourself a perked up, more awake look, rather than going for sultry, smoked out eyes.
Luckily, this can be achieved with a few simple makeup tricks.
First, apply a wash of eyeshadow across the entire eyelid in a shade slightly brighter than your skin tone.
For extra definition, take a warm blending shade and apply it with a light hand, only on the corners of your crease.
Add a touch of highlight in the inner corner of your eyes.
Line the waterline with nude eye pencil – this will make your eyes look bigger and more alert.
Give your lashes a good curl and, instead of going for heavy, black mascara, apply a coat of brown mascara just on the top set of your lashes. This will give you a more natural look and won't look as messy in case it smudges.
Brush out the brows and lightly fill them in if you happen to have any gaps.
And there you have it – the eyes au naturel look is complete!
Nudes over Colors
If you're someone who considers a bold, red lip to be an everyday staple, then more power to you!
However, for most people, rocking a highly pigmented lip early in the morning is not only time-consuming, it can also end up looking like a mess.
So, what is the trick to having luscious lips when on the go?
The answer is simple: hydrating lip products in nude shades.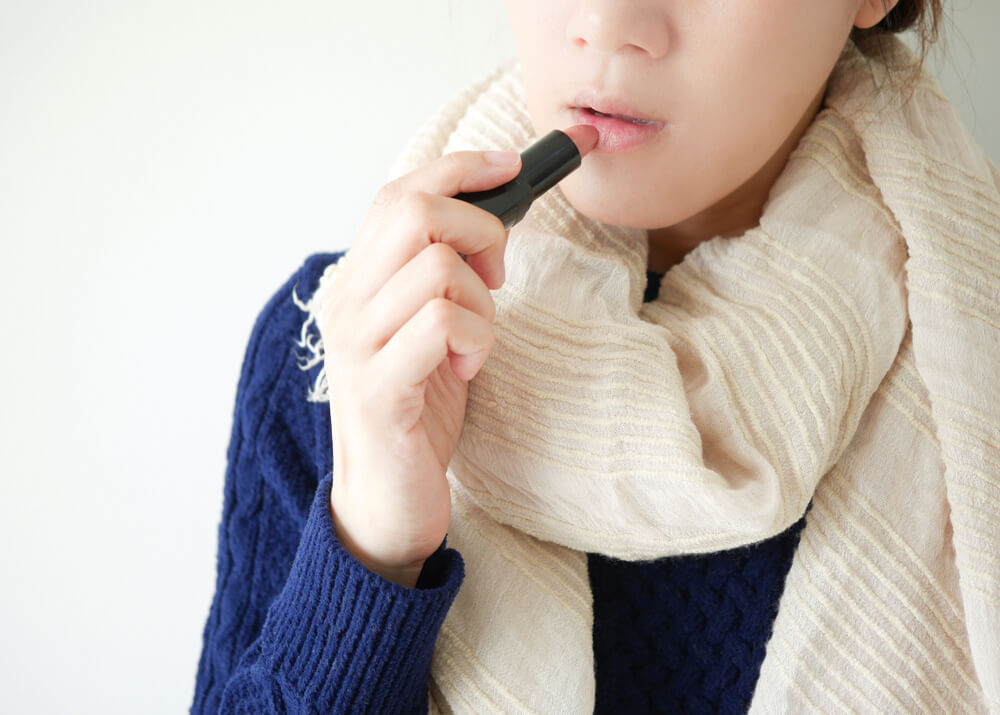 When done right, nudes can be extremely flattering on any skin tone, and even better, they tend to be very forgiving when it comes to application.
Lightweight, moisture-packed textures (like tints, oils and balms) will prevent your lips from cracking or looking too dry.
However, the biggest challenge is finding a shade of nude that is the perfect match for your lips. 
Make the wrong call and your entire face might look slightly washed out at best, and full-on zombie at worst.
Even though finding the perfect nude usually requires a bit of trial and error, there are a couple of guidelines that should help you narrow down the selection.
For example:
Light, porcelain skin tones should go for pale, dusty pink;
Tan and medium complexions will look the best in cream-toned, shimmery nudes;
People with olive skin look amazing in lipsticks with tinges or salmon or peach;
Deep skin tones will look best in taupe-browns, chestnuts and mauves.
Alternatively, you can apply a lip liner and top it up with balm. This will give your lips a natural, yet defined appearance.
Lock Everything in Place
Managed to nail the subtle, natural look? Good for you!
Now all you need to do is ensure it won't wear off during the day.
And the best product for setting in all your hard work is a translucent powder. 
This benefit of this finely milled product is that sets the makeup in place without weighing down your skin and giving you that overly-mattified look.
Still, if you want to give off a natural, dewy vibe, powders should be used strategically.
For example, you should only dust a small amount on your under eye area to set the concealer and apply a couple of swipes across the T-zone (chin, nose and center of the forehead, where most people then to get oily throughout the day).
Ta-dah! Your super-fast AM look is ready to face the world. We are positive you will master it in no time and look fresh and vibrant wherever the day takes you.