Resveralife is a whole-life brand that focuses on a healthy lifestyle "inspired by all five senses – sight, touch, smell, taste and sound". They offer skin and body care products, aromatherapy, herbal teas, yoga supplies, and tea accessories.
Their premier featured ingredient is resveratrol, a polyphenol produced in vegetation when it is under duress. This compound is primarily found in red grapes as well as red wine, and is known for its antioxidant properties both for overall health and in skin care uses. Not only does it act as an antioxidant, but it also has anti-inflammatory properties as well.
Their website also features an active blog series, divided into "Look Well", "Live Well', and "Eat Well", as part of their holistic approach to self-care. It includes great articles about skin care, healthy lifestyle tips, and even nutritional advice.

The Product Description
This stimulating body exfoliant is formulated with a precise blend of bamboo extract powder and organic argan oil to help exfoliate and renew while botanical oils purify and calm skin.
The Instructions
Apply a handful onto wet skin. Massage gently. Rinse thoroughly. Follow with the Botanical Body Butter.
My Experience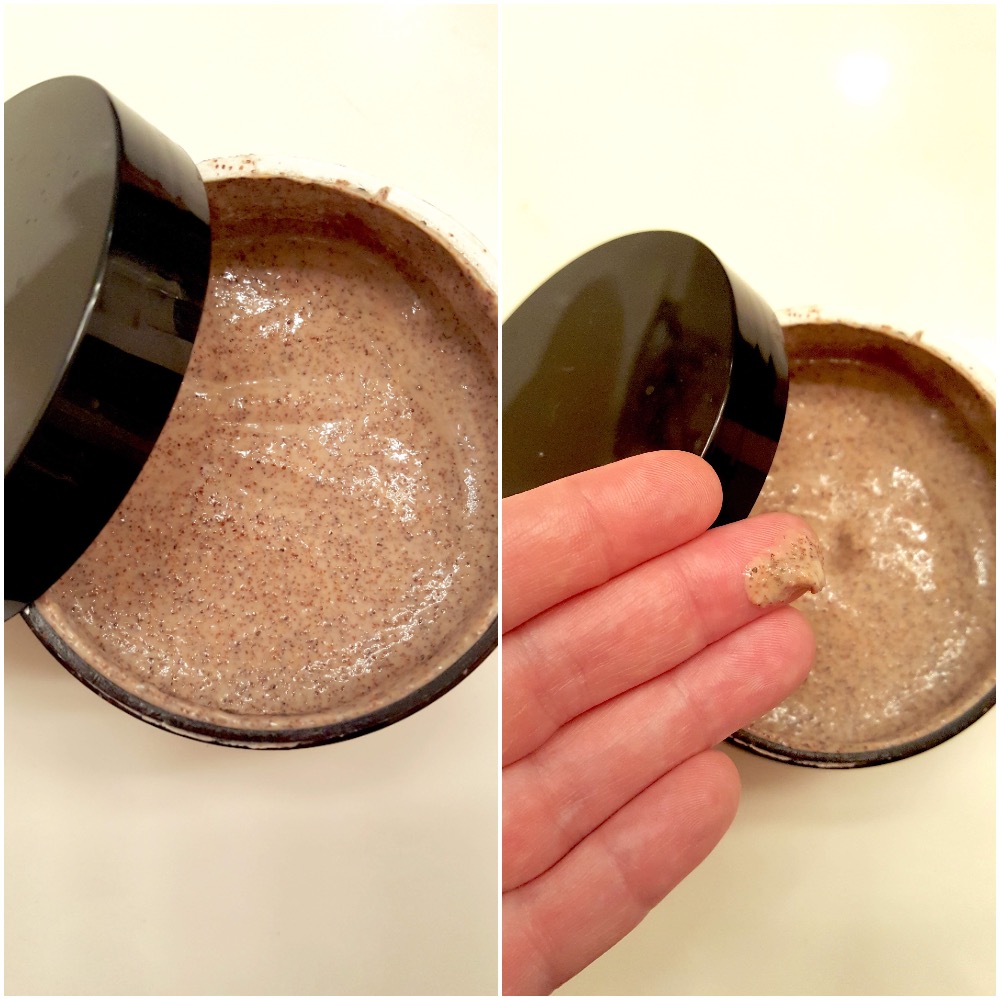 First of all, the

scent was amazing as soon as I opened the jar. It is fresh and herbal and a little fruity, with a slight hint of vanilla. I know that fragrance does not matter as much when you are going to rinse the product off, however I still like a nicely scented product when I am using it.  It did have an overall botanical fragrance instead of that artificial smell which a lot of "botanical" products have.

The

texture is quite pleasant as well, almost like a lightweight grainy lotion. I will admit that I am rather picky when it comes to my body scrubs. I prefer them to be dense when it comes to the ratio of exfoliation particles but non-greasy so that they rinse cleanly and easily. I am not normally a fan of the salt plus oil varieties since they usually do not scrub very well and tend to leave a film. This one had the perfect blend of carrier product with exfoliation particles.

The

exfoliation was almost spot on for my preferences. I was able to use it everywhere from the neck down (some can be too harsh for the décolleté area) and did not leave my skin red or irritated at all, just smooth and soft. I used it before shaving my legs, and was able to get an amazingly close shave.  It was effective enough for my elbows and knees, but gentle enough to use all over.
My general opinion is that this product is pretty great!  The light fragrance was pleasant, the texture was creamy yet exfoliating, and the level exfoliation was gentle but effective.  I also think that price was pretty reasonable – the jar is almost 9 ounces and is only $25 on their website.

The Product Description
This rich body butter represents the ultimate in hydrating luxury and feels like pure silk on the skin. Shea butter, marigold flower extract and sunflower seed oil help moisturize and hydrate the skin, while organic chamomile and aloe vera help to soothe.
The Instructions
Massage onto cleansed skin using circular motions.
My Experience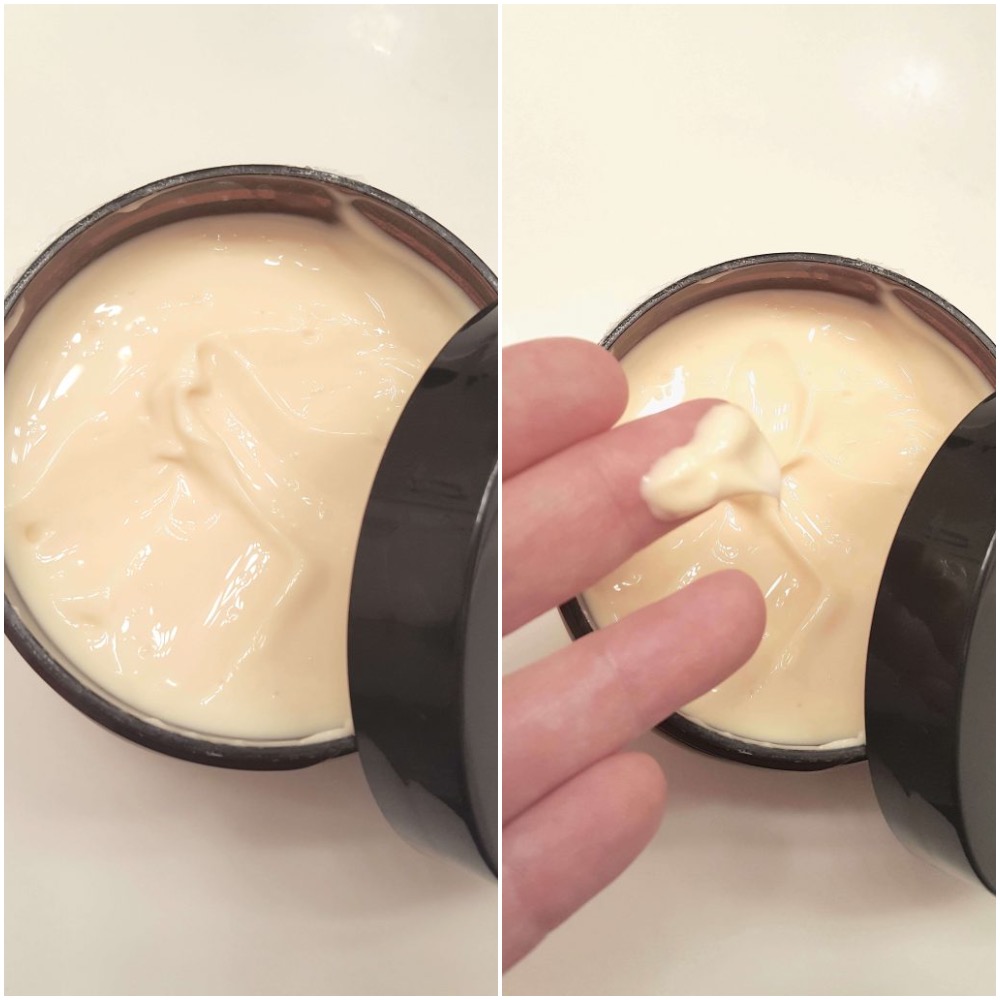 The

scent is divine actually! It is pretty much exactly how I would want a botanical body butter to smell, light and a little fruity with a subtle hint of vanilla. It pairs beautifully with their body scrub, but the scent lingers a little more. I did not find it overwhelming throughout the day; sometimes heavily fragranced products can become cloying or sickening after smelling them all day long.  I do not think the subtle scent would interfere with most perfumes, if you wear them.

The

texture seems to be slightly whipped and light, and it absorbed into my skin very quickly. I tend to moisturize my whole body daily and this product did not delay my getting dressed as some sticky creams can.  It was much lighter than most products named 'butter' but that did not affect how my skin felt.

The

moisturization was amazing.  Even from just using it a few times, I can tell that this would keep away that tight and uncomfortable feeling, like my skin is a few sizes too small.  On the first day I used this, I could not stop touching my arms – they were so soft and smooth and comfortable which does not always happen for my poor skin.
My general opinion about this body butter is that it's fantastic! One quick side note, the first day I tried it, the weather outside was very humid so my skin was a little sticky but that didn't last long. I used this in combination with their Botanical Body Exfoliant and would highly recommend the pair together! The price of the butter is pretty reasonable, the jar is a generous 8.82 ounces and only $25. And a little goes a long way!
I was able to test both of these products together, and they made a wonderful pair! Suffice it to say, my skin was baby soft all day long after using this delicious pair! Based on my experience with this brand so far, I am pretty impressed. In addition to the body products, they do have a few facial products. I can only imagine how my face would feel based on the way my legs feel!
Body Care Tips
I would also like to add a few quick notes about the importance of taking care of your skin from the neck down. It can be a neglected part of the routine, and doesn't need to be. Here are ten golden rules of taking care of your body's skin:
Gentle is the name of the game. Using a gentle soap or body wash so that you don't strip your skin of the natural oils. If your soap is too harsh, you can strip your skin and leave it more dehydrated than before.
Likewise, a warm shower is better than a hot bath. Soaking in very hot water can strip your skin and leave it even more dehydrated. And staying in the water too long can also damage your skin, so only stay in as long as you need to.
Exfoliation is the process of removing the dry and dead skin cells that can build up on our skin. Not only does it help even out the skin tone, but it also increases blood circulation, boost your skin's glow, and preparing the skin for your moisturizer. Try exfoliating just before you shave. When you remove the flaky dry skin cells, you will be amazed at how close your shave will be!
After rinsing away all traces of your exfoliant and soap, dry your skin gently. Don't rub your skin vigorously to dry off but instead, gently pat the moisture off your skin. You want to leave it slightly damp for when you apply your moisturizer. If you have extra dry skin, you may want to consider moisturizing twice a day so that you don't get tight and flaky.
Make sure to moisturize every day. It helps keep those fresh new skin cells soft, smooth, and hydrated.  Moisturizers also help protect the skin from environmental hazards such as wind, sun, and free radicals.
It's best to use these two in conjunction with each other, using the body scrub in the shower and then applying the moisturizer onto damp skin to maximize absorption. It really helps lock the moisture into the skin.
Bundle up when the weather turns cold.  The cold and the wind can really sap the skin, making it tight and uncomfortable and sensitive.  Winter conditions are hard enough without putting your skin at more risk.
Make sure to wear your sun protection.  If you're taking the time to exfoliate and moisturize, you have to make sure to safeguard that beautiful skin.  This is important even in the winter since the sun can cause damage any time.  SPF is essential for any part of you that has skin – that means everywhere!
There are two specific areas that sometimes give away our age more quickly than our face. With a little Tender Loving Care, they don't necessarily have to! Do not treat your décolleté any harsher than you would treat your face. That skin is more delicate than you might realize, and requires a gentle touch. Likewise, caring for your hands is important. Using an exfoliating cream at night and an SPF hand cream during the day will help insure they stay soft and smooth.
Your knees and elbows and heels are a different story. Most of the time these areas are drier and flakier, and can really take a heavier hand on the exfoliation.  They also need a heavier moisturizer to penetrate through that thick skin, think balm instead of lotion.