I'm a different kind of shop-aholic. One of my favorite past times between commercials or during my daily lunch break is shopping online. Yes, in 5 minutes, I can scour the e-racks using my Instagram account, @FashionRacks and find the most unique pieces. I literally use Instagram as my online boutique encyclopedia—following only online boutiques or people who frequently share their finds from them. This week? I've found a two awesomely beautiful trends to share with you.
 Lovely & Lively in Lace: Lace is so lively! Yes, I do mean lively. It immediately jazzes up any top, bottom or accessory and even when its used as the smallest detail of an ensemble, it stands out and adds a certain level of fanciness! It's made its way to the this week's red carpets and is also available for YOUR shopping pleasure on Instagram! I found this cute, maxi dress with lacing in the bodice on Shop Publik's Instagram: @shoppublik. Can you believe this little piece of stitched Heaven is only $49?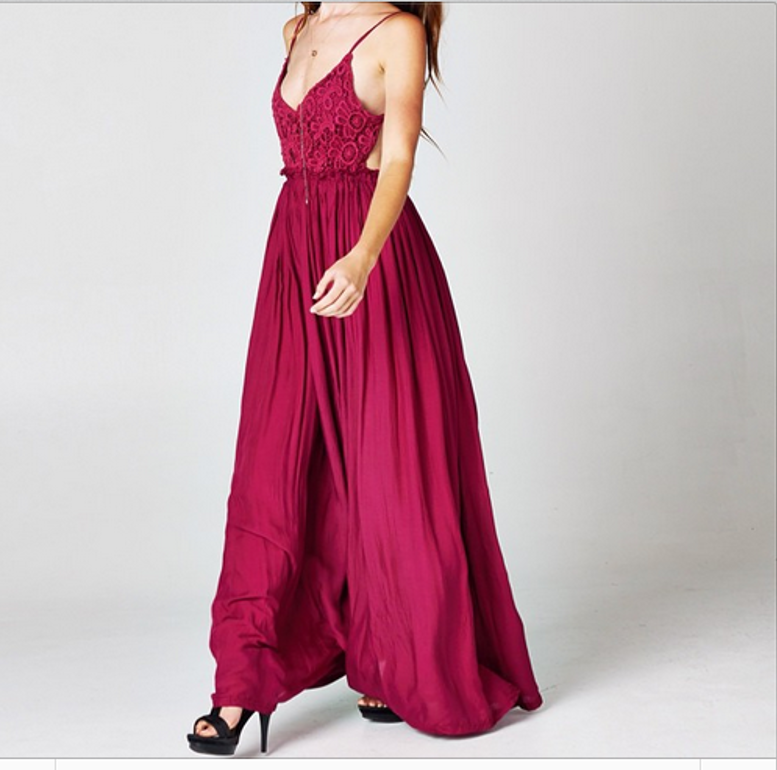 (Photo Credit: Shop Publik's Instagram, @ShopPublik)
Style Tip: YOU can find pieces with lace incorporated into the finest details OR you can go with a fully decked out lace look like the one below. Grab a lace top and shorts in your choice of colors and simplify the look with 'the messy bun' and black flats (or pumps, depending on how "viola!"  you'd like the look to be). With such a demure look, you're free to get a bit creative with your jewelry as shown below! The full-out lace, cute colors and quirky jewelry provide the perfect mix of fun and maturity!
Lively in Lace by shequayzy featuring black jewelr
y
Crochet Craze: An alternative to the traditional lace style that's made its way to runways, red carpets and retail stores is the crocheted pieces. They're a different brand of cool–subtle, earthy and stylish. They give you an interesting visual across the skin, like lace, but allow you to go the bohemian route! This long, flowy top comes from SocietyofChic.com and only costs $49!
(Photo Credit: Society of Chick Instagram page, @lovesocietyofchic)
Style Tips: Pair this type of crochet top with cut off denim shorts, boots and cute sunnies? The denim and easy-flowing top make for an effortless look that will keep all eyes on you! Check it out:
Trend: Crocheted Tops by shequayzy featuring lace up boots
-Marquaysa Battle