Gone are the days when thin lips were the chic trend in makeup for women. After the "Kylie Jenner trend" had swept up the world years ago, and as Kylie Cosmetics launched last 2015, big pouty lips have been the new trend. Since not every one of us has the luxury of getting regular lip fillers (like Kylie, for example), there are fortunately many makeup hacks to get those dreamy Instagram lip goals. 
1) Prep Your Lips
Before even touching your makeup, you should first make sure your lips are primed and well-taken care of. The build-up of old skin cells can make your lips look dry and flaky, which means they will reflect less light and look flat. Putting even the most expensive makeup on dry, chapped lips will only make them look worse. To avoid this, remember to exfoliate your lips regularly. Exfoliating your lips has the following benefits:
Getting rid of the dry skin

Smoothing out your lip texture

Preventing discoloration
Exfoliating is super inexpensive. Build your lip routine with the tips below:
In the pursuit of plumper lips, a toothbrush can help not just your pearly whites but your lips as well. First, look for an extra toothbrush you may not be using anymore. Although it is fine to use your current toothbrush as your lip exfoliator, some may prefer having a separate one for hygienic purposes. Next, check that the bristles are neither too soft nor too stiff. You want to make sure your lips are well-exfoliated, but you also want to avoid scrubbing them too intensely, as this might do more harm than good. 
Do this after your morning or evening shower. If you have sensitive lips, you can opt to do this twice or thrice a week. The frequency will depend on your preference. 
If you feel like brushing your lips is too dull for you, using a sugar scrub might be your next best bet. Sugar is a great ingredient that is gentle enough for your lips while still being able to exfoliate. It is also a natural humectant, and that means it is incredible for retaining moisture since it keeps the skin hydrated. This makes it an excellent choice for those with delicate and sensitive lips. 
Plus, you probably already have this ingredient in your kitchen! While there are several sugar scrub recipes available online, the simplest one is a basic sugar & honey combination. For this, simply mix a teaspoon of raw honey to two teaspoons of sugar. Then, scrub away!
Of course, you can add other ingredients to the mix once you find what you're comfortable with. You can mix a few drops of essential oils (that are lip-friendly), or even some spices and extra vitamins. Some examples are coconut oil, cinnamon, and vitamin E. Really, your choices are endless.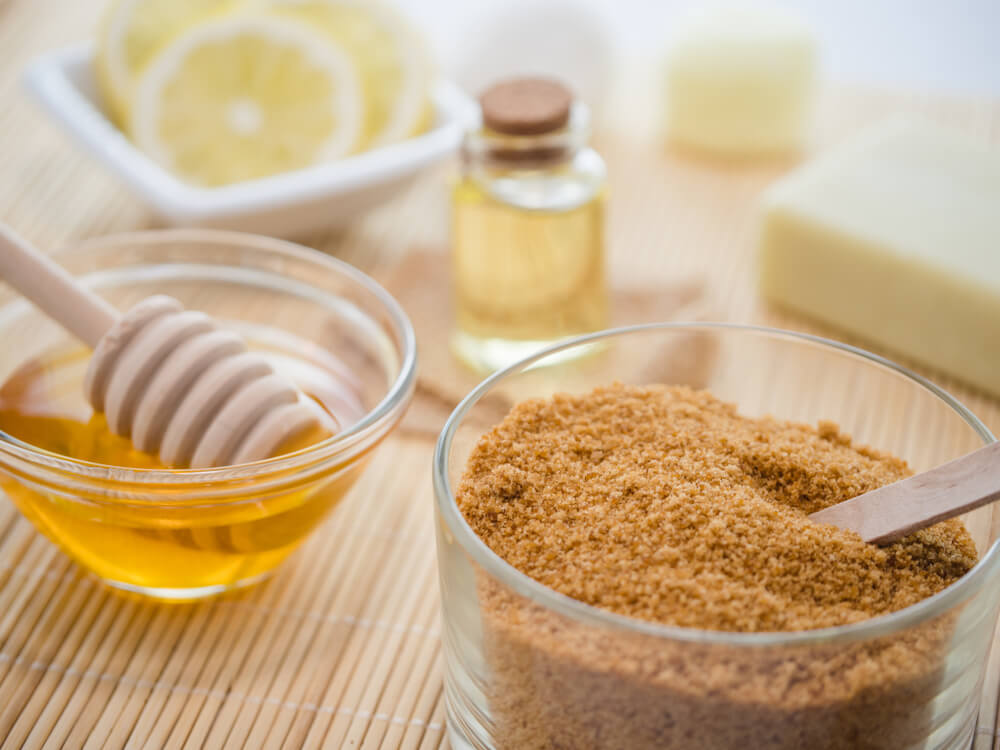 Put on a heavy layer of your favorite lip balm before you hit the sheets. Our skin heals overnight, but we also lose a lot of moisture when we sleep. To make sure those new skin cells are smooth, we should make lip balm a regular part of our nightly routine.
When choosing lip balms, be sure you select one that not only locks in moisture but also hydrates your lips. Now that we've made sure our lips are smooth and healthy, it's time to head on to makeup.
2) Dab on Some Foundation
To make your lips look bigger, start by reshaping the boundaries of your lips. Use foundation to blur the line between your lips and actual skin. This trick will give you more space to over-line your lips.
Choose a foundation shade that you would naturally use for your face. However, you may want to avoid foundations with an ultra-matte finish. A matte finish foundation will only settle on the lines of your lips and emphasize any dry areas. Matte finish makeup products are also formulated to catch as little light as possible. Instead, prioritize using semi-matte or even dewy foundations. 
Don't dab on too much since this might make the whole look more unnatural. Apply just enough to create a beautiful blank canvas to work on. This will make the color of your lipstick stand out more while also ensuring it has an even finish. 
3) The Cupid's Bow Is the Secret
There is a reason why Rihanna's lips are so famous—because of her strikingly-defined cupid's bow. The cupid's bow is the heart-shaped dip at the top of your upper lip. Defining this area can instantly make your lips pop.
If your cupid's bow is not as defined, don't fret. After dabbing your lips with foundation, you can quickly reshape it. Draw an X-shaped line using a lip liner at the top of your lips just slightly above your natural cupid's bow (preferably a nude or an MLBB color). You can then use this as a base to start lining your lips.
4) Grab a Lip Liner… Make That Two!
A lip liner in a lighter shade, and one in a darker shade, is the way to go. To achieve plumper lips, lighter nude lip colors or natural hues resembling your lip color are best. Start with the lighter lip liner and take it all the way to the edge of your lips. Then, at the bottom center, apply it a little below your natural lip line for the illusion of bigger lips. 
Next, take your darker lip liner and again, follow the path of your natural lip line. Create an ombre effect by extending the color to the outer corners of your lips. This will instantly give dimension, making it look as though you have poutier puckers. 
When over-lining, it's easy to get carried away. While this can create a drastic change, you should also aim for a subtler look by following the correct color and application. Over-lining exaggeratedly can easily look clownish as opposed to an Angelina Jolie vibe. 
5) Head on to Your Lipstick
Again, choose a light nude color for lipstick—close to the color of your lip liners. Use this lipstick to fill in your lips. Start in the center, then, with the top part of your lipstick, gently connect the color to your lip liners. Blend to make everything look seamless while maintaining the ombre effect. 
A nude lip color is an excellent option for transitioning from a day in the office to a fun night out. Darker shades, on the other hand, tend to flatten the appearance of your lips. This is because they only highlight the natural size of your lips. If you don't have naturally big lips, then dark lip colors will only accentuate its thinness. Because of this, always so go for a nude color lipstick.
Also, remember to choose a lipstick color that is lighter than the lip liner you used. A lighter color is essential to achieve the ombre effect we want. For an extra step, opt for those with a sheer finish instead of a matte one.
6) Don't Forget to Conceal
This tip is quick and simple…
To make sure your lips really pop, clean up the edges of your lips after you've applied your lip color. Concealing the edges will create and emphasize your lip shape. For this, it is best to use a concealing brush along your lip line. Although a simple step, this will make a drastic difference to how much your lips will pop.
https://www.instagram.com/p/ucB-a_gCZJ/
If you want to skip the foundation and concealer tips altogether, clean the edges of your lips using micellar water instead. Dab it onto a Q-tip, clean your edges, and see how sharp your lip shape is!
7) Go Back to Your Lipstick, Get That Liner Too
This step is optional, but go on ahead and try it if you really want to sculpt your pout to perfection. Go back to your lip liner and fix the lines of your lips. Because you have cleaned and concealed the edges, you need to re-emphasize the shape of your lips. Keep a steady hand and be careful not to mess up anything else. After re-applying your liner, grab your lipstick to put on a second coat of color.
8) Highlight
Highlighter is not just for your cheekbones. It can also be used to highlight portions of your lips, so they catch light and, therefore, give the illusion of plumper lips. Take note of your cupid's bow, and add highlighter to this part of your lip.
In choosing what highlighter to use, you can opt for any type of highlighter. However, cream and liquid highlighters might perform better compared to powder ones. For the color, champagne-toned highlighter is a popular choice for the most natural match.
Add a small amount of highlighter to the back of your hand, then warm it up by dabbing it with a brush or your fingers, and gently apply onto your cupid's bow. Don't stop there; blend the highlighter with a small concealer brush or a sponge afterward. If you're wanting more, apply some to the center of your lower lip as well. 
9) Pull out That Trusty Lip Gloss
One simple way to achieve fuller-looking lips is to use clear lip gloss. Grab your favorite lip gloss and apply it to the center of your lips. This will give you an added shine, which again, will reflect light. When light reflects on your lips, it automatically brings focus to the center. This trick makes your lips appear fuller and brings away attention from the corners of your lips. Aside from plumper-looking lips, lip gloss will also help your lips look more hydrated and healthier.
Any lip gloss will do for this trick, but a clear lip gloss is your best option, especially if you don't want your lip color to change. Apply the gloss using your fingertips for precision.
10) Use a Plumping Lip Balm
If lip gloss just doesn't cut it for you, go the extra mile by using a plumping lip balm. These products are nothing new but are now making a comeback thanks to Instagram models and celebrities. Plumping lip balms are a great alternative if you don't want to get lip fillers. 
Essentially, plumping lip balms are applied the same way as your regular lip gloss. Simply swipe it on the center of your lips for an instant pout. With plumping lip balms, you might feel an odd tingling sensation. Don't be scared since this is a natural reaction. This tingling sensation from plumping lip balms is caused by the natural ingredients in its formula, such as cinnamon or menthol. These ingredients irritate the skin, causing the tingling feeling, and therefore makes your lips fuller.
If you're not a big fan of discomfort, lucky for you, because there are now lip plumping products which don't rely on irritants. Instead, they contain a blend of essential oils to minimize the appearance of lines and hydrate your skin from within. 
Usually, this only takes effect for an hour. Although temporary, this hack is a life-saver if you have any last-minute parties you want to get ready for. 
11) Contour
If, after everything, you still aren't satisfied with how your puckers look—contour! Contouring is hands-down a holy grail makeup technique, as it allows us to manipulate how any area of our body will appear to others. People use contouring to make their noses narrower, cheekbones look more sculpted, jaws appear more defined, or foreheads look smaller. 
However, contouring isn't just used to make your face look more sculpted. It can also be used to emphasize or redefine your lips. However, take note that you will not be contouring on your lips, but around it. To do this, simply apply ashy-colored contour makeup underneath the center of your bottom lip. You can also apply some to the top of your lip and a minimal amount around the corners. Blend this all out very, very well to create a subtle shadow. In this step, the most important thing to remember is to blend, blend, blend!
There you have it! Once you follow these makeup hacks, you'll surely get that faux pout you've been dreaming of. Show off that pucker and selfie away, mwah!