Bright makeup is not an easy deal, as it may seem at fist sight! To have it really nice and beautiful you should mind many things, because bright makeup isn't about applying whatever is bright or whatever you have at hand! It should be tasteful and close to your nature. Well, let's see some bright makeup looks for summer, which are done accurately and which look chic.
Bright Lips
Before applying bright and bold lipstick, make sure you are okay to wear it, because if you wear it and feel discomfort you will look exactly the way you feel it. That should be vanished! Bright lips are a perfect tool to color your summer and bring changes in your look! Be daring and try lacquered red, coral or any other fancy color!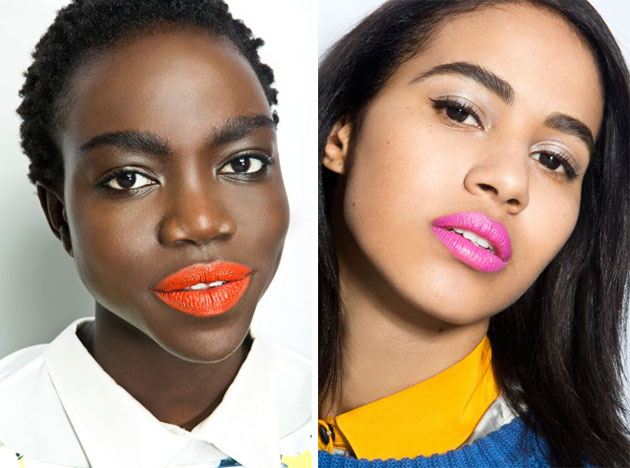 Mind Undertone
Bright makeup also depends on what you wear, it makes a great change! In summer you wear mostly bright colors and just imagine if your bright makeup doesn't coincide with them, you will look really weird. So, for instance, for a peachy undertone, apply coral or red lipstick, and if you have yellow undertone, take tangerine or pink ones!
Bright Eye Makeup
Bright lips catch attention and there is no need to underline also eyes or cheeks; that would look overdone! For shimmering eyes take black eyeliner and draw small tales to widen your eyes, apply a bit of brown eyeshadow and that would be pretty enough with your bright lips!
Bright Makeup for Freckled-Skin Girls
Stop complaining about your freckles, you are so trendy with them you know? Well, bright red is just created for you, of course, it is advisable to use matte red as it suits fair-skin and freckles more. Just underline lips with red liner; it will become a great base for the red bright lipstick!
Contrasting Bright Colors
It would be just unbelievable if you have never done any contrast this summer! Not yet? Well, check out this one and try it! Take two bold colors; one for eyeshadow and the second one for your lips! Do graphic shape over the eyes with a bright eyeshadow, and apply a soft and smooth color for lips! Don't be afraid to try!
Bright Makeup for Medium Skin Tones
For medium toned skin you can also contrast the colors, but play with softer shades! For examples, take shades of purple and green for eyes and a nice coral for lips! They are different in their look but at the same time are very combinable in bright makeup!
These bright makeup looks are just perfect for this colorful summer! Hurry up to try them, you will surly find at least one that will make you look gorgeous and different!