Even in case you are in a hurry, you desire to have a fantastic hairstyle. Here are several quick and easy hairstyle ideas that will save your time and give an astonishing look.
The Side Braided Hairstyle
You may easily replace your ponytail with a side braid hairstyle. Just sweep your hair to one shoulder and begin braiding. If you want to avoid having wispy hairpieces, you had better make your hair damp and then plait it. You may braid your tresses in the morning and you will enjoy your serene curls in the evening.
Gorgeous Ponytail
Rocking a ponytail is another quick and easy hairstyle idea. It is quite simple but gorgeous. This fabulous hairstyle keeps your hair in place even in windy weather. Creating this hairstyle is so easy that there is no necessity to use a brush. Besides, it's possible to create ponytails with almost any hair length.
Try the Messy Bun Hairstyle
 If you want to feel cool, you should pull your hair up. The messy bun hairstyle is your choice, as it is among the quick and easy hairstyle ideas. For this look, go for a high ponytail, twist and roll your hair around the base and tie. You may also go for another option and tuck your hair ends under the base. The choice greatly depends on the length of your tresses.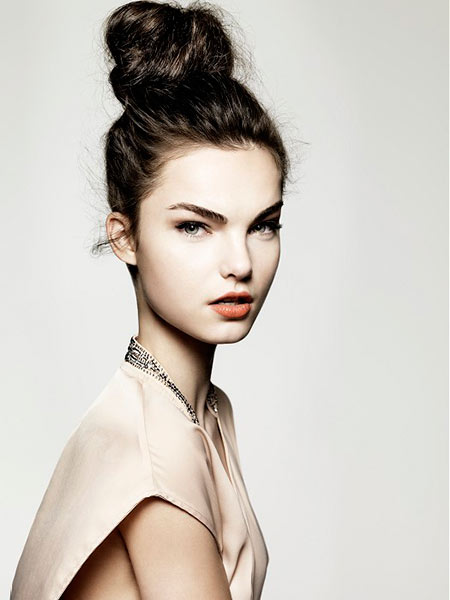 The Plaited Headband Hairstyle
If you are for an artistic look, the plaited headband hairstyle is worth wearing. Just pick a hairpiece from the beneath and braid it, going to the crown of your head. This hairstyle is not only easy and quick but fashionable among celebrities, as well.
A Fishtail Braid Hairstyle
If you consider traditional braids dull, you may opt for fishtail plait hairstyles. Though you will need a bit practice, the result will be satisfying. This hairstyle will look great with any hair type, as it hides the wispy pieces. Your look will be impressive, if you try this quick and easy hairstyle idea.
Accessorize Your Hair with Bands
If you are fond of having loose hair, but desire something stylish, you should experiment with hair bands. They appear in various tones and styles, so you may choose the best one for your look. Match it with your outfit and look stunning. You may also hide your bang or sweep it to one side.
These quick and easy hairstyle ideas will refresh your look and take you less time.
See also: 100 Stylish Long Hairstyles For 2014
50 Stylish Braided Hairstyles For 2014
Top 30 Women Hairstyles For 2014