This past weekend I had the chance to attend an amazing event, The Makeup Show | Dallas.  It is a two-day event filled with talented and professional makeup artists and featuring booths from some of the top professional brands available.
The event offers business classes as well as educational seminars such as "Autumn/Winter 2017 Runway Trends" with Gina Bettelli for MAC Cosmetics.  These sessions offer an intimate setting to receive hands-on training from some of the world's top makeup artists.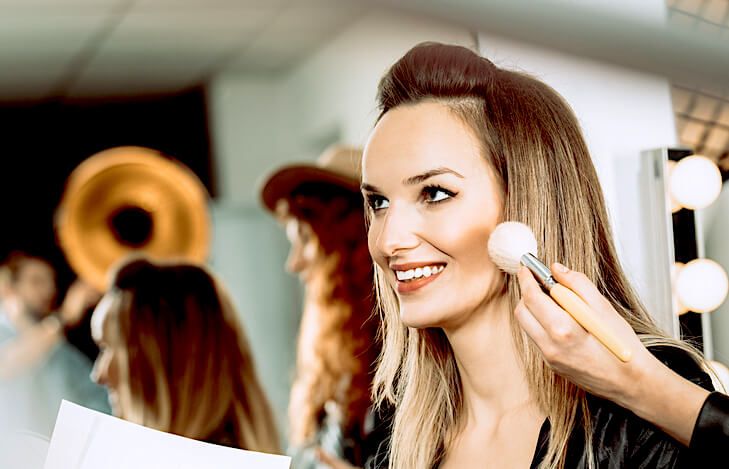 One of the top professional brands, Make Up For Ever, is the diamond sponsor of the event.  If you're not familiar with this particular brand, it was developed in response to professional makeup artists' backstage needs.  Their premier products include the Aqua line which includes eye liners, eye shadows, lip colors, and the fantastic Color Paint.  Because the brand was developed based on the needs of professionals, their signature products are known for being long-wearing.  They are devoted to creating high-quality products that meet the rigorous demands of the professional makeup artist.  So imagine what they can do for the rest of us!
While I was at the show, I had a chance to hear James Vincent, the Director of Education and Artistry for The Makeup Show.  An accomplished and award-winning makeup artist, he seems to thrive on sharing his experience and expertise with other artists in the industry.  He was very passionate about the charity work that The Makeup Show is involved in, including a huge raffle event and cocktail party to benefit those in the industry who were affected by the devastation of Hurricane Harvey.
One of the things he said during his presentation will stick with me for a while.  That "makeup opened his eyes but MAC opened his doors".  He spoke of the fact that while he was growing up, there was very little makeup specifically formulated for ethnic skin, but that the industry has finally started to realize that skin comes in every tone possible.  While I am not ethnic myself, I can somewhat understand the struggle.  Growing up with extremely pale skin, I was on the opposite end of the spectrum – there was very little foundation and concealer products that were light enough.  I actually had a counter representative tell me to use their lightest shade "but just apply it lightly"!
Well, after all that excitement…
Are you ready to hear about the new trends for fall yet???
#1. METALLIC EYESHADOW

From pops of bright colors to remarkable metallics, the eyes are in season.  The top eye trends for this upcoming fall season are bright and metallic.  These palettes below include plenty of neutrals in all of them if you want a more natural look, but those neutrals also set the stage beautifully for the POP of color that's so big right now.
This LunatiCK Pro Contour Book Volume 1 actually took my breath away when I opened it the first time.  Every single color is gorgeous!  While this entire palette is technically a contour palette, I'm itching to try it as eyeshadow, from #1 White to #12 Dark Brown, the colors are all beautiful.  I really can't wait to break the surface of this palette!
This amazing line is 100% vegan and cruelty-free, and their products are formulated without talc or parabens.  Their About Us description immediately sold me on the entire line as well – "Be the change you want to see! We accept and love everybody no matter your beauty background, sexuality or race. Our cosmetics are geared for the alternative ladies & gentlemen, stage performers, makeup artists, special effects makeup artists & everybody in between."
The Senna Decades Palette in 70s Free Form is part of their new Four Decades of Color limited edition palette series which includes the 70s, 80s (Vivid Excess), 90s (Nude Revolution), and 2K (Selfie Sparkle).  I'll admit that the 80s palette looks a little intimidating but they all have wonderful potential.  
The one pictured here represents the 70s.  It includes two face colors (the two larger circles in Sandalwood and Honey Nectar) and five shadows (Old Ivory, Cinnamon Wine, Brazen Bronze, Sago Palm, and Mace).  These colors are a perfect combination to create that bronzed glowing skin and eyes that pop!  If that vivid green is a little too much, consider just using a touch in the center of the eyelid or even as a subtle liner under the lower lashes.  I love the fact that there is a combination of metallic and matte for a terrific variety of looks you can create.
The NYX Cosmetics In Your Element Palette in Earth is simply gorgeous as well.  It is part of their newest series which also includes Wind, Fire, Air, Water, and Metal.  This one in particular also has four shades with a metallic gleam to them (the gold, the green, and the cranberry beneath the gold, and the bronze towards the bottom right corner).  If you are new to using bright colors or metallic, try using one as an eyeliner just for a quick bright flash of light to brighten up your eyes.  For a finished look, they have also released corresponding lipstick shades for each palette.
NYX is surprisingly accessible and affordable, yet still offers the top-quality that professional makeup artists rely on in their products. And if a professional will use it on their clients, it has to be good!
#2. GO PURPLE EVERYWHERE

With all this focus on the eyes, we don't want the lips to feel left out.  One of the biggest trends from the runways for fall 2017 was purple lips.  Almost all of us tend to go darker on our lipsticks when the weather turns cooler.  But if you are looking to step out of the normal berry or burgundy, go purple this year!  It is definitely the hottest lipstick color of the season.
You can darken it by mixing it with black or burgundy for a truly vampy look, or you can go sheer by mixing it with a clear or pale pink lip gloss.
If true purple, like this Crown Pro Matte Lipstick in Felony is too extreme, consider a plum, violet, or even wine to stay right on track with the grape!
#3. PINK IS ALL GROWN UP NOW

For the most part, we consider pink to be a cheek color, or a lip gloss color for girls under 13.  But when that Barbie pink becomes ultra-pale or rich bright metallic, it suddenly looks grown up.  Typically the fall trends include rich berry shades however I love the pinks.  As pale as I am, the vamp look is entirely too extreme but pink is wearable on everyone!  Luckily, these bold shades are still as eye-catching as the burgundy lip but brighter.
These are not the bubble-gum frosted shades that you might remember.  Blot Luxe Lips Long Lasting Lip Gloss in Elusive is a full coverage, high intensity, matte pigment for your lips.  Cozzette Crystal Eyeshadow in Morganite is a gorgeous bright cranberry with gold crystal metallic.  These are pinks that will not be ignored!
If you have shied away from pink in the background because it looks immature or too pale, the pinks for this fall will change your mind.
#4. SKINCARE IS EVERYTHING

Two of the seminars available were "Innovative Skincare Must-Haves for Every Makeup Artist", taught by Ken Holmes from Dr. Brandt and "Skin Is In" by Melanie Mills of Melanie Mills Hollywood.  I love this concept personally, because taking care of the canvas is essential to any makeup look.  If you do not take care of the skin underneath the makeup, then no makeup look will look its best.
Pictured here are the Mario Badescu Facial Spray with Aloe, Cucumber, and Green Tea, the Embryolisse Lait-Crème Concentré, and a mini set of the Twinmedix Pro Essentials Kit.
Who can't use a beautiful facial mist?  This one can be used before moisturizer to prep the skin, throughout the day to revitalize your complexion, or even over makeup to set it as your final step.
I was unfamiliar with Embryolisse, however this "24-Hour Miracle Cream" can be used as a primer, moisturizer, and makeup remover.  This might just belong in my travel bag if one tube can do all that!
Twinmedix is a line of pharmaceutical-grade skincare products that have been formulated for professionals.  This mini kit includes their A15 Retinol Serum, C10 Vitamin C Serum, and E5 Vitamin E Serum as well as the O2 Oxygen Facial Mask and the X Smart Exfoliator.  I can't wait to try all of them!  (Maybe not all at once.)
This set of MustaeV Mood Therapy Masks just looks fun!  Each essence mask formula is supposed to correspond with a mood (Joy whitens, Anger cools, Sadness nourishes, and Pleasure moisturizes).  They also have complimentary fragrances designed for each mood.
MustaeV is a prominent Korean makeup artist cosmetics brand and prides itself on what they call the "MustaeV Team" which is comprised of power bloggers for their brand.  In addition to these mood masks, they also offer a complete line of cosmetics.
Using a sheet mask is a great way to nourish, plump, and moisturize the skin especially before a big night out.  I have even read recommendations about wearing one during a long flight so that your skin is protected from the harsh plane environment.
This picture here may seem out of place, but it contains two different products to clean your brushes, a packet of makeup remover cloths, and a fabulous little idea from Beauty So Clean, a sanitizer for your false eyelashes.  All of these products are critical to maintaining your skin underneath your makeup.  Having clean makeup brushes helps keep your skin clean, not to mention the fact that your makeup will glide on smoother and truer to color.  And sanitizing something that wears that close to your eye is brilliant!
Please note the blue bottle in particular.  It is one of the top-selling products from Cinema Secrets, the travel set of their makeup brush cleaner with the cleansing tin.  In all sizes, this product has over four stars on Sephora.
And for those of you who reuse your falsies, please consider the little black box pictured.  It helps remove glue residue and bacteria from your beautiful fringes to help keep your eyes sparkling clean.
#5. COMPLETE THE LOOK WITH GORGEOUS HAIR!

No matter what your natural hair texture or color, shiny and healthy is always the goal!  Using tools such as the ones below can help protect your hair from the daily wear and tear that we tend to inflict on our tresses.
If you have never tried a hair towel like this T3 Microfiber Towel, you are missing out!  I happen to love mine; it drastically cuts down the time under the blow dryer, which always means healthier hair.
The strange looking hair 'bobbles' were surprisingly effective!  I have long, straight, fine hair and most hair ties just slide right out.  These little doo-dads stayed put, even when I slept in one!
The two Cotril products by Creative Walk include Hydra Leave-In Hydrating and Anti-Oxidizing Spray and No Rinse Smoothing Cream.  I have tried my best to read more about this brand, however the webpages that I have found are all in Italian.  The cream in particular is designed to protect the hair from the damage that can result from heat styling.  And the leave-in spray helps condition the hair with milk proteins and natural honey.
All in all, it is shaping up to be a beautiful fall!  Personally, I can hardly wait to play with those eyeshadow palettes.  I may even end up sporting some of that fabulous lime-green shadow from the Senna palette.  I would love to hear your comments about what you're looking most forward to trying out of all of these gorgeous fall trends!